Last August, Ivan Martinovic burst onto the artistic swimming scene and won bronze in the inaugural men technical solo event at the European Championships.
Over a year ago, nothing seemed to indicate he would ever become the first artistic swimmer from Serbia to win a European medal. A water enthusiast, Martinovic had been into competitive swimming for the last 15 years. But a brief argument while on vacation with his girlfriend Jelena Kontic, member of Serbia's national artistic swimming team, led him to see for himself what this sport was all about.
Born in Belgrade, capital of the then-Federal Republic of Yugoslavia to a Serbian father and half-Croat mother, the 21-year-old is filled with pride at being able to call himself the first male Serbian artistic swimmer. 2022 was just the beginning for him, who definitely intends on writing more history for his nation.
Inside Synchro: How did you get into artistic swimming in the first place?
Ivan Martinovic: I started synchro last year sort of as an experiment by my girlfriend and duet partner Jelena. We were in Turkey on a vacation with our friends, and got into our first argument on which sport is harder: swimming or artistic swimming. She told me to come to her club's training and find out why synchro is harder. Since it was August and off-season for swimming, I went to stay in shape. And gradually, I got drawn into this world. Her mother [Svetlana Kontic] being the coach made it easier for both of them to persuade me to try to compete. And I have to say, Jelena was most certainly right. Synchro is way harder!
IS: Well, we are so glad they successfully convinced you to stick around!
IM: Yes! At first, what made me stay was spending time with Jelena. Synchro is so time-consuming and both of our practices were at different times so we could hardly see each other. But then I really liked the variety of new things I was learning, and each training really interested me. For 15 years, I only knew the racing aspect of swimming, but synchro opened a whole new set of possibilities in the water.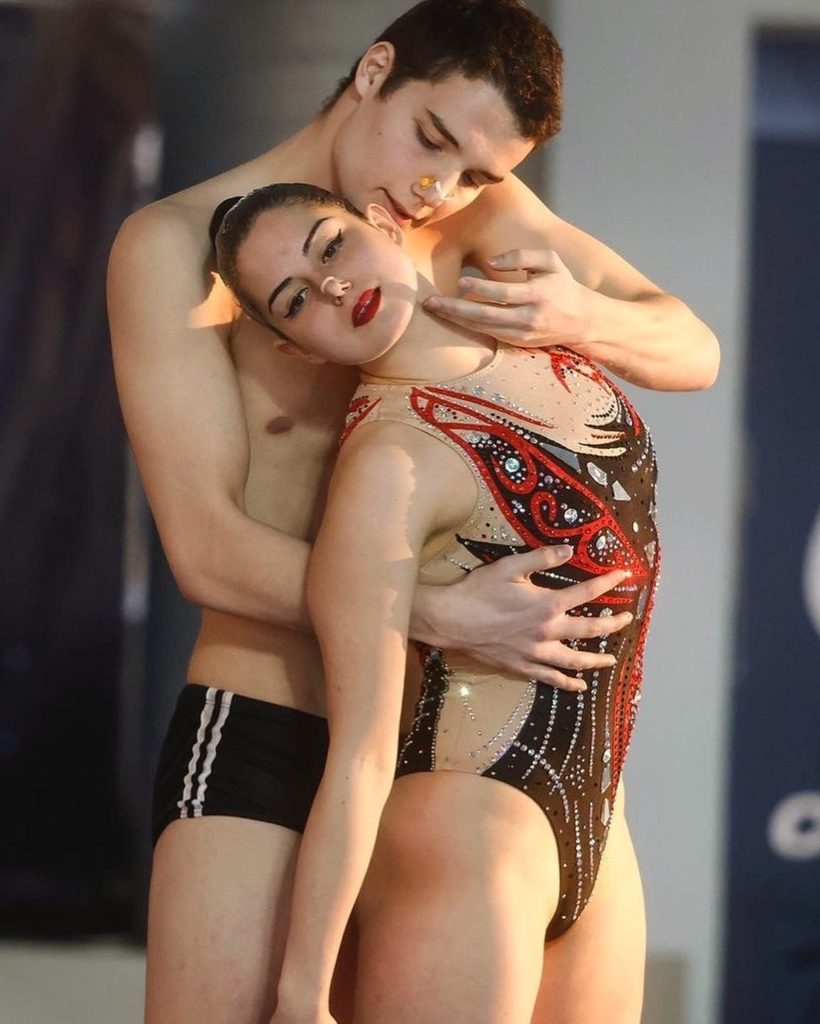 IS: Were the European Championships in Rome a goal of yours when you started the year?
IM: I only found out three months before the Europeans that I would be going. From that moment on, I fully committed to synchro mentally. I didn't want to feel embarrassed by my imperfect technique since I'm so new to the sport. I was given an opportunity to be a pioneer, so I gave it my all to try and compete with guys who have been doing this sport their whole lives. My goal was to try and live in the moment. I feel like I had my best swims in Rome just because I embraced the fact that I was there representing my home country with people I love behind me.
IS: You competed in both men's solos and technical mixed duet in Rome. First of all, how was it swimming alongside Jelena?
IM: Swimming with Jelena was the most beautiful part about the whole competition. It was a culmination of the previous year, both relationship and duet partnership-wise. I was so nervous to not make mistakes since it was my first major international competition. But when we got on deck and the judge blew the whistle, she said to me, "Hajde da uzivamo." Let's enjoy it. I just listened to her and enjoyed every moment of that routine.
IS: How did that routine come about?
IM: Jelena's mom Svetlana is our head coach ; she's the mastermind behind all our routines. A few weeks before Rome, our women's senior duet worked with Anastasia Ermakova, and she also had a couple of suggestions for our mixed duet. The process was difficult since I had only competed in free duets before August. So I had to get over some mental barriers, but in the end it was a massive experience and a learning curve for next season. 
IS: Why did you choose to focus on the technical mixed duet for Rome, and to not show the free?
IM: Before the Europeans, I had only competed four times: three times domestically and once virtually. I only swam the free mixed duet because it was at the beginning of my career and it was easier to prepare. Then at the Friendship Games in Russia in July, I competed in my first free solo and first technical mixed duet. For Rome, we strategized and decided to only do the technical mixed duet because it was a stronger routine. And we figured that three routines would be enough pressure in my first ever major competition, so we scrapped the free mixed duet.
IS: You also made history by swimming in the inaugural men solo events. What did you want to show in your routines?
IM: I wanted to show my personality. Both solo songs are on my regular playlist. They have their place in my everyday life and that's why I chose them. For example, "Enemy" by Imagine Dragons was a song I resonated with since I had a lot of "enemies" in my head and around me during the preparation. A lot of weird looks and terrible homophobic words were thrown my way since synchro is considered a feminine sport and that made me question myself sometimes.
On the other hand, "Dangerous" by David Guetta was the most appropriate for my technical solo since it was my first time swimming it. We only signed up for the tech solo a few weeks before Rome, so you can say it was a dangerous act to debut it at my first major international competition.
IS: And you won bronze with that routine! How did it feel to win a European medal?
IM: Since I started swimming on my fifth birthday, I dreamed of winning a major competition medal. For 15 years, I thought it would be by smashing into the wall faster than others. But it turned out this way instead (laughs)! It was a surreal moment I shared with Giorgio [Minisini] and Fernando [Diaz del Rio Soto] who are undoubtedly the brightest present and future of male synchro. I don't think I was fully there on the podium. It didn't hit me until a few days later. I'm glad that I was a part of the first-ever male solo events with those guys and Quentin [Rakotomalala; in free solo]. I'll cherish these moments forever.
IS: Did you feel there was a positive impact and more coverage about the sport in Serbia after earning this?
IM: The media coverage of our achievements wasn't widespread. Serbia has a lot of big national sports like water polo, basketball, volleyball, and tennis. Serbs are spoiled by the constant achievements of Djokovic or Jokic who dominate their fields. Also, I feel people in Serbia aren't too keen on artistic sports, let alone guys doing them. So unfortunately, it wasn't the media boom we hoped it would be. We were guests on a few TV shows, but the public interest just wasn't there. It's hard to compete with sports that are so widespread and successful here.
IS: What inspires you to keep going nowadays?
IM: In a world full of uncertainties, I am blessed to do what I love with people I love. Firstly, my duet partner Jelena, who is a type A diabetic and a hard-working athlete, inspires me the most. She is showing the world that Serbia has artistic swimming and that the "diabuddies" can be pro athletes. Then, I am inspired by male synchro athletes all over the world who continue to do it despite all the negativity they have gotten or still get in their homeland. And all the athletes who do synchro for 6, 7, 8 hours a day and chase their dreams motivate me. It's hard not to get inspired in this community.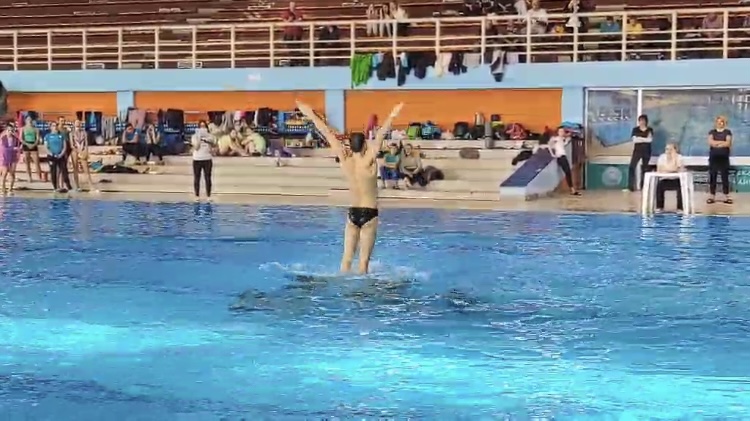 IS: What are some of your goals for 2023?
IM: I want to improve my results and technique with the new rules and elements, and show massive progress in Fukuoka [at the World Championships]. We also just had nationals last week, where I competed in my first team routine. I did the free combination and I was a reserve for the free team. I am being considered for a spot in the future team events for our national team, so that's quite exciting. My non-synchro goals are to finish the third year of my graduate studies and to improve my French. 
IS: Right, you're also a university student. How do you manage that with your training schedule?
IM: My typical day is a constant back and forth between university for my economics degree, pool and home. It's very hard to balance school and swimming since it's not in-sync like in the U.S. with the college system for example. I don't have benefits nor exam date change because I'm an athlete. I missed a lot because of the competitions and preparations for Rome, so I had a lot of exams when I returned home. It's a struggle but I manage to pull it off, as all of the girls on our team are.
IS:  Is there anything you'd like to say to the community or to younger boys starting artistic swimming?
IM: During the last year, I learned that love for doing synchro beats the stereotypes of society. For every person who disapproves of your work, there are dozens in this community who will push you forward. You should enjoy what you do and don't let external factors influence you negatively. A wise girl once said, "Let's enjoy it!"
ARTICLE BY CHRISTINA MARMET
Cover photo courtesy of Jelena Kontic.
If you've enjoyed our coverage, please consider donating to Inside Synchro! Any amount helps us run the site and travel costs to cover meets during the season.