About a year ago, Kenny Gaudet made his debut on the international stage at the Junior Pan American Games. The then-17 years old had just moved across the country by himself to pursue his dreams on the U.S. artistic swimming national team. His gold medal-winning performance in the mixed duet spoke for itself ;  he was ready to take the world by storm.
Six months later, he competed at his first World Championships alongside Team USA, where he finished fifth in both technical and free mixed duets. A few weeks later, he also ranked fifth in technical mixed duet at the World Junior Championships, and competed in the first men's solo events where he also placed fifth. An artistic swimmer for 11 years and counting, Gaudet is eager to leave his mark on artistic swimming.
Inside Synchro: 2022 was your first season as a member of the U.S. national team, and what a season it was! How did you prepare for it?
Kenny Gaudet: I was nervous to see how I could compete against other athletes, especially with no knowledge of any countries except for Spain and Italy, which I'd watch on YouTube all the time. I didn't believe myself good enough to go against them. But throughout the season and with all the hard work and training, I felt confident to compete against the top countries in the world. And with my coach Anna [Voloshyna] believing in me, I felt ready for anything. 
IS: What did Anna do or say for you to fully believe in yourself and your abilities? What is the biggest change she implemented in your training and mindset?
KG: Anna is really amazing. The reason I got to this level was from her constant pushing of me and making me better. I think she's harder on me because I'm the newest at this level of the sport, and competing at such a level requires the skills. She constantly made me do more run-throughs and harder sections of the routines even if I didn't want to. This all made me become ready for what to expect, and I felt so ready for Worlds. Being there was actually my best competition experience so far. I was happy with my scores and proud of my swims. All I hope for are more experiences like these, and to only keep growing.
IS: Bill May represented the U.S. in the mixed duet at the last three World Championships, winning four medals including a gold. Did you feel like people expected you to follow in his footsteps? 
KG: I definitely felt pressure from being the next male. At first, I felt as if I needed to live up to his reputation. But the more I swim, the more I understand that I'm not like Bill. He is my idol, I respect him and look up to him, but I do not want to be him.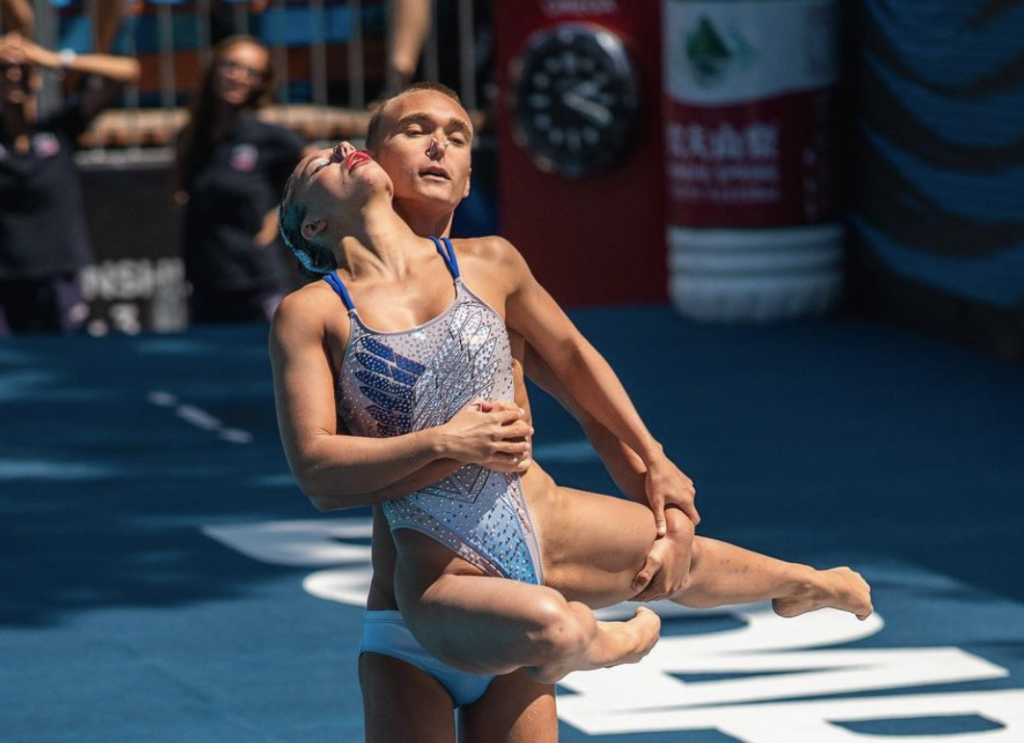 IS: Last year, you moved across the country from Florida to California to join the national team full-time. How did you handle the change?
KG: It was a big adjustment for sure. For about seven months, I lived alone with a host family. It was a great experience to learn to take care of myself more than what I was used to. Plus, I was also going to so many more hours of practice than before. In my club team, I only practiced for six hours during an entire week. Here, I was training six to seven hours a day. But this is what I wanted to do, and I love it.
IS: How did you get into artistic swimming in the first place, and what made you stay with it?
KG: I started synchro when I was about five or six to follow my oldest sister. She was taught in elementary school by Lorraine Valerino, who then became my club coach. I swam all my life for the Lakeland YMCA Flamingos in Florida until I moved out to California in the summer of 2021 to pursue my goals on the national team.
I've had a couple of times in my life when I wanted to quit synchro because of the generalization that this sport is only for girls. I've been bullied quite a lot… But I stuck with it because I feel best when I'm in the water performing for everyone and for myself.
IS: Right, I remember your free solo this season touched upon that topic. Can you tell me a bit more about this routine as well as your technical solo? What do you want to transmit when you swim? 
KG: In general when I swim, I just want to show my all. I swim to many different emotions so I want to be able to get that across. For my solos, I just wanted to basically say that I'm here, and to put myself as an individual out into this world. 
It was hard to pick themes or music at first because I'm not confident in swimming solos yet, so I struggled with finding something. For my free solo, I swam to "In My Blood" by Shawn Mendes. This one came easier. It just fit because I could pour my emotions of being bullied and how it was growing up with no one else in my country at the time being in the same position as me. So yes, I wanted to say that my past isn't affecting me anymore, even though I went through tough times. But I was able to get through it, and to now be who I am. 
For tech, we wanted something completely opposite. It ended up revealing a side of me that I wasn't aware of until I started practicing with this music ["The Good, the Bad and the Dirty" by Panic! At The Disco]. I would say the idea came more from Anna than myself, but I really got into it with time and felt amazing to swim it. It was a stronger, more masculine side that I honestly didn't expect to be so much fun to show. 
IS: You also swam in the highlight routine but only in the World Series circuit. With the new rules, you'll now be able to swim in any team events as well as in men's solo at the next World Championships. How did you react when you learned the news? 
KG: At first, I was skeptical because it was only a draft and it was going to be such a big change that it was hard to believe. So that was something I didn't put much faith into. Now that it's final and the rules are set, it's given me a lot of fire and determination to compete for a spot on the team. I've always watched the team from afar and admired that connection that all of them had. So now, I want to be able to experience that myself and stand proud with them.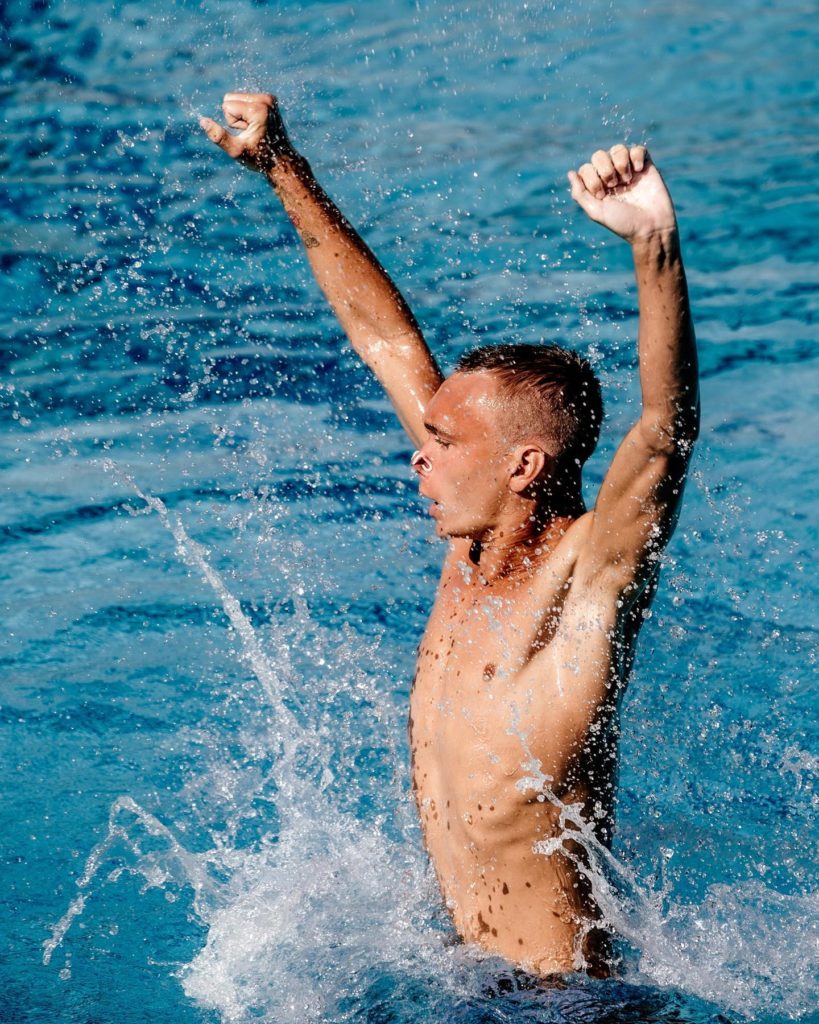 IS: What are you working on now, and what are your goals for 2023? 
KG: Just to put more work in. Last year was just dipping a toe in the water and getting to experience everything. But now, I want more. Ultimately, I want to stand on top of the podium at the Olympics as a mixed duet and watch my country's flag go up.
Right now in the preseason, we do more cross training and work on basics. I wake up around 5:30 a.m. to get ready and be at the gym by 7:00 a.m. We work out for about two and half hours, and then go to the pool and practice until 2:00 p.m. The focus right now is to get stronger and better. We've also been slowly getting back into our team routines and changing them around to fit the new scoring system.
IS: What inspires you to keep going?
KG: I have the passion to perform for my close friends and family, and to make them proud. Seeing them happy makes me feel amazing. I want to do all of this so that I can come back home, see that my mom is smiling, and that I made her proud.
IS: Is there anything else you'd like to say to the synchro community or to younger swimmers?
KG: Always follow your dreams and continue to prioritize your happiness. Don't let anyone tell you that you're not good at what you do because of your skin color, size, gender, or anything else. You should be allowed to do what you want, so always follow what your heart wants.
ARTICLE BY CHRISTINA MARMET
Cover photo courtesy of the U.S. team.
If you've enjoyed our coverage, please consider donating to Inside Synchro! Any amount helps us run the site and travel costs to cover meets during the season.