World Aquatics, formerly FINA, confirmed on December 22 that men are now eligible to compete at the Olympic Games in artistic swimming.
In October, a new set of rules and major changes for artistic swimming were widely approved. In addition to the official introduction of the men's solo events at the World Championships, nations now may select "up to two men" to make up the eight-athlete roster for the team events. The change was effective immediately for all World Aquatics events. It was confirmed today that the International Olympic Committee (IOC) had given its final approval for this change to go ahead on the Olympic stage as well, starting in 2024.
"It's one of those moments in life when there's a time before and a time after," said Giorgio Minisini, three-time World Champion and four-time European Champion for Italy. "This is the first day of the second part of my career as an artistic swimmer. For 20 years, I have been swimming knowing that one thing was sure in my life: artistic swimming at the Olympics was a female sport, and the Games were closed to us men. Now, everything is different. I feel like I could fly."
Over the last decades, numerous male artistic swimmers have fought for equality in the sport. Men were first included at the World Championships in 2015 in the mixed duets. 10 men participated in these inaugural events but only two are still active, including Minisini.
"Now at least, we can try to go to the Olympic Games," he continued. "Knowing that we couldn't even try at all was too much… Of course, I have to earn my spot but it's not just about joining or going. It's about having the opportunity, knowing that it's possible, and that the young boys starting this sport now will have all the opportunities opened to them. I shared this journey with a lot of colleagues. I think of Bill [May] and Pau [Ribes] now, and I am sure everyone feels this moment, that something has changed. We made it change with our presence and by showing up when sometimes no one believed in us. This is something we did together, and I'm really proud to have been part of it."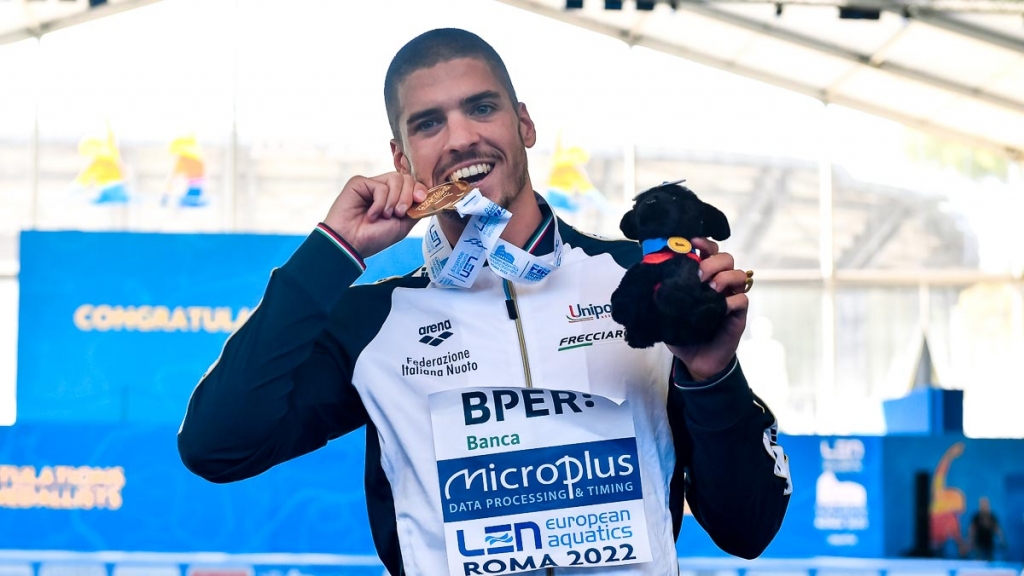 Artistic swimming has been on the Olympic programme since 1984, but was a women-only event until now. 40 years later, it will officially be a mixed sport at the Games.
"I am excited and a little speechless," said France's Quentin Rakotomalala, 2022 European bronze medalist in free solo. "I've always told myself that the Olympic Games were too big of a dream. It felt out of reach for us men, and I thought it would be the case for much longer. I had just accepted that fact. But now, everything has changed. It's a necessary first step, and the evolution that our sport deserves."
"Waking up to this very big news was so exciting," said Kenny Gaudet, who represents the U.S internationally. "Just thinking about all the hard stuff I went through to get to this moment… I can't even put into words what this means. It's a historic step for all in this sport, and especially for us men. It's incredible to be a part of this time and to have the opportunity now to perform as a male in this sport at the Olympic level."
10 countries are expected to compete in the Olympic Games in Paris in the team events. These now include the technical team, free team, and acrobatic team routines. The duet competition remains a women-only event.
"I was stunned when I saw the news," said Ivan Martinovic, 2022 European bronze medalist in technical solo for Serbia. "It really feels like our voices are being heard and that the male community is gathering the recognition it deserves. I love the fact that our sport is changing drastically with the new rules and further inclusion. Now, the next step is to get mixed duets at the Olympics!"
"This is a great news," said Renaud Barral, who represents Belgium in the mixed duet. "I can't wait to be there in the stands to hopefully cheer for Giorgio and the Italian team with all my heart. This is good first step, and I can only believe that this will boost countries to invest in their boys. I also hope this will push for the inclusion of mixed duets in the following Olympics, so we can see an even bigger male participation at the Games."
The push for men's inclusion could already be seen during the 2022 season. Male solos were added to last year's World Junior and World Youth Championships, and men could also swim in the free combination and highlight routines. At the European level, male solos featured on the programme at all European Championships, and men could enter in any team events.
In the follow-up of this news, World Aquatics clarified the team composition for the Olympic Games:
"For Olympic Games, team routines shall consist of eight (8) competitors. The total number of competitors entered by each Federation (unless otherwise specified) may not exceed nine (9) competitors, one as reserve. The total number of competitors may include a maximum of two (2) male competitors. "
ARTICLE BY CHRISTINA MARMET
Cover photo by Antoine Saito
If you've enjoyed our coverage, please consider donating to Inside Synchro! Any amount helps us run the site and travel costs to cover meets during the season.