10 years ago, Quentin Rakotomalala couldn't take his eyes off of the synchronized swimming practice at his local pool in southern France. Captivated by the infinite artistic freedom the sport offered, he didn't think twice about it when the coaches eventually asked him to try it out.
Now, the 19-year-old's life revolves around the pool, and artistic swimming has undoubtedly become more than just a sport. Bronze medalist in free solo at the last European Championships, he above all wants to be remembered for the emotion, commitment and passion he conveys at each of his swim.
Inside Synchro: You've always been fascinated by artistic swimming since the very beginning, haven't you?
Quentin Rakotomalala: Absolutely. It all started in 2012 in my home club in Marseille. My sister was actually the artistic swimmer of the family back then. I was just going to the pool for swimming lessons but I always loved watching her at competitions and shows. Our practices were held at the same time in the same pool, but instead of focusing on my own training, I was a lot more involved in hers! Of course, the synchro coaches saw me…
Then when the time came for my sister's first training at the beginning of the following season, her coaches suggested I give it a try. I had only come to the pool to accompany her so I didn't have anything with me. I quickly bought a swimsuit, cap and goggles at the pool's vending machine and went to my first synchro class. And, here I am 10 years later!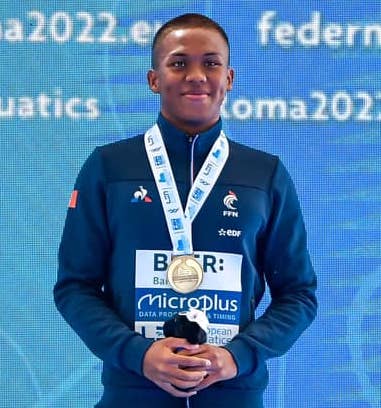 IS: Was it easy to be a synchronized swimmer as a 9-year-old boy?
QR: I have to admit that when I was younger, I wasn't shouting it from the rooftops to avoid being bullied or made fun of. Sure, I heard some mockery and comments here and there, but it never really impacted me. I was, and still am, so passionate about synchro that I didn't pay attention to anything. For me, doing what I really loved was a thousand times more important than what people thought of me.
IS: What is it about the sport that you love so much?
QR: It's truly the artistic and inventive side of the sport that I like the most. For me, synchro is above all an art. When I swim, I try to show art and emotion. Of course, being a man, having all the eyes on me and enjoying several opportunities that were offered to me also helped me to continue and persevere. But it's the inexhaustible creative aspect of synchro that I can't get away from.
IS: Is that what made you stay with the sport right from the start – the creativity and freedom of expression?
QR: Yes, and I think I have a different vision of our sport. I don't do synchro for the sake of doing synchro. I am not an athlete like the others in the sense that I don't have the perfect lines nor the perfect toe points. Far from it. I don't seek to leave a mark on the history of synchro with my flexibility, splits or skills. Rather, I want to be remembered for my choreography, commitment, creativity, mindset and expression.
I do it because I love it and because I am a man, an artist, a pioneer. I see synchro as an art, a way of expressing myself, and above all a show. When I get on deck at a competition, I don't feel like an athlete who is going for the win, or like a sprinter about to start a 400-meter dash. Instead, I feel closer to an artist and a performer who is going to put on a show for an audience, panels of judges, and for the artistic swimming community.
IS: Tell me more about your free solo choreography from last year and what it meant to you.
QR: I have quite a lot of freedom when it comes to the music and choreography. Of course, my coaches participate a lot too, and have the final say on my music's choice. They do help me more on the technical and difficulty side, while I am more involved on the artistic and inventive side. 
My solo last year represented my evolution in this sport. Actually, I had already swum to this music when I was younger, but I didn't have the level I have today. To tell you the truth, I didn't even qualify for the French championships that year with that solo. But I always knew this music had a huge potential for creation and expression. I just had to get back to it and use it well. 
IS: And you won a bronze medal with it at the European Championships! How did that feel?
QR: I felt proud and happy to have been able to represent my country once again and to win this medal. This sense of pride got even stronger when I realized I was the first French male medalist in artistic swimming in the senior category. Then, I also felt a sense of relief and accomplishment because it was the first time that men had a podium all to themselves. It simply showed that we matter more and more and do have our place in the sport. And honestly, it was quite an incredible feeling to share the podium with Giorgio, one of the emblematic figures for male synchro and the sport in general.
IS: What can we expect from you next season?
QR: We are working on presenting a mixed duet again on the international stage. I just swam with Prune Tapié at the French winter national championships. This is our first year competing together for our club Pays d'Aix Natation, but she has already won multiple medals for France at the European Youth Championships these last few years.
Our theme is yin and yang. We wanted to show the difference and complementarity that men and women have in our sport. Giovanna Burlando, an Italian coach with whom I became very close to last year, helped us build something very creative. Our music allows us to innovate and to exploit the artistic side, velocity and technicality of our choreography. The judges were quite satisfied with our work so far. They told us that we made a great pair, so we are on the right track.
I also have a new free solo, and I'm using the music of the movie Black Panther: Wakanda Forever. I love swimming on this theme and telling this story, which I chose because it represents so much more than a movie to me. Thanks to the new rules, it turns out that I can still compete in the junior category next season. So, I'm aiming for a medal in the mixed duets as well as in solos at the European Junior Championships. As for the senior level, I am hoping to compete in the 2023 World Championships in Fukuoka.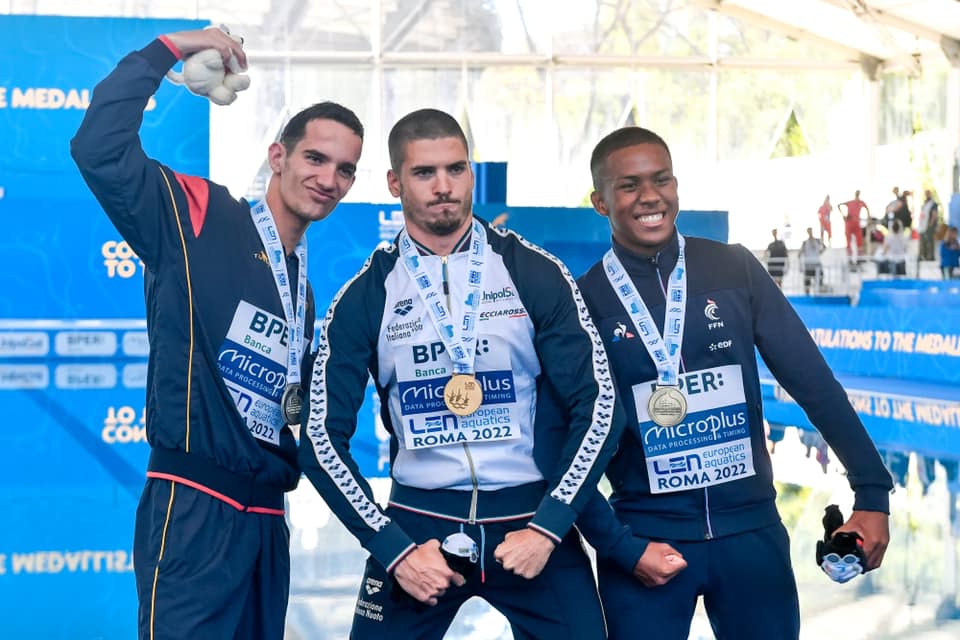 IS: It sounds like you've been quite busy already. What does a typical day usually look like for you?
QR: I'm actually at the pool quite a lot. I'm a communications student and my co-op is in my club's offices, which are at the pool. On top of that, I coach one of the U-12 teams, and of course I have my own training sessions. It's quite a busy life, but I like it because I am doing what I love.
IS: Is there anything else you'd like to say to younger male artistic swimmers?
QR: Persevere and continue if you like the sport, even if sometimes it seems difficult and if you realize it is not especially made for men, yet. It will be one day, I am sure of it. This sport is so full of opportunities.
ARTICLE BY CHRISTINA MARMET
Cover photo by Pasquale Mesiano / Deepbluemedia.
If you've enjoyed our coverage, please consider donating to Inside Synchro! Any amount helps us run the site and travel costs to cover meets during the season.