Kantinan Adisaisiributr was the first male artistic swimmer from Thailand to ever compete on the international stage last year. In addition, he made history by qualifying to both mixed duet finals at the World Championships. 
Like most Thai people, Adisaisiributr has a nickname, Oof, which means money — his parents chose it because they wanted a life full of wealth. Oof was originally a swimmer but he started artistic swimming in October 2019 after being influenced by his sister.
However, it wasn't as easy as he thought it would be, and he almost gave up on his first day. But the then 13-year-old stuck with it, even through the multiple lengthy Covid-19 lockdowns and pool closures that ensued only a few months later. Now 16, Oof is more than thankful to have continued and to now be able to put his country on the map.
Inside Synchro: Tell me more about your beginnings in artistic swimming!
Kantinan Adisaisiributr: My older sister Jinnipha is an artistic swimmer, so it inspired me to try towards the end of 2019. I am really thankful to her for getting me into this sport. But honestly after the first training, I was so tired, and my muscles hurt so much. I had never felt like this as a swimmer! Actually, I almost quit because I was thinking that this sport was just insane. How could you train so hard?!
Luckily, my coach Lukwa talked me out of it. She explained that this was my chance to do something great for myself and to become part of the national team one day. So, I had to put myself together and go back to the pool the next day! After that, I was fully committed. I am glad I gave this crazy sport a try. The training was so different from swimming, and it requires a lot of different skills. I love that it's challenging my training and myself. 
IS: Did you ever swim or compete with your sister?
KA: She's actually the reserve of the mixed duet, so she's always training with us. Last season, we swam together in the highlight in some shows, but this year we will also swim in the free team together. 
IS: You started artistic swimming only a few months before the pandemic hit. How did you stay motivated during that time, and until 2022 when you could finally compete? 
KA: Our coach Claudia Tapparelli kept us motivated during the whole pandemic. We were training all together two or three hours a day on Zoom. We did gym sessions, stretching, and we land-drilled the routines a lot. It was a great way to keep bonding as a team and to not feel alone at home during that time.
Then, yes, the French Open in 2022 was my first competition ever. I felt very nervous and excited, but I also was not 100 percent there. We had a big Covid outbreak in our team right before during our training camp. Only a few of us could go to Paris. So, this meet had a lot of mixed feelings. I was happy for my first artistic swimming competition, but also sad because a lot of my teammates could not be there with me. Luckily, my sister recovered at the same time as us. She was able to come to cheer me up and give me strength.
IS: A few months later, you competed at your first World Championships in the mixed duet. How was that?
KA: It was very, very exciting. The morning of the free mixed duet preliminary, I was so excited and nervous that I was not able to eat breakfast. That's actually a huge thing for me because I usually want to eat everything! The entire experience made me stronger and more confident. It helped me develop my skills faster and made me want to work even more. And then, to see the other countries and to be able to join them in the final was priceless. They are all very strong and so inspiring.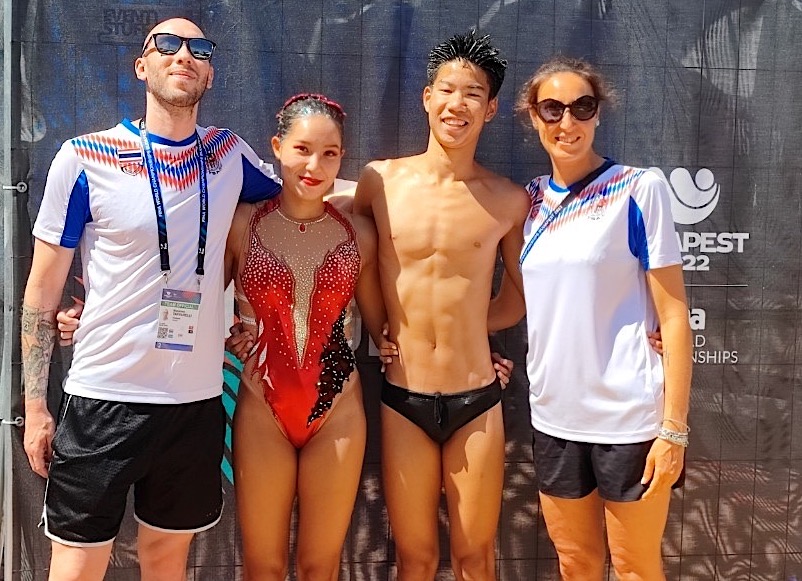 IS: With the new rules, you'll also now be able to swim in solo and team at the World Championships. Is that something you're hoping to do?
KA: I'm excited that men can perform more than before, and I hope it will make this sport even more attractive. Last year, I was very sad that after all year of training, I was precluded from swimming in the highlight routine with my team. I like the mixed duet, but I love to perform in the team routine. I'm so happy that World Aquatics opened the possibility for men to be in these routines. Like I said before, I've been training for the free team this year. I really look forward to being with my teammates at the next World Championships. 
IS: What are some of your goals and hopes for 2023 and beyond?
KA: I want to keep developing my skills, accumulating experience, and to also show that my country can improve and move up in the rankings as well. And of course, to be able to compete again in the finals of the World Championships.
We have three big years ahead of us with three World Championships and also the SEA Games in 2025 here in Thailand. We hope that synchro will be back on the program for that meet. And of course, there will be many more competitions. I want to try to swim the best for my country to make everyone proud, and come back with some medals. And, if I can dream big, I will dream to compete in the Olympic Games one day.
IS: Well, that door is now opened, with men being allowed in the team event. How did you feel when you heard the news?
KA: It's an epic change for the synchro world. I am very excited that men can finally compete in the Olympic Games. Like I said, I dream to compete at the Olympics. It's an even bigger dream to compete with my team as well. I hope this is an open road for a bigger change, and that it will allow the mixed duets at the Los Angeles 2028 Games. This way, I will have a better chance to compete and it will be open to more countries. We will keep fighting for change to make the Olympics more inclusive for everyone. Of course, this motivates me to keep working hard and to make this dream come true.
IS: How is it being an artistic swimmer in Thailand?
KA: It is pretty great. Sure, in the beginning, it was sometimes hard but only because I was the only male. Now, there are three of us and I don't miss not having other guys around anymore. I have a lot of fun with my team. The girls accept me without any problems; we train hard, and we have a lot of fun together. They do not have any gender prejudice. We are all athletes, and it doesn't matter if we are men or women. Artistic swimming really brings you the freedom to express yourself and to present your true identity. I really want to show that it isn't a sport of only women, nor only for women. People in Thailand are open-minded about gender equality, so I don't feel bullied or prejudiced against.
IS: What is a typical day like for you, between school and training? 
KA: I usually train after school, in the afternoon until 9:00 p.m. On the weekends, we have multiple in-water sessions in the morning and afternoon, with gym and stretch sessions in between. Then during the year, we usually have a big camp to fully focus on our training. It's about 40 days in the middle of the season, and we only eat, sleep and do synchro. To manage our time in the best way, me and the other athletes live in a dormitory across the street from the pool. I also changed schools to be in the neighborhood where we are training and to avoid the huge traffic around Bangkok.
IS: Is there anything else you'd like to say to the synchro community?
KA: Don't be afraid of other people judging, be true to yourself and do what you like. Be proud of yourself, work hard, and keep pushing your limits. Dream big guys!
ARTICLE BY CHRISTINA MARMET
If you've enjoyed our coverage, please consider donating to Inside Synchro! Any amount helps us run the site and travel costs to cover meets during the season.