Artistic swimming fans, it is time to rewire your brains. The sport as you've always known it is gone. It's now necessary to approach every routine and every event with fresh eyes and a completely different mindset.
In Markham, a few nations bravely dipped their toes into this new era of the sport. This first World Cup was certainly full of surprises and history-making moments as the new scoring system was finally implemented at the international level. While these new scores may not necessarily "convey" a lot at this point, it certainly made for remarkable and unexpected rankings.
One of the biggest upset of the competition came in the technical duet event. Israel won with a score of 233.4292, moving ahead of typical artistic swimming powerhouses Ukraine and Japan. Shelly Bobritsky and Ariel Nassee have only been together for about a year. In 2022, they competed in a few World Series legs in the technical event before swimming together in both duets at the European Championships. For their first outing of 2023, it is safe to say they never expected to win a historic gold medal for their country.
"It was an amazing feeling for us," Nassee said. "For Israel, it's such a big accomplishment. We never even dreamt of a gold medal, so it was phenomenal. I never thought we could beat them. But now, never say never."
In the last World Championships under the old scoring system, the Ukrainian duet of Maryna and Vladyslava Aleksiiva won silver and Japan's duet finished fourth. Israel, at the time represented by Shelly Bobritsky and Eden Blecher, ranked 10th.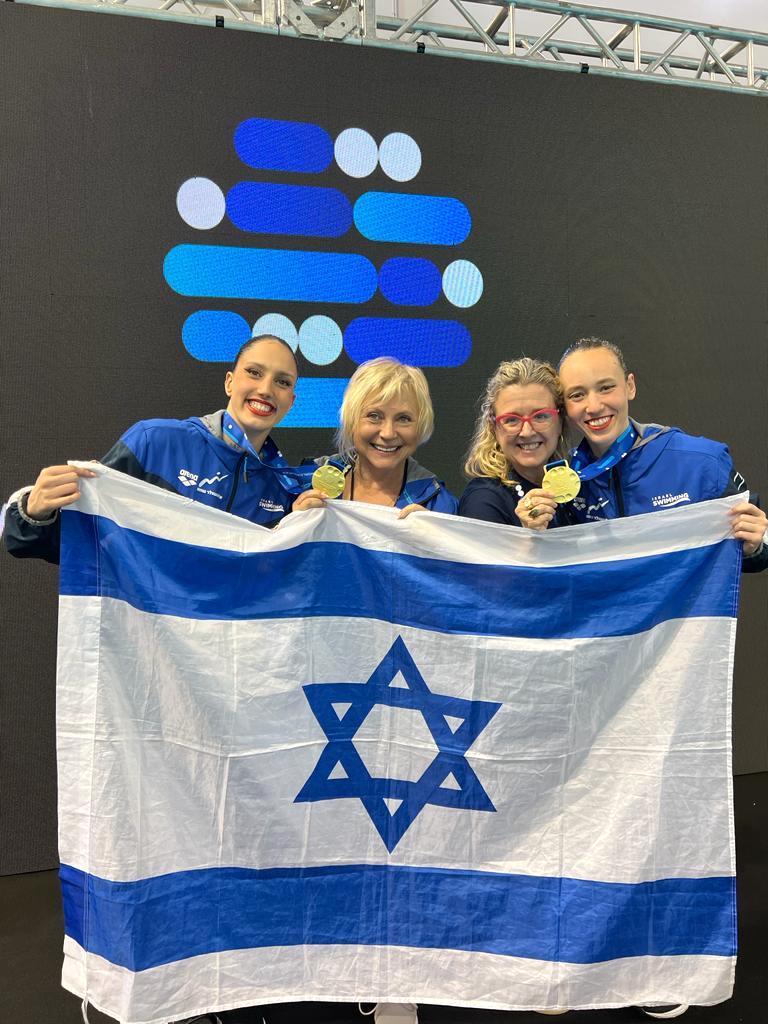 Last January, Bobritsky and Nassee unveiled their "Gypsy" routine at their national championships, scoring 231.8208. In Markham, the Ukrainians swam before them and received 231.6543. Immediately, the Israelis understood they could maybe move ahead.
"I saw their score before we swam and I was shocked because it was our score in the Israel championships," Nassee recalled. "For me, it really was a huge shock. I remember I prayed to God, and talked to myself to cheer myself up because I knew then we could beat them. I felt it."
On top of that, the Israelis had made some tactical changes to their routine before the start of the event. The whole scoring system may change, but Anna Tarrés and her tactics will not. The Catalan coach, who has been working with the nation since 2018, is renowned for making last-minute changes.
Along with fellow coach Svetlana Blecher, they had decided a few hours prior to increase the routine's degree of difficulty (DD) by bumping their R6s to R7s in the free hybrids. Their main goal was only to move ahead of their most direct competitors. Needless to say, the gold wasn't even on their mind.
"We decided to take a risk and raise the level of difficulty with the aim of overtaking the USA and Canada," Blecher explained. "But I never ever believed we would overtake Japan and Ukraine, who are Olympic and World medalists! We made history. I'm really happy and still can't comprehend the achievement."
Overall, it was an incredibly successful competition for Israel. Nassee and Bobritsky also won a bronze in free duet with 281.5043, where they reused the Olympic "New World" choreography, adapted for this new code of point.
The team grabbed another bronze in the technical event with 251.7667. It unveiled a new choreography to the theme of "Birds," displaying superb musicality and excellent choreography. Finally, the nation showed a new acrobatic routine to the theme of "Dreams". It scored 199.2417 but placed fifth after receiving one base mark (BM).
The acrobatic team (formerly highlight) event was the most attended at this competition, with seven nations participating. Five teams entered the technical event, and only Japan competed in the free. The acrobatic team has probably become the event with the most freedom and fewer constraints. Indeed, the only counting DD comes from the seven required acrobatics, and teams must still fill the three-minute allocated time.
Ukraine won that event easily with a score of 244.4958. The reigning world and European champions were particularly impressive right from the start with an incredible one-handed handstand lift. The entire routine contained high-flying and risky acrobatics, which all were ultimately fully credited.
Japan had a very successful outing, medaling in six of the seven events it entered. Most notably, the nation competed in the acrobatic team for the first time since the 2019 Japan Open, and won silver with a score of 223.6875. The Japanese unveiled a "Formula 1" routine and showed massive improvement on acrobatics as well as a fast-paced and entertaining choreography with incredible pool coverage.
They also won the technical team event with 281.8896 and a new choreography to the theme of "Thunder." As mentioned, they were the sole competitors in the free team, scoring 353.4208 for their "Chess" routine.
The new duet of Higa Moe and Yasunaga Mashiro had a good first showing together. The two placed third in the technical event despite receiving a BM on their final free hybrid. Moreover, it was fantastic to see the nation back in the free duet for the first time since the Olympics, with a new routine set to the theme of "Black Panther." Overall, the Japanese pair received the highest artistic impression score in both technical and free events, and will now likely look to increase its DD for the next competition.
The U.S. earned silver in the technical team, not too far behind Japan, with a score of 276.5374. The Americans actually received a slightly higher Elements score than Japan, but the latter was far too ahead in artistic impression to be passed. All in all, the Americans showcased a smartly-constructed routine, reusing last season's Michael Jackson choreography with great musicality.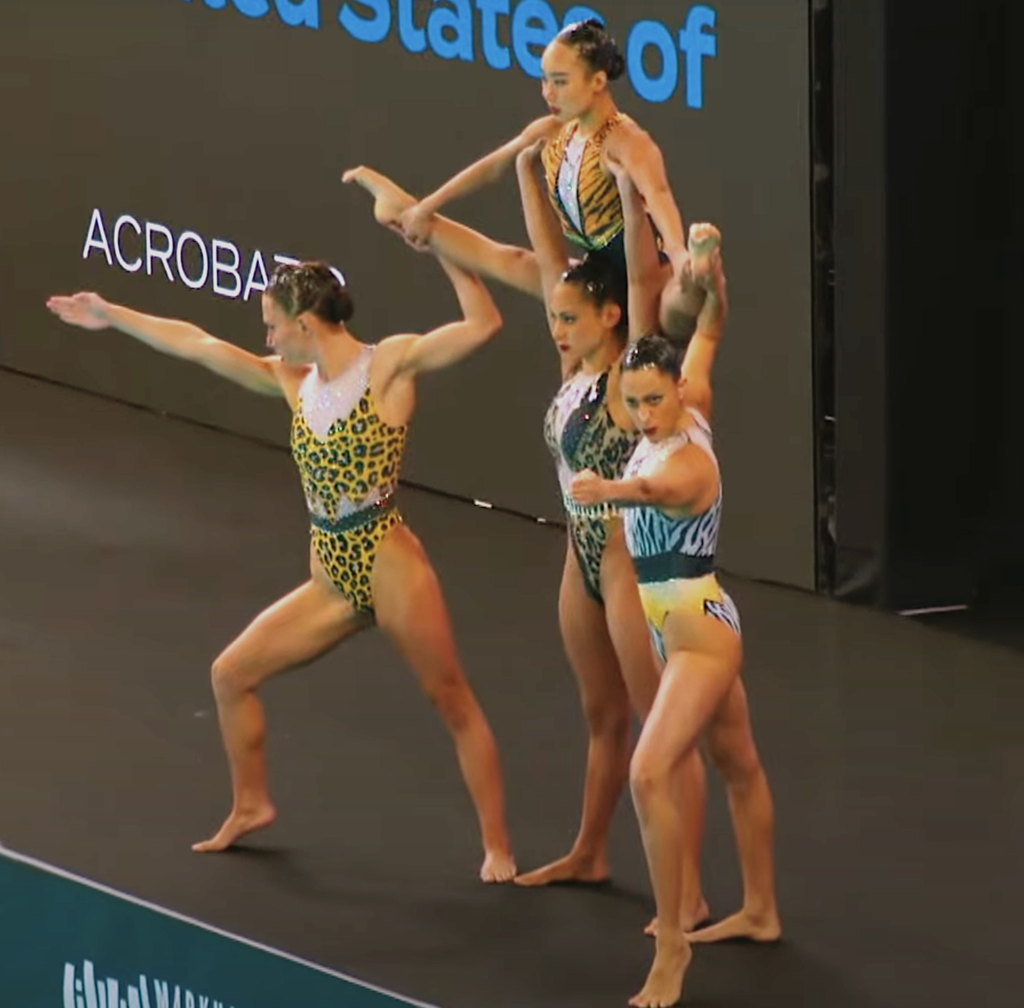 In the acrobatic team, they earned bronze with a new "Amazon" routine. On paper, they had the highest declared total difficulty, but they received two base marks and had to settle for third. It was however great to finally see a team take advantage of the change to the deckwork rules: indeed, it is no longer required for all team members to touch the ground.
The U.S. also introduced a new duet in Markham made of Megumi Field and Calista Liu. The two 17-year-olds have known each other for a long time as they were teammates in their club of La Mirada Aquabelles. They only competed in the technical event here, swimming to a modern rendition of the story of Eve. They scored 188.2375 for sixth place, unfortunately receiving a BM for their final hybrid.
Canada was back in the duet event for the first time since the Olympic Games with two new pairs. Both only competed in the technical event as well. Jonnie Newman and Kenzie Priddell, 2020 Olympic reserve, finished fourth with 202.0584 while Scarlett Finn and Alicia Rehel ranked fifth with 196.4209.
Solos have become a race against time as athletes must fit seven Elements in shortened routines of 2:00 – 2:15 minutes. For now, it appears they don't have much time to express themselves like before and rather focus on having as high of a DD as possible.
Inui Yukiko, reigning two-time World Champion, comfortably won the free solo for Japan with 319.8291. She kept her "Snake" choreography from last season but naturally adapted it to the new rules. However, she couldn't keep the world silver medalist Marta Fiedina at bay in the technical event, despite strong TREs and execution in her "Life of a Droplet" routine. In the end, the Ukrainian had a higher Elements score, which was enough to take the gold by 2.500 points.
Spain had entered two of its top junior athletes in the solo event. 16-year-old Lilou Lluis Valette, reigning national champion, particularly shone in free solo. Swimming to music by Jóhann Jóhannsson, she won silver with a score of 240.1041. This was the first senior event for Lluis Valette, who is also a World Junior Champion in the team event. In Markham, she placed fourth in technical solo, sixth in acrobatic team, and 11th in technical duet as well.
"I really enjoyed participating in this World Cup," she said. "It was a new experience that allowed me to confront myself to swimmers that I have looked up to since I was little! I didn't expect these results at all and I was really surprised. I am very proud to see that all my hard work and that of my coaches is paying off."
Canada's Audrey Lamothe completed both solo podiums with two bronze-medal finishes. Always solid and strong in her technique, the 18-year-old swam to a theme of "Love Story" in the technical event for a score of 196.2833. Her new free solo to the theme of "Roman Gods" received 224.5041.
Five men took part in the solo events. 18-year-old phenom Dennis Gonzalez Boneu took gold in the technical event for Spain with 192.1417, swimming to "Falling Apart" by Michael Schulte. The free event belonged to the reigning European Champion Giorgio Minisini. The Italian scored 296.1209 for his routine set to "Hallelujah," interpreted by Andrea Boticelli and his daughter.
"I found this music very intense as soon as I listened at it," Minisini said. "For me, it gave the feeling of a generational talk, between the one who came first and the one who came after. That's what I want to bring into the water: all the struggle we had to face to arrive at this point, now the opportunity to compete in every competition, and the hope to see more and more opportunities for the ones who will follow us."
Renaud Barral made history for Belgium by winning the nation's first artistic swimming medals on the world stage. He first earned a bronze in technical solo with a score of 130.0708 for his routine set to Etta James' "I Just Want to Make Love to You." Two days later, he added another bronze to his collection in the free mixed duet with Lisa Ingenito.
Barral, 34, made his international elite debut at the European Championships last summer after a decade competing in masters.
"I'm just happy to be here," he said. "I know sometimes I feel like an old fart next to everyone else, but there's a kid inside of me who's living his best life because he's now doing everything he was forbidden to do at the time."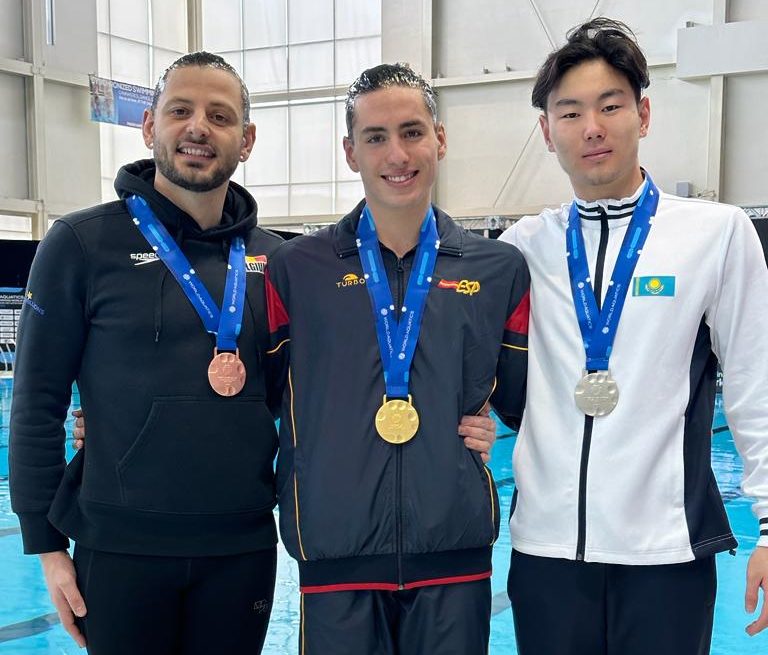 The mixed duet field was highlighted by Shi Haoyu, 2022 World bronze medalist from China. Unlike last season, Shi was paired here with Cheng Wentao. The two had last competed together throughout the 2019 season and at the Gwangju World Championships.
Despite receiving a zero on their TRE2A, they still won gold with a score of 236.2292 for their "Unstoppable" routine. They were particularly helped by their incredibly high DDs in both of their free hybrids: 6.55 and 6.25. These were the two highest values of any free hybrids across all events.
Spain had entered two mixed duets in both events. In the technical competition, Judith Calvo and Dennis Gonzalez Boneu won silver with 193.6417 showcasing a beautiful new routine to the theme of "Winter." In the free event, Gonzalez Boneu was back with his long-time junior partner Maria Bofill. The two comfortably won gold with 227.7876 with the "Angels and Demons" routine that earned them silver at the 2022 World Junior Championships.
Despite finishing third in both events, the second Spanish pair could not earn a medal due to the one-per-country rule. In tech, Fernando Diaz del Rio Soto and Emma Garcia unveiled a new, fast-paced flamenco routine for 188.7458. In free, Diaz del Rio Soto and Mireia Hernandez displayed a new choreography to "Beauty and the Beast" and scored 194.5083.
Finally, both Gonzalez Boneu and Diaz del Rio Soto swam in the acrobatic team. A true highlight came at the beginning of the routine, when Diaz del Rio Soto jumps forward and is caught by Gonzalez Boneu in the air. Spain was actually the sole nation with a mixed team at this competition.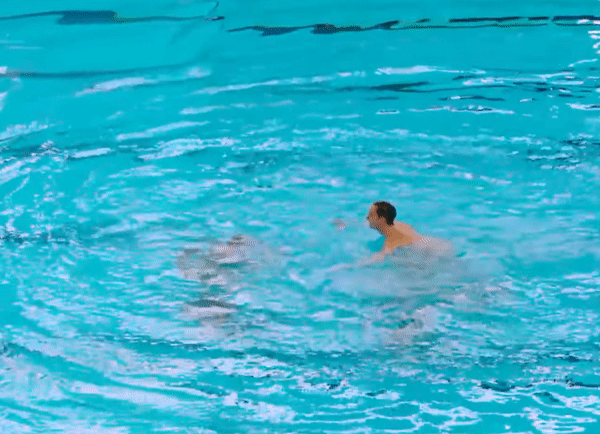 Kazakhstan also displayed a new mixed pair as Eduard Kim now swims with Nargiza Bolatova. The two won silver in the technical event with 177.3167. They however received a few costly BMs in the free event that dropped them to fifth place. Kim, world junior bronze medalist in solo, also earned two medals in the technical and free solo events in Markham.
While Italy unfortunately scratched from both mixed duets at the last minute, Minisini was nonetheless thankful to be out in Markham and compete again in the World circuit.
"To be back on the international stage is always something special and hard to describe," he said. "Being surrounded by athletes and coaches from all over the world always make me feel home. It's amazing to see how much the men's level is improving. All of my colleagues really are showing exceptional ability to improve themselves, and I'm really excited to see what comes next."
However, Italy was entered in, and won, the women's free duet. For their first time out together, Linda Cerruti and Lucrezia Ruggiero came out with a bang, outscoring the entire field with a 321.2667 for their routine "The Storm." Their massive total declared DD of 29.0, the highest of the field, helped them stay in the lead despite more synchronization errors and a lower execution than some of their direct competitors like Ukraine and Japan.
The younger Italian pair of Sarah Maria Rizea and Flaminia Vernice performed to the same music and ranked fifth with a 272.5208. Both also swam in the free solo event.
Finally, Jennah Hafsi made history for Morocco by placing seventh in free solo and ninth in technical solo. The nation had never been represented on the artistic swimming world stage before.
"I am so excited and honored to be the first artistic swimmer in Morocco," she said. "I am so grateful for all the support from my parents, my coaches and my federation, as well as from all the positive feedback I received in this competition. This has been an amazing experience. I can't wait to represent Morocco in future competitions, and take what I learned here to keep improving!"
Hafsi added that she was originally set to compete in the duet event as well before her partner suffered an injury. With dreams of the Olympic Games in the back of her mind, she now hopes to compete in as many World Cups and Championships as possible. Mostly, she wants to continue spreading awareness of artistic swimming across her country and throughout the continent of Africa.
Overall, it was interesting and challenging in many ways to finally witness the new rules in action on the international stage. Certainly, this competition will be a wake-up call for many countries. Undoubtedly, it will give all a push to further study and to reassess each routine to best hack and take advantage of this system.
The pressing questions now arising are, how to avoid this season to simply become a race to the highest DD? How to create and properly value balanced routines that will not base everything on difficulty while forgoing everything else? How to enhance the value and importance of artistic impression? Should further limitations be implemented in some families of movement?
Until further adjustments and calibrations are made, it seems that for now, many routines are sharply trending towards a high DD above all else. Artistic swim… err… Difficult swimming?
The next World Cup, scheduled for May 5-7 in Montpellier, France, will certainly have its own share of surprises.
ARTICLE BY CHRISTINA MARMET
Cover photo courtesy of Svetlana Blecher.
If you've enjoyed our coverage, please consider donating to Inside Synchro! Any amount helps us run the site and travel costs to cover meets during the season.