Since more doors have opened to men in artistic swimming, the next generation of male athletes is getting increasing opportunities to shine on the international stage.  As part of our Synchro Men series, we will also introduce up-and-coming male artistic swimmers who intend to leave their mark on the sport.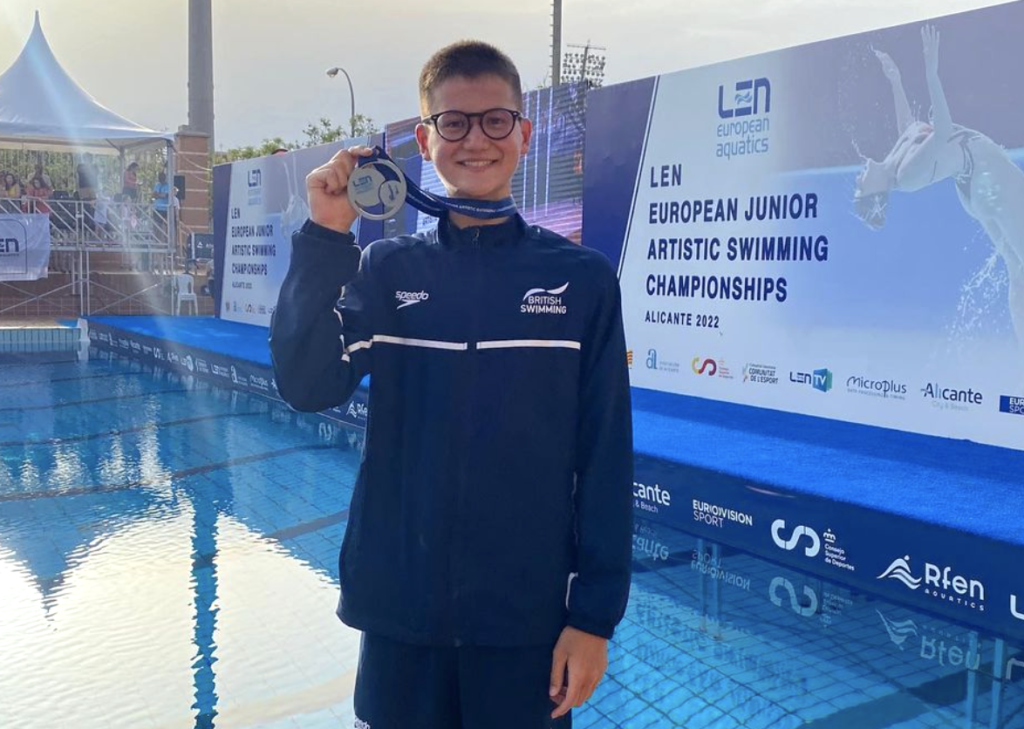 This week, get to know Ranjuo Tomblin from Great Britain. He started artistic swimming in 2017 and immediately was hooked. That year, he competed in the 12-and-under category at the Age Group National Championships and already won silver in mixed duet. A few years later, he was quickly spotted and recruited, in 2020, to the Swim England Artistic Swimming Talent pathway after being a regular at the National Age Group Championships and Combo Cup competitions. 
At 15, he became the first male artistic swimmer to represent Great Britain internationally as he competed in the mixed duet at the 2021 European Junior Championships. The next year, he won a historical silver medal in the male free solo as well as a bronze in technical mixed duet at that meet. A few weeks later, he also finished sixth in free mixed duet, and seventh in free solo and technical mixed duet at his first World Junior Championships. 
The 2023 season is shaping up to be an exciting one for Tomblin, who is half Japanese, half British. With the senior World Championships in Fukuoka, Japan, he is eager to hopefully compete on one of his home turfs, as well as to have a successful year in both junior and senior categories.
Inside Synchro: How did you find artistic swimming?
Ranjuo Tomblin: I started artistic swimming a little over five years ago in 2017. I came from a gymnastics and swimming background. One day, the local artistic swimming coach asked if I wanted to try it out. As soon as I did, I immediately loved it. I like that it combines multiple sports in one. And, that there's never an easy moment. It's always challenging because there are so many aspects to it. I think it's really cool to be able to express yourself through a routine. Besides, I also get to travel to countries that I wouldn't usually go to during competitions, and that's awesome.
IS: What is the most memorable moment of your career so far?
RT: My proudest moment so far is winning the silver medal in free solo last year. This was the first time that male solos had been part of the European Championships at all. It was truly an honor to be a part of that history. I couldn't have done this without my coach Paola Basso. At that same competition, my duet partner Beatrice Crass and I also won the bronze medal in the technical mixed duet. Beatrice is my best friend and it was another magical and incredible moment. One that I will never forget! We never thought that we would win a medal at our first competition together.
IS: How did you feel when you learned that men solo were included at the World and European Junior Championships?
RT: When I found out that I could swim solo, I was very excited because it had never really been a thing before. When I started synchro, I never thought that there would be a separate male solo category. So, I was very excited and honored to be able to be part of this historical moment and I couldn't wait to show everyone my solo.
IS: Is there someone in the sport you've been looking up to?
RT: I look up to Bill May and Giorgio Minisini. All men in synchro have Bill to thank because he made it possible for us to be able to compete internationally. And Giorgio because he swims beautifully. It amazes me to watch him swim. Last year was so inspirational, especially when he became world and European champion.  
IS: How has 2023 been so far for you? When will we see you next?
RT: It's been great. In club, I swim for Rushmoor Artistic Swimming. I have also been training in Bristol, where the senior national team is based, every Thursday, Friday and Saturday. My mum is driving me there ; this all wouldn't be possible without her. 
This year, I should compete in junior and senior meets. One of my big goals for the 2023 season is to be able to compete at the senior world championships in Japan. This would be an absolute dream as this would not only be a big step up, but it's also held in Japan. My mum is Japanese, and I am half Japanese, so it would just be so meaningful. Other than that, the plans are for me to swim at the World Cup in Montpellier, the European Games in Poland, and the European Junior Championships in Portugal. 
IS: What are some of your long-term goals?
RT: Of course, I hope that mixed duets will be at the Olympic Games. When I heard the news about men being allowed in teams at the Olympics, I almost couldn't believe it. It has been something all us boys had hoped and dreamed for. It gives us a new perspective and new goals that we can work towards. So, let's keep on hoping for the inclusion of mixed duets now. This would be the ultimate dream of mine and I really hope that this will happen.
Ranjuo Tomblin competed this weekend at the Swim England National Championships. He became the first-ever male medalist in the technical solo event at this competition.
ARTICLE BY CHRISTINA MARMET
If you've enjoyed our coverage, please consider donating to Inside Synchro! Any amount helps us run the site and travel costs to cover meets during the season.