Spain took its third gold, and fourth medal overall, in the free team final on the final day of artistic swimming at the III European Games. The nation hence tops the medal table of these European Championships with four medals: three golds and one silver.
Seven countries participated in this free team final, and all had already competed in the preliminary round on June 21. Ultimately, no nation was left unscathed as all received base marks in today's event.
Spain had qualified into the first position with a great and basemark-less performance in the preliminaries. For this final, the Spaniards had increased their Degree of Difficulty (DD) by 0.3 to declare 46.05, the highest of the field. Unfortunately, they received two base marks, but their engaging and entertaining performance to the music of Aladdin was enough for the gold and a score of 261.6374.
"We are very happy to win this gold," Iris Tió said. "Everything we tried to do, mostly for artistic impression, worked well. We really wanted to make a difference from the other nations, do something memorable, also in every duet and in the other team events. We are very happy that we did it and the public also enjoyed our performances."
"Of course we are also focused on difficulty and base marks, but as a team, we really wanted to show what synchro is about in all our routines," head coach Mayuko Fujiki added. "Show why we like this sport and not leave out the artistic part and synchronisation. We really focused on that, so we had the goal of getting maximum artistic impression at this competition. We completed it except in duet free final by very little. Now, we really want to keep going on this path to make sure that we don't forget these parts, which are very, very important."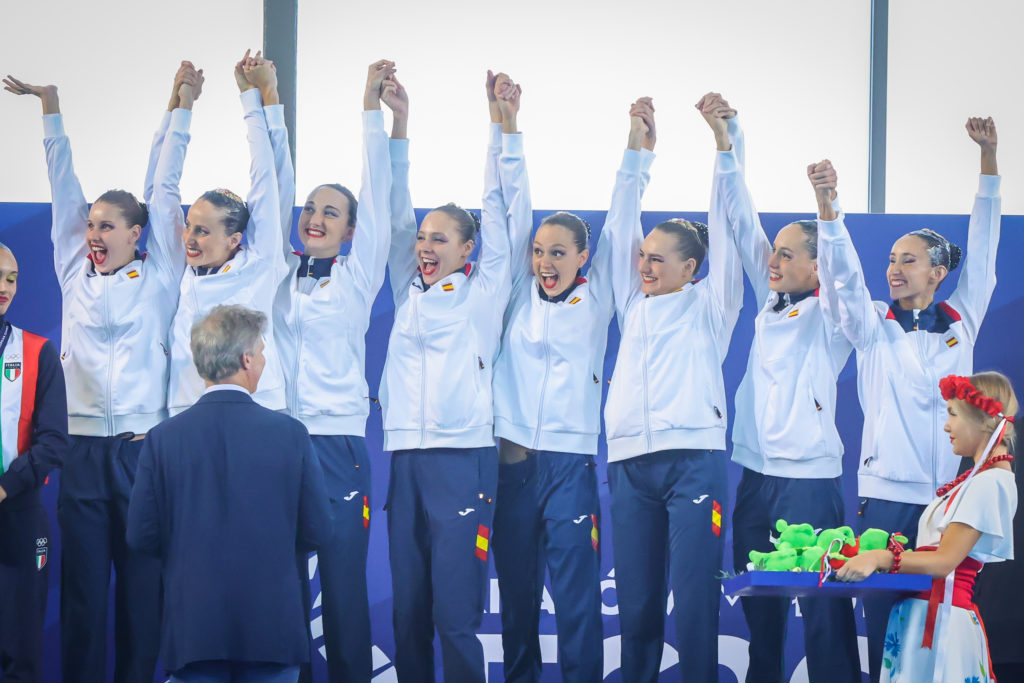 The team of Italy, European silver medalists in 2022, again won silver with a score of 253.4709. The Italians had qualified in the second position, and came into this final with the second-highest declared DD (42.235). Unfortunately, they couldn't quite capitalize on Spain's mistakes and base marks in the final to move up to the top of the podium.
Unlike their direct competitor,  they had opted to play it safe and slightly decrease their DD after receiving one base mark in the preliminary round. It didn't quite work out as they had hoped as they got two base marks today for their  "Inclusion of Man" choreography. 
"Again, we got two base marks but we have to respect the decisions and learn from them," Enrica Piccoli said. "The first day, we also had mistakes, different ones, and it teaches us that every time is different. We did this routine twice here, but the scoring wasn't the same. Different days, different worries. We hope next time we won't get any base marks, but we have to pay attention to every detail. This is the lesson we all have to learn here. Over the months, we changed the routine in some elements, but I think by next year it's going to be even more different. We will know the system much better. Today, we first saw our coaches, they told us what was wrong, then they went to the technical controllers who talked about totally different mistakes."
Israel won the bronze medal with a score of 243.6001 for its Japan-themed routine. The team had qualified in fourth place, and decided to go for consistency, sticking to its 36.6 DD from the preliminary, where they had received a small base mark on one acrobatic. 
The situation repeated itself in the final, albeit this time on the first acrobatic where the flier slipped from the base and couldn't fully complete her jump. Nonetheless, the Israelis had a strong swim with no other major mistake, allowing them to move up to the bronze medal position.
"For us, this medal is an important achievement," Shelly Bobritsky said. "We got one base mark for our first lift; in the water we all felt that something went wrong. So we were really motivated to overcome that mistake and we had to do a lot more in the rest of the routine. We managed to do that, and we are happy that the judges and the public appreciated our efforts."
The defending European Champions from Ukraine had qualified to the final in third place, but sadly couldn't hang on to their spot. The Ukrainians also kept the same DD of 39.15 between the preliminary and final, but they received three costly base marks on their "Team of the Braves" routine, dropping them to fourth with a score of 222.1939.
Great Britain improved tremendously from the preliminary round, moving from the seventh to fifth position. The Brits had increased their DD for this final, aiming for 34.75 vs. 33.95 in the preliminaries. In the end, they scored 212.3856, with one base mark, on their new "Chess" routine. 
Sticking with the same DD from preliminaries, Switzerland received 200.0333 and two base marks to finish in sixth place with its "Pirates" routine. Finally, Germany finished seventh with its "Predators" choreography and a total score of 198.9283. Like the Italians, the Germans had opted to decrease their DD by 0.9 in the final, but they still received one base mark on their final hybrid.
Overall 11 different countries have won medals at these European Championships. The next big event for the vast majority of the athletes competing in Oświęcim will be the World Aquatics Championships in Fukuoka, Japan, from July 14 – 22.
ARTICLE BY CHRISTINA MARMET
Cover photo: LEN / Aniko Kovacs
If you've enjoyed our coverage, please consider donating to Inside Synchro! Any amount helps us run the site and travel costs to cover meets during the season.