With another dominant performance, Anna-Maria and Eirini Marina Alexandri claimed the Duet Free gold, their second gold at these European Championships, and secured Austria a spot in the Duet event at the 2024 Olympic Games.
The day was also marked by France winning its first European team gold in 34 years in the Team Acrobatic Routine, and Spain upsetting the reigning World Champions in the Mixed Duet Free to clinch its first-ever gold in the event.
FREE DUET FINAL
The free duet final was undoubtedly the most anticipated event of the day, if not the entire championships. Indeed at the conclusion of the event, the top pair with the highest combined Duet Technical and Duet Free score would earn a place to the 2024 Olympic Games. 
The top 12 duets from Wednesday's preliminary competition had qualified to this final, but the scores did not carry over. It was quite interesting to assess what everyone went for in terms of strategy. 
The pairs of Austria, Hungary, Liechtenstein, Portugal and Ukraine opted to stay put and keep the same DD for this final as in the preliminary. On the contrary, Bulgaria and Spain rather decided to play it safe and slightly decreased their DDs, especially after receiving base marks in the preliminary round. Germany, Great Britain, Israel, Italy, and the Netherlands decided to go for more difficulty. The biggest increase came from Great Britain, which upped its DD by 1.2 points, and Italy with 1.1 points.
Anna-Maria and Eirini Alexandri of Austria came in as the favorites after winning the technical duet event on Thursday, and qualifying in first place after a very strong performance in the free duet preliminary. 
In tonight's final, the triplet sisters were once again undeniable, perfectly and precisely executing the most difficult routine of the field. Sticking with their 40.44 Degree of Difficulty (DD) and a total score of 256.0335 for their "Condor" routine, they became European Champions once again and punched their tickets to Paris.  
"We are extremely happy and relieved," Anna Maria said. "We achieved our dream, won the gold and qualified for the Olympics. We can't really describe our feelings now… This is so great. We've been working for this so hard and focused on every single moment in all our practices, we really gave everything. Today was a bit stressful before the competition, unlike in the prelims which was more like training."
Maryna and Vladyslava Aleksiiva of Ukraine, the defending European champions, had qualified in second place to this final. Once more, they successfully performed their "Scramble to Position" routine to secure silver with a score of 232.8438. 
The twins earned the best artistic impression score of the evening, but couldn't compete with the Austrians in terms of difficulty, "only" going for 35.70 which was still the third-highest declared DD of the field. Nonetheless, they were absolutely thrilled to win Ukraine's second silver medal at these European Championships, and are motivated to finish the competition strong tomorrow in the Team Free final.
"We are happy with the second place," Maryna said. "We didn't have any base marks so this is great. Competing and winning medals are important for us as we know what our country is going through. Many athletes are on the battlefield, many died, so if there is a chance to participate and show our strength, then it is our duty to do everything we could for our country."
Kate Shortman and Isabelle Thorpe of Great Britain earned the bronze with 223.5084 for their "Rising Phoenix" routine. The two, who have been swimming together since they were 10, had actually qualified to the final in fifth place after receiving one base mark in the preliminaries.
In the final, they improved tremendously and were credited their full DD of 34.5, bringing Great Britain its second artistic swimming bronze medal of the championships. Moreover, the last time the nation had won a medal in the women's duet event was in 1993, which was coincidentally a competition where both of their mothers competed in as well. 
"We've been quite close for a couple of times so taking a medal here is awesome," Shortman said. We've accomplished a big goal here. We also feel honored to stand alongside all these great athletes."
The three medalists were the only ones to not record any base marks in their routines in this final.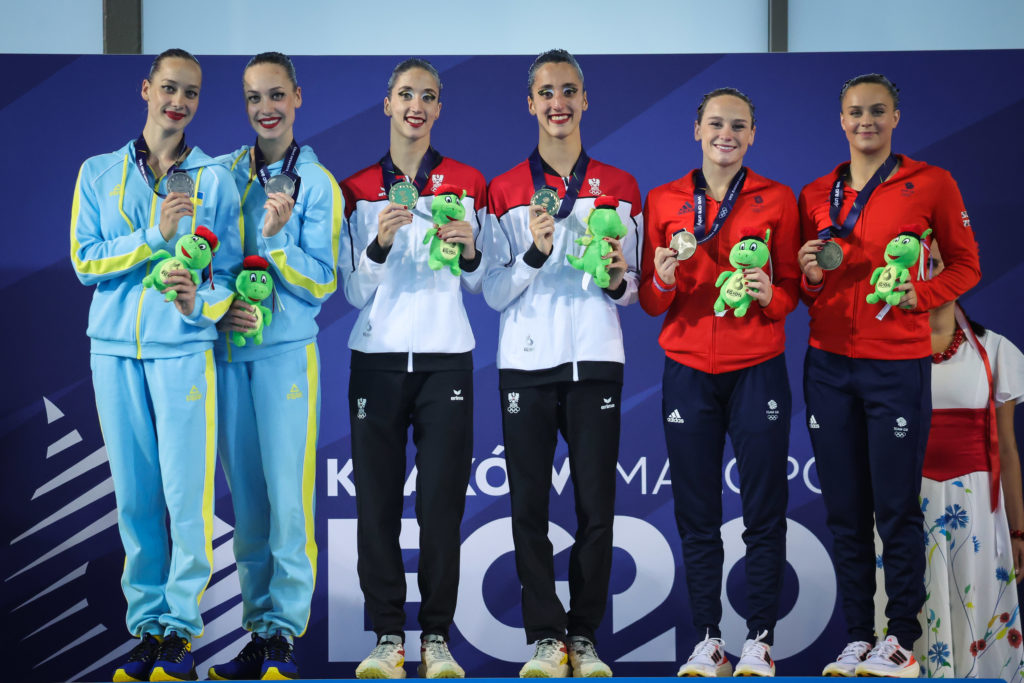 Israel's Shelly Bobritsky and Ariel Nassee had qualified in third place to this final with a clean routine and no base marks, showing good variety in the movements and choreography. They decided to increase their difficulty from the preliminaries for this final, but unfortunately, they received one base mark which landed them in fourth place with a 200.9250. 
The gamble also didn't pay off for the Netherlands' Bregje de Brouwer and Marloes Steenbeek. They had increased their DD by 0.95, but received a base mark as well that dropped them to fifth place with 196.5523.
Spain was one of only two duets that chose to go for a safer strategy, reducing its DD by 0.7 after receiving two base marks in the preliminary. Unfortunately, it was very much the same in the final. Irios Tio and Alisa Ozhogina's fast-paced and engaging routine to "Can't Hold Us" by Macklemore got two base marks once more and scored 193.5145,  although earning the second-highest artistic impression mark.
Italy essentially went for broke, despite already receiving three base marks in the preliminaries. Linda Cerruti and Lucrezia Ruggiero increased their DD by over a point for the final. It simply wasn't worth it as the Italians, silver medallists in Roma 2022, finished in eighth place with four base marks.
Maria Goncalves and Cheila Vieira of Portugal elected to stick to the same DD, a strategy that paid off as they placed seventh overall with a score of 171.3731.
ACROBATIC TEAM
In the morning, seven countries participated in the acrobatic team final, an event recently added to the Olympic Games programme ahead of Paris 2024. Unlike every other routine, only the acrobatics count towards the total Degree of Difficulty here, and teams are free to do anything else around these elements.
In Oświęcim, the three medalists from Roma 2022 were back on the podium, albeit in a different order.
This time, France became European Champion with its "Zombies" routine and a score of 214.2833. The French undoubtedly had one of their best swims of the year and were finally credited their full DD of 18.65 for the first time. They were the bronze medalists in 2022 in this event, but this marks the country's first European gold as a team since 1989. 
"This is incredible, I still can't quite believe it," Laura Tremble said. "It's insane, we are European Champions! We had such a great swim, we could really feel it, and we are so proud of what we did today. This feels so good! A routine with no base marks, a good performance, the Marseillaise, and two medals around our neck after this competition. It's crazy."
Ukraine, the defending European Champions, also had one of its better performances of the year in terms of overall execution, but unfortunately received a base mark on the second acrobatic as the flier didn't rotate fast enough to open to a straight body position after the somersaults, and thus didn't complete the jump as declared.
Ultimately, the Ukrainians settled for silver with 208.9800 to win what was then their first medal of these championships with their "It's Time to Smile" choreography.
"This medal means a lot for us," Marta Fiedina said. "At the end, we are happy with the score and it's good to have a silver at the Europeans. Of course, we need to work on correcting our mistakes as we had a base mark today as well. This is bad and that part also makes other teams upset."
As seen through multiple World Cups this season, the Ukrainians have more often than not struggled to properly strategize and use the new rules to the best of the team's abilities. 
"We basically learned the real importance of base marks with the new rules two months ago when we went to Canada for the World Cup," Vladyslava Aleksiiva explained. "Until then, we didn't really devote too much attention to these changes. We prepared in our usual way, with nice choreography, where the artistic part is as important as the difficulty. Then we learned this whole new system, but two months were not enough to adapt to it completely. Our coaches are a bit sad, saying where the artistic part will go, the overall impression, the harmony with the music… But now, we have a specialist who is doing the counting, so we'll be much more adapted next time."
Italy earned the bronze with 201.9900, also with one base mark. Unlike France and Ukraine, the Italians had not competed in this event yet this season. They were nonetheless confident with this "Dragons" choreography as it earned them bronze in the 2022 World Championships and silver in the 2022 European Championships. Here, Giorgio Minisini competed alongside his teammates and won his first international team medal.
"We are not completely satisfied with our score but now we have a new goal to correct our mistakes for the World Championships," Enrica Piccoli said. "To have Giorgio is an advantage and we are really happy that he is now part of the team. France did such a great job today. The order is fair, this is the new era; if you make a mistake, you go down."
Israel placed fourth with its "Dreams" routine and a score of 179.4000. Unfortunately, one of their connected acrobatics didn't work at all, and they received both a base mark and very low execution scores on the element.
Great Britain, Hungary and Portugal all competed in the event for the first time this season. It also marked Hungary's first outing as a team in this competition. The nation had a clean swim with no base marks, and placed sixth with 168.2534, only 0.3999 points behind Great Britain in fifth. Portugal was also credited with its full DD for its Abba routine and scored 155.8400. This was the first time the nation competed in the event, formerly known as Highlight.
FREE MIXED DUET
The day concluded in dramatic fashion with the free mixed duet final. In their very first European Championships together, Dennis Gonzalez Boneu and Mireia Hernandez of Spain upset the reigning World and European Champions of Italy to win the gold. 
The Spaniards had declared the highest DD of the entire field with a 31.95, which they received full credit for to score 210.3918. Their "Angels and Demons" routine brought Spain its second gold medal of these Championships. Gonzalez Boneu had also already won silver a few days ago in the Mixed Duet Technical alongside Emma Garcia Garcia.
"I've fought a lot to achieve this medal and I'm so happy to get it," Gonzalez Boneu said. This is my first year in the senior team and the first year that we are swimming together, so this is amazing to have a gold."
Indeed, he and Hernandez Luna only started training together at the beginning of the season, but competed in a few World Aquatics World Cups to test out their routine. That experience undoubtedly helped them as they clearly handled the pressure beautifully to deliver a clean performance when it counted. This is Spain's first title in the Mixed Duet at a senior European Championships.
Naturally, Giorgio Minisini and Lucrezia Ruggiero were visibly disappointed upon seeing their score of 171.9874, which included two base marks. The Italians were showing their new choreography for the first time, set to the theme of "Love Story Between Man and an Artificial Intelligence." They did receive the highest artistic impression score of the field.
"(Not having guaranteed gold medals) is good for the sport," Minisini said. "Putting our disappointment aside, now it's a competition where you can win or you can lose. We still have a silver medal and it's still a silver for our country. I'm also going to take full responsibility for what happened here as I think I wasn't that supportive to Lucrezia as I should have been. I have my problems, but those shouldn't come to the water. Anyway, sometimes you need to hit the bottom in order to push yourself up again. Now we are at the bottom, but it's still a silver medal, so it's a nice bottom after all."
It was a long and emotional day for Ruggiero, who only a few hours prior competed in the free duet event alongside Linda Cerruti. She had only previously focused on the mixed duet events, and has taken on an extensive workload this year as she also now competes in the duet and team routines.
"I'm not used to being like this…," she said. "But this was a busy year both physically and mentally, and it was today that we might have finally understood that something went wrong this year. We saw that we just didn't tell each other that, Giorgio we cannot go on like this. We've been working together for years, and we won a lot, so it's OK after all that something like this happened to us here. And we still won the silver medal, so not zeroed out or finished last. We need to change something, that's for sure… Sorry, I'm a bit emotional now. Just two hours earlier, I was in the duet which received four base marks, now we got two. So it's not easy. This may be a new record… 
"You should receive a trophy for that," Minisini interrupted, laughing. 
"Also, I'm really happy for Spain", she continued. "I know how much a gold medal helps you to train even more and be determined. And this is sport, one time me, one time you. Well, it's not nice if it's not me, but we can deal with this."
After earning bronze in the technical mixed duet, Beatrice Crass and Ranjuo Tomblin of Great Britain added another bronze to their medal haul. They successfully executed their "Alice in Wonderland" routine, scoring 163.9688 with no base marks.
"We're both very excited to win another medal here," Crass said. "Artistic swimming isn't as big as the other sports in Great Britain, and our result shows our country that this is a sport where we can develop. And this medal is also a good message that not just females can be successful here!"
"This is a huge step from the junior level, as this is my first year among the seniors," Tomblin said. "We are very proud of this medal and all the hard work we've done so far."
The pairs of Serbia, Belgium and Germany all had terrific swims as well without any base marks to place fourth, fifth and sixth respectively. All three will now look forward to competing at the World Championships in a few weeks. Bulgaria ranked seventh, unfortunately receiving four base marks.
All results are available here. The schedule as well as all relevant information to follow the meet are here.
ARTICLE BY CHRISTINA MARMET
Cover photo: LEN / Aniko Kovacs
If you've enjoyed our coverage, please consider donating to Inside Synchro! Any amount helps us run the site and travel costs to cover meets during the season.