At only 15, Nicolás Campos is the first male artistic swimmer to represent Chile in major international competitions. He started the sport in the fall of 2019, and was already competing at the World Junior Championships in 2022.
This season, he has moved up to the senior ranks and finished seventh in the technical mixed duet in the Montpellier World Cup. He has now been preparing alongside the entire squad in Barcelona, with his sight on the upcoming World Championships in Fukuoka, and ultimately the Pan American Games held at home in Santiago in November.
Inside Synchro: When did you start artistic swimming and what do you like most about it?
Nicolás Campos: I started artistic swimming three and a half years ago. I knew about it because my sister was already in the sport. My own journey began when a judge talked to me and convinced me to try it. What I like most about it is that it is very competitive, beautiful and has some elements of dance, although it requires a lot of technical abilities and perseverance to do it at the elite level.
IS: You won gold in mixed duet at your very first international competition in 2021 at the South American Youth Championships. Did you ever think this would be possible at your first meet?
NC: Winning a gold medal was always part of my goals, but it was my first international competition, so I didn't go with such high expectations. But when I saw the results and that we had won, I was very happy. It gave me a lot of motivation and strength to keep working and go even further.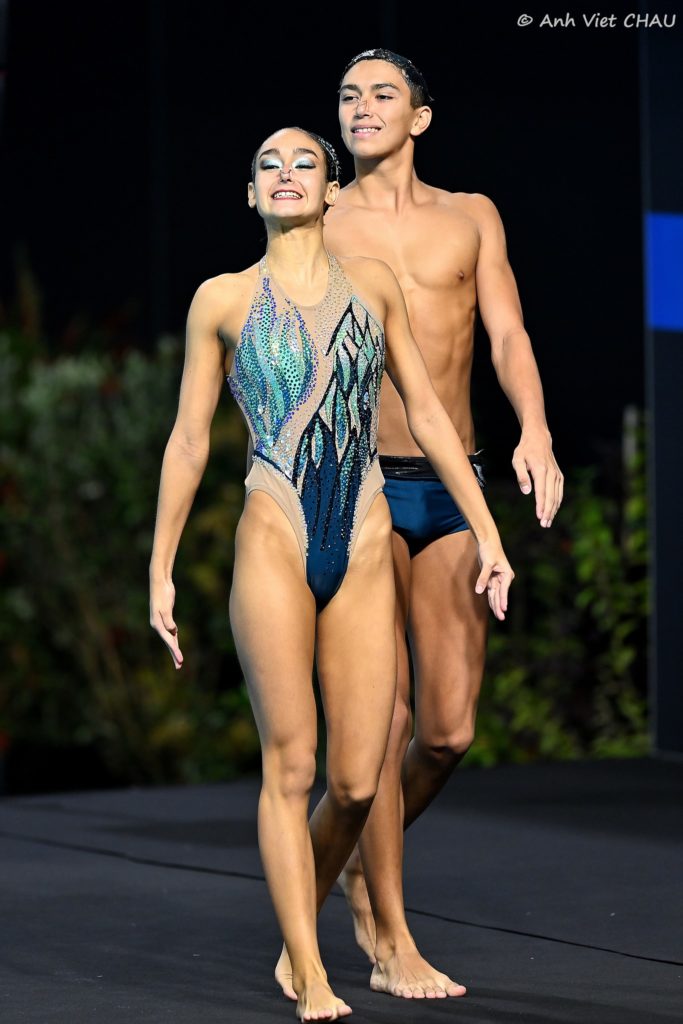 IS: How were the 2022 World Junior Championships?
NC: I felt very honored and fortunate to have been able to participate in the World Junior Championships in Quebec. It was an unforgettable experience and a great opportunity in my sports career. I could compete with the best in my age category and learn a lot from them. It wasn't only the learning, but also the performance with my duet partner Theodora Garrido in the competition. We placed in the top 10 in the world in the junior category, which was incredible.
IS: What is your proudest moment so far?
NC: Without a doubt, it was to participate with Theodora in the Pan American Aquatics Camp in Colorado (USA) held in November 2022. It was led by Olympic swimmer and current coach of the U.S. national team Andrea Fuentes. She saw the potential in me and invited me to come train with the American team three months later.
IS: How has the 2023 season been for you until now in terms of training and competition?
NC: Last summer, we trained in two different pools in Chile, which were the Club Palestino and the Stadio Italiano. Then as I mentioned, I went to the United States to train for three weeks with the national team. Once I returned to Chile, we started to work on the duet. 
Summer ended, and our "World Tour" began in April. Normally, we would train in the National Stadium Aquatics Center in Santiago, which is the only pool that has more than 1.90m depth and that is warm. But it is now under renovation for the Pan American Games because it wasn't up to the regulatory standards. In Chile, it is winter now, which means it is impossible to train in an open pool without heating. So we had to leave the country to train.
Our first destination was Lima in Peru. We stayed one month, and we were able to finish the duet and prepare for the Montpellier World Cup. After that competition, we stayed in Europe. Now, we are in Barcelona preparing new routines, which we plan to show in the World Championship in Japan.
When I was in Chile, my days were based around attending school in the mornings and training in the afternoons for approximately four hours. Now with this four-month tour, my days consist of more training since we have the place and the time. We train approximately for six or more hours from Monday to Saturday. We usually have part of the afternoon free, which I use to do my online classes, my homework, rest, or talk to my family and friends.
IS: What are some of your goals for the rest of the season?
NC: For this season, my next goals are to compete at the World Championships in July, but also the South American Junior Championships in September and of course the Pan American Games in November. For this, I have been preparing with the team a lot, ever since my coach Marcia Leite called me in to train with the team. I need to get used to the leg and arm movements, as well as the timing and pace of the team routines.  We are currently preparing the new routines and adjusting them to the new rules for the upcoming competitions. I hope to be able to enter this event and compete in the Pan American Games since there will be no mixed duet. Of course with all of this, I am also looking forward to continue competing and representing Chile.
IS: It's quite exciting that male artistic swimmers can now compete in team routines at all levels, including the Olympic Games. How did you react to that news?
NC: At the beginning I thought it was a rather good news, but then I felt a little anger and helplessness for not being able to get to the Olympic Games in mixed duet, which is the routine that I have trained the most for. But on the other hand, I feel very happy to have the opportunity to swim in the team and to represent the country with my teammates. I never imagined I would get to where I am today, on a world trip with my entire team, preparing for a senior World Championship.
IS: How do you feel being the first male artistic swimmer from Chile to compete in World Aquatics events?
NC: I feel proud of what I have achieved, especially because I always have the support of my team, my family, and friends. I am happy to be making history and motivated for what is to come. Since I started in this sport, I have always felt very supported by my circle. I am grateful for never receiving any negative or mean comments. On the contrary, everyone has always encouraged me and motivated me to continue growing and improving. Especially my family who supports me unconditionally; this has been a great help to my career over the years.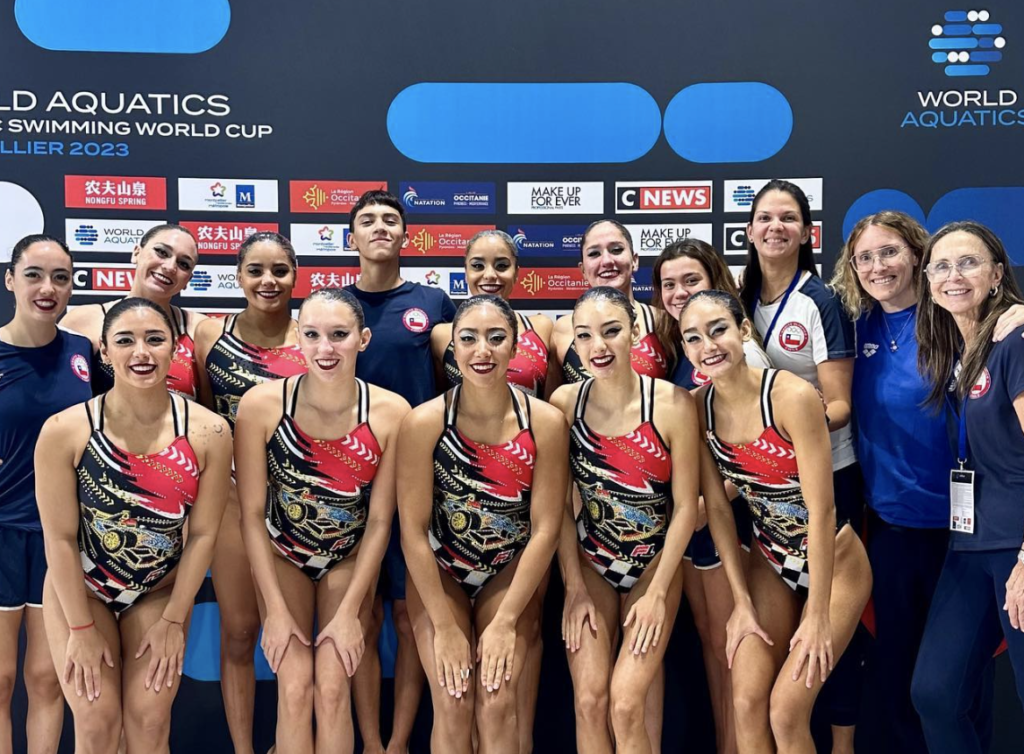 IS: What inspires you or motivates you to keep going?
NC: I am motivated by the competition, the feel of the adrenaline and the sense of pride knowing that you gave it all at the end of a routine. That the work and efforts are noticeable. Besides all of that, the experiences that one lives when traveling; these are unforgettable. And knowing that I do what I like, that I can see my progress and that I can break from the typical things that any other kid my age does generates a huge feeling of pride and motivation for me to continue.
IS: Is there anything else you'd like to say?
NC: I would like to emphasize the great effort that is needed in this sport. Not only regarding the physical aspect and the fatigue that comes from the long days of training, but mostly regarding the mental strength that is needed to practice artistic swimming. We grow every day, not only physically but also mentally. That is why I would like to invite more people to try and join this sport because it is a very beautiful experience. I would like to call more men to dare try and get rid of the fear and leave aside the stereotypes. It is definitely worth it.
ARTICLE BY CHRISTINA MARMET
Cover photo: Anh Viet Chau
If you've enjoyed our coverage, please consider donating to Inside Synchro! Any amount helps us run the site and travel costs to cover meets during the season.