The 20th World Aquatics Championships, the biggest international meet of the year, is set to begin in Fukuoka, Japan, on Friday. Artistic swimming will open the entire competition and will run from July 14 – 22. Athletes from 51 countries will compete for medals across 11 events.
For the first time, the men's solo events will be part of the programme, and men will be allowed to swim in all team routines. This was already the case at the World Junior and Youth Championships last summer as well as the European Championships, but it will be a first at the senior World Championships.
With the new rules, the rankings have changed drastically from one meet to the next during the year. Of course, some nations have looked stronger, or more prepared, than others but everything can now change in the blink of an eye. Undoubtedly, the race to the highest Degree of Difficulty (DD) will continue, and so will the Base Marks.
The draws from the preliminary rounds were based on World Cup participation and resulting rankings. All countries that didn't participate in a World Cup event this year had their start number randomly drawn on site, and will perform in the first part of each preliminary event. The countries that did participate in World Cups earned points that determined their World rankings. Their start number in the preliminaries was determined based on that ranking.
DUET
The duet field is highlighted by Anna-Maria and Eirini Alexandri of Austria. The triplet sisters are fresh off earning their first European titles a few weeks ago. By winning that competition, they also secured their place at the Paris Olympics, notably showcasing two routines with the highest DD yet. They won bronze at last year's World Championships and are looking incredibly solid this season, certainly positioning themselves as contenders for the World title in Fukuoka.
The reigning World champions Wang Liuyi and Qianyi from China will undoubtedly aim to defend their titles. The twins only competed once this season at the Montpellier World Cup, where they secured gold in the technical event with their "Lotus" choreography. They will also unveil their new free duet choreography in Fukuoka.
2022 World silver medalists Maryna and Vladyslava Aleksiiva from Ukraine have faced numerous up-and-downs along with the entire Ukrainian squad this season. They did win silver in the free duet at the European Games in late June, and will aim to stand on the World podium again this year. 
Naturally, Japan's Higa Moe and Yasunaga Mashiro will aim to medal in front of their home crowd. Like the Chinese pair, they haven't competed since Montpellier, where they had secured two silver medals behind China in tech and Ukraine in free. The Japanese duet will also look to position itself against China and ahead of the Asian Games, where they all will fight for an Olympic quota.
The pairs of the Netherlands, Greece and Great Britain also medaled at the European Championships, and should be ones to keep an eye on. For the Dutch, Noortje de Brouwer will make her return to competition in the technical duet after recovering from shoulder surgery. She will be swimming alongside her twin Bregje, while Marloes Steenbeek will continue swimming with Bregje in the free duet.
The European duet field remains incredibly strong so don't forget the pairs from France, Israel, Italy and Spain. All will have certainly learned from their mistakes at the European Games and hope for no base marks in either routines this time around. France's Anastasia Bayandina and Eve Planeix are set to unveil their free choreography to the theme of "Alter Ego".
As for the Americas, Tokyo Olympians Nuria Diosdado and Joana Jimenez of Mexico, Tokyo Olympians, are coming off winning two golds at the Central American and Caribbean Games a few weeks ago. Canada and the U.S. will introduce new pairs at these World Championships.
For Canada, Scarlett Finn will not only return to the duet but also overall to competition, as she last swam at the Markham World Cup in March.  Finn will swim alongside Kenzie Priddell in the technical event, and the Canadians aren't listed on the entries for the free event.
For the U.S, Tokyo Olympic duet alternate Ruby Remati returns to the national team after competing this season for the Ohio State University. Remati will swim alongside Megumi Field in both technical and free duets; the latter being one the Americans have not shown yet this year.
Finally, the duets of Brazil, Chile, Macau, New Zealand, South Africa and Uruguay will make their season debut in Fukuoka.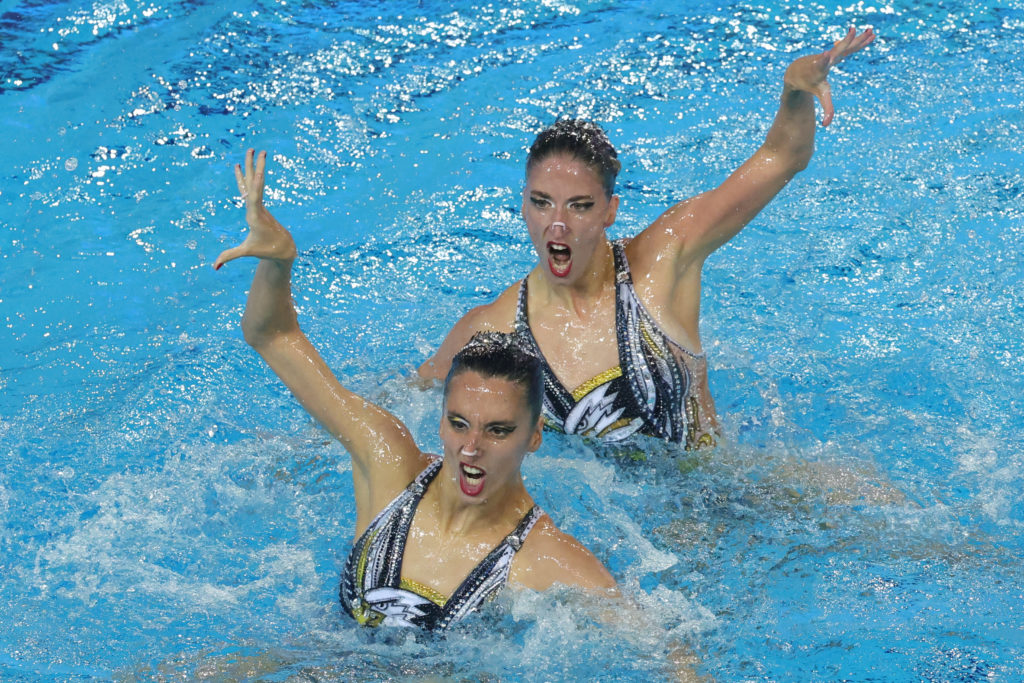 MIXED DUET
The biggest name missing from Fukuoka is undoubtedly Giorgio Minisini. Minisini swam in the mixed duets and teams at the European Games in late June, but suffered a season-ending meniscus tear in his left knee last week. The Italians will thus be unable to defend their World titles in the mixed duet.
Japan and China, silver and bronze medalists in Budapest last year, are certainly strong contenders for the gold this year. The Chinese Shi Haoyu, Cheng Wentao and Zhang Yiyao have been incredibly steady all year, winning gold in all three of their World Cup outings and swimming in both technical and free events.
The Japanese siblings Sato Yotaro and Sato Tomoka only competed once this year in the technical event, placing second right behind the Chinese pair in Montpellier. Prior to that meet, Yotaro had been held back due to concussion protocol and hadn't been able to train a lot. In Fukuoka, he should be back at full-strength.
Obviously, Spain will be one to keep an eye on, especially in the free event as Dennis Gonzalez Boneu and Mireia Hernandez dethroned the defending European Champions a few weeks ago. Spain has yet to win a World medal in the mixed duet, but it is certainly looking like it all might change in the coming days.
Overall, a record 16 mixed duets are set to compete at these World Championship, including Peru and South Korea for the first time in a major international meet. The European pairs from Belgium, Germany, Great Britain and Serbia will also make their anticipated World debuts. The British Beatrice Crass and Ranjuo Tomblin recently won two bronze medals at the European Games, while this will be Germany's first appearance in this event at a World Championships since 2017.
TEAM
In the team events, China comes in as the reigning World Champion in the technical and free routines. The country has looked strong all year, although it has yet to unveil its free team choreography. The Chinese squad has worked with choreographer Anna Tarrés this season, who brings a different vision and creativity to the routine-building process. Naturally, China always remains one to watch in any event, but particularly now in the acrobatic team as it displays explosive and risky acrobatics and uses unexpected music, veering off from the style it usually decides to go for. 
Japan will undoubtedly look to put up strong performances in front of the home crowd. The Japanese team won two silver and a bronze at last year's World Championships and will look to repeat such results, at least. The squad hasn't competed since Montpellier, where it earned gold in free team and silver in technical team. The Japanese didn't show their acrobatic routine there, but they have undoubtedly been working on increasing their DD in that event, since their last time out in Markham.
Spain will be another team to keep an eye on as it is coming off winning two European titles in technical and free team three weeks ago, with its Flamenco Fusion and Aladdin choreographies, respectively. The Spanish squad is not entered in the acrobatic team event.
Italy has had to adapt quickly after losing Minisini so close to the start of these championships as he had been working on all three routines. The Italians made their season debuts only a few weeks ago at the European Games, winning two silver in technical and free team, and bronze in acrobatic team. At last year's World Championships, they had earned bronze in technical team as well as silver in free combination and highlight. Undoubtedly, the squad will look to make it to the podium again here.
The French were recently crowned European Champions in the acrobatic team with their "Zombies" routine, and also won bronze in technical team. They will certainly aim to keep that momentum going in Fukuoka in those events. They will not compete in the free team. 
Ukraine, two-time gold and one-time silver medalist at the 2022 World Championships, has had a bit of a hot-and-cold season. The Ukrainians have tried to keep up and go for very high DD, but unfortunately suffered base marks after base marks in most of the competitions, often taking them out of medal contention. It will be interesting to see what strategy they opt for in Fukuoka, but they will certainly hope for a lot less base marks and more podium finishes. As usual, they have been very impressive in the acrobatic team event, performing risky and unique acrobatics that almost only they could try out. They are the two-time defending World Champions, and will hope to continue their winning streak.
An interesting matchup to look out for will be between the U.S, Mexico and Canada, as all three  will fight for a team Olympic quota at the Pan American Games in November.
The U.S. last competed in the Montpellier World Cup, winning bronze in technical team and silver in acrobatic team. They should show their free team routine for the first time this season in Fukuoka.  The Americans have since seen some changes to their roster following a final trial process, with a few athletes leaving and others returning, like Ruby Remati, Nikki Dzurko and Bill May. May is expected to only swim in the acrobatic team in Japan.
Mexico competed two weeks ago at the Central American and Caribbean Games across all Olympic events. They showed their adapted "Monarch" free team for the first time. After a first outing in the Soma Bay World Cup, the Mexicans had drastically increased their DDs for this meet, but suffered numerous and unforgiving base marks. The Mexicans will have certainly learned the hard way, but this will have surely helped them adapt their strategy for these World Championships.
The Canadian squad last competed in the World Cup Super Final in Oviedo. While the team itself hasn't changed much since, albeit for the returns of Scarlett Finn and Alicia Rehel, Canada Artistic Swimming has parted ways with head coach Gábor Szauder. The team heads into Fukuoka under the leadership of Kerri Morgan, CAS Chief Sport Officer. Yelizaveta Yakhno has continued her duties as assistant coach, and it appears Kasia Kulesza is back on the coaching staff as well.
Israel and Greece are two other countries to keep an eye on. The former because it has looked ready and prepared all year, and the latter because it hasn't competed much and could surprise. 
Israel won bronze in free team and finished fourth in acrobatic team at the European Championships, along with winning gold in free combination there (this event is not on the Worlds' programme). The Israelis have adapted well to the new rules, but their main struggle has been the acrobatics. If they can nail them in Fukuoka, they could certainly become a threat quite fast.
Finally, a handful of Olympic spots are up for grabs in Fukuoka for the continents of Africa and Oceania. One team from each continent will qualify to Paris 2024 along with its duet, and one additional duet from each continent can also grab a spot to the Games. Participation from these continents however is anticipated to remain low in the two Olympic events, with only two eligible countries from each continent competing in Fukuoka.
SOLO
The reigning World Champion Inui Yukiko will look to repeat and to win gold on home soil. Inui competed in three World Cups this year, winning gold in both solo events in each of her outings except once in the very first event of the first World Cup in March.
Although nothing is guaranteed for her, as one base mark can drastically change the course of a competition, she is certainly looking like the strongest of the field at this point. Two-time World silver medalist in 2022 Marta Fiedina of Ukraine will not swim solo in Fukuoka. Like the team, she has had an up-and-down season in this event with the new rules, and ultimately decided to forgo it altogether for now. 
Linda Cerruti of Italy, two-time European silver medalist in 2022, will also not compete in solo, rather choosing to focus on the duet and the team for this competition. 18-year old Susanna Pedotti will represent the nation in this event instead. Pedotti already shone on the junior stage in the past, notably winning silver in technical solo and bronze in free solo at the 2022 World Junior Championships.
Two-time World bronze medalist Evangelia Platanioti of Greece is expected to swim in both solo events in Fukuoka. She hasn't competed in these events yet at all this season.
With the absence of both Fiedina and Cerruti, it seems the door is wide open for other European soloists like Vasiliki Alexandri of Austria (bronze medalist in Roma 2022) and Iris Tio of Spain (fifth place in Roma 2022) to make it up to the podium. Both have competed throughout the World Cup circuit this season and successfully tested out their routines. They are certainly two to watch, each offering different strengths and styles in their choreographies.
Alexandra Mansare-Traoré will make her competitive debut here representing Guinea. She trains in Canada and recently finished ninth in technical solo and 10th in free solo at nationals. Overall, four African countries will be featured at these World Championships (Egypt, Guina, Morocco, South Africa) across numerous events.
10 men are entered in the inaugural male solos. As mentioned, the reigning European Champion Giorgio Minisini will not be part of this historical event. Spain's Dennis Gonzalez Boneu and Japan's Sato Yotaro will head into this as favorites as they went 1-2 at last year's World Junior Championships. Gonzalez Boneu will only compete in the free event. Teammate Fernando Diaz del Rio Soto, two-time European silver medalist, will also look to make his way to the podium in the technical event. 
Like the Spaniards, Gustavo Sanchez of Colombia competed extensively throughout the World Cup circuit, and should head into Fukuoka confidently. He has however some surprises in store for the fans as he changed music and choreography in his technical solo to be more expressive and to enhance the artistic impression.
2022 European bronze medalists Ivan Martinovic of Serbia and Quentin Rakotomalala of France will also look to leave their mark on this historical event. The field is completed by soloists from  Germany, Great Britain, Kazakhstan, Puerto Rico and USA. 
Don't miss any of the artistic swimming action at this year's World Championships! Follow Inside Synchro on social media for the latest news, updates and highlights. You can also check out the 2023 World Championships section on our website for the latest results and daily recaps.
ARTICLE BY CHRISTINA MARMET
If you've enjoyed our coverage, please consider donating to Inside Synchro! Any amount helps us run the site and travel costs to cover meets during the season.