Filippo Pelati and Gabriele Minak, respectively 16 and 17 years old, will both represent Italy at the 2023 European Junior Championships, set to begin tomorrow in Portugal.
Over the last few years, Italy has been amongst the countries leading the charge in the development of male artistic swimming. Time after time, its senior national championships have seen some of the highest numbers of mixed pairs and men solos in the world.
This season, Pelati and Minak have been at the forefront, fiercely competing against one another for the top spot, and showing that a young generation of Italian artistic swimmers has arrived, ready to leave its mark on the international circuit. Both have topped the national podiums in their respective events, and proudly represented their nation throughout the World Cup circuit, ahead of the European Junior and World Youth Championships.
Filippo Pelati
While Filippo Pelati competed in both youth and junior age groups in 2022, he is set to appear across all three in 2023. The 16-year-old already won all solo titles at the Italian summer national championships across the youth, junior and senior categories.
In 2022, he won bronze in technical mixed duet at the World Junior Championships and competed in solo there as well. He is also a four-time European Junior medalist in solo and mixed duet, and was a two-time silver medalist in these events at the European Youth Championships. 
In 2023, the young Italian has so far competed in three World Cups, notably winning gold in solo at the World Cup Super Final in early June. He will next swim in this event at the European Junior Championships, before preparing for the World Youth Championships at the end of August.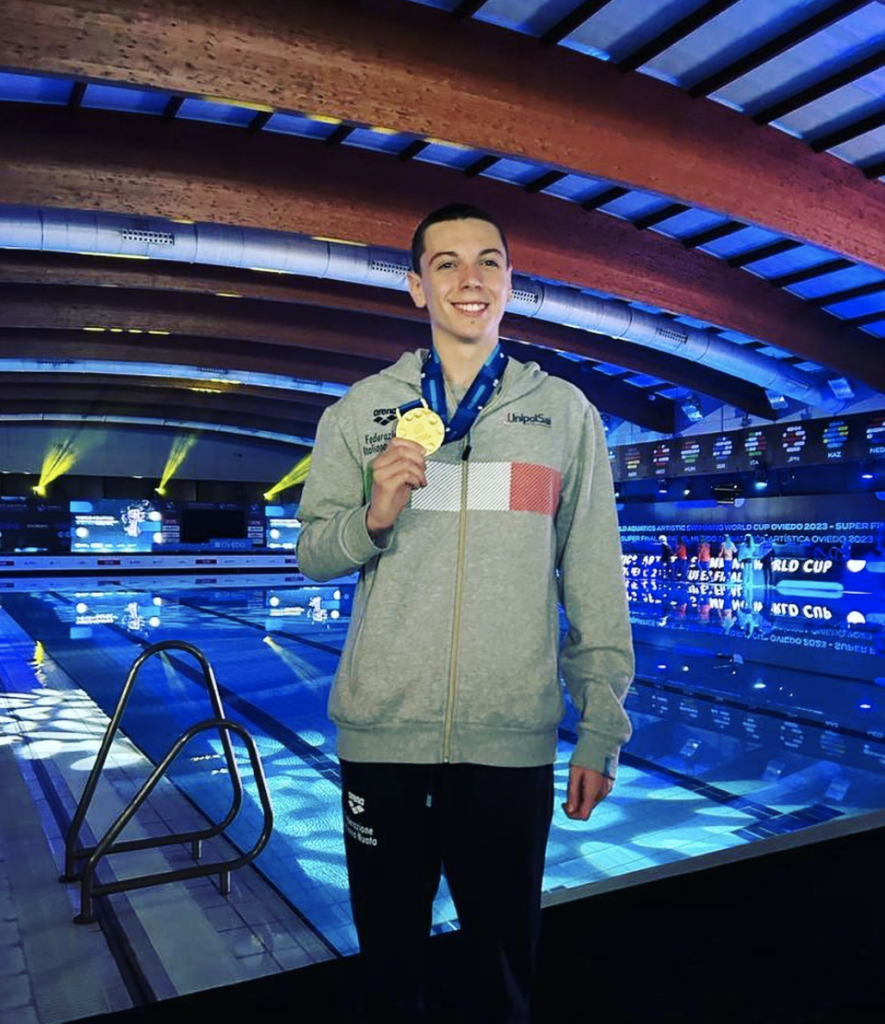 Inside Synchro: Tell me how you got started in artistic swimming. 
Filippo Pelati: I started artistic swimming at the age of eight. I always swam since I was newborn, 11 months old, and I was also doing hip-hop dancing growing up. When I saw a group of young girls in the water doing synchro, I immediately told my mum to bring me the next day. It was love at first sight, or first stroke, I should say.
IS: What do you like most about the sport? 
FP: I always loved being able to express myself and my emotions through my movements in the water. In late 2021, I met the most beautiful person in artistic swimming, Alessia, who is my mixed duet partner. Immediately, we had a connection between us, and now a glance is enough for us to understand each other. Now I can say that my favourite routine is the mixed duet because of it. But the most beautiful part for me is the one underwater, when nobody sees what is going to happen and then it's magic over the surface.
IS: Last year was your first season representing Italy, and you competed in three international competitions in the span of a few weeks that summer. How did you prepare for it?
FP: I received the convocation to the national team in March. I immediately thought that I would be away from home for a long time, and I was not used to it. But the adrenaline and the desire to train and continue to grow as a sportsman was stronger than homesickness. I thank all the coaches and teammates for making me feel at home, like a new family, last year.
IS: What is your proudest or most memorable moment so far? 
FP: The most memorable, and moving, moment is at the World Junior Championships in 2022 in Quebec City, when Alessia and I won the third place in technical mixed duet. That day was also Alessia's birthday; I think that this was better than any other possible present there could have been. 
I really never thought that it could happen. The previous day, I had a bad competition and my family was in Italy so they could not confort me. I had to find deep in my heart the strength to stand up and move on for Alessia, for the whole team and for Italy. That morning, Alessia and I also had a bad warmup. We tried the duet in the pool next to the competition up until 10 minutes before we had to go. We just told each other we had to do what we could do, be ourselves and enjoy the moment. When we were waiting for the score, we didn't expect what would happen shortly thereafter. You could see from our facial expressions the moment we learned we were third… What an emotion.
IS: Is there someone in the sport you look up to?
FP: Obviously, my great source of inspiration is Giorgio Minisini. He is a hard worker and a good man, engaged in many social battles. He fights for the rights of everyone, such as people with down syndrome. I hope to be like him in the future.
IS: What have been some of your goals for this season and for the next few years?
FP: My goals for 2023 have certainly been to continue training hard to improve more and more. I am very happy and proud to participate again in international competitions, wearing the Italy shirt. One of my great hopes for the future is to participate in the Olympics. When I read the news about men being admitted in team to the Olympic Games, I was in disbelief. I was very happy because it is a big step for all our community to recognize equal rights for men and women in a sport that was only for girls in people's minds.
Now, my expectations for my future have also changed. It's time for me to improve inside of the team, to catch up with the girls and understand what it's like to swim in a routine I've never swam before. And I sincerely hope to see mixed duet included in the future at the Olympics too.
Gabriele Minak
Gabriele Minak is the reigning junior and senior Italian national champion in the mixed duet. Before this season, he had last competed at the inaugural World Youth Championships in 2019, where he placed fourth in the mixed duet. The then-13-year-old had actually quit artistic swimming after that meet, but decided to return ahead of the 2023 season to give the sport another try. 
Just like his teammate, the 17-year-old has so far competed in three World Cups in 2023, and won gold in solo at the World Cup leg in Montpellier. Next, he is set to represent Italy again in the mixed duet at the European Junior Championships.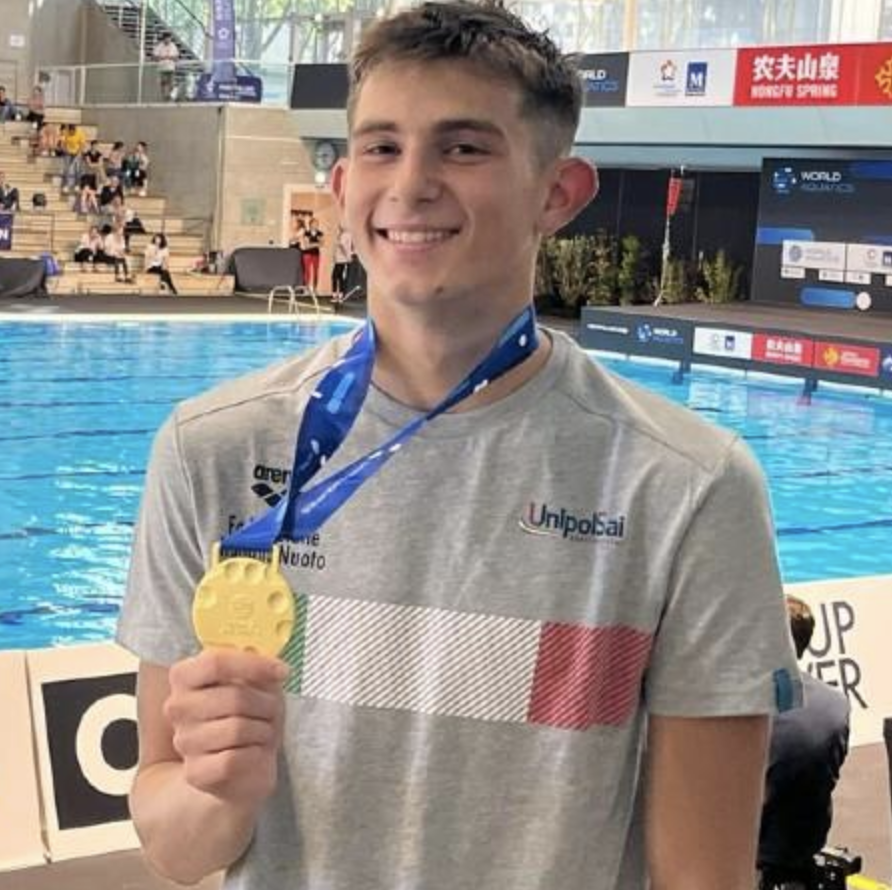 Inside Synchro: When and how did you start artistic swimming?
Gabriele Minak: I started artistic swimming in December 2014 when I was eight years old. I started to swim because I saw my sister doing artistic swimming and I got curious. It was very difficult at first, growing up as an artistic swimmer, because we have to fight prejudices a lot. But I think that thanks to the new opportunities we now have in international competitions, all these difficulties have become "irrelevant" almost.
IS: What is your proudest so far in your career?
GM: My most memorable moment is our fourth place in mixed duet at the World Youth Championship in 2019, because we were the youngest in the competition.
IS: After that meet, you actually left the sport for three years before returning. Can you tell us a bit more about these decisions? 
GM: Yes, I quit artistic swimming in 2019 because I didn't have the same passion that I had in the beginning anymore. So I decided to change sports and do football. But I came back to synchro because I started to miss competing and doing choreographies. Actually, the thing I really like the most about the sport is the feelings you experience during the competitions. I really missed that.
IS: How did you prepare for this season alongside your new duet partner Ginevra Marchetti?
GM: I get along very well with Ginevra. We understand each other well, have a great mindset, and train hard for the same goals. We started working together recently, but slowly we have been getting to know each other better. Our goals were to win the Italian Championships, and to have good results in international competitions. We did win the Italian Championships in the senior and junior categories in mixed duet this summer. We also could compete in three World Cups during the year, which was great experience on this big stage. Now, we are ready for the European Junior Championships.
IS: Is there someone in the sport you look up to?
GM: In artistic swimming, I admire Giorgio Minisini for his incredible story, which in some respects resonates with me. I think he is a great athlete. In Italy, he is an example for everyone because of what he conveys and his campaign for the integration of males in this sport.
IS: What are some of your hopes and dreams for the future?
GM: Of course, like every athlete, the dream would be the Olympics. But for now, we focus on what we can do in our category, like the Italian Championships and the international competitions we are selected for.
ARTICLE BY CHRISTINA MARMET
If you've enjoyed our coverage, please consider donating to Inside Synchro! Any amount helps us run the site and travel costs to cover meets during the season.