Marlene Bojer and Michelle Zimmer, two of Germany's veterans and most accomplished artistic swimmers in recent years, have announced their retirements. They were bid farewell last weekend at the German National Championships.
While both of their individual careers span over a decade, the two had become a duet in 2021 and 2022. Last June, they also were part of Germany's historical team silver medal at the European Championships.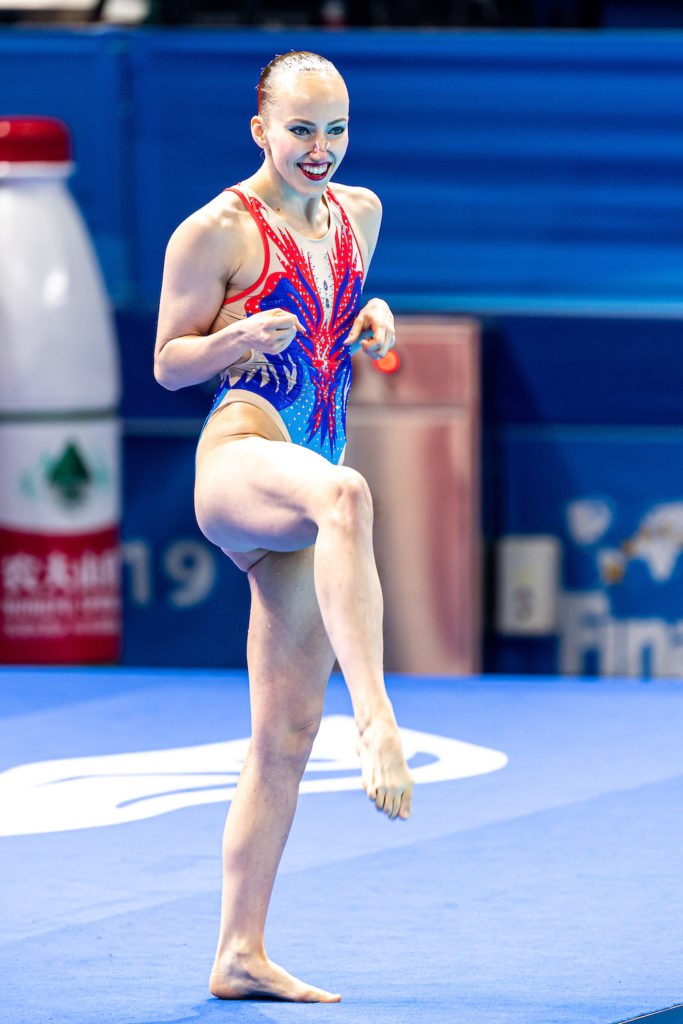 Marlene Bojer has been a pillar of Germany's senior national team since 2009. At the age of 16, she made her debut at the 2009 World Championships, competing in the free team and free combination routines. After swimming at the 2010 World Junior Championships, she returned to the senior world stage in 2015, making her first outing as the country's soloist. She went on to compete at the 2017, 2019, 2022 and 2023 World Championships.
A staple on the European scene as well, she competed in six European Championships between 2014 and 2023, regularly performing in the solo, duet and team routines.
"The decision [to retire] had been finalised for me before the World Championships in Fukuoka," she said. "Of course, there had already been one or two thoughts about it after we had given up the duet [in 2022]… I love competitive sport and am infinitely grateful to everyone around me that I have been able to live the life I love. With all the ups and downs, it was an incredible time. I am leaving the national team with one eye crying and one eye laughing. But also full of anticipation as to where I will find my new identity or passion."
At 30, Bojer was the most experienced in the national team.
Michelle Zimmer joined the senior national team in 2014 ahead of the European Championships. She also competed in the World Junior Championships that same year. The following season, she swam solo at the inaugural European Games in Baku. Just like her teammate, she participated in six European Championships overall, and was often entered in the solo and team routines in various international competitions.
She competed at her first senior World Championships in 2017 in technical solo, technical team and free combination. However, she then called it quits, facing at the time slim Olympic prospects and simply wanting to try life outside of artistic swimming. A few years later, she realized she had some unfinished business in the sport, and decided to return. In the fall of 2020, she and Marlene Bojer became a duet, aiming for the Tokyo Olympics.
"When I look back, I think I could have made it without retiring and have another Worlds at my list," she said. "But maybe this was a year I needed to get motivated to come back. For everything else, I would not change a thing. I'm very thankful for everyone that supported me during my whole career. Especially my coach Stephanie Marx who has been with me since I'm eight years old. But also Stella Mukhamedova who has been my coach at the international level since I'm 13. And, I'm so happy to have had Marlene as my duet partner, definitely a friend for a lifetime."
Bojer and Zimmer placed 10th in technical duet and 11th in free duet at the 2021 European Championships. A few weeks later at the Qualification Tournament, they also finished 10th, but were sadly only 0.1866 points short of Germany's first Olympic participation in artistic swimming since 1992.
Their steady work and consistency slowly but surely put Germany on the map. At the 2022 World Championships, they qualified to finals in duet, a feat not accomplished by a German duet in years. They ultimately placed 11th in the technical event and 12th in free. Simultaneously, Bojer also made her first-ever World final in solo at the same competition.
A few weeks later at the European Championships, Zimmer made her debut in mixed duet alongside Frithjof Seidel, landing a superb fourth place in the free event. They also both contributed to the team's sixth-place finish in the free event.
Unfortunately, the pair couldn't continue on as a duet for 2023, but remained part of the German squad. Zimmer mostly focused on the mixed duet and team routines for the major international meets, while Bojer set her sights on solo and the team routines as well. Both won a historical silver at the 2023 European Games in free combination, the country's first team medal since 1983.  They also qualified to finals and placed ninth with the same routine at the World Championships in Fukuoka.
"When the decision from Marlene's side was made to not to continue with the duet for the Paris Olympics, I was already thinking about retiring," Zimmer said. "I completely stand behind the decision. But I was very sad and didn't know if I wanted to continue at all. Luckily, I did do another season with the team and Frithjof as mixed duet. But I have been thinking a lot about until when I wanted to continue. After the Super Final this year, it became clear, and I decided that this would be my last season."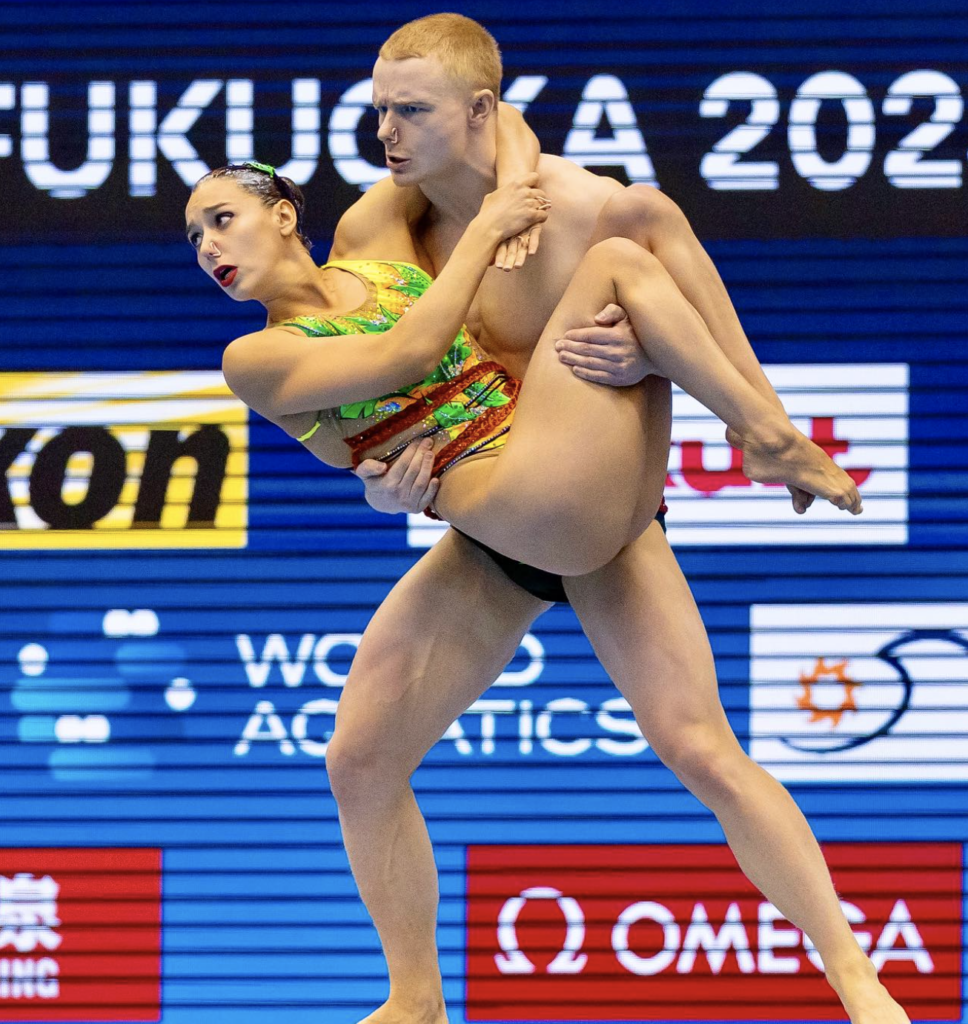 Ultimately, Zimmer is one of only two athletes to have ever competed in every possible artistic swimming event on the international stage throughout her senior career.
Bojer and Zimmer were honored at the national championships this weekend in Bochum. Their final competition quite successful as well. In the mixed duet, Zimmer once again won the national titles in the technical and free routines with Seidel. She also earned silver and two bronze in the team events with the SC Wedding Berlin club. Bojer won the technical team with the SG Stadtwerke Munich team, and took silver in the free routine.
In the future, both want to concentrate on their studies and their careers. Bojer handed in her master's thesis three weeks ago, and is now looking for a job in the marketing field.
"I can imagine remaining part of the sport and passing on all my accumulated knowledge as a coach, for example," she said. "But at the same time I'm curious to see what other challenges I can take on outside this bubble."
Zimmer is searching for a student job in the biotechnology field in Berlin. She will start her own master thesis next spring. As to whether she'll eventually find her way back to the sport, only time will tell.
"I will stop doing synchro at the club for at least one year to get closure," she said. "But after that, I don't know. I have a coaching license already since 2019. So maybe I will be coaching, or maybe not. I'm not sure yet!"
One thing is certain, both have undoubtedly left their mark on German artistic swimming.
ARTICLE BY CHRISTINA MARMET
Cover photo: Deepbluemedia
If you've enjoyed our coverage, please consider donating to Inside Synchro! Any amount helps us run the site and travel costs to cover meets during the season.