The 2016 U.S. Open is held in Riverside, Calif. from July 14-16 and is expected to be a very exciting meet in the senior category. Indeed, five Olympic duets will take part in this last big international meet before the Rio Games.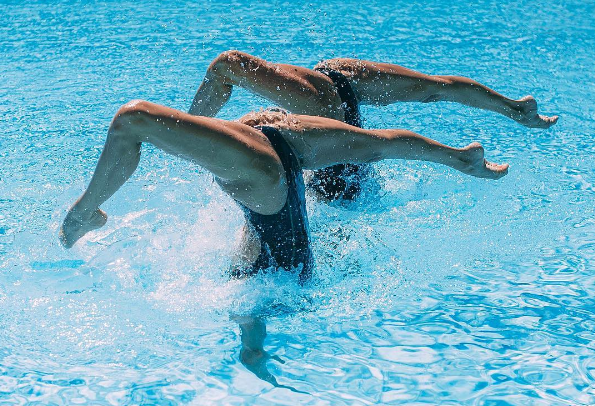 Spain's Ona Carbonell and Gemma Mengual are coming in as the heavy favorites to win it all, and will look for final feedbacks from judges and coaches before they head to Rio. The pair has been hiding from the public eye for months now, even skipping the 2016 European Championships in order to not reveal what their new choreographies. Carbonell is undoubtedly the face of Spanish synchro nowadays, having won two medals at the 2012 Olympics and counting 17 World medals in her senior career. Mengual is a sport's legend being a three-time Olympian (2000, 2004, 2008) with also an incredible World and European record. Mengual had retired in 2009 but returned to the competition for the mixed duet event at the 2015 World Championships and is now headed to Rio with Carbonell.
Canada will be represented by Jacqueline Simoneau and Karine Thomas before the two head to Florida for some final training before Rio. Simoneau has been the up-and-coming star of the Canadian program for the last few years, winning a silver medal at the 2014 Junior World Championships in solo. Thomas participated in the 2012 Olympic Games in the team event. The two have also been working away from the public eye for a while, but have already presented their new choreographies at the 2016 Japan Open in May.
Great-Britain (Federici/Clark) and Argentina (Sanchez/Sanchez) are also set to compete this weekend. All four swimmers are returning Olympians from 2012.
USA's Mariya Koroleva and Anita Alvarez are rounding up the Olympic duets. The pair has already swam in a multitude of meets this season, including the China, France, and German Opens, and will look forward to swimming in front of their home crowd one last time.
While not on the Chinese national team anymore, the famous Jiang twins will be competing as well to represent the province of Sichuan, and will be a definite threat for a medal and a treat to the public in attendance. Jiang Wenwen and Jiang Tingting are both two-times Olympians (2008, 2012) and have always been crowd favorites with their intricate moves, flexibility and weightlessness in the water.
Additionally, China will be sending their national team B duet constituted of  another pair of twins in Wang Liyui and Wang Qianyi. The two are fairly new to the senior scene, but have competed in numerous junior competitions and won bronze in duet at the 2014 Junior Worlds.
While the duet competition should be the most exciting, Spain is also sending its full national team as well as its mixed duet of Pau Ribes and Berta Ferreras to compete in Riverside. Mexico's national team should be in attendance as well, along with the Brazil Paineiras Synchro Club, China Sichuan Provincial Team, Ontario Training Center Team, and Quebec Provincial Team.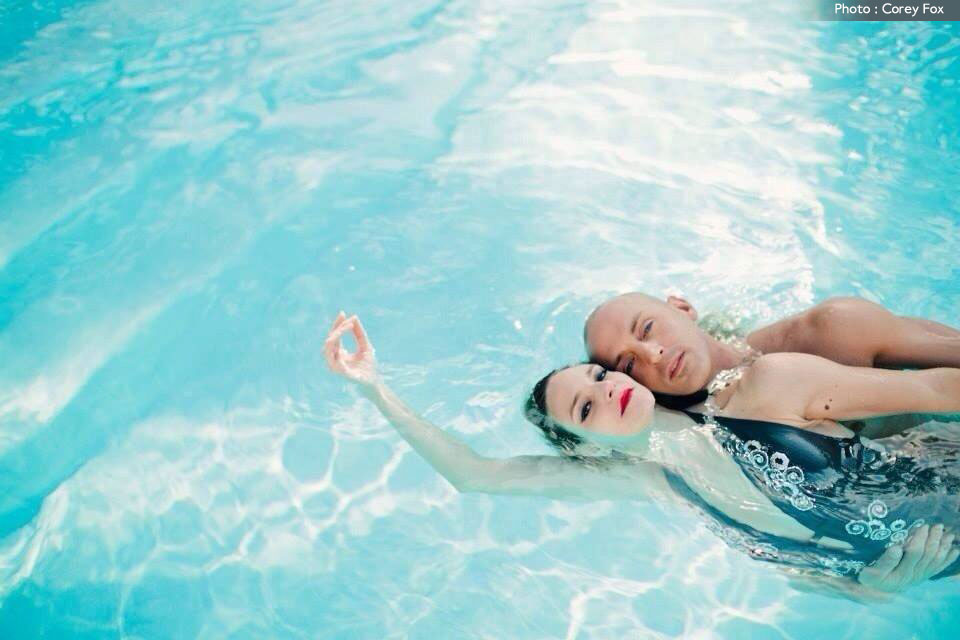 Finally Virginie Dedieu, probably one of the sport's most beloved athlete, will perform an exhibition solo for the public on July 16 after the junior and senior team finals. Dedieu is France's best swimmer ever with three World titles (2003, 2005, 2007) and a bronze medal at the 2000 Sydney Olympic Games. She is renowned for her innovative moves, artistic impression, musical interpretation and for not wearing a nose-clip while she swims (a feat that very few swimmers are capable of). Dedieu has mostly been retired from international competition, but did take part in the inaugural free mixed duet competition at the 2015 World Championships where she and her partner Benoit Beaufils placed fourth. She does still compete for her home club team of Pays d'Aix Natation every year.
Las Vegas' show Le Reve is also scheduled to perform acrobatics, dance, and synchro numbers in between events.
Article by Christina Marmet