The 15th edition of the Junior World Championships concluded earlier this week in Kazan, Russia, with a clean sweep from the home team in all four events.
Russia is always the favorite to win it all in this sport, and this year's junior team lived up to the expectations. Led by rising star 15-year-old Varvara Subbotina, the Russians left no room to think an upset would be possible in their own pool.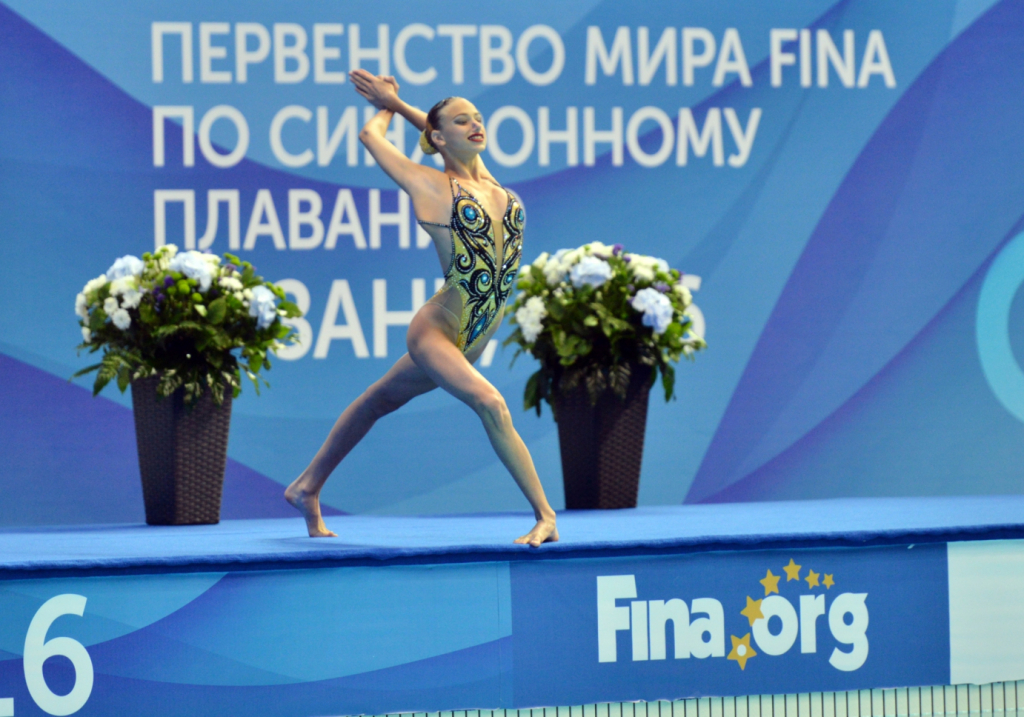 Subbotina easily won the figures competition and the solo event by nearly five points over Ukraine's Yelyzaveta Yakhno. Closing out the solo podium was Spain's Irene Toledano, who was able to overcome Japan's Sakiko Akutsu with a great figures score. Toledano shed tears of joys as her score appeared after her swim realizing she had sealed a bronze medal.
Toledano was interviewed by FINA:
"I did not expect I would win bronze, – Irene said. I thought, that Japanese would come up to the podium the girl is very strong technically. It is the first medal for me at the Championships ever. The Russian was great. I wish I will be able to reach that level one day".
The solos rankings were shaken up with figures and in the finals with another super talented 15-year-old Belarusian Vasilina Khondoshka climbing up the rankings to eighth place, and Switzerland's Vivienne Koch barely edging out France's Inesse Guermoud for a great 10th place finish.
In the duet competition, Russia's Veronika Kalinina and Daria Kulagina presented a very clean and fast program to the music of "Capriccio Espagnol" by Rimsky Korsakov to claim the gold medal. The Russians dominated this event as well and were able to score five points ahead of the Ukrainian pair. Ukraine continued to display incredible results and to impose itself as one of the new dominating nations in the sport of synchronized swimming by beating both China and Japan. The battle was tight for the silver and bronze medals, and Japan landed into the third spot, only 0.2 points away from the silver medal.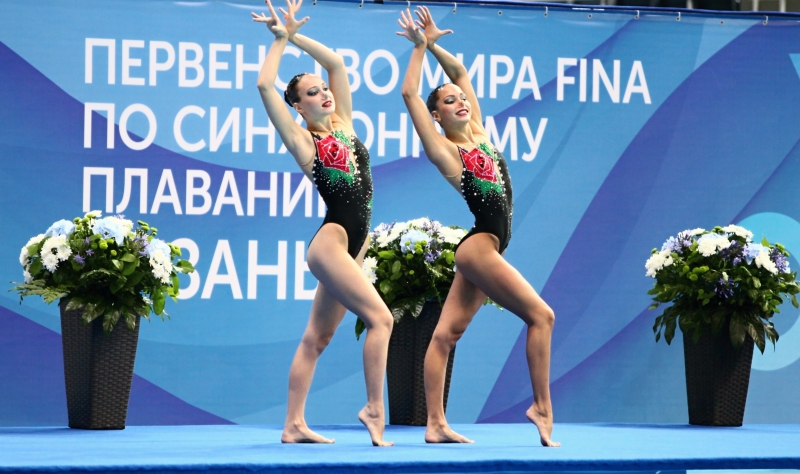 Here is what Ukraine's Yelyzaveta Yakhno had to say about duet finals in an interview with FINA:
"We feel very proud to award silver, as we could not expect such a great success. Having so many strong opponents in front of us, we aimed just to reach the podium, meaning that bronze would be very desirable. This is a great achievement and we are very grateful to our coaches for everything they have been doing for us".
France's duet with twins Laura and Charlotte Tremble was able to climb up two spots from prelims, finishing at a fantastic eighth place, beating longtime European rivals Italy and inching closer to the Greek duet that won a bronze medal at the 2016 Junior European Championships. Belarus' duet also had a very successful final and finished right behind France by the smallest of margins (0.0525 points). Keep an eye out for both of these duets in the next few years.
Russian domination continued in the team final where they presented a Reptile-themed routine. The speed, precision and technical difficulty put them ahead of Japan by a little over four points. Ukraine edged out China for the bronze medal. However, it is important to note that China was actually second with their routine score only, but a disappointing figures total brought them down to fourth place.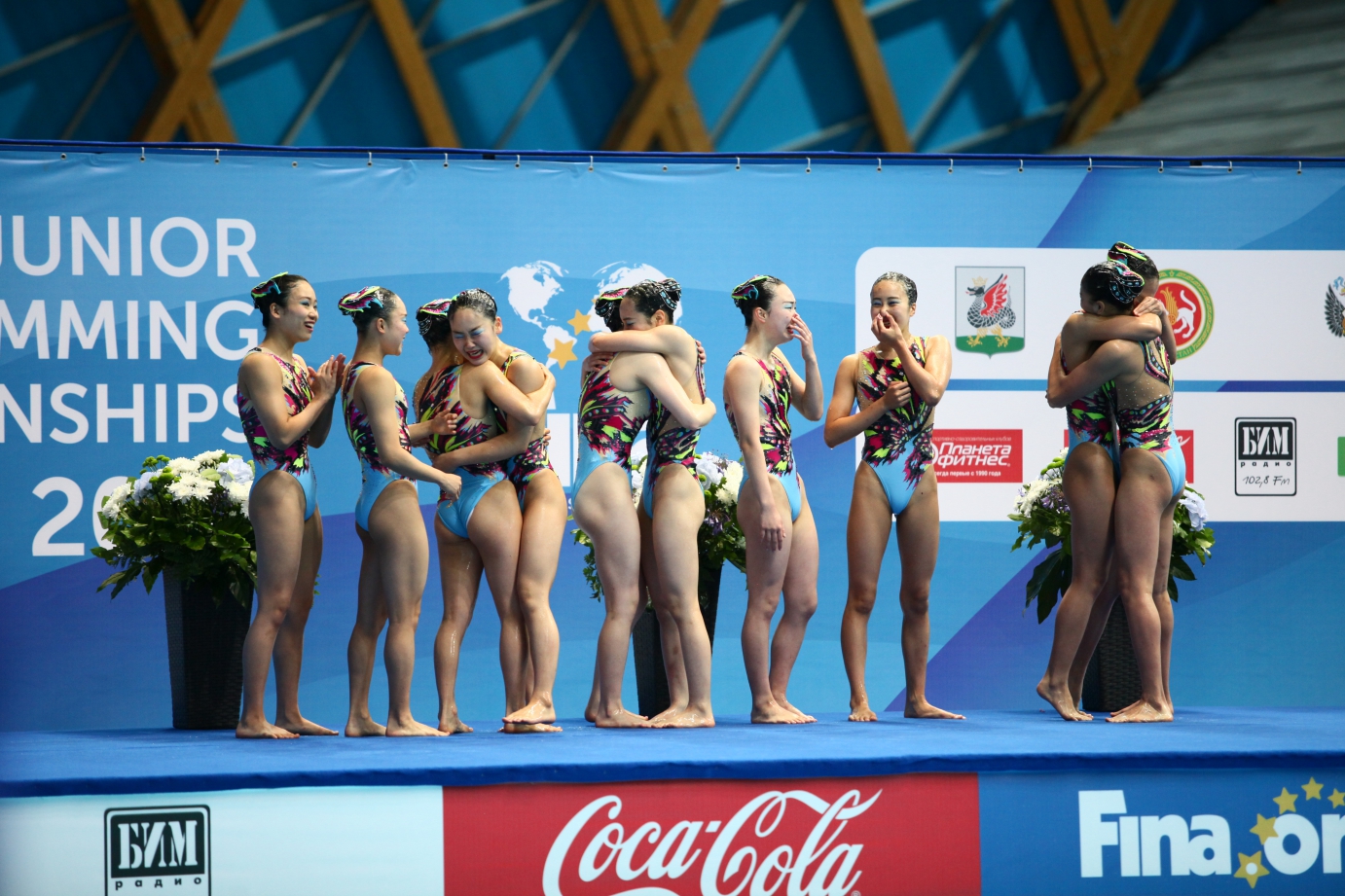 No major changes happened in the rest of the rankings from prelims, and we hope to see France and Brazil present a team routine again at the next Junior Worlds.
Finally, the free combination final was most exciting as China was extremely close to Russia after the preliminary session, leading us to believe an upset would be possible. As figures do not come into play in this event, it was really all about having a powerful and clean swim in finals as everyone starts with a clean slate. In 2014, this was the event where the Japanese team edged out Russia for a gold medal. However this time around, Russia made it clear they were not about to let it get away with a fantastic swim and a huge score of 91.9333. While China's routine was a crowd-favorite, it was not enough to beat the Russians. China won here their sole medal at these championships by grabbing silver with a score of 91.2333. Japan obtained the bronze with 89.3333.
Switzerland was able to climb to a great eighth place finish with a big score of 82.3667. Switzerland is another nation that has been slowly but surely improving over the years, and these championships were very successful for the team who was entered in all events.

All in all, this was a very interesting competition that allowed us to not only watch some smaller nations we don't get to see too often (Australia, Liechtenstein, Peru, Egypt, etc…), but to also witness some changes in the world rankings. Russia's domination continued to nobody's surprise, but it was pretty interesting and surprising to see China only come out of these championships with one medal (they had won three bronze in 2014).
The future remains very bright for Japan and Ukraine, as is already reflected in the senior competitions. Ukraine vastly improved as they won a total of three medals at this competition while they had left empty-handed two years ago in Helsinki. Japan continued its successful streak, winning here three medals as well (one silver, two bronze).
Spain and Greece had very encouraging results, maintaining their spots towards the top of the European hierarchy. This bronze world medal for Spain is surely a highlight for this nation that is coming out of a pretty rough quad in the senior division, and this junior squad will hopefully help bring their country on top of the World and Olympic podiums in the next few years.
For all detailed results and videos, please see below:
Article by Christina Marmet