With every Olympics comes an expected renewal of every single national team rosters. A few weeks ago, the Spanish federation (RFEN) released the list of the athletes selected to receive financial support and to train at the high performance center (Centre d'Alt Rendiment, or CAR) Sant Cugat del Vallé near Barcelona. Training at the CAR is not a requirement to make the Spanish National Team, but it helps tremendously.
The swimmers that have been selected to train at the CAR for the 2016-2017 season are:
Leyre Abadía (Real Canoe N.C.)
Ariadna Arisó (C.N. Granollers)
Ona Carbonell (C.N. Sabadell)
Natalia De La Nuez (C.N. Granollers)
Julia Echeberria (A.D. Sincro Retiro)
Berta Ferreras (C.N. Kallipolis)
Helena Jaumà (C.N. Granollers)
Cecilia Jiménez (C.N. Granollers)
Carmen Juárez (A.D. Sincro Retiro)
Meritxell Mas (C.N. Granollers)
Alisa Ozhogina (C.N. Sincro Sevilla)
Paula Ramírez (C.N. Kallipolis)
Pau Ribes (C.N. Granollers)
Sara Saldaña (A.D. Sincro Retiro)
Cristina Salvador (C.N. Granollers) *
Blanca Toledano (Real Canoe N.C.)
This new Spanish squad is quite young, with many swimmers freshly coming out of the junior ranks, and it faces the big task of bringing the country back to the international podiums after a quadrennium of slowly slipping away. Carbonell, Salvador and Mas are undoubtedly the most experienced and will hopefully lead this team successfully. All three have competed at multiple World Championships and European Championships in the past, and they know what it takes to win medals.
A few younger swimmers have already experienced the senior scene by competing at the 2016 European Championships last spring. Jaumà, Jiménez , Juárez, Ramírez, Ferreras and Ribes were all members of that squad and have medalled in the team or in the mixed duet event.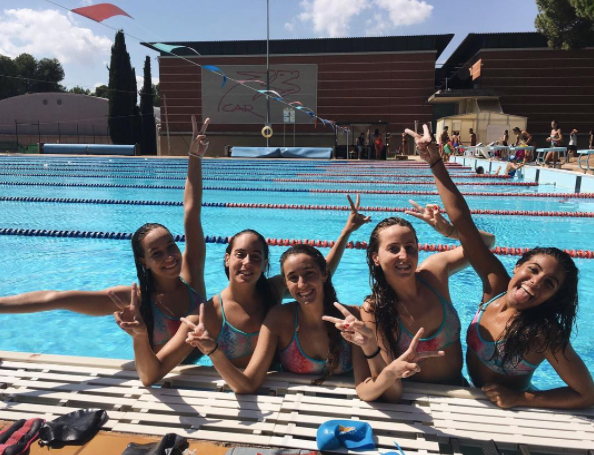 Julia Echeberria Esquivel has had a successful junior career so far and swam in the duet event at the 2015 European Games, and team at the 2016 Junior Worlds. Abadía, Arisó and B. Toledano all were also part of the team event at the 2016 Junior Worlds, while Ozhogina and Saldaña joined in for the free combination event.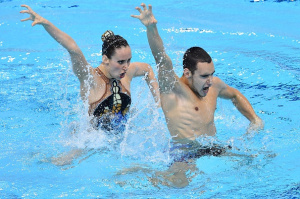 Pau Ribes and Berta Ferreras should remain paired together for the mixed duet, but I am curious to see what the new women's duet will be, or if they will continue trying to find a duet partner for Carbonell.
Now for the notably missing section… 2008 and 2012 Olympian Alba Cabello had announced her retirement in 2016 after many problems with her shoulder. Moreover, and surprisingly gone from this list are Sara Levy and Clara Camacho. Levy was an active member of the team this past quadrennium and last competed at the 2016 European Championships in London. Similarly, Camacho was a mainstay of the Spanish team since 2013, competed in the duet event alongside Carbonell in 2015, and was even still part of the team at the 2016 U.S. Open this summer.
From the junior squad, it is important to note that neither Irene Toledano or Raquel Navarro will be at the CAR. I. Toledano had just concluded an incredible 2016 junior season by posting the best results Spain has had essentially since Carbonell herself was a junior, and by winning two bronze medals at the 2016 Junior World Championships. I. Toledano had great technical abilities in the water, and it is quite unfortunate we will not get to see her on the senior scene. Like I. Toledano, Navarro was one of Spain's most promising junior swimmer in the last few years, and was a member of the 2015 European Games team and of the 2016 Junior World Championships team.
Finally, and despite figuring on the list (the applications for the CAR were sent in months ago), the status of Cristina Salvador remains uncertain for now. She is one of the veterans and leaders of this Spanish squad but has faced health problems in the last few months or so and is unsure if she will continue the sport or not. She is just getting back from holidays and has not resumed training yet.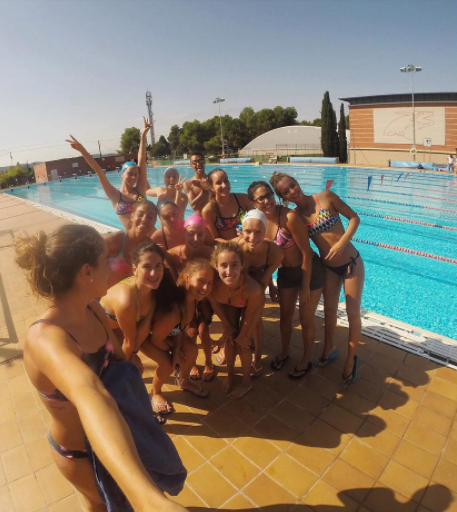 Again, it is possible for swimmers not training at the CAR to make the national team, but the big majority of the next squads for Euros or Worlds will come from this roster of 16 swimmers. It will be interesting to see how this team does, but they already look excited to be training together and to fight for the same goal.
You can follow the team along on Instagram or on Facebook.
* Editor's note: On September 22, Cristina Salvador announced her retirement from the sport and thus will not be a member of this new Spanish team.
Article by Christina Marmet.