Charlotte and Laura Tremble are twin sisters and members of the French synchronized swimming team. They have been training at the National Institute of Sport and Physical Education, or INSEP (editor's note: the INSEP is a centralized training institute that hosts and trains elite athletes in over 25 sports) near Paris since September 2014 and have represented France in numerous international meets in the 13-15 and junior categories like the COMEN Cup, European and World Championships, and the European Games in 2015.
At the age of 17, Charlotte and Laura continue rising through the ranks and now aim to not only be part of the junior national team for their last year in that category, but to also be selected for the major senior meets of 2017 and hopefully make their way to Tokyo in 2020.
Inside Synchro interviewed the twins ahead of what is shaping up to be a decisive season to discuss their atypical path in the sport, why they love it, and what their goals and hopes are ahead of 2017.
Inside Synchro: Can you briefly summarize your career in synchronized swimming so far?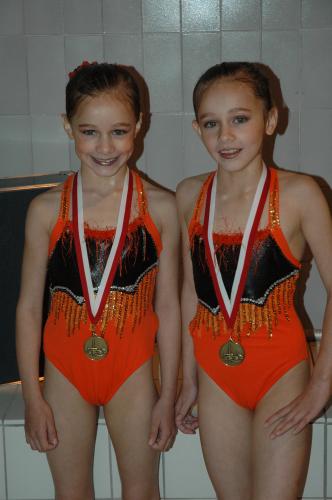 Laura: We started at the synchro club in Senlis, where we live, at the age of six. We were also doing dance and swim lessons. One day, a school friend invited us to her synchronized swimming show. We discovered a mix of dance and swimming, and it was exactly what we wanted to do. We started competing at the regional level with a duet on 'Halloween' when we were eight, and that is also when we won our first meet. The first time we represented France was at the Swiss Youth Competition in Lugano in 2014.
Charlotte: After three years in Senlis, we left for the club of Compiègne to follow the regional technical director who had noticed us, but it didn't go well and we almost quit that year. It is thanks to Corinne Rousselin, who coaches at the Rueil Malmaison club that we kept going and she is the one who brought us to a level good enough to be accepted at the INSEP.
I don't remember our first regional competitions too well, but I do remember our first French National Championships. We were so stressed, and it was very impressive to be at this meet with so many swimmers. My first competition with the national team was two years ago. It was a tough year but a very enriching one. It was our first year in a 'pôle' (editor's note: 'pôles' are certified clubs around the country that welcome young elite athletes and that helps them train and study in structured environment), and we had never before been in a 'pôle' nor had we even swam a team routine. That same year, which was also our first year in the junior category, we were selected to represent France in the duet event. It was the year of discoveries.
IS: You both were also doing artistic gymnastics when you were younger. How did the decision to stop gymnastics come about, and was it a difficult one?
 L: We started both sports the same year. Our mother was hoping that one would do synchro and the other gymnastics. But as time went on, we realized we both liked synchro better. Once we switched to the Compiègne club 30 minutes away from our house, the training hours increased a lot. We couldn't do both anymore, so we decided to quit gymnastics.
C : I had always liked synchro over gymnastics better because I am really bad « on land » ! After a while, the training hours increased in both sports. So the decision to leave gymnastics wasn't a hard one for me.
IS : What do you like about synchronized swimming ?
L : First of all, the fact that we can swim together ! We always preferred team sports over individual ones. Synchronized swimming is a very complete sport and in the water, where we have always been very comfortable. We took baby swimming lessons when we were four months old, and we could be in the pool without floaties at four years old.
C : It was love at first sight ; synchro is such a perfect world for us. All I know is that solos are really not for me !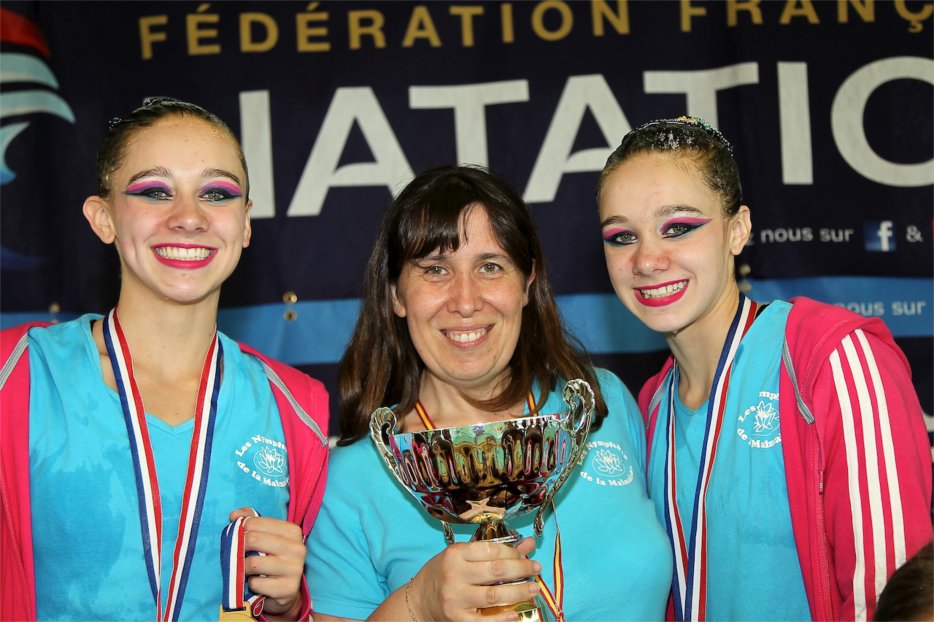 IS : How is it to swim with your twin sister ? Do you guys usually get along or do you sometimes fight?
L : The big advantage is that we know each other inside out, and we can deal with each other really well in competition or during training. We can anticipate one another's actions and thoughts.We do complete each other really well. The negative side is that when we have something to say, we are very direct with each other, so it can get a little harsh. Of course with taking the same classes, having the same friends and being together 24/7, we are bound to bicker. Sometimes we do have to split up for a little while and do our own thing separately. Thankfully, the fights never last because neither of us is resentful. I couldn't live without my sister for too long.
C : It is amazing to swim with Laura because when we swim together, we are connected. We are sisters so it's unavoidable that we fight, especially when we are together 24/7 ! But it never lasts, and we try to not let it happen during practice because it affects our swims.
IS : How did the move to the INSEP and away from the family home go at such a young age ? How often do you guys get to go home ?
L : We left home when were 15. We had time to mentally prepare for the move, so it wasn't too hard for us. Our days are so busy anyways that we don't really see time pass. Besides, we had each other, and we also rapidly met a lot of people who we get along with really well.
C : We don't go home very often, maybe once or twice a month. But our house isn't too far from the INSEP, so when we are feeling really down we call our parents and our little brother and we all go out to eat !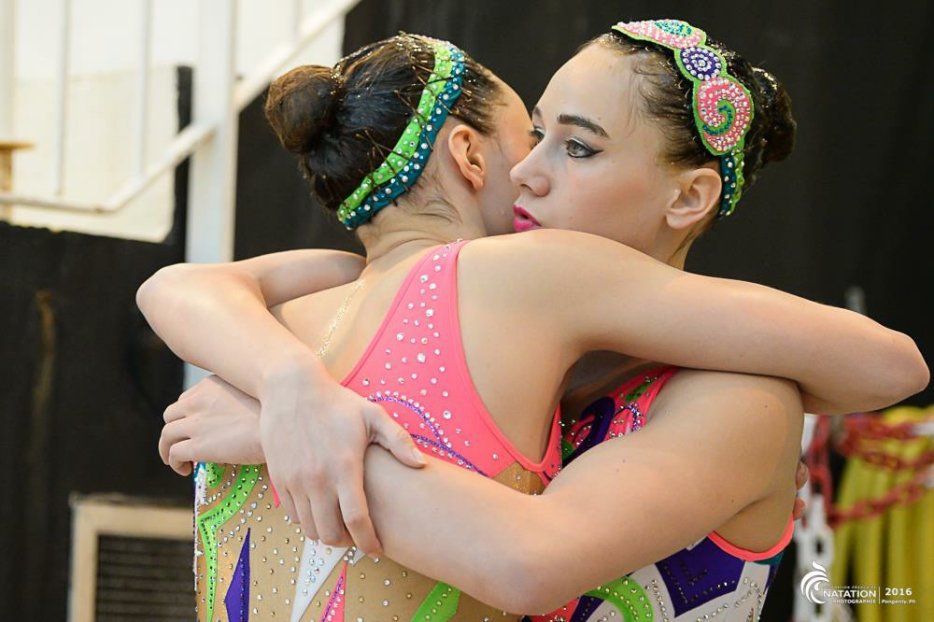 IS : Can you tell us a little more about what a typical day is for you at the INSEP ?
C : We don't really have a typical day this year yet since we just started university (editor's note : both just successfully graduated high school by passing the French scientific baccalaureate in September 2016). We are studying physics and chemistry. Classes are a lot less regular than in high school, but we still do train five hours a day. It's been hard to combine school with training because it makes our days really long. We start at 8:00am and usually go until 11:00pm. And since synchro isn't a professional sport here, we have to really focus on our studies so we can later have a job that we like and that will allow us to make a living.
L : Just like her ! (giggles)
IS : You both are part of the new up-and-coming generation of French swimmers, and you already participated in numerous international meets with the national team. What is your fondest memory from competition ?
C : I liked Junior Worlds in Kazan because they were our first World Championships, but my favorite competition is the European Games in Baku. It was such a huge meet with many other sports, the atmosphere was incredible, the pool was beautiful and the other venues were amazing !
L : I have a lot of good memories, it is hard to pick just one… My favorite meet so far is the European Games. The atmosphere in the village, being part of the French delegation, swim in a beautiful pool… And the results were good, so it is all a very good memory !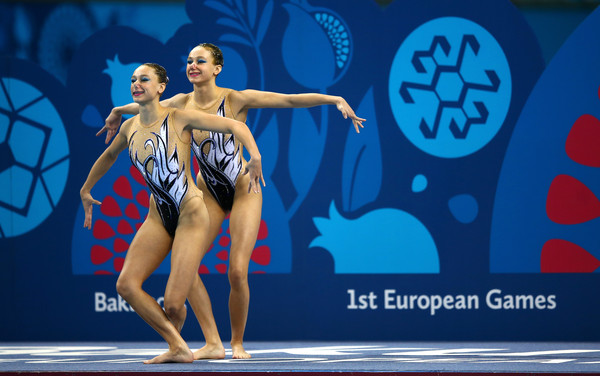 IS : What are your short-term and long-term goals in synchro ? And what are your goals outside of the sport ?
 C : My goal this year is to be selected to be the junior duet, and to be considered for the senior duet. And evidently, be part of both the junior and senior national teams. My long-term goal like almost every elite athlete, is to one day go to the Olympics !
L : For now, I want to give it my best and I'll see where it will take me ! Outside of synchro, I'd like to graduate from university and hopefully find a job that I like.
C : Yes, finish my degree and graduate, and that's already probably going to take a while !
Charlotte and Laura have already started training for this upcoming season. They will be at the Winter French National Championships (figures and solos only) in December to compete in figures, then at the 2017 Make Up For Ever French Open in March. There, the pair will compete for spots on the senior national team and to be selected as the French duet for international competitions of 2017.
You can find the interview originally conducted in French here.
Article by Christina Marmet