The fight between Ukraine and Japan for the bronze medal continued in Budapest on July 20, and once again Ukraine barely edged out Japan by 0.13 points in the free duet final for third place. In 2015, the Ukrainians were already above in the free duet event, but were beaten by the Japanese in Rio the following year. In the technical duet final a few days ago, Ukraine had already won bronze, and confirmed its dominance here.
Following the retirement of Lolita Ananasova, the Ukrainians decided to take a bet on the young Yelyzaveta Yakhno to be Anna Voloshyna's new partner. Yakhno has had fantastic results over the last few seasons in the junior categories, but handling the pressure of senior competitions and of being in the duet is something else.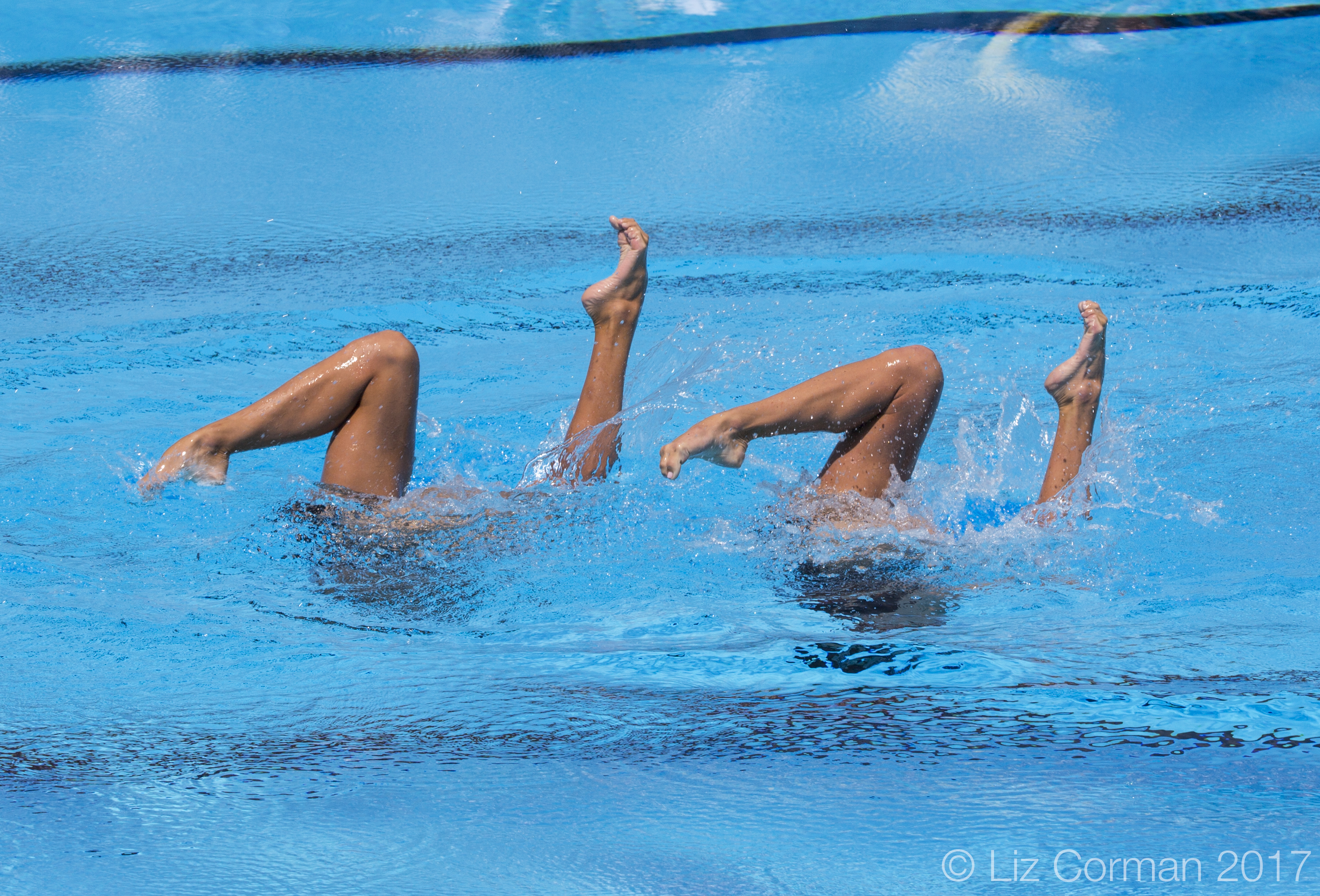 They only introduced this new free routine at the Canadian Open in May, and started the season first by competing the 2016 Olympics routine. Despite still being fairly recent, it was good enough to repeat the results from the technical duet event, and they scored an 93.2667 here. While they defended their bronze from the 2015 FINA World Championships in this event, this was most significant as it reversed the duet results from the 2016 Olympics where Japan was ahead of Ukraine by about 0.9 points.
The Ukrainians both have had a busy schedule at this competition, especially Voloshyna who is entered in every single event. However, she was fully prepared and aware that she would not get much rest in Budapest. That said, she's actually quite happy to be here and is enjoying the change of pace.
"Actually, I'm enjoying myself a lot at this championship since we don't train as much as at home so it's much, much better," said Voloshyna with a big grin.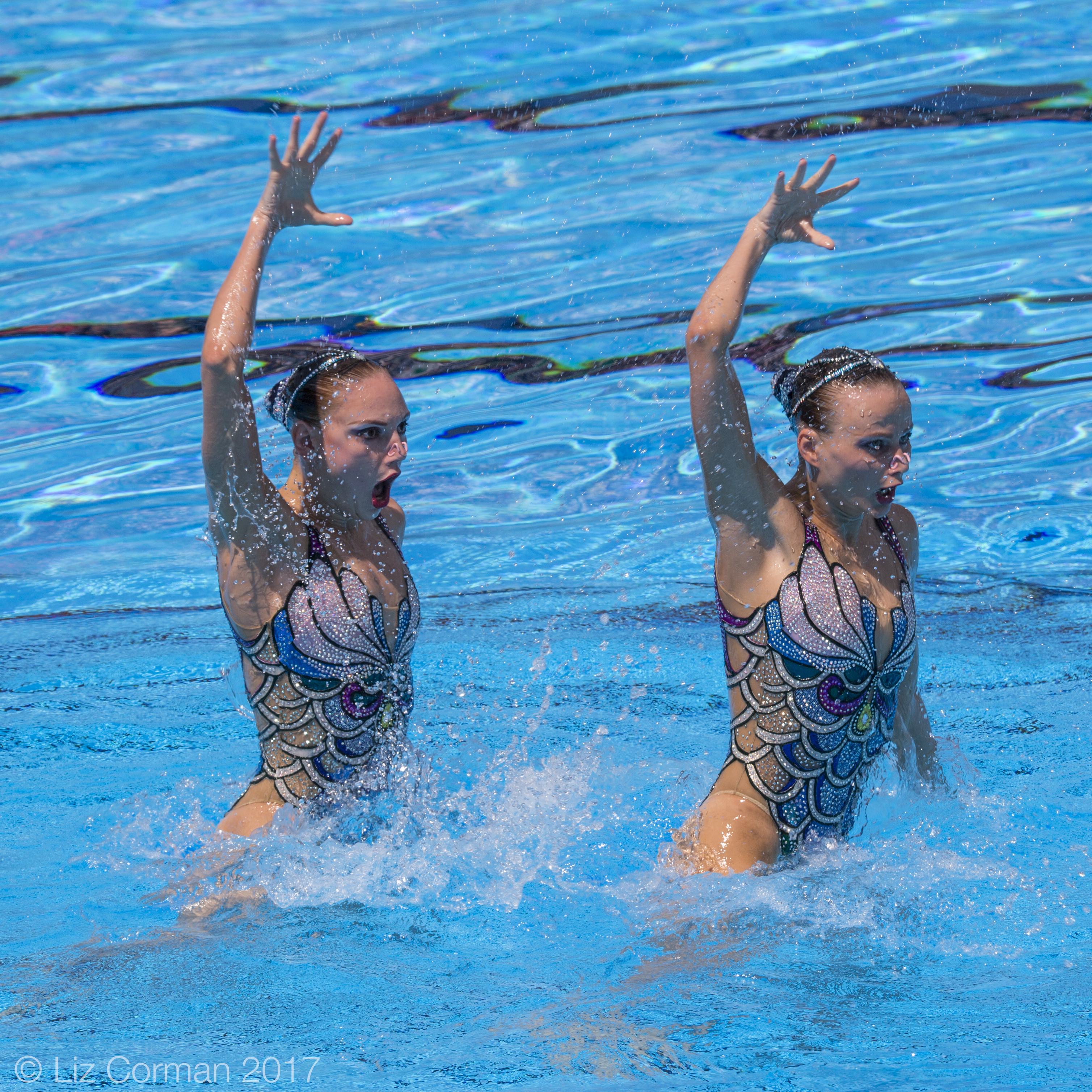 The Russians Svetlana Kolesnichenko and Aleksandra Patskevich easily won gold with the mermaids routine we saw in Rio, and with a huge 97.000 score. They admitted the preparation was not easy, as they trained 10 – 12 hours a day, but they are now thrilled be done competing and to take a break for a little bit.
China's Jiang Tingting and Wenwen were second with a score of 95.3000 and defended the country's silver from 2015 and the Rio Olympics. They revisited their 2013 free routine on the theme of Swans with major changes and help from Anna Tarres on the artistic impression.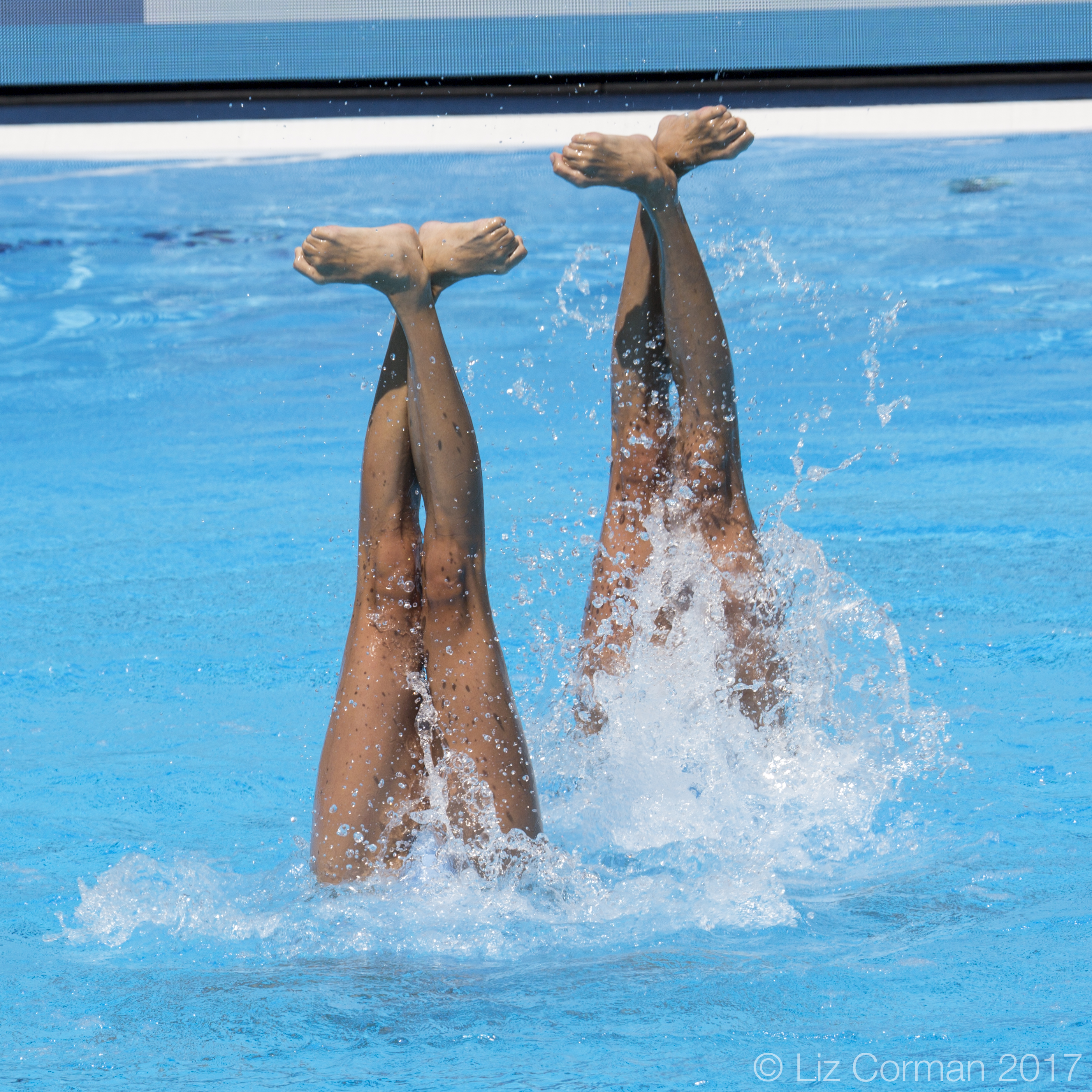 "We think the Swan theme is very suitable for us," they explained. "So we stayed with that. Although the music is the same, we used a completely different choreography for it."
This competition so far has been heartbreaking and complicated for Japan, only winning one bronze so far in the technical competition and being beaten by Ukraine in every other event. The margin was very small here as the Japanese scored 93.1333 and had to settle once again for fourth place.
Ona Carbonell and Paula Ramirez from Spain placed fifth with a score of 91.7333. They also used the same routine we saw at the 2016 Olympics. Carbonell explained that it was a difficult routine with music very hard to count, but she was happy with her and Ramirez' performance today, and hopes the duet is here to stay.
"It's a good performance," she said. "I hope I will be working with Paula [for] many years because every year I've changed partners, so it's really difficult to improve. It's very easy training with [Paula], she's very smart and she works a lot."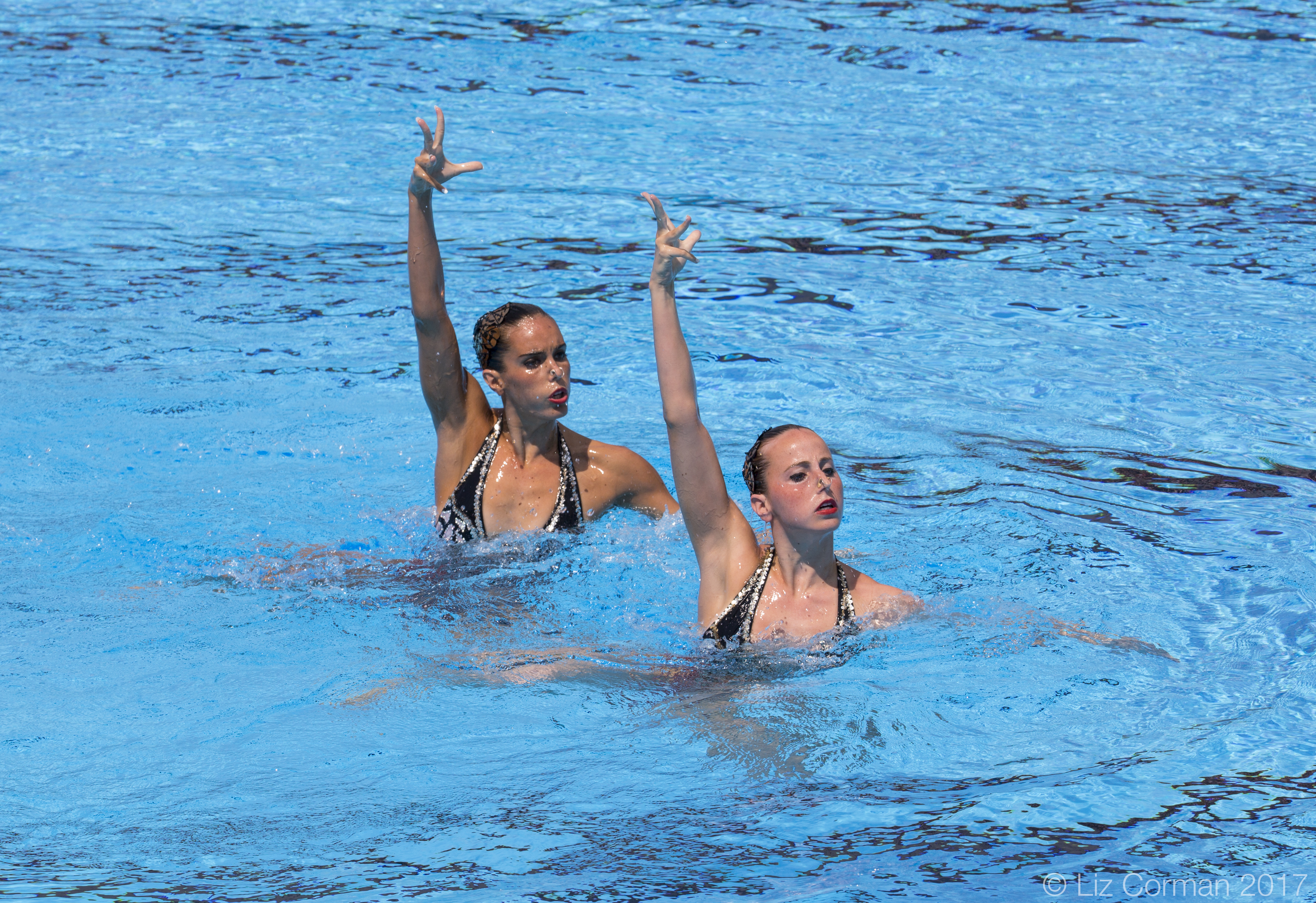 Indeed, we can only wish for stability for this duet over this new quad. While Carbonell is now done competing in Budapest, this is not the end of the season for her, as she will compete her solos at the last meet of the FINA World Series in Uzbekistan in September. Ramirez is a member of the free team and free combination routines, so we will get to see her again at this competition.
The Italians Linda Cerruti and Costanza Ferro presented a new choreography, although they had already competed it earlier this season. The routine was made by Gana Maximova and is set to music by Ludovico Einaudi. They ended in sixth place with 90.5667.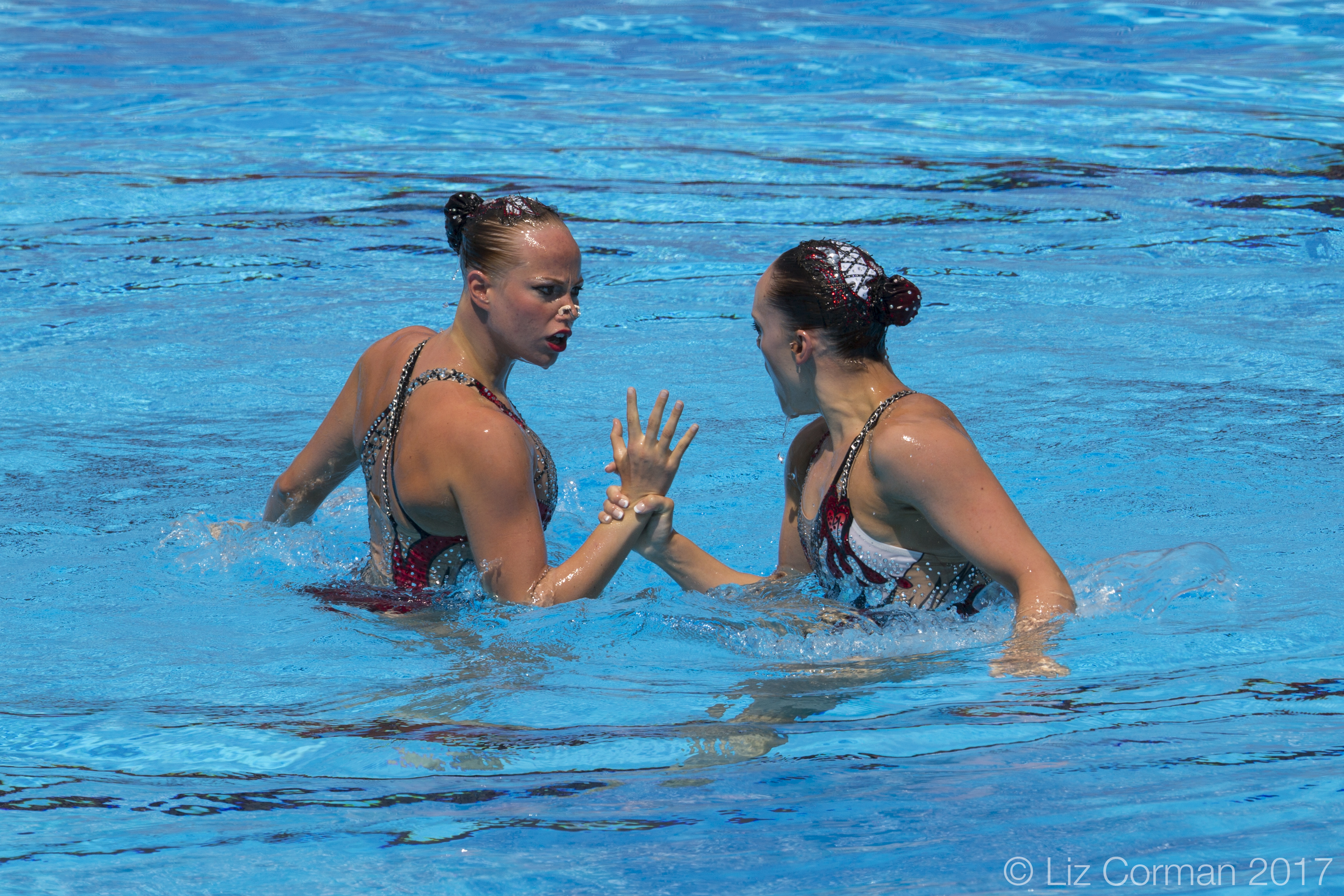 Canada's duet of Jacqueline Simoneau and Claudia Holzner, who were only partnered up a mere four weeks ago,  was seventh with a score of 89.0000 with their duet on 'Haunting Love.'
"We felt pretty good, pretty calm," said Holzner. "We are excited about it. This is a great start for us [as a duet] at our first international competition together."
Greece followed in eighth with 87.6333. The Austrian sisters Anna-Maria and Eirini Alexandri placed ninth with 86.7000, and presented a beautiful and intricate new routine created by Anastasia Ermakova to the theme of Alice in Wonderland.
"It's an interesting [theme]," they explained. "And we also have seen the two movies, so we really thought we could express it in a very good way. It's really interesting with the time and how she runs to catch the time. So we tried to express it with our faces and our movements."
The two did not make finals in 2015 and were 12th at the 2016 Olympics with 85.2667, so these results were very satisfying for them as they continue moving up the duet hierarchy. This also marks the end of the competition and of the season for them, and they very much looked forward to some down time after a busy year filled with final school exams and preparation for this championship.
Mexico's Karem Achach and Nuria Diosdado placed 10th with 86.5333, repeating their placement from 2015 but increasing their score by one point.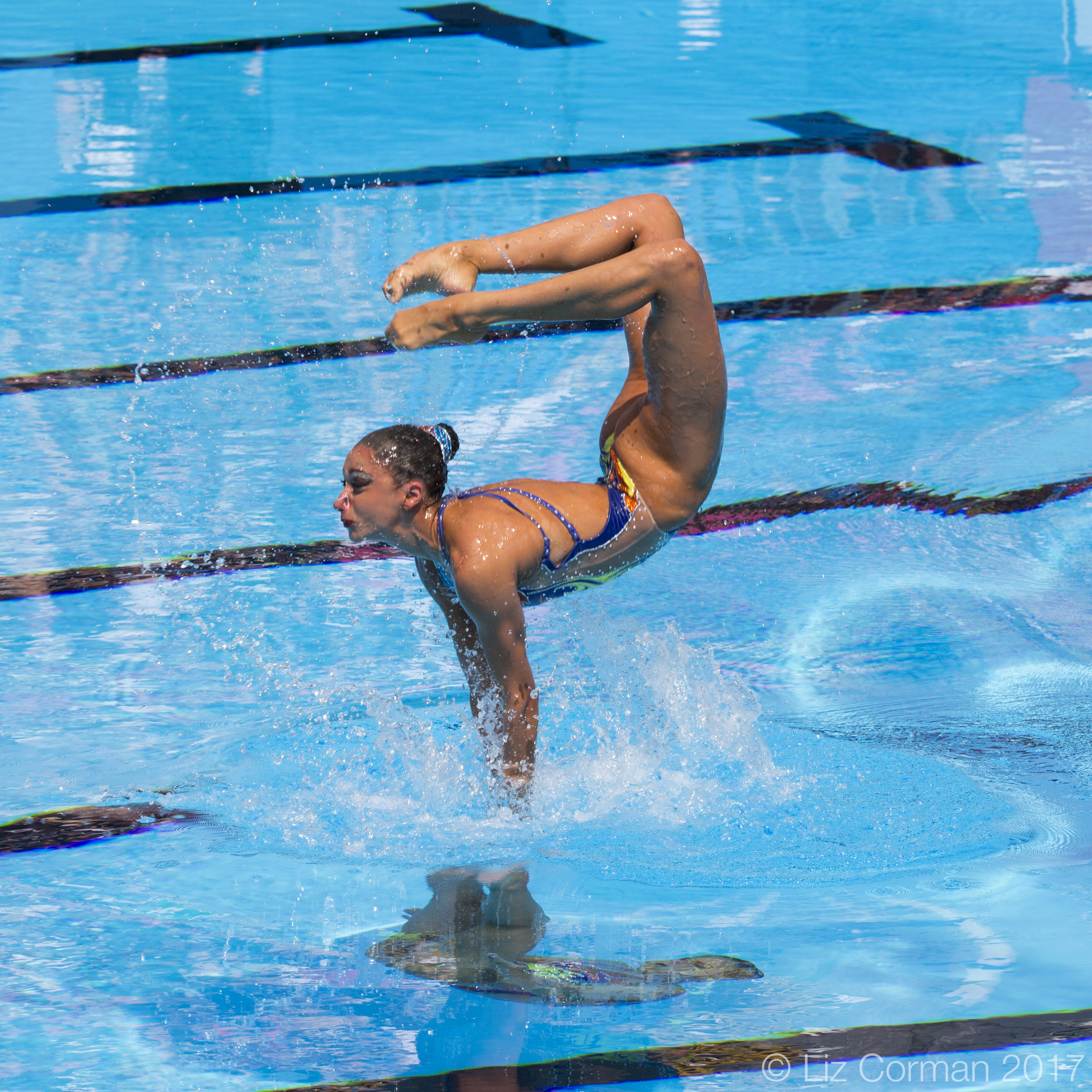 The new U.S. pair finished 11th and a score of 84.1333 with their routine on the theme of 'Fury.' Anita Alvarez and Victoria Woroniecki were happy with their swim and for their final duet swim of the season.
"This is a pretty similar routine than the one we did at the Olympics last year," explained Alvarez.  "I think this was our last time swimming this routine before we start a new program, so we were excited to give it one last shot."
Kazakhstan's Alexandra and Yekaterina Nemich rounded out the field of competitors and placed 12th with 83.9000. Their qualification was fairly unexpected, but showed fantastic progress as they were 14th at the 2016 Olympics and gained about two and a half points since. This was a historical finish for both them and Kazakhstan, as the nation never made finals in the event before.
Article written and interviews by Christina Marmet.
Photographs by Liz Corman.