The Russian team remained at the top by showing innovation and unique choreography during the free team final on July 21. The Russians put to rest their 2016 Olympics iconic routine, where they had received above a 99 then and that would have been quite hard to top. Here, they were at 'only' 97.3000 but were as good as it gets. China grabbed its third silver of the competition with a score of 95.2333, while Ukraine was able to once again top Japan for bronze with 93.9333.
Russia ended its competition on a high note by defending its gold medal with a new routine to the theme of 'Shamans,'  in an effort to highlight the connections between life and the natural world while adding in some sort of mysticism and otherwordliness to the choreography.
"Our program for the Olympics was a very difficult one for us because we were going through a hard time," explained Vlada Chigireva. "Our trainer had a very difficult personal time, so we tried to represent these hard feelings in our routine then. After the Games, it was a common decision to find a new image and a new representation, and we chose the Shamans."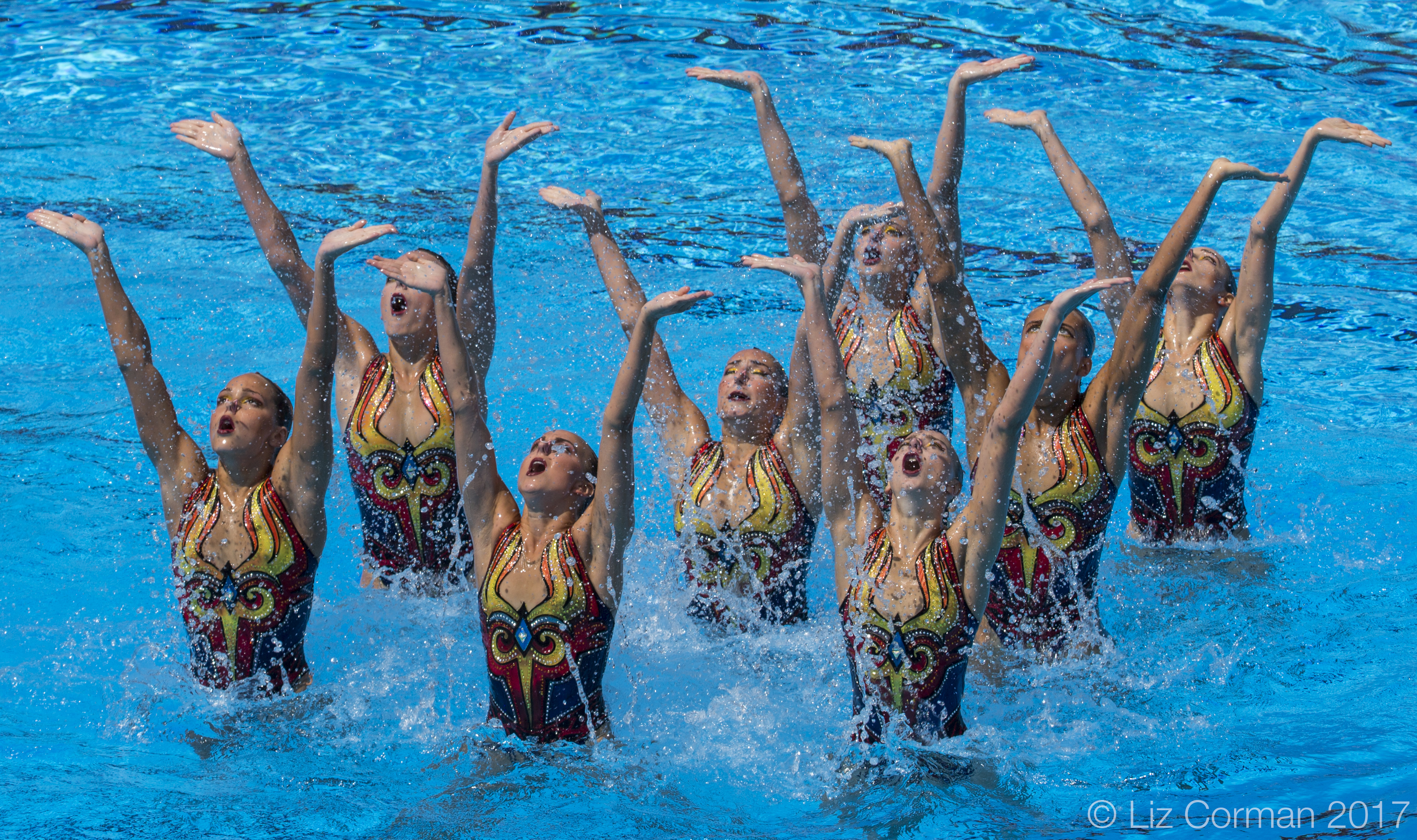 To continue dominating, the Russians have to frequently innovate and push the limits of the sport even further. They are the leaders, and everybody is just trying to catch up to them. This year, the decision to change the choreography was not only to offer something different to the public and judges, but also to adapt to a brand new team and younger teammates.
"Every person in our team is a puzzle," Chigireva continued.  "They all create a different picture. Every time there is a new member in our team, they bring in a new movement, new personality, new connections in the moves, and we gain from these new pieces of the puzzle with every member. Our overall picture is an ever-changing one."
As we know, the Chinese team is composed of swimmers from the Jiangsu and Beijing provinces. The Chinese have impressed at this meet by competing at a very high level with fast, extremely clean, and exciting routines despite only having five weeks of preparation. And it is even more impressive knowing this is not a 'full-strength' Chinese team, and it only shows how much talent and depth the nation has waiting in the wings.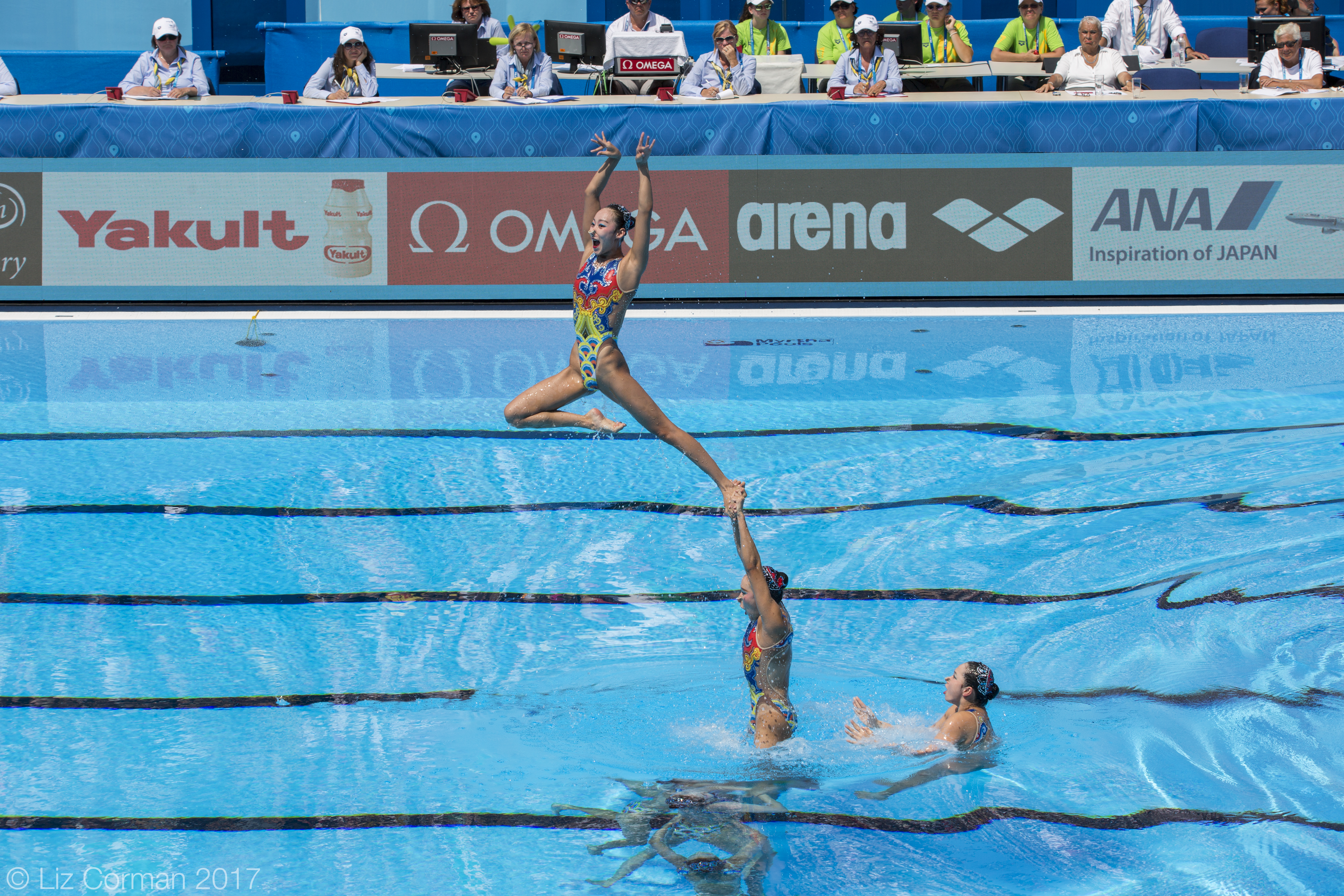 This free team choreography is actually Jiangsu's routine as it is the province that won that event in May at the Chinese Games. They earned 95.2333 here to defend the nation's 2015 World and 2016 Olympic silvers.
Ukraine kept its 2016 routine on the theme of 'Illusion' that was choreographed by Anna Tarres. This routine is very unique and captivating, and one finds themself wondering what the Ukrainians are going to do next. They had to make some changes since Rio to adapt to the new, younger roster, but they were still able to grab bronze against Japan, thus overturning the results from both the 2015 World Championships and the 2016 Olympics.
"It was a great experience to work with [Tarres]," said Kseniya Sydorenko.  "She brought new elements in the choreography, and some of them were difficult and scary at first, we didn't know if we could do it… like lifting two people at the same time or the surfing element that also seemed scary to accomplish. But we handled it and all in all everything went well."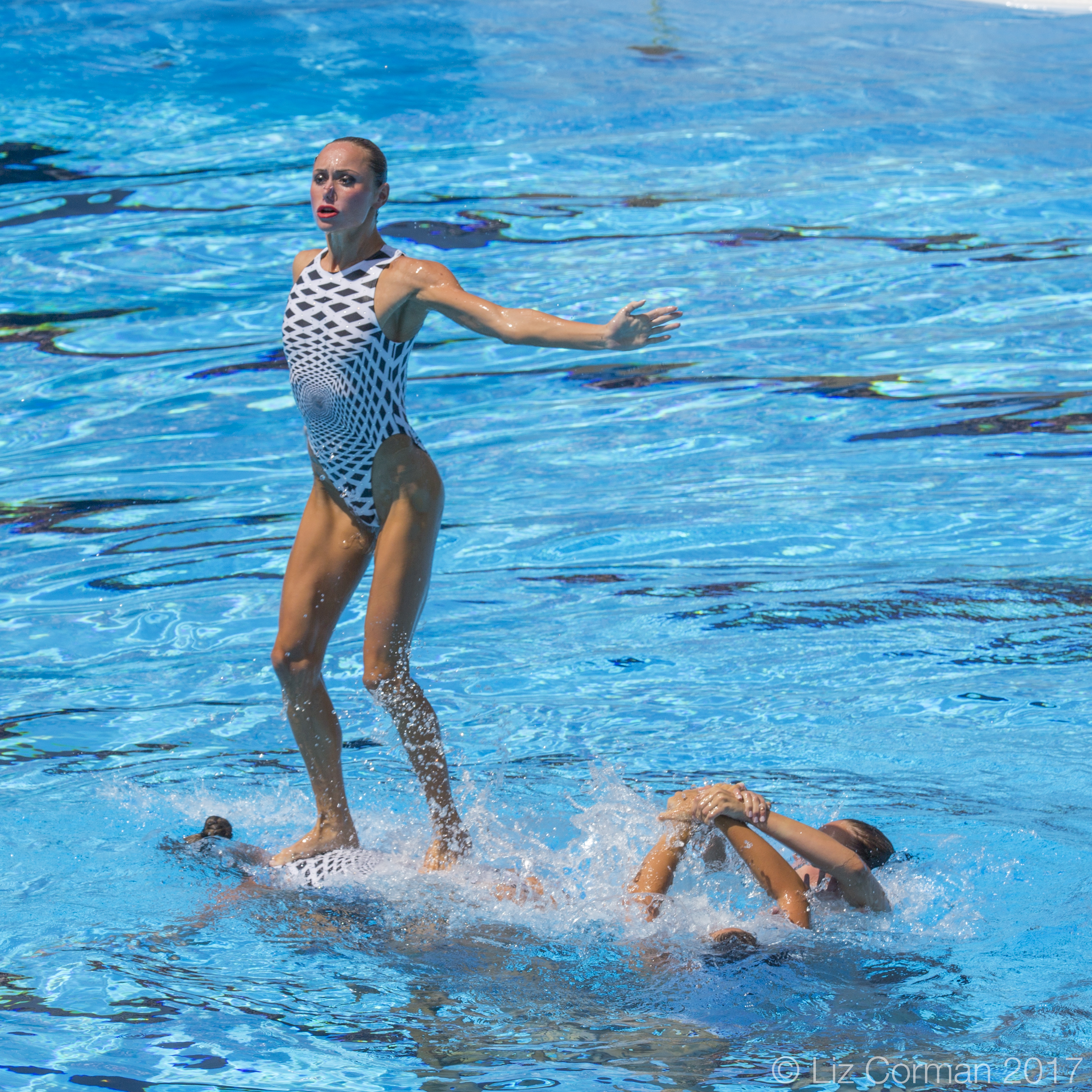 Japan continued to fall short during today's final, and had to once again settle for fourth place with 93.1000. The deception and heartbreak of the last few days was quite noticeable as the Japanese scores were announced and the swimmers could not contain their tears of disappointment. They will have one more chance tomorrow to try to get a second medal in the free combination final.
Italy's scores continued to rise as they received 91.7000 for fifth place. The Italians' free routine was different than in Rio but they had already presented it this season at the European Cup. They really cleaned up since and were able to maintain their dominance over Spain with their 'An Experiment With Time' routine.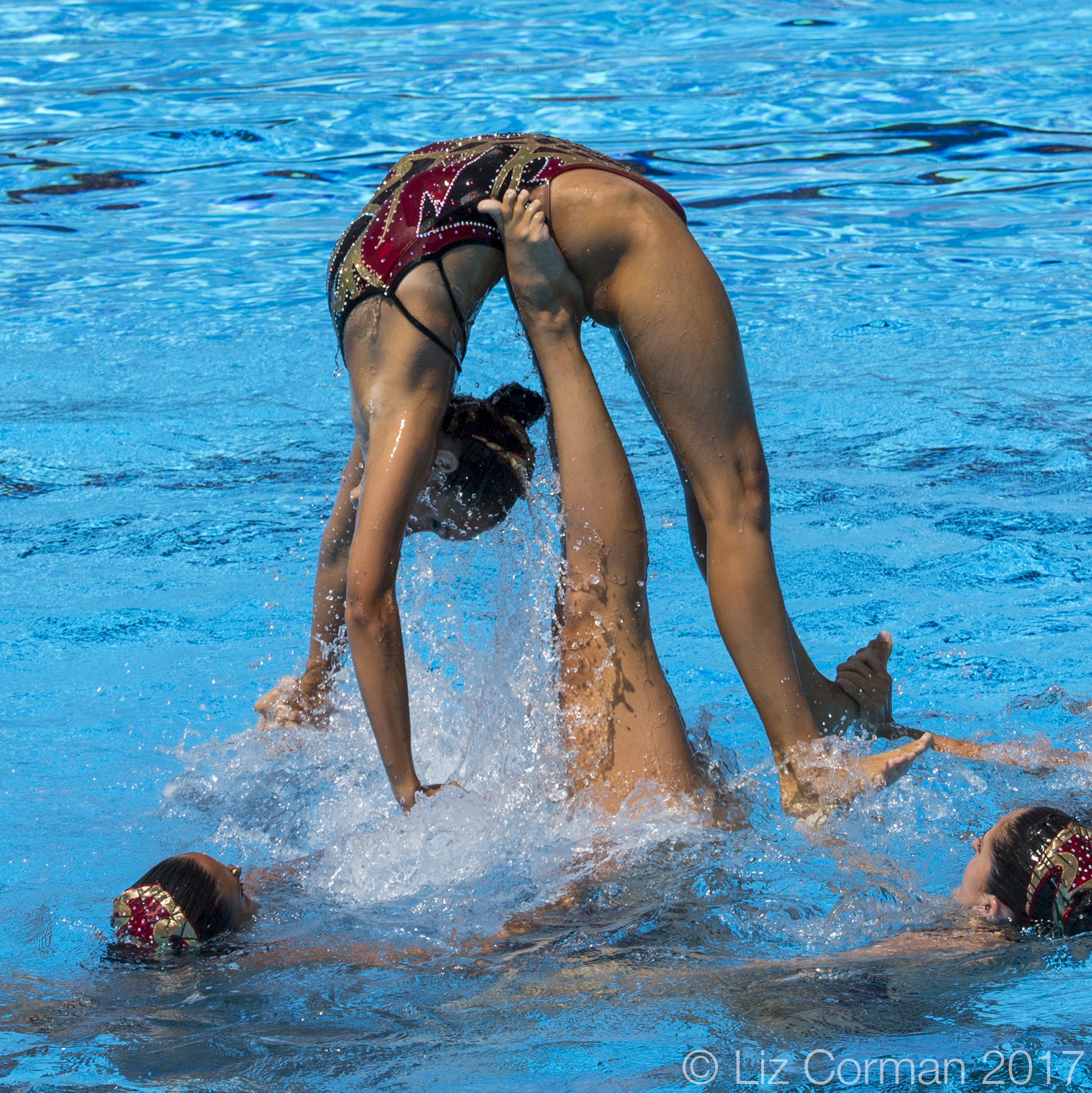 Spain also had a great swim for a 90.7000 and finished sixth. The swimmers were noticeably thrilled as their score was announced, as it is the highest score they have gotten so far this season in the event and showed good progression.
Canada's 'Fire and Ice' routine received 88.000 and landed in seventh. It was the same routine as at the 2016 Olympic trials.
"[Our swim] today was great," said Elizabeth Savard. "It felt like a very good swim, it was calmer and more confident, and we really got that sparkle for our last final."
Mexico competed again its clown routine for eighth place and a score of 87.9000. The Mexicans absolutely won the crowd over during both preliminaries and finals. The routine is fun, entertaining, clean and they have incredible throws. The applause was deafening for them during the preliminary rounds, and it really sounded as if it were the home team competing. They have been on the rise for the last few years and continued here, distancing themselves from Greece and France even more than in 2015 and inching closer to Canada by finishing a mere 0.1 points behind here. Greece was ninth with 86.4333.
France had a good showing with their routine on 'Emotions' despite all the difficulties faced only a few days ago. Indeed, team flyer Maureen Jenkins injured her knee during training and had to be pulled from all the routines. The team has had to adapt quickly and efficiently. The staff put soloist Eve Planeix on all the lifts and throws, and brought in the alternate Charlotte Tremble.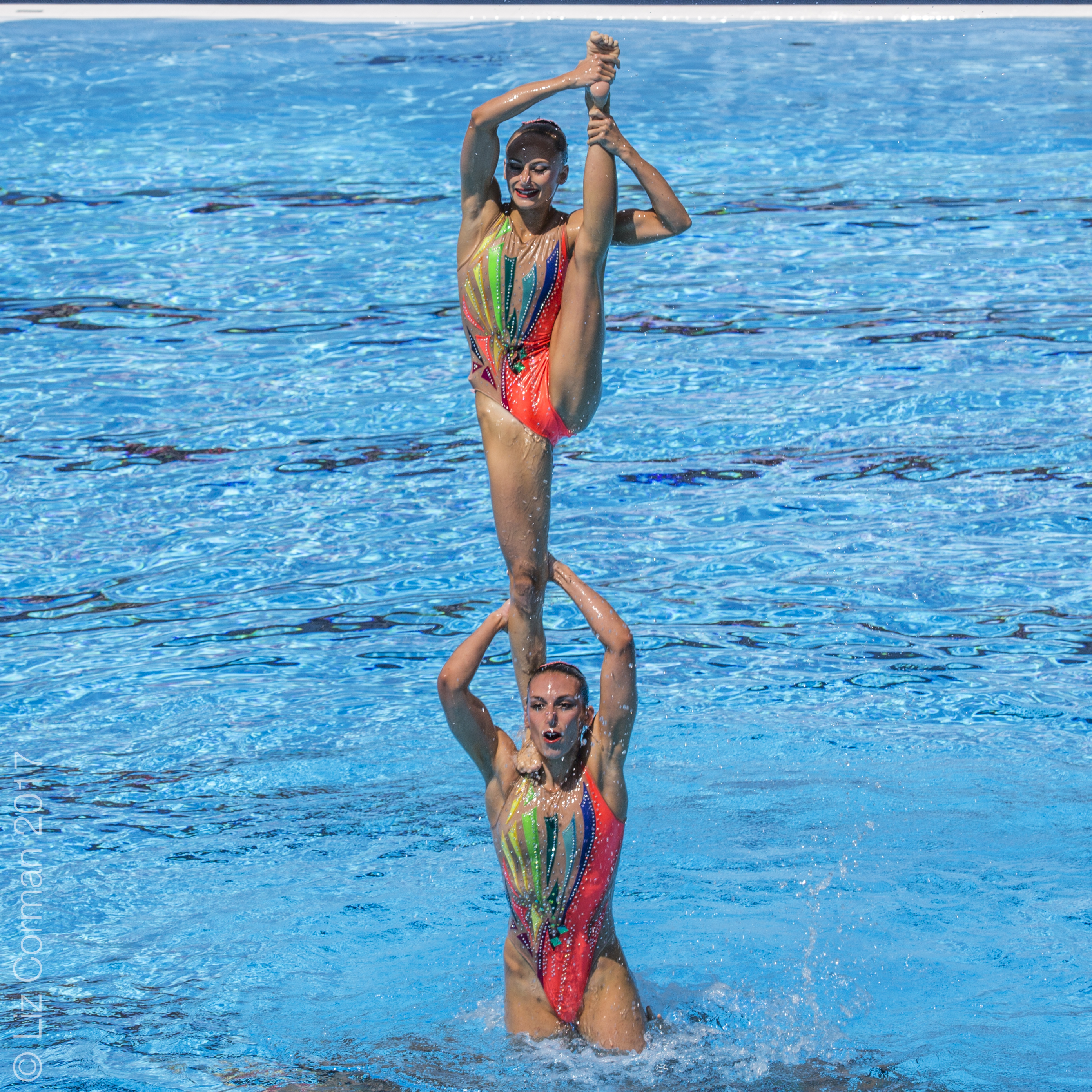 "It's certain that fate threw a monkey wrench in the works," admitted team captain Marie Annequin. "Girls had to come in when they shouldn't have, but we are a tight team and we truly proved we could adapt to everything. Charlotte hadn't even been in the team routine since [Junior] Euros a month ago, and she's been in it for the last three days and doing great. And of course, we always think about Maureen…We did this for her." 
The French swam their heart out for their final free team swim of the season, and maintained their 10th place from preliminaries with a score of 85.4667. The routine starts with fear, followed by love, anger,and finally joy. The music for anger was entirely created by the team itself with percussions and help from its composer.
"It's quite a split routine," Annequin explained. "That way we can start from scratch with each emotion so it's very nice for us to swim. We also all contributed to create the routine so it feels like it really belongs to us."
North Korea finished in 11th with a score of 83.7667. We essentially never get to see this nation outside of Worlds, but it was a pleasant surprise here in terms of abilities and level of difficulty. It presented clean, sharp routines very oriented on technique, but the choreography was relatively "old school" at times. That said, it obviously worked out for the North Koreans as they made finals, while they were absent from the event in 2015.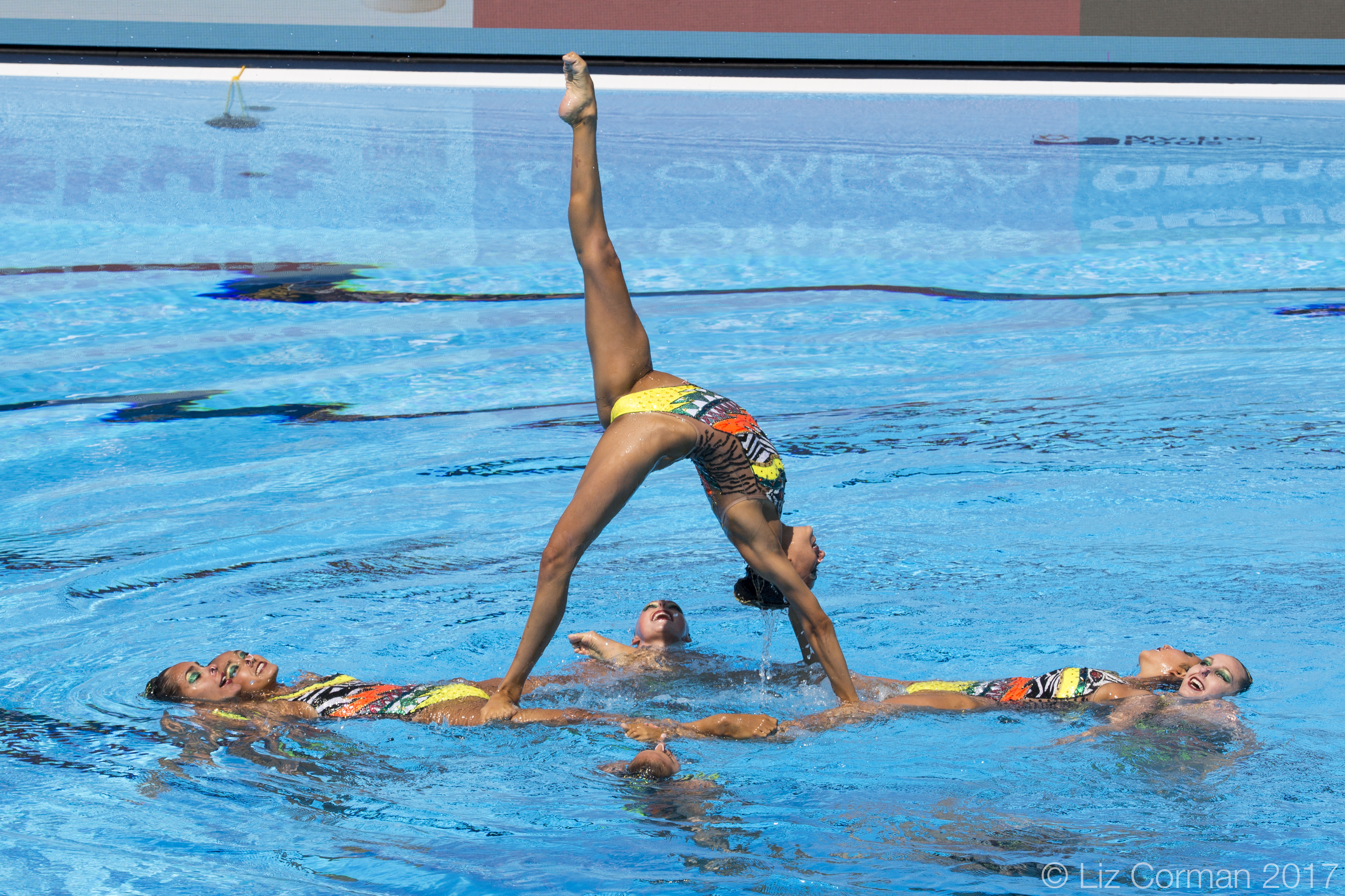 The U.S. finished in 12th and received 83.5667 with an African-themed routine choreographed by Jenny Ekhilevsky. The squad was happier with its performance in finals, and is now looking forward to some much deserved vacation time.
Article written and interviews by Christina Marmet.
All photographs by Liz Corman.