Esther Jaumà will be the new head coach for the Dutch national team and specifically of the twins Bregje and Noortje de Brouwer. Jaumà had been the head coach of Spain's national team from 2013 until the 2017 FINA World Championships.
On August 24, the Royal Dutch Swimming Federation (KNZB) announced the hiring of Esther Jaumà as new head coach for the national team. She will primarily coach the duet of Bregje and Noortje de Brouwer full time, but she will also be in charge of the five other junior and 13-15 national team duets who will train two to four days a week.
"Our first reaction was like… 'WOW! That is Ona Carbonell's coach!'" said Noortje de Brouwer. "We are really excited to start with her!"
A thrilled Noortje posted on Instagram a photo of her and sister Bregje with Esther Jaumà after their first meeting with the caption "Our new coach very soon, Esther Jaumà!🇪🇸💪🏻🇳🇱"
[instagram url=https://www.instagram.com/p/BYQ93DtAUyN/ width=320]
Jaumà took the helm of the Spanish senior national team following the departure of Anna Tarres in late 2012. She coached Carbonell to numerous World and European medals, and was able to maintain Spain in the top six in the world rankings.  At the 2016 Olympics in Rio de Janeiro, the duet of Carbonell and Gemma Mengual placed fifth. This season under Jaumà's coaching, Carbonell won two silver medals in solo at the World Championships, while the duet finished fifth in both technical and free events, the team sixth in both, and the combo fifth. Shortly after the end of the competition, the Spanish federation announced Jaumà's contract would not be renewed and that Mayuko Fujiki would be the new head coach of the Spanish program.
Jaumà won't start in the Netherlands until October as she still has one more competition to go to with Carbonell this season in Uzbekistan in late September for the last event of the FINA World Series. In the meantime, the twins will start working on their new free routine at a training camp in Italy with Beatrice Adelizzi, one of the most successful Italian swimmers and who was a volunteer coach with them last season already.
"We haven't really talked about our goals yet with [Esther]," said Noortje. "But just like with our other coach before, we want to work on raising our scores and working on what needs to be better… Like flexibility, artistry, and moving really fast."
Bregje and Noortje de Brouwer are coming off a very busy but successful season especially in the junior category where they finished fifth overall in duet at the Jr. European Championships, which was the Netherlands' best finish in over 20 years. They then competed at the FINA World Championships where they placed 17th in the technical duet and 18th in the free duet.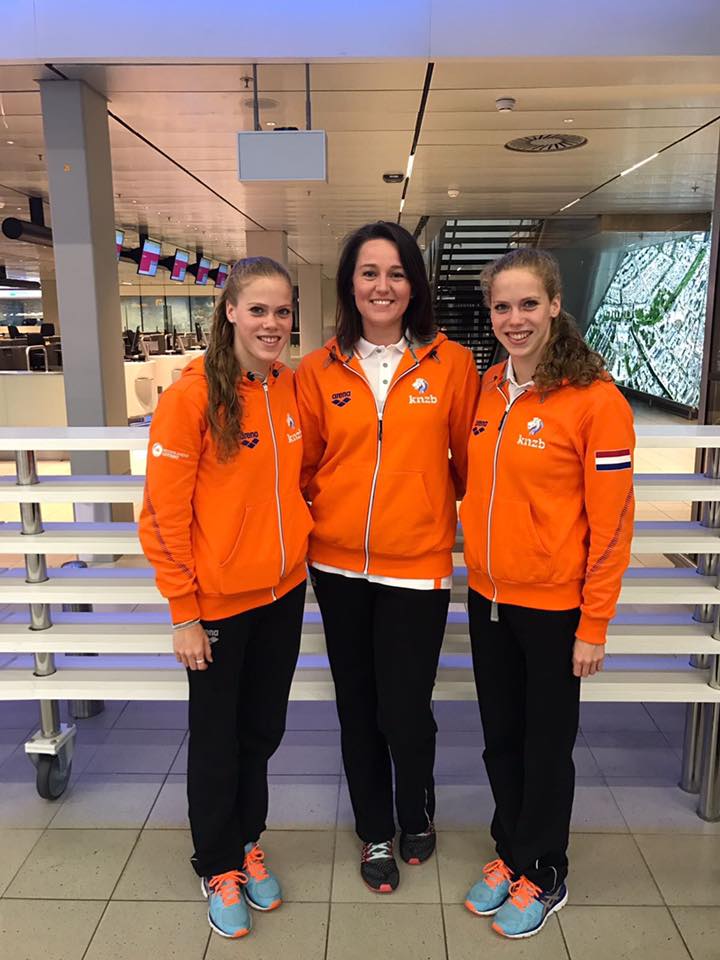 They were coached over the last few seasons by former Dutch national team member Elisabeth Sneeuw, but she couldn't combine a full time coaching position with her job as a lawyer. However, she will still help out whenever her schedule allows her to.
"I think it's a great opportunity for synchronized swimming in the Netherlands to have Esther here," said Sneeuw. "I think it's gonna bring the duet a lot. They are really talented, so if they have a proper schedule with a full time coach, they are gonna make lots of progress."
Indeed, the de Brouwer's practice schedule will also change as they will move permanently to Hoofddorp, near Amsterdam, to train there full time six days a week at the Sportcomplex Koning Willem Alexander. In the past, they had been going back and forth, and were only able to practice in Hoofddorp three days a week.
"Over the last years we never had a full time training program," explained Sneeuw. "So, no full time coach, and no full time training schedule. And because of that there is a limit of the progression. This season we talked a lot about the opportunities and I really pushed the federation to deliver a full time program, with a full time coach. The result of that is that Esther will be coaching the Dutch selection now!"
With the beginning of this centralized training program and the hiring of Jaumà, the federation has stated that it's aiming to be back at the Olympics and to qualify a duet to Tokyo in 2020. The Netherlands hasn't qualified a duet since 2008.
The de Brouwer sisters were already a strong pair with the high likelihood of making it in 2020, but these changes will now certainly up their chances while allowing them to certainly improve under the guidance of Jaumà.
Article by Christina Marmet.
Photo courtesy of the KNZB.