The Netherlands was amongst the powerhouses of artistic synchronized swimming as soon as the sport made its first appearances at the world championships in 1973 and at the Olympic Games in 1984, and often found itself in the top five for nearly two decades. Unfortunately, the nation dropped in the rankings in the late 1990s, and while it still managed to qualify a duet to the 2004 and 2008 Olympics, it never quite recovered.
While the country has been more or less present at the world championships over the years, it has not been at the games since. Twin sisters Bregje and Noortje de Brouwer are for now the sole representatives of the Netherlands on the senior international stage, and they compete with one vision in mind: make it back to the Olympics and bring their country up the world rankings once more.
The two 19-year-olds concluded their most successful season yet by finishing eighth at the 2018 European Championships in technical and free duet, and by recording the best scores in six years that the nation had seen at that meet. Most importantly and in barely one year, they saw a sharp rise of up to five points in their scores, an impressive feat in a sport where it usually takes a long time to do so and to shake up the hierarchy.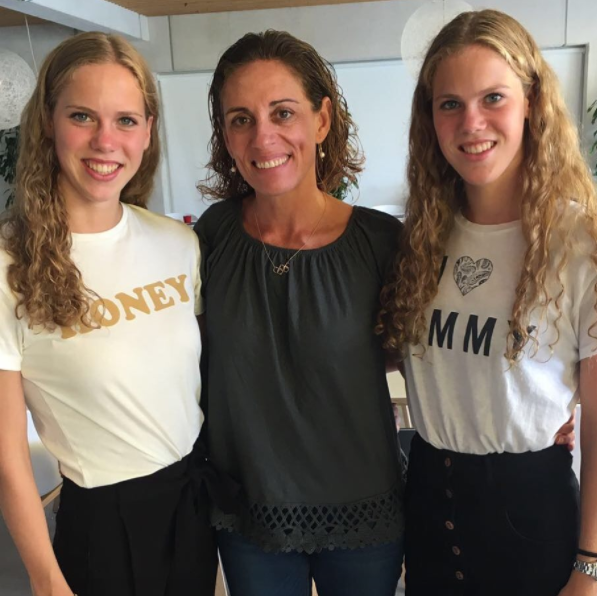 "Our goal this year was to show what we learned with Esther [Jaumà] and how we grew as swimmers," said Noortje. "But at the first competition in France, we didn't expect to already see an increase in points so much. I think it was three or four points, I don't know exactly, but it was crazy (laughs)!"
That significant improvement can be explained by two main factors: working with their new coach Esther Jaumà, and finally finding stability with the implementation of a centralized training program in Hoofddorp, near Amsterdam.
Jaumà arrived in the Netherlands at the end of 2017 after five years at the head of the Spanish senior national team. Hailing from Barcelona, she started coaching in the club of C.N. Kallipolis at the age of 20 all while maintaining a career as a nurse. Eventually, she was able to coach full time and worked her way up the Catalan and Spanish federations. She wound up working with the junior national team for numerous years before being promoted to the senior team in 2012. Across all her years in the Spanish program, she has coached familiar names in the synchro world like Gemma Mengual, who actually was her very first swimmer, or Ona Carbonell. She eventually coached the two to a fifth-place finish at the 2016 Olympics in the duet event.
Bregje and Noortje were absolutely thrilled when they found out they would be coached by Jaumà back in the summer of 2017. "Our first reaction was like, 'Wow! That is Ona Carbonell's coach!'" said Noortje. "We knew her from Ona, but now we know her as a person."
With the nation's best chances to qualify to the Olympics in the duet, the Royal Dutch Swimming Federation (KNZB) decided to focus only on that event for this quadrennium. It also realized the potential of the de Brouwer sisters early on, thanks to one of their former coaches and former national team member Elisabeth Sneeuw.
She knew the twins had it in them to make it far on the international stage, and brought it up to the KNZB. She unfortunately could not continue balancing her career as a lawyer with her coaching hours, and wanted to find a solution for the twins to continue improving.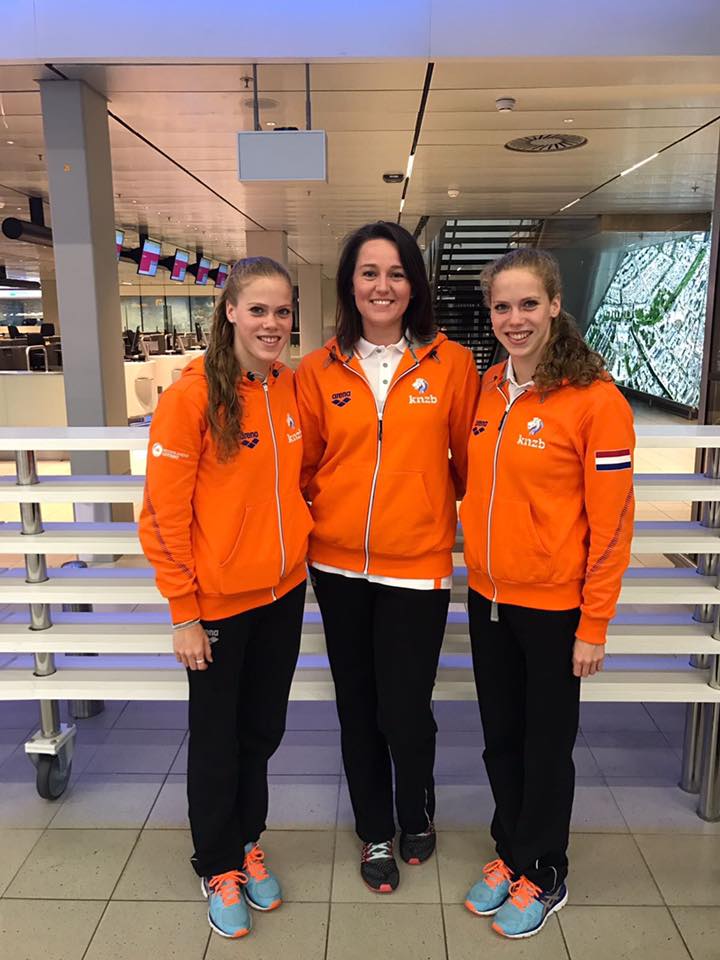 "Over the last years, we never had a full-time training program," explained Sneeuw in a past interview with Inside Synchro. "So, no full-time coach, and no full-time training schedule. And because of that, there is a limit of the progression. That [2017] season, we talked a lot about the opportunities, and I really pushed the federation to deliver a full-time program, with a full-time coach. The result of that is Esther."
Indeed and in addition to the arrival of Jaumà, the twins also finally had a set and stable training schedule. In the past seasons, Bregje and Noortje lived at home in Goirle, in the south of the country. They however were training every single day in different pools, sometimes a few hours away, and switching between a handful of coaches throughout the week. 
"I think for two years, we were training almost every day with a different coach from the day before," said Bregje. "We had a club coach, a national team coach, but also a technical coach etc. We had to adapt on how to work with one coach, and how to work and coordinate with this other coach the next day. But now we are with just one coach daily, so it's definitely better."
Bregje and Noortje still managed to improve during those years despite the crazy commute and the hectic training schedule. Ahead of the 2018 season, the twins moved to Hoofddorp to train six days a week at the Sportcomplex Koning Willem-Alexander, where they can swim, do conditioning or go to physiotherapy all in one place.
"I think the biggest thing was of course the planning," said Jaumà. "I created a planning. Last year as they were not living [in Hoofddorp], their training schedule was really crazy. Nothing was connected. After moving so much the whole week, they were really exhausted. So to be able to have this continuous training six days a week, it has been the biggest difference. I think that they deserve it because they are really talented. They deserve to have the opportunity to be able to train in good conditions."
Jaumà immediately recognized the twins' strong technical skills, and has been focusing more on artistry and choreography with them. She however did not predict such an improvement in so little time. From scoring 80.2000 in free duet at the 2017 FINA World Championships, Bregje and Noortje received 85.2000 one year later at the European Championships. In the technical duet event, they improved by nearly three and half points.
"I didn't expect it at all, I was really surprised!" said Jaumà, laughing. "They were at 79-80 points, so my goal was to arrive to 81, try to hold this level and then take another step the next year. But I really had to adapt my plan during the whole year because they were improving so much that they needed it. So it was nice; it was a nice experience. Even for me, for them and for me! Because it was changing and challenging me also."
In their last season in the junior category in 2017, Bregje and Noortje were the talk of the town at the junior European Championships in Serbia. To the surprise of many, they finished ninth and 14th respectively in figures out of 178 swimmers. They also placed fifth in the duet final, giving the country its best finish in over 20 years. Even Jaumà had noticed them at the time while she was still working in Spain: "I saw the results in figures and I was like, 'Wow.' There were Russians and them! And I was like, 'Oh my God!'"
When asked if they thought they would place so high, both Bregje and Noortje answered with a resounding "No!" in unison.
"We knew we were better at figures than routine," said Bregje. "But we never expected to come in between the Russian girls. I think at that competition we had a lot of time to do figures and duet because we only had these two. One routine and the figures."
They went on to compete at their first senior world championships in Budapest that summer, where they finished 17th in technical duet and 18th in free duet. They weren't even supposed to be going to worlds at first, but the federation eventually agreed to send them after their good results that season.
"[Worlds] was really big and new," said Bregje with a laugh. "It's different than a junior competition. We didn't have a lot of expectations and goals. Our focus was on the junior Europeans, and not so much the world championships. So we knew the best competition for us would be the juniors and not this."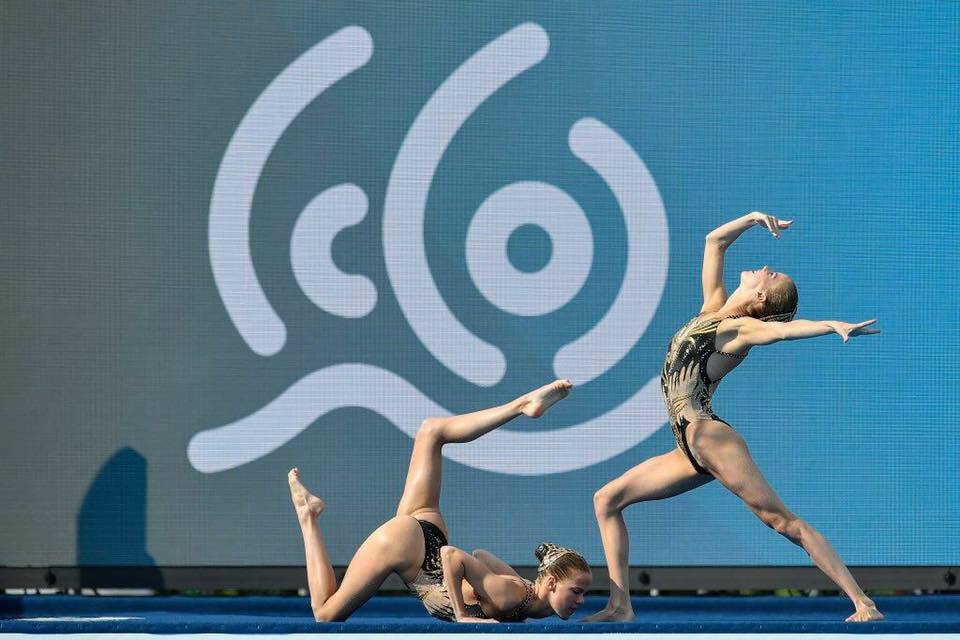 Despite the rapid improvement in just one year with Jaumà and their high potential to qualify to the 2020 Olympics, their biggest hurdle will likely come internally from the KNZB and the NOC*NSF, the Dutch Olympic Committee*Dutch Sports Federation.
The KNZB has been setting baseline scores for the twins to reach before they can compete at any major international competition that is not an Olympic Game, like the European Championships or the world championships.
"For example, they say that in this one competition, we have to swim at 84 or 84.5 points before we can go to worlds," said Noortje. "So it's like that every season, it's really…"
"It's always, 'Can we go? Can we not?'" said Bregje.
For the Olympics, the NOC*NSF is in charge of setting these thresholds, in consultation with the KNZB. The Olympic qualification procedure is already difficult in and of itself, with only 22 duet spots allocated by FINA, the international governing body.
Additionally in the last two Olympic cycles, the NOC*NSF would only send the Dutch duet if it were able to place in the top 10, with no attention paid to the score. This is the reason why the Netherlands has not been at the Olympics since 2008.
"It's really, really strict," said Jaumà. "So right now, we don't know really. But probably if they are not able to qualify for the finals, they are not going to participate in the games."
Making it into a world's final has become challenging in recent years as parity has tremendously increased, especially in the duet event. The twins' improvement in 2018 is nevertheless already a very encouraging sign, as they were beating or coming close to nations they were really far behind only one year before like France, the U.S, Belarus or Kazakhstan, all regulars in the duet at the Olympics.
"They are working really hard," said Jaumà. "I'm very proud of them. The work is nice and they are trying really hard. But we know it's going to be really, really difficult. I hope we are going to be there fighting to be in the final, but to get to the final is a big thing, so we'll see."
While the trio does not know yet what the baseline will be, they are hoping to have the NOC*NSF set it in terms of scores and not rankings, similarly to what the KNZB does. What is certain is that the twins will get six opportunities to prove themselves over the next season to reach that threshold. The FINA World Championships and the European Cup will be the two major competitions for them, where they will try to qualify to finals in the former, and at least remain in the top eight in Europe in the latter.
One thing is certain: Jaumà wants to keep pushing to make sure there is no doubt in anyone's mind that her athletes deserve a shot at the Olympic Games. She would like to consolidate the twins' position around the 84 – 85 points, and to secure a potential qualification to the games at least with the NOC*NSF.
Despite having created new routines in both technical and free duet events last season, she is restarting all over again for 2019.
"I decided to change both choreographies because I think that they are growing," said Jaumà. "It's the moment for them. They have improved so much last year that I don't want them to stay at the same level. I want to give them the opportunity to grow a little bit more and I think this is the way. I think that they deserve it. They are learning, and I don't want them to stop. And I think that they can do it."
Besides the technical and artistic improvements, one of her main focus has been to develop the twins' own style. Spanish swimmers are known for their very peculiar style of artistry and swimming flair, but she is not looking to replicate that with Bregje and Noortje. She instead wants them to find their own quality and trait.
"That's one thing I learned from Virginie [Dedieu] some years ago with Ona," said Jaumà. "She had this idea that every swimmer has something inside and needs to take it outside to create their own style. So that's what I'd like for them. They are not Spanish of course; they are not from the south of Europe so it's another style, and I want to respect this."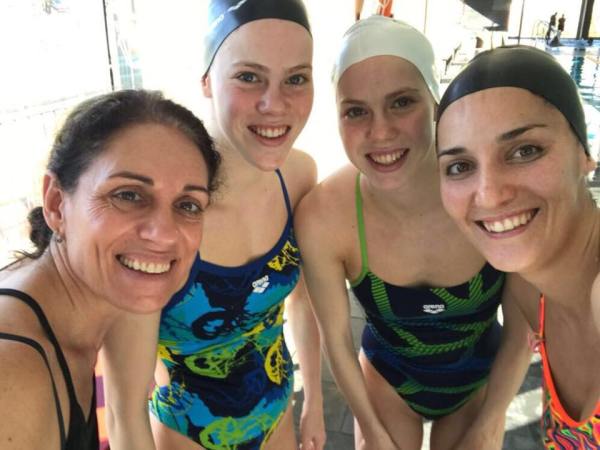 Jaumà admits she's been lucky to work with swimmers renowned for their artistry over the years like Carbonell, Mengual, Dedieu, or Andrea Fuentes, and she now wants to transmit that knowledge to her athletes. She knows Bregje and Noortje are still relatively new to the senior stage, and that developing their own style will take time and will only get better as they continue maturing.
"They have really nice things," added Jaumà. "They are really fast, they are really light in their movements on the water, and this is really natural. It's not something that's coming from the preparation or from me; it's something they have. So I think that they have to show with their style these different things they can have compared to the other duets. That's my goal."
After just one year in the Netherlands, Jaumà is thrilled with not only this new opportunity and the challenges it brings, but also from working with her two new Olympic hopeful athletes and in the potential they are showing.
"[Bregje and Noortje] are super thankful so it's so nice for me, the coach, and so easy," she said. "Because it's a pleasure, really, to work with them. Ok, I'm here, the federation is nice, all these things are nice, life is nice in the Netherlands…But the most important thing is that it's a pleasure to work with them. And you can see how excited they are, how motivated they are and it's really nice. And it's easy, because I come here every day and I try to give them motivation, but they are giving motivation to me too (laughs) ! It's really enjoyable."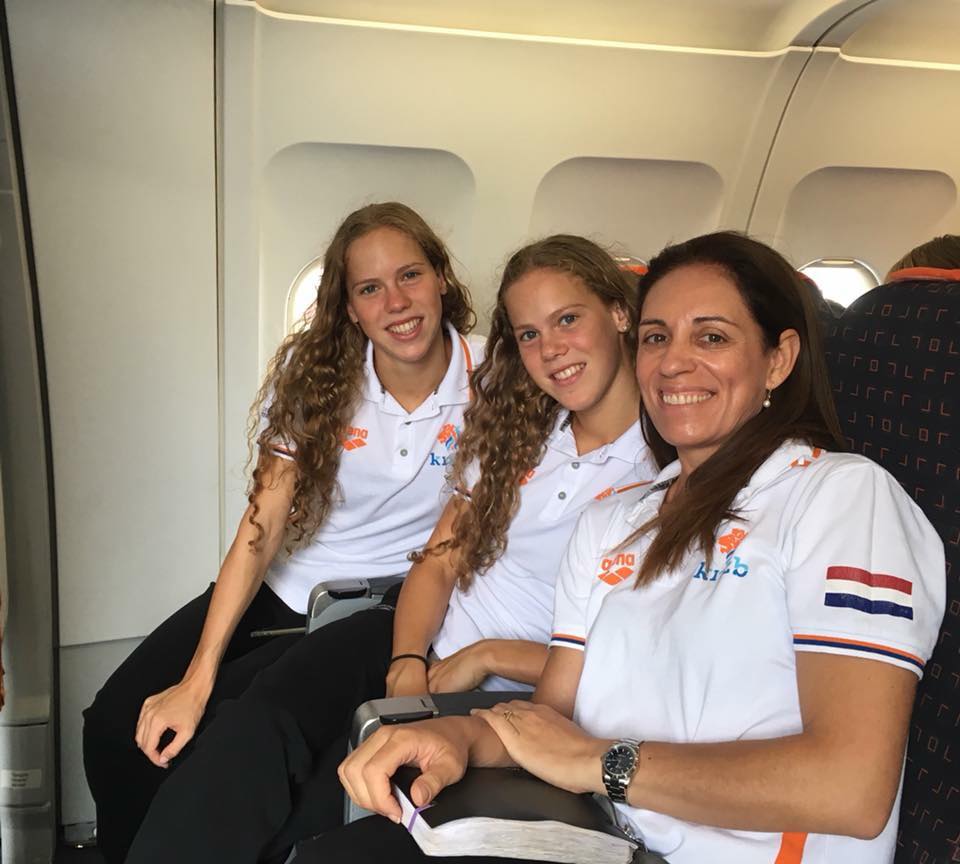 Bregje and Noortje started synchro at the age of four near home at the club of De Dokkelaers, following in the footsteps of their older sister. After attending her practice sessions and competitions, her own coach noticed them and convinced their parents to also let them try because "twins are good for this sport."
They immediately enjoyed it, and eventually made their first national team nine years later. They competed as the national team duet for the first time in 2014 at the COMEN Cup in Greece and finished 10th. That same season, they swam at the FINA Junior World Championships and placed 11th in combo and 16th in team. They name the 2015 European Games as one of their favorite memory so far, where they finished 10th in duet.
Being twins is certainly an advantage in a sport that favors similitude, synchronization, and similar body shapes to achieve the perfect visual effect. Bregje and Noortje like it, but they admit they don't know any different and have gotten used to being together essentially 24/7.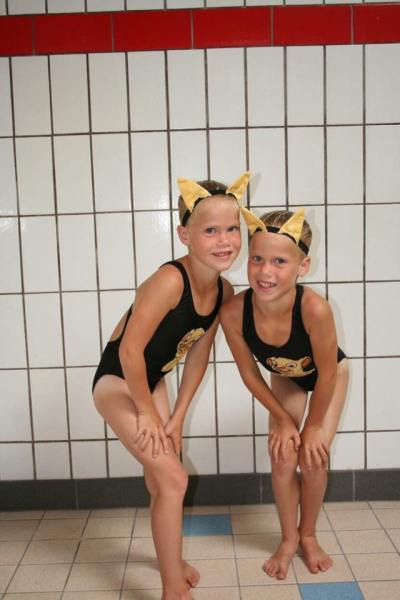 "What we like about swimming together is that we can say everything to each other," said Noortje. "So during training if something is going wrong, we can correct each other. Sometimes with different people whom you don't know very well, it's difficult to say, 'You did this wrong.'"
"Yeah, we can just say things with one word sometimes, but it can be nice or not so nice," added Bregje with a laugh.
"Or sometimes we look at each other and we already know what the other is thinking," said Noortje.
Similarly to the vast majority of synchronized swimmers, Bregje and Noortje have had to juggle their elite training regimen with school. They are both currently enrolled at the Young Talent Academy, a specific school for athletes that allows them to work their practice schedule into their academic curriculum. They are in their last year of high school.
"Officially the school was only three years," said Noortje. "But it was too hard for us to do it with synchro so we decided to study one more year, so we have an extra year."
With this program, they are able to follow most classes from home and to accommodate their 38 hours of training on average per week. With most Sundays off, they usually travel back to Goirle to see their family.
While the focus is on the duet for this quad, Jaumà certainly aims to eventually build up a full senior team again and grow the sport in the country. The Netherlands has not competed as a team on the senior stage since 2013, but she is already working with swimmers in the younger age categories to rebuild the program. Just like with many other things, she however knows it will take time, but she is hopeful it will happen in the next four to five years.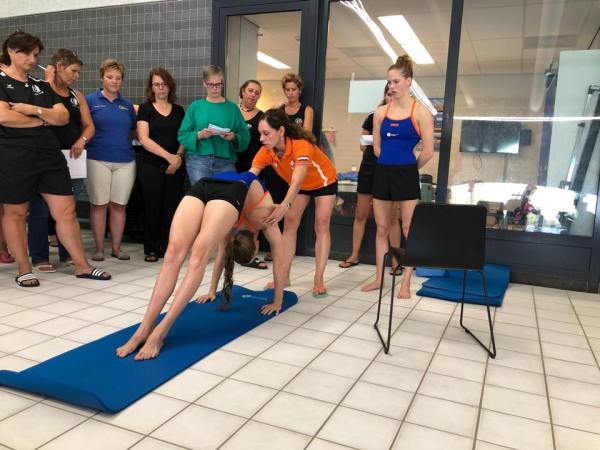 One of the difficulties may be the size of the country resulting in a small pool of athletes to choose from to start with, especially in an uncommon sport like artistic swimming. She also knows most clubs are run by volunteers and have to deal with limited training hours and facilities available to them. This can in turn make it difficult to retain and train coaches, who are also all volunteers. Moreover, Jaumà believes she's battling a deeper issue related to the local culture.
"I think sports in the north of Europe in general is more focused on health sports in schools than competitions," she said. "I think that sports is something that is more social here. I don't have the feeling that I had in Spain where competition is super important. Here, it is the second step when you have the first covered: do sports for your health, for enjoyment, and for the growth of the kids. This is not the only reason, but it can make it difficult for this country to improve the level in synchro."
Of course, Bregje and Noortje miss being part of a team and swimming with other people in the pool, but they also know that for now the duet is their one chance to achieve their dream.
"It's a little boring to be the two of us in a big pool!" said Bregje.
"But we know we need to focus only on duet because otherwise we can for sure not go to the Olympics", said Noortje.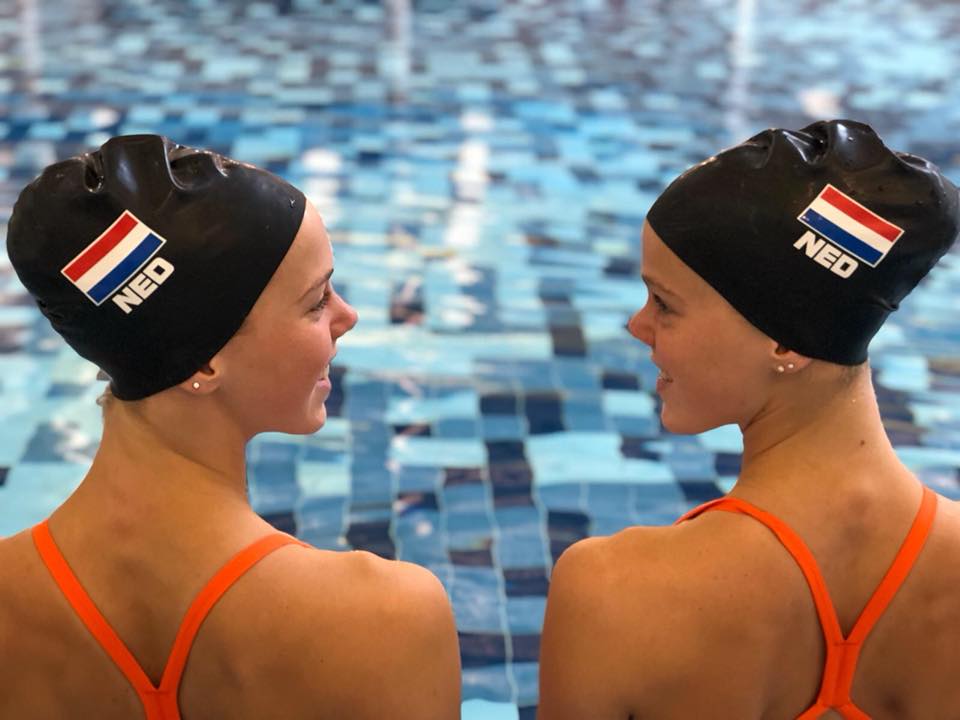 The 2019 season will be decisive for the twins on their road to Tokyo. The trio will have the FINA World Championships in Gwangju, South Korea, in sight, but they will of course keep the baseline in scores or rankings from the NOC*NSF and the KNZB in the back of their mind.
"I'm excited to see how much they can improve this year", said Jaumà. "I'm super, super happy, and super excited to see that they are able to do really much more things than last year. It's a pleasure to see how they are growing. And I'm excited about the new choreos. Because they are doing different things and they can do much more. I think they are going to be a surprise."
Article by Christina Marmet
All photos courtesy of Bregje and Noortje de Brouwer.