Aleksandr Maltsev made history for Russia as he won the first ever gold in the free mixed duet event back at the 2015 FINA World Championships, and a silver medal in the technical event with Darina Valitova. Maltsev remained at the top in 2016 and became a two-time European champion, this time with Michaela Kalancha, on the way to repeating his world results in 2017.
Last season at the 2018 European Championships, Maltsev successfully defended both of his European titles with his new partner Maya Gurbanberdieva. After winning his latest two golds last August, Maltsev gave an interview with Radio Komsomolskaya Pravda.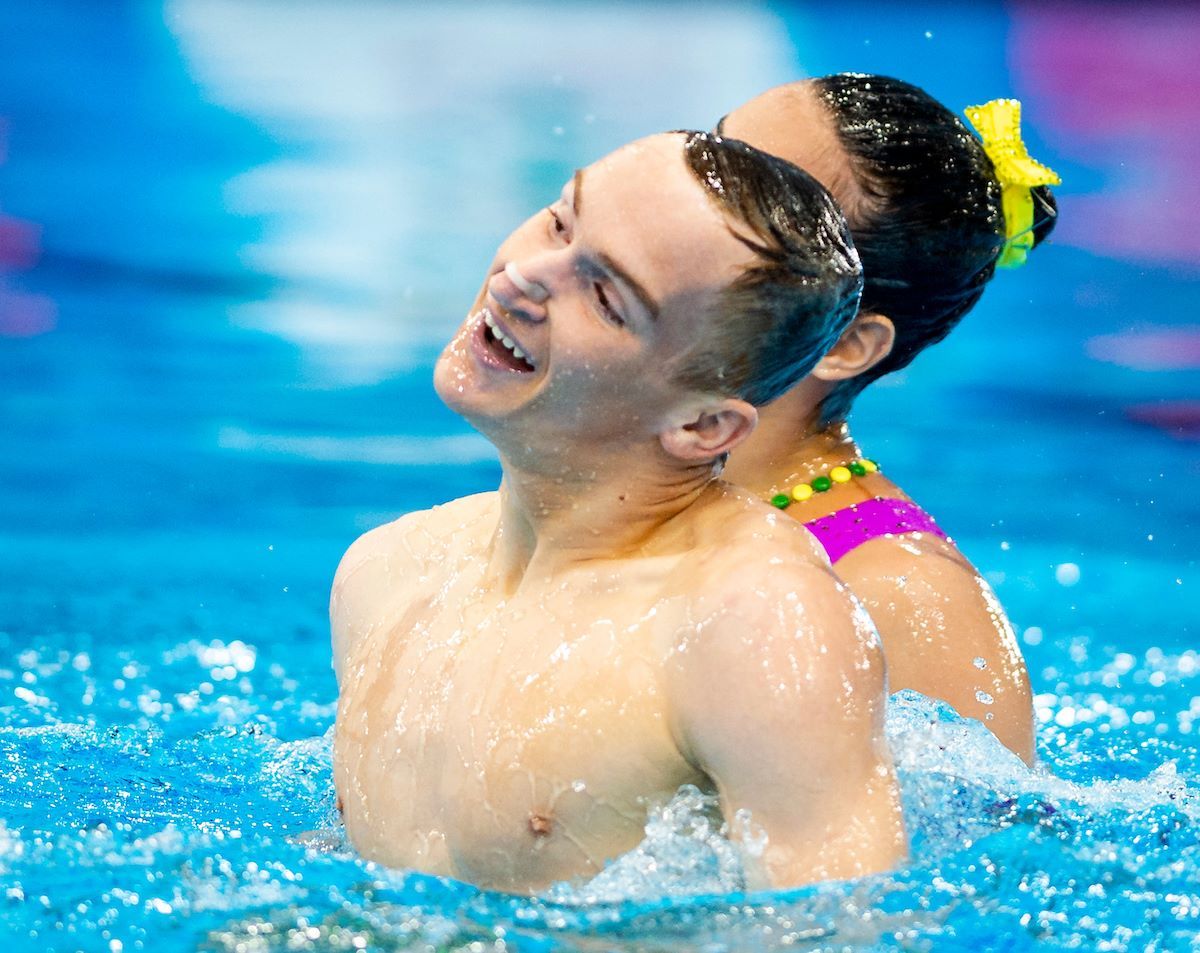 Wikipedia calls the St. Petersburg native the only professional male synchronized swimmer in Russia, and FINA recognized him as the world's best two years in a row (2016, 2017).
At the European Championships in Glasgow, Aleksandr Maltsev once again confirmed his status together with Maya Gurbanberdieva, where he won two gold medals in the mixed duet. Sasha was on the air of Radio Komsomolskaya Pravda (97.2 FM).
"
There is no questioning with figure skaters"
Q: Aleksandr, are you really the only professional male synchronized swimmer in Russia?
A: It would be more correct to say the first one. There are already followers. Since 2015 when mixed duets were introduced at the world championships, [the federation] started to incite guys to join, and we already have a younger generation.
Q: But how did you get into a sport that has always been considered feminine?
A: Yes, I came to synchronized swimming when there were basically no men in this sport at the international level. Only a few people performed in smaller competitions, in exhibitions, in various shows. But at the same time in St. Petersburg, they were recruiting boys, and I actually had come to learn how to swim. Children generally come in synchronized swimming for this at first… But then, I wasn't alone. It's only afterwards that the guys ran away.
Q: And you?
A: I fell in love with this sport. And at some point, I understood that I didn't want to stop. I wanted to hang on until the time where mixed duets would be recognized, when men would be also allowed to perform at world and European championships, and then, who knows, maybe at the Olympics too.
Q: Do you think the Olympics is real?
A: Our events weren't included in the program for 2020. But I am ready to wait for the 2024 games.
Q: One boy at my school did cross-stitching, and he was bullied for it. And you found yourself in a female sport…
A: I did not face harassment at school. In the pool, it happened that the guys from some other aquatic sports looked at it… well, they looked askance. But an artistic sport doesn't mean that only women can do it. There is figure skating for example. There, men compete both by themselves and in pairs with girls, and no one questions it. Our sport is so balanced that it suits both women and men.
Own locker room
Q: Does it happen often when you open the door to the locker room and there is a scream; then swimsuits, caps and towels are flying all around you?
A: Actually, no. I have my own locker room.
Q: Did it happen during your childhood that you were disguised as a girl and sent to a competition?
A: I didn't change my clothes, but as a child I went to some regional competitions as part of girls' team. Of course, our performances made an impression then: "Is there really a boy in the team there? Wow!"
Q: It seems sometimes that you have chosen a perfect sport for men in general. There are beautiful girls in swimsuits who stay near you all the time. Admit it, are they coming after you?
A: Of course, I feel like I get more attention when it's just me in the women's team. But we are not a women-only crew. Because there is also the medical staff – a doctor, massage therapists, etc. It is easier like this than to be the only man among women. From the outside, it may seem that everything is great, with beautiful girls all around. But, first and foremost, this sport is hard work. And secondly, the specifics of the women's team are a complicated thing.
Q: Can you stand all these woman-to-woman talks?
A: Most women's conversation is based on some gossip, or something else, something specific. Therefore, I don't interfere.
New girl every year
Q: In figure skating, partners in a pair are sometimes selected so that they are not a couple only on the ice but in life as well. Do you have the same in synchronized swimming?
A: It doesn't always work. For example with Michaela Kalancha, who I used to swim with, we had a relationship and it was a little burdensome. Because some moments were transferred from training to our personal life. I feel like it is better to only have a friendship so it's a purely working atmosphere.
Q: You change partners every season.
A: So it turns out! In 2015, everything happened in a flash. Mixed duets were introduced into the program just six months before the actual world championships. It was necessary to find a partner very quickly, to create two routines – technical and free – and to perform them to win gold medals only. As a result of the mutual decision of our coach Ghana Vladimirovna Maksimova and the head coach of the team Tatyana Nikolaevna Pokrovskaya, Darina Valitova became my partner. They tried us out, it all went well, and we started working together.
Q: Then, there was Michaela.
A: We were together for two years – at the European Championships in 2016 and the world championships in 2017. Now, it's Maya Gurbanberdieva. It seems to me that with her, we have the most comfortable relationship.
Q:  When we were watching the broadcast, we noticed that Maya is the one in charge. When you walk on the deck, she counts the steps…
A: In different routines, it happens in different ways. Usually the one who is standing behind counts so that the first person can hear the counts. But in general, we share the duties.
Cirque du Soleil
Q: A few years have passed since you opened the door for men to the world of synchronized swimming. Who are your main rivals in the mixed duets today?
A: The Italians. And the Americans, who were our main rivals in the first world championships. Bill May is the legend of synchronized swimming. He is 41 years old now, he is in the Cirque du Soleil show.
Q: Weren't you invited at Cirque du Soleil?
A: They suggested it… During the world championships in Kazan, the Americans invited me and tried to lure me.
Q: And what?
A: I refused. I want to wait until the Olympics.
Q:  At the world championships in 2015, you had a very unusual suit that looked like a military uniform. And now you are decorated, pun-intended, with swim trunks only.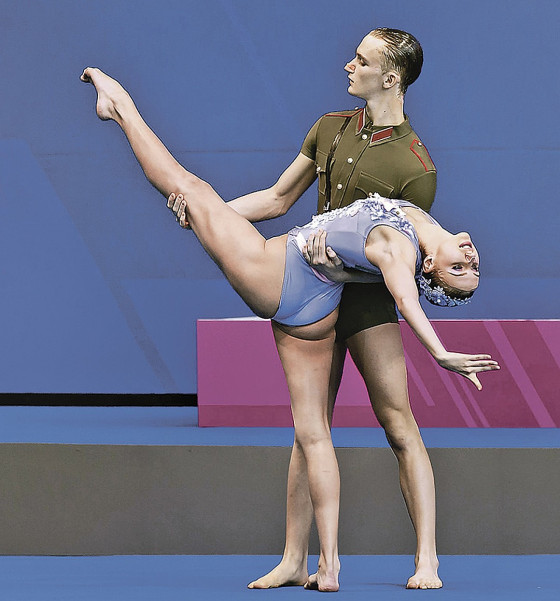 A: At the first world championship, there were no rules for costumes. And now everything like this is forbidden for men – both costumes and makeup. That military suit was because our technical routine was set to the music from the movie "Seventeen Moments of Spring." But it was very hard to perform in that suit: it had a belt and shoulder straps which were not at all fake, but actually real ones. They weighed hefty.
Q: How did you cope with it?
A: Fine. We swim every day during training with weights on our arms or on our legs. We have a kilogram or up to two.
Q:  Do they throw coins on the bottom of the pool so that you go get it?
A: In childhood when children are learning to dive, some toys are thrown at the bottom and they are asked to get it.
Q:  By the way, how long can you hold your breath?
A: Somewhere near three and half minutes.
Translated from Russian by Vlada Sorokina.
Original interview conduced by Mikhail Antonov,  Andrei Vdovin, and Maria Bachenina.