The second meet of the FINA World Series starts tomorrow, April 5th, with all technical events, and will last until Sunday, April 7th. The competition is shaping up to be a great ones, especially with early sightings of the Canadian and Greek national teams.
Indeed, Canada is not a team we usually see this early in the season. The Canadians have overcome a lot of hurdles over the last few years, from losing funding and moving out of a centralized training system in 2017, to being back training together in Montréal in January of this year. The team has also gone through a bunch of coaching changes, but Gabor Szauder was named the new head coach of the team a few months ago.
The Canadians worked with Anastasia Ermakova on their new choreographies for this year, so we can expect many new routines from them. We did not see them much last season as they only competed twice at the Canadian Open and the US Open, so it's great to see them so early already and to get a glimpse of what they look like with a more stable training system. They are in the hunt to make it back to the Olympics as a team, and their road to Tokyo starts now. It's a good strategy to show off the hard work early on after not being out much last season and in order to in some way convince everybody that yes, they are back and can do it.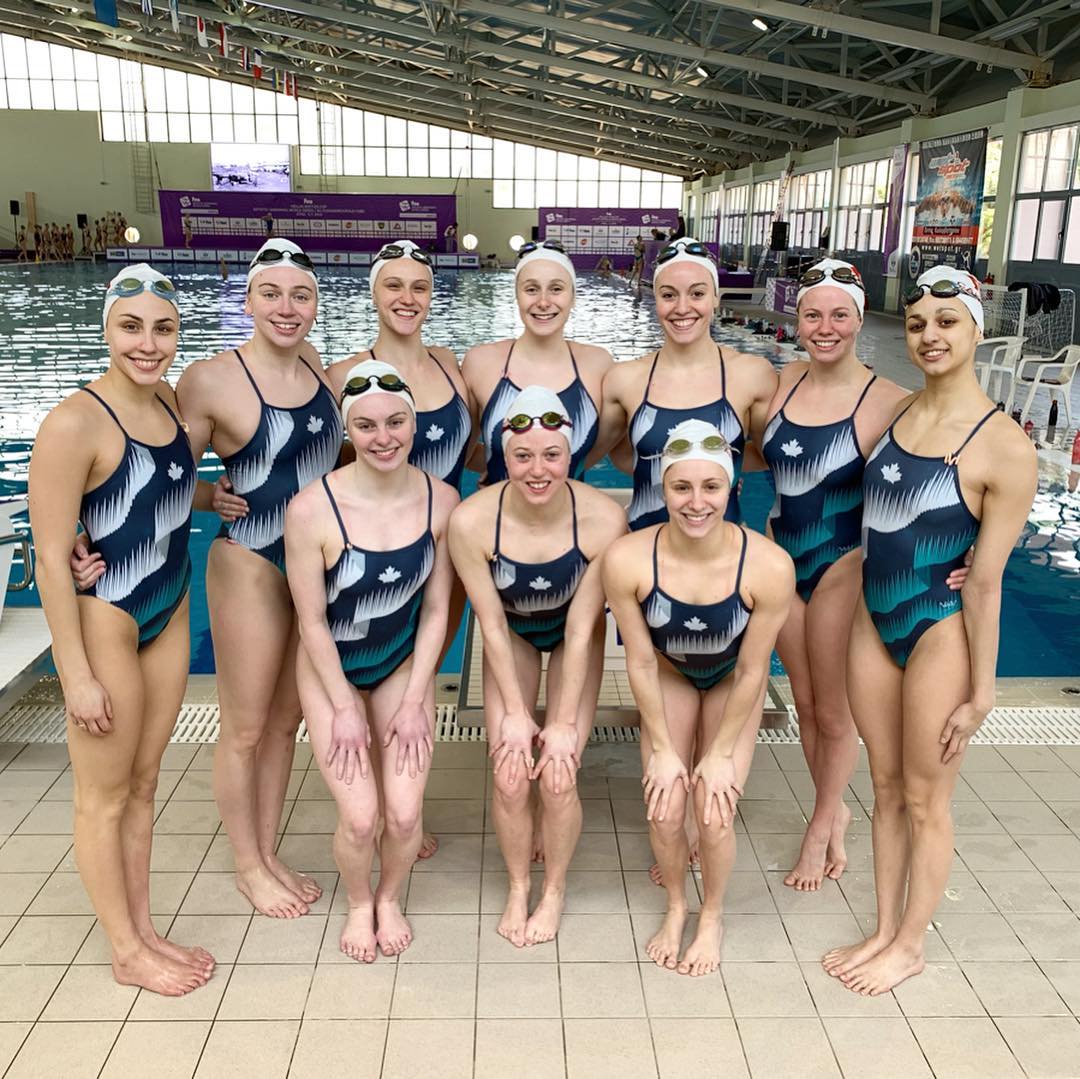 Jacqueline Simoneau and Halle Pratt both should be swimming solos once more this year. When we spoke to Simoneau a few months ago, she had mentioned brand new choreographies and working on something completely different for the 2019 season, so we certainly hope we will get to see those here. The duet seems for now to be with Simoneau and Claudia Holzner, just like the past two years. We should also get to see another duet at this competition with Andree-Anne Cote swimming with Pratt.
Another country we don't really get to see so early in the year is the home team, Greece. With the competition being moved up a few months early this year, it did not have much of a a choice but to be ready for its one and only international meet at home.
Just like the Canadians and thanks to the changes in qualification rules to Tokyo, the Greeks are also in the hunt to make it back as a team to the Olympics. However, the team faced over a 50% renewal of its roster since the 2018 European Championships, and the coaches and veteran swimmers like Evangelia Platanioti and Evangelia Papazoglou have already stated in the press that we should expect a quite young and inexperienced team this year.
Indeed, most of the veterans have moved on, so the alternates from last season are now part of the team, and junior swimmers, including first-years, are being thrown into the senior team. For example, Krystalenia Gialama, who was soloist at the COMEN Cup last season, is now part of the senior team, along with her then duet partners.  Talk about a jump in age categories!
It's not an impossible task, as we have seen Spain in about the same situation a few years ago, and it managed to make the most out of its young roster and to develop and foster that talent. It will be good to see how this new Greek senior team fares, and it can only be beneficial for it to compete so early on in order to show progress and make a good impression later on in the season. Platanioti is scheduled to be back in the team routines as well, which she hasn't swam in over two years, and her experience can only help.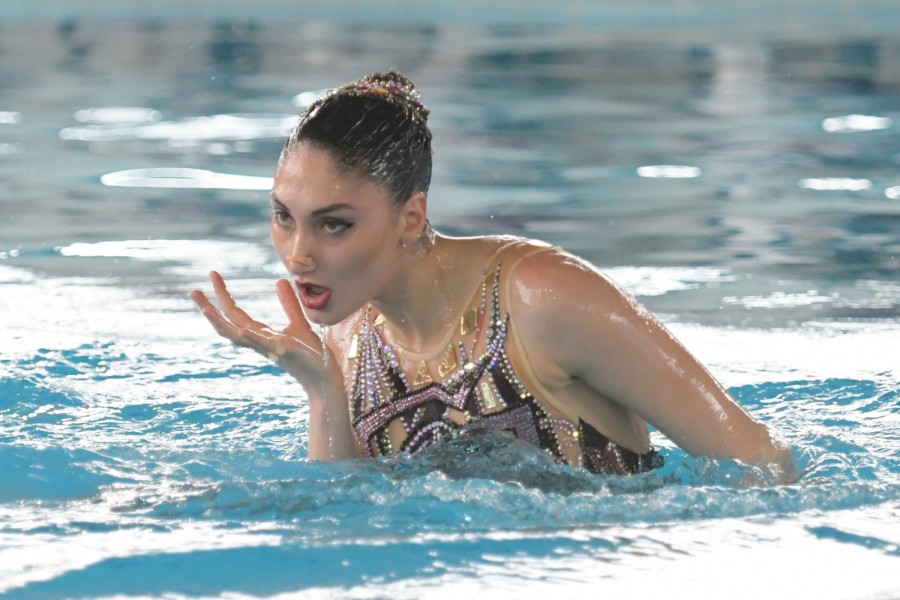 Papazoglou and her will of course compete in the duet event and should unveil a brand new technical routine set to Nirvana's "Smells Like Teen Spirit." Platanioti will also compete in the solo events. She officially 'retired' her Swan Lake free routine a few weeks ago at nationals, so hopefully we can expect something new from her there.
Ukraine will once again swim in the technical event but will continue to hide its free routine a little longer. We should however see the Ukrainians in the free combination and highlight events for the first time this year. However, they do tend to change their plans and entries until the very last minute – they were supposed to swim all team events in Paris but withdrew, so we will see what actually happens.
Marta Fiedina should be back in the free solo event. In the duet, we should see the same pairings as in Paris, with Fiedina and Savchuk in the technical event, and the Aleksiiva twins in the free.
In the mixed duet event, fans will see Italy's Manila Flamini and Giorgio Minisini for the first time this year. They too have worked with Ermakova for their new technical duet choreography in order to top their 'Scream of Lampedusa' routine that earned them world gold in 2017. They are entered in both events, but could very well decide to strategize and continue swimming their old tech routine until the very last moment just to keep the new one a surprise. Japan's Atsushi Abe and Yumi Adachi will be back out and compete in both events just like in Paris. Finally, Russia is sending its junior mixed duet of Mikhail Vasilev and Kristina Averina. Unfortunately, the home team will not present its mixed duet.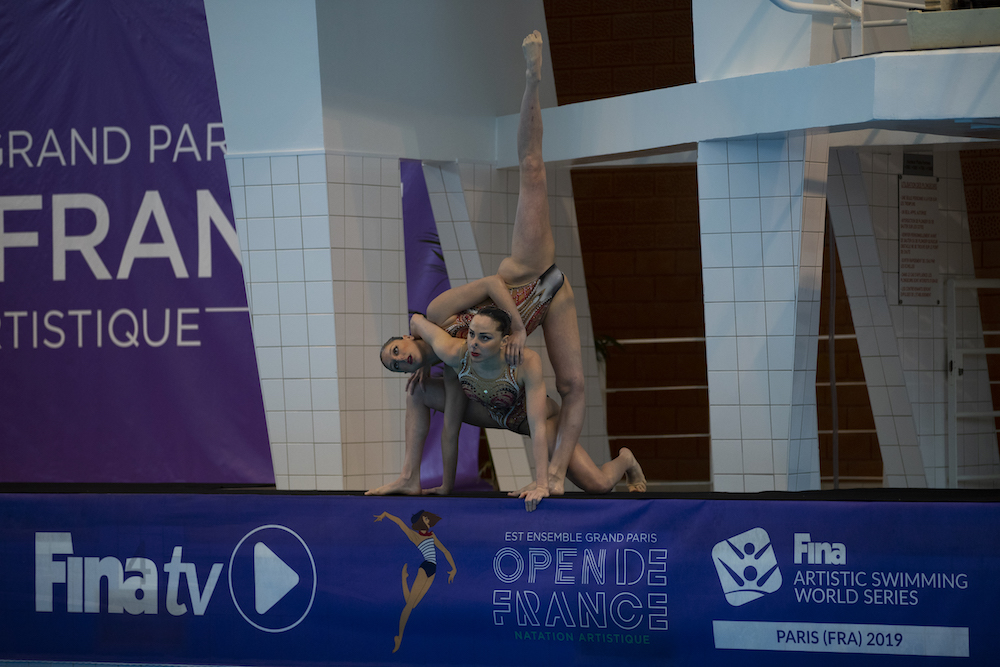 Speaking of Italy, Linda Cerruti is set to swim in the free solo event, and it will be extremely interesting to see if she can maintain her ranking ahead of Fiedina, who appears more and more to be Ukraine's new free soloist for this season. Remember, Cerruti finished second in the free event, ahead of Yakhno at the European Championships last summer. Cerruti will also swim in the duet events with longtime partner Costanza Ferro.
In terms of other nations making their season debuts here, Hungary is another one to look out for. The team is still a young one made of mostly junior swimmers and that has lost a few of its more experienced swimmers since last season. Slovakia will also make its first outing in the team and duet events under the guidance of new head coach Nora Szauder.  We only saw Vendula Mazankova from the Czech Republic in Paris, but it should have two duets competing here, including one with veteran Alzbeta Dufkova, on top of multiple solos.
Liechtenstein will compete in solo and duet event with a junior pair of Dominique Eggenberger and Leila Marxer. Switzerland will be out once again but this time with only its junior swimmers to focus on the smaller routines, with three solos and three duets entered in each event. San Marino will compete in the solo and duet events.
Rounding out the field are a few countries we already got to watch in Paris, including Bulgaria, Germany, Israel, the Netherlands, and Poland.
Mexico was originally scheduled to be in Greece as well, which would have made such an exciting showdown with Canada, and although they still appeared on the entry list a few days ago, the Mexicans did not end up traveling in the end.
All you need to know on how to follow this competition is available here.
Article by Christina Marmet.
Photo courtesy of Ανο Μεταμόρφωσης.