This season is one of comebacks, and these two are massive for China. Three-time Olympian Huang Xuechen is back in the pool after a break of a little less than three years and after having a child. Her 2016 duet partner Sun Wenyan is doing just the same, and resumed training last summer after a two-year break.
Both athletes have been a mainstay on the senior national team since 2007, and their return to the elite level could not be more exciting.
Huang Xuechen is the most decorated Chinese synchronized swimmer, with three silver and two bronze medals won across the 2008, 2012 and 2016 Olympics. She also has won 16 world championships medals, was named 2014 FINA Synchronized Swimmer of the Year, and was China's soloist for numerous years.
Huang competed in the women's team event at the 2008 Olympics where she won a bronze medal. In 2012, she competed in the duet with Liu Ou for another Olympic bronze, and added her first Olympic silver in the team event. Finally in 2016, she collected two silvers in team and in the duet with Sun Wenyan.
Huang took a break after the 2016 Olympics after over eight years on the senior international stage to focus on her personal and family life. Huang admitted in the Chinese press to have been inspired by the great comebacks of twins Jiang Tingting and Jiang Wenwen, who both successfully returned to the elite level after giving birth a few years ago.
The return of the 29-year-old veteran was officially announced in a press conference a few weeks ago for the promotion of the world series meet in Beijing in early May. Huang admitted there that she is now in better shape than she was in Rio, but went through a difficult time losing over 30kg after giving birth to her child one year ago.
"The road back to the national team was very tough for me," she said.  "Losing weight was not an easy task, so I really want to thank the medical team and trainers who helped me a lot during the process. The idea of coming back was not a certainty, but I wanted to give it a shot and the leaders in the team also supported me."
According to the press, Huang Xuechen submitted her application back into FINA's system on November 15th last year, and it will take six months before she can participate in an official FINA competition. Therefore, Huang will not participate in the China Open in Beijing from May 4 – 6. However, she will swim in the gala show and make her first appearance in three years. The head coach Wang Jie has already confirmed her presence in the national team roster for the upcoming world championships in South Korea.
Sun Wenyan is a three-time Olympic silver medalist, 11-time world medalist, and also competed in solo throughout her years on the senior national team, spanning from 2007 to 2016. Sun returned to training a bit earlier than Huang, and has already reclaimed her spot on the team and was named captain once more.
China did not necessarily need a boost and was already extremely talented as is, but the return of these two great and experienced swimmers can only help the team in its quest for Olympic gold, and make it into an even more powerful and dangerous one.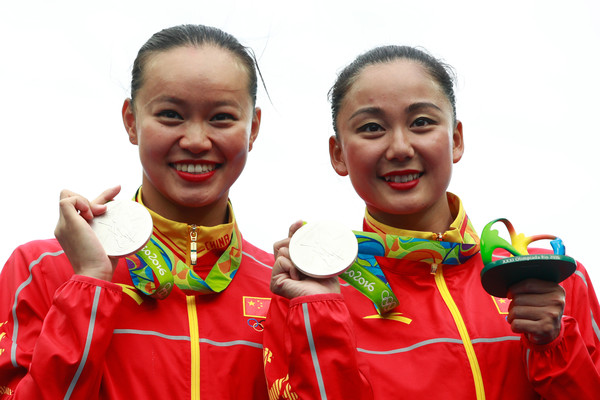 Article by Christina Marmet