The Chinese senior national team dominated the Canada Open after presenting routines across all Olympic events as well as in both mixed duets. China won all six gold medals, and was not entered in the solo events, free combination or highlight, although we should however expect the Chinese to present a combo at worlds later this summer.
As announced previously, Huang Xuechen and Sun Wenyan, two of China's veteran swimmers and totaling seven Olympic medals between the two of them, have returned to the national team after a break of a little over two and a half years. Little did we know the two 2016 Olympic silver medalists would come back just as strong as before.
Huang and Sun competed here in all duet and team events, and they truly looked like they never left. While Sun already competed this season at the China Open with the team, it was the first time since the 2016 Olympic Games that they swam together as a duet.
Their technical routine opened with a sky-high opening throw that not many can equal, and featured strong elements, that as a reminder they were competing for the first time ever. They received 92.8049 there, which is probably not as far from Japan as they would have liked, but it's a satisfying score for a first outing.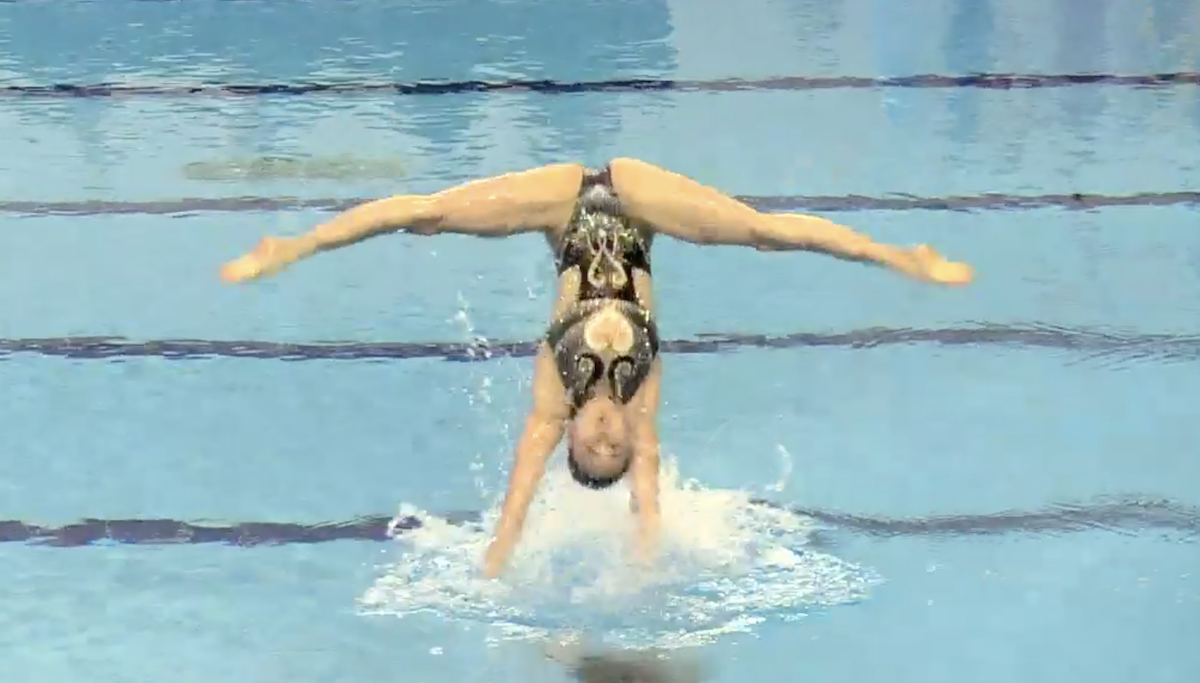 Their free duet 'Goddess of Hopes' was just as impressive, although filled with maybe a bit too many tiny synchro mistakes and lack of precision in some positions. They scored 94.5667, nearly two points ahead of the Japanese pair this time. Overall, this was a good first showing for these two after all this time, but it's honestly however a bit of a bummer to see them go back to a more traditional style of choreographies, especially after witnessing them push the envelope and work on some novelty and different difficulty for the Rio Olympics — but different coaches, different times…
There are no available replays for the technical team event where China came out on top as well with 93.5677, but thankfully we had already seen that new routine at the China Open a few weeks ago. In the free team event, the Chinese presented a new choreography titled "Ode to the Heroines," once again sticking to a more traditional style, yet explosive and impressive, for a final score of 95.3667.
With the returns of Sun and Huang to full strength, this Chinese team now includes six returning Olympians from 2016, the most out of every nation so far. This team is very strong as it is, but it's important to note that the renowned Jiang Tingting and Jiang Wenwen don't seem to be part of it, at least for now.
The Jiang twins did compete at the Asian Games last season and won gold in the duet for the country while serving as alternates to the team routines. They also won two silver medals at the 2017 FINA World Championships in duets. This year, we've seen them only in the free duet event representing their province of Sichuan at the Japan Open, and again one week later at the China Open in Beijing, the same meet that the entire national team of China made its debut at.
Now with such a strong return from Huang and Sun, where they are scoring just as well if not better as the Jiang sisters have these last three years, it's difficult to see how this team could make room for them. Maybe it was never the plan for them to make it back to the Olympics, or maybe it was. Only time will tell what the strategy is going into the Olympic year, but it's not currently looking too good for them to be part of the final eight that will go to Tokyo.
Moving on, China's mixed pair of Cheng Wentao, Shi Haoyu and Zhang Yayi won gold in both events and reached a career high in tech with 84.0853. The only other mixed duet in the competition was Kazakhstan's, which had a much better tech swim than last weekend at the Synchro America Open for a score of 72.0954. It's unfortunate to not see a Canadian mixed pair, and it's looking more and more likely we won't get to see one at all this year at worlds.
It was business as usual for the Canadians who got to compete in front of their home crowd, and casually added seven more medals to their world series collection. No problems of directions this time around for Jacqueline Simoneau in tech solo, where she actually went on to earn her best score yet with this routine, a 89.4814. The free duet of Claudia Holzner and Simoneau also recorded a new career-best score of 90.1000. In the free combination event, fans got to see the team of Montreal Synchro, which presented a fun 'Harry Potter' routine, with each swimmers sporting amazing swimsuits representing the four houses of Hogwarts (I may or may not need all of them).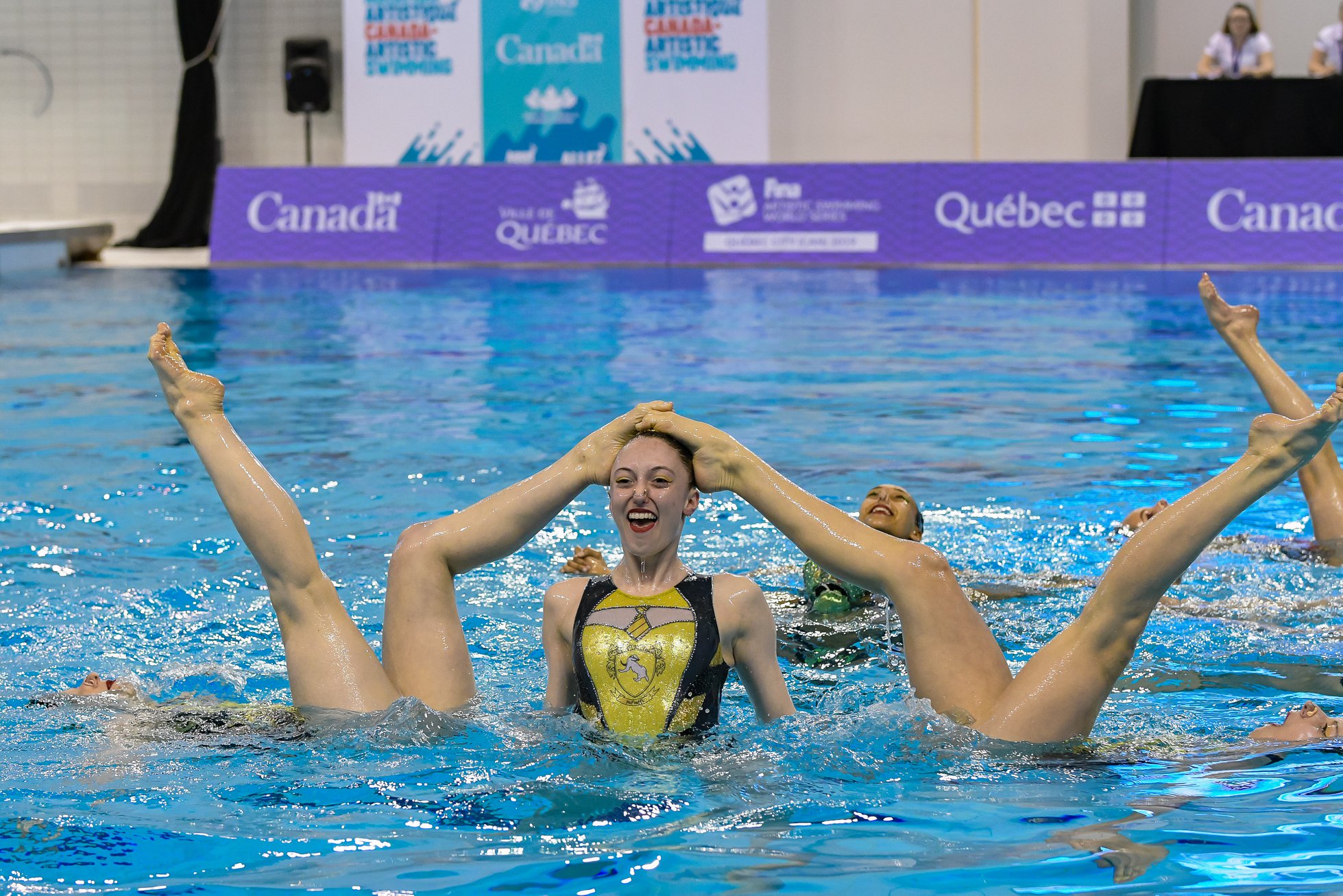 It was also business as usual for Japan, although it was only entered in both solo and duet events with Yukiko Inui and Megumu Yoshida, which they all comfortably won. The Netherlands were represented by Bregje and Noortje de Brouwer, who had much better swims than at the European Cup a few weeks ago particularly in tech. The twins actually recorded their career-high scores here, with 85.3146 in tech and 86.3667 in free.
Similarly, Germany's Marlene Bojer and Daniela Reinhardt got some redemption in technical duet since the European Cup, where they had received a zero for their first element. The two scored 79.4798 here, and obtained a new career-best of 80.7667 in free duet. Additionally, Bojer won the bronze in free solo, marking the first world series medal for Germany in that event. Finally, Singapore's duet of Debbie Soh and Miya Yong continued its steady rise and also recorded a new high in free duet with 78.7333.
South Korea was back out for the first time since the Japan Open, but this time around in a few more events. Lee Riyoung, the veteran of this team, was back out in solo in a major international meet for the first time since the 2017 worlds. She stayed within her scoring range, with 77.1816 in tech and 77.9000 in free.
Furthermore, it was the first big outing of the season for what looks like new pairings in the duet events, with Baek Seoyeon and Lee in tech, and Baek and Koo Yemo in free. They unfortunately could not maintain the same scores and rankings as last season, and also could not keep the duet from Singapore at bay, which was still behind in the rankings at the 2018 Asian Games and the 2017 FINA World Championships.
The South Koreans scored 75.4886 in tech team and 77.5667 in free combination, which earned them a silver for their "Jungle Book" routine. It is very rare to see them compete as a team, as the country only reappeared last season at the Asian Games for the first time ever there, and in a major international competition for the first time since 2003. This particular group of athletes is quite young, made of mostly junior and 13-15 athletes, so hopefully the nation is able to keep them in the long run so we get to see its team more than once every six years.
Finally, Australia and Hungary rounded the team field. The latter won bronze in the technical team, free team, free combination, and silver in Highlight, while Australia was only entered in technical team. Unfortunately, the technical team and free solo replays are not working on FINA TV, so it is hard to say anything more specific that may have occurred in those events.
Article by Christina Marmet.