The fifth leg of the FINA world series concluded in Beijing, China, meaning we are already more than halfway done with that circuit.
The competition was, like every year, poorly covered and streamed, which made it difficult to follow the action or simply watch a full routine without the screen going black or skipping ahead. As a result, it is complicated to comment on every single event and every single routine as many simply did not make it into the stream.
The real treat of the meet was in the mixed duet category, where it not only featured four of the current best pairs in the world, but also saw the international debuts of Australia's duet of Ethan Calleja and Danielle Kettlewell.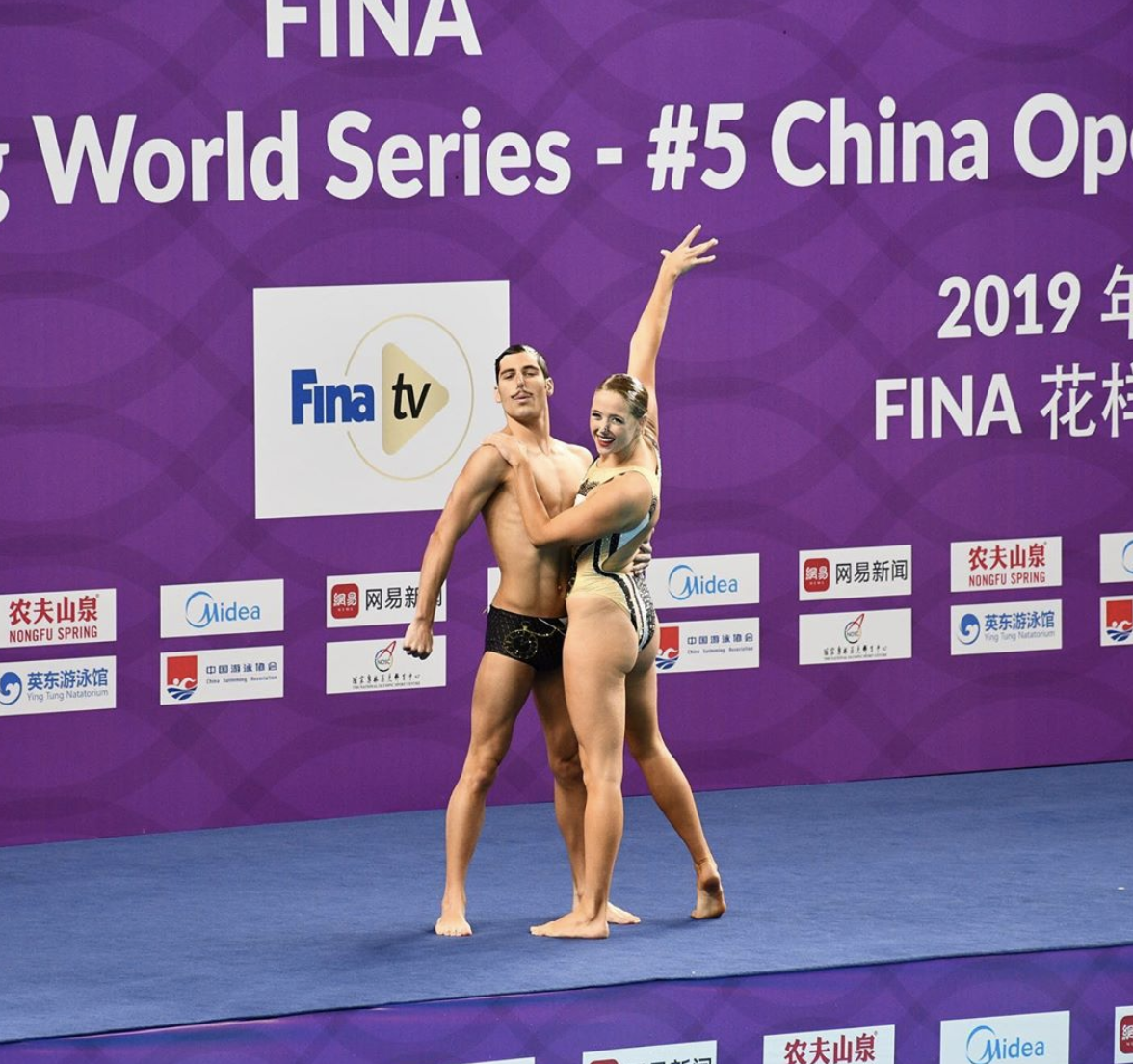 If you've read our interview with Calleja and Kettlewell from a few weeks ago, you already know Calleja only has a little over one year of synchro practice under his belt, but he had a great first outing in Beijing. It is actually hard to believe he's only been swimming for such a short time. The two presented their 'Bonnie and Clyde' free routine, and finished fifth with a score of 69.0333.
The former speed swimmer was absolutely thrilled and proud to finally compete, meet some of his fellow men synchronized swimmers, and experience his first international meet.
"It's very different from anything I have ever done," Calleja said Monday via text to Inside Synchro. "Looking back at everything that has happened this weekend, it has been one of the greatest moments in my life. It honestly has made me want to continue this sport beyond July [after the world championships]. I think at all the other competitions I have done, there has been lots of pressure to qualify for an event or other pressures, but with this we could just compete and have fun."
The rest of the mixed duet field was quite competitive. Reigning European champions Aleksandr Maltsev and Maya Gurbanberdieva from Russia easily won both gold medals, with 90.3718 in tech and 92.9667 in free, further distancing themselves from the Italian pair of Manila Flamini and Giorgio Minisini in free who finished with 90.3333. Japan's Atsushi Abe and Yumi Adachi secured themselves a silver in tech and bronze in free as they continued to improve on both of their new choreographies and to settle in nicely in the mid to high 80s for both.
Shi Haoyu, Zhang Yayi and Cheng Wentao represented China, to the delight of the home crowd. The enormous progress of China's mixed duets were already noticeable at the Russian world series meet a few weeks ago, and the three of them kept building on their scores here once more, reaching career-highs of 83.6862 in tech and 85.7000. Their improvement is obviously visible and mind-boggling, as they are now only two to three points behind Japan, compared to 11 points only two years ago at the world championships!
It was also very exciting to see a few other Chinese mixed pairs at this meet representing their own provinces like Guangdong and Hunan, which is a very positive sign that the event is developing and building at the national level as well.
China made its season debuts in the technical team and free combination events. The Chinese roster is absolutely stacked and is highlighted by the return of two-time Olympic Sun Wenyan, already serving as the team captain. The rest of the team consists of five 2016 Olympian (Guo Li, Liang Xinping, Sun Wenyan, Tang Mengni, Yin Chengxin), and we will soon be able to add three-time Olympian Huan Xuechen to that list as well, meaning that we will likely see six returning Olympians out of the eight possible athletes in Tokyo, a feat no other team will match, even the Russians. Moreover, all Chinese athletes are gold medalists at Asian Games, and multiple time world medalists.
It is interesting to note only one of the Wang twins made the cut (Wang Qianyi) for this competition, but it means her sister is most probably injured. The two have been part of China's top squad for the last few years, and have competed as a duet a few times for the national team, so it would be strange to select one twin and not the other. Another curious thing to note is the presence of veterans Jiang Tingting and Jiang Wenwen in the free duet event representing their province of Sichuan and not the national team. Only time will tell what strategy the nation is going for regarding its duets.
The Chinese team presented a new technical routine to the theme of Dreams, and it was excellent. They are truly in a realm of their own in terms of pattern changes and execution, where every movement is crisp, fast, and precise. In the free combo event, they kept the same routine as at the 2017 FINA World Championships, albeit with a few modifications to make it shorter. With Russia focusing on the Olympic events this season, China is once more a heavy favorite for the gold this summer in that event.
Canada won all six remaining gold medals in technical and free solo, technical and free duet, free team and highlight. The Canadians recorded some of their best scores in years, with 88.000 in technical team and 89.1333 in free. With this competition, they just ended an impressive three-meet streak (Hellas Beetles Cup, Japan Open, and China Open), totaling to about a month away from home.
France was never far behind, even ending less than a point behind in free, and continued its impressive but steady climb up the scoring ladder with visible progress since the start of the season. Moreover, if we look at where the French were at this time last year, they have improved by four points in technical and two and a half points in free. The duet of Charlotte and Laura Tremble is also reaching new heights, scoring a new career-high in free with 88.5667 and nearly topping their tech one with 85.6091.
"We are very happy with our performances," said Charlotte Tremble on Monday via text to Inside Synchro. "We have improved so much, and nobody can take that away from us. We are so proud of ourselves."
Ukraine sent its junior team to this competition, and while it can be odd to say this about a junior team, it was an experienced one. Most of the swimmers have been on the national team for the last few years, and are certainly the next ones in line for the senior team. As it appears Marta Fiedina, still technically in the junior category, is being set up as the next senior soloist, Oleksandra Burdova got her chance to make her technical solo debut for silver with 84.0224. She was paired with Anna Nosova in the duet events, where they managed to earn two bronze medals.
Finally, Serbia won its first medal ever in a world series meet in the free solo event, with a silver for Nevena Dimitrijevic with a score of 78.1000. It is always great and encouraging for the smaller nations to win medals, as it can only help in the growth and development of the sport back at home. Dimitrijevic and her duet partner Jelena Kontic have been competing extensively this last month as well, attending the last three world series in a row. Both recorded career-highs in tech and free duet in Beijing, with 76.2254 and 78.5333, respectively.
Article by Christina Marmet.
Cover photo courtesy of Ethan Calleja.