The first final of the 2019 FINA World Championships is already behind us here in Gwangju. The technical solo event was a close one as expected, with a very tight battle for the silver and bronze medals. In the end, Japan's Yukiko Inui made history by winning the bronze, her first-ever world medal in the solo event, and Japan's first medal in solo since 2007.
Inui has been a staple of the Japanese team since 2008, and is now entering her sixth world championships. At the 2017 FINA World Championships, she fell just short of the bronze medal in technical solo by a margin of 0.2502, even though she finished third after preliminaries. She certainly was not going to let that happen again, and scored 92.3084 in Gwangju to finally get that world medal she had been going after for many years.
"My goal was to get a medal so I am very, very happy because I got it this time," Inui said. "I tried to join Ona and Svetlana. Now that I am here, I am so very happy. I look forward to do my best performance for the free routine."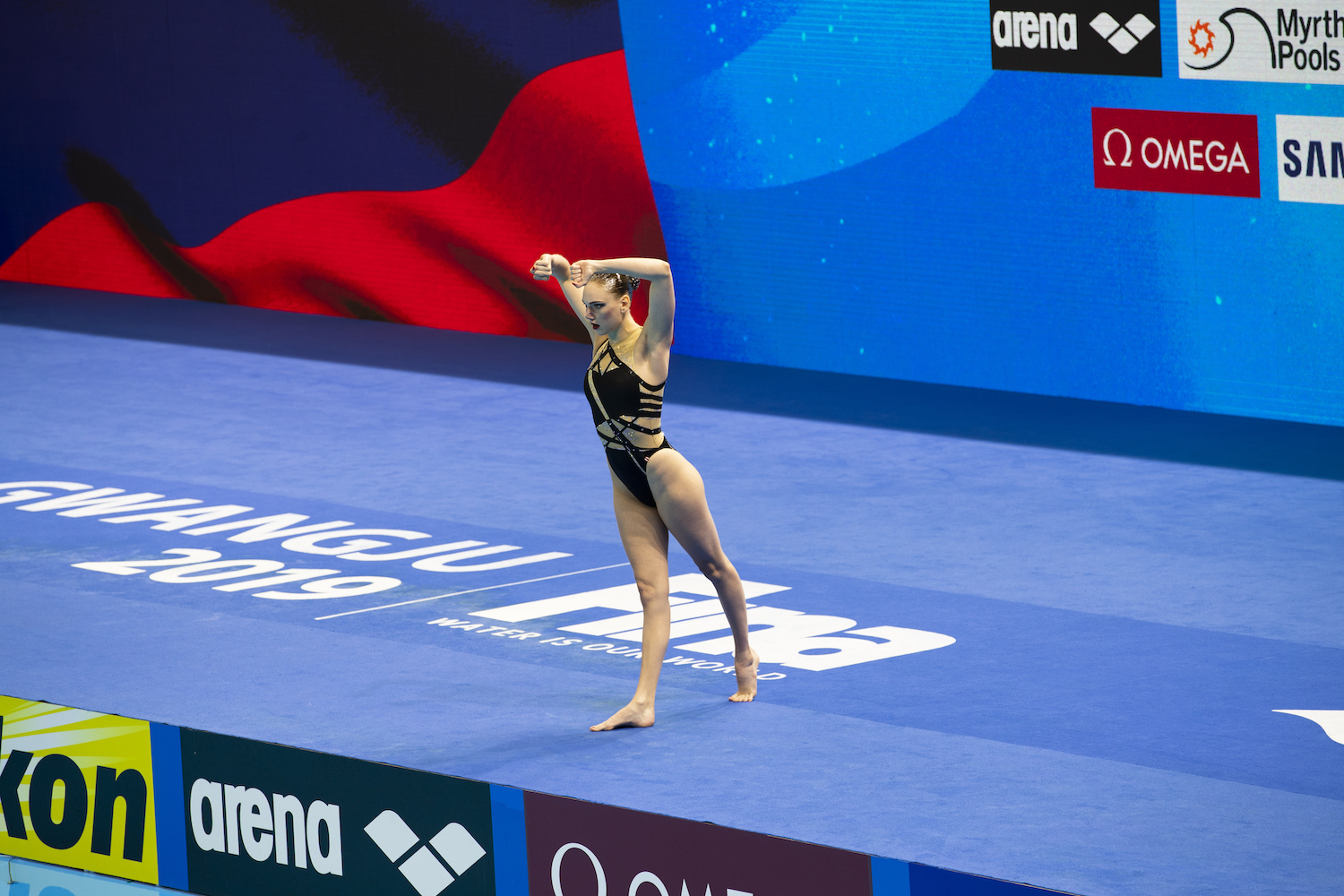 Svetlana Kolesnichenko from Russia easily won the event with her routine to the soundtrack of Lara Croft, using "Survivor" from 2WEI, with a score of 95.0023. Kolesnichenko entered the competition as the reigning world champion, and was unchallenged in defending her title. She did struggle a bit on her Barracuda 720° element on both days, but it was a tiny ripple into otherwise great performances. This is Kolesnichenko's third individual world medal in solo, and second in the technical event.
"I listened to a lot of music this year," Kolesnichenko said. "I found this one, but I did not know it was from the Lara Croft film. I didn't see it before. I said to my coach Tatiana Danchenko, 'Listen, please.' I wanted to use this music, so we decided to change my solo and do something brand new. I am happy that I finished my technical solo because it's very hard and strong, and I'm happy with my points and to get a gold medal (laughs)."
Spain's Ona Carbonell rounded out the podium by winning the silver medal with a score of 92.5002, and thus successfully defending her medal from 2017. Carbonell looked the best she has all season in technical solo, and has really grown into this new choreography from Nelson Mandela she first introduced at the Spanish Open earlier this year.
Carbonell, who took the 2018 season off, started the year swimming her 2017 'Snake' choreography, but decided to work on something new halfway through the season.
"I thought I needed to change something and to bring something more," Carbonell said. "It was not enough. So I tried to give something more to my sport, not only in technique or in the water, but I tried to make innovation and to give, to improve synchro."
She also wanted to continue the trend of Spain bringing originality to the table in the world of artistic synchronized swimming: "In Spain, since Anna [Tarrès] we always do something different, so I tried. I know it's different and not easy, but I think it's nice. For me, Nelson Mandela is an icon, so I thought, 'why not?' I agree with all the words because it's all about sport and its importance, and what it means to me. So we decided to do it."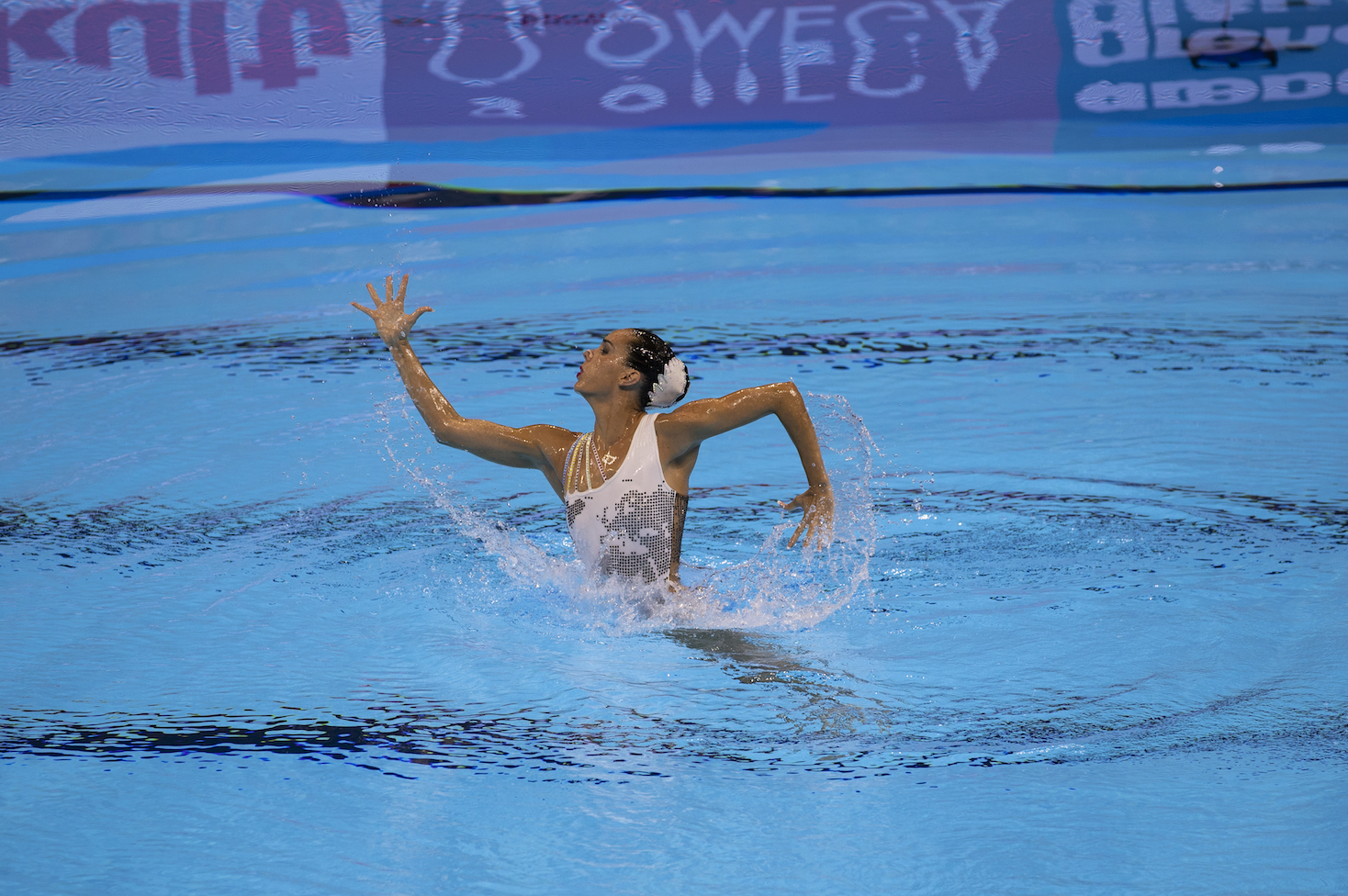 After preliminaries, there was really not much between the Spanish and the Japanese, with only a 0.0975 margin between the two. In finals, the gap did slightly increase to 0.1918 following a strong performance from Carbonell, but the competition between them really did make for a thrilling final. When asked if they felt any pressure about such a small margin, the Spanish admitted she does actually like to be in this situation, as it allows her to thrive and put her best performance out in the pool.
"I think this is a nice thing in the competition, that there is a competition," she said. "My focus is only on me and my performance. I think it's necessary to focus because I have a lot of things to do well, so I try to think only of me, and to do my technical elements well, try to enjoy, try to go with the music and to feel with my heart. It's my seventh world championships, and at all the world championships we fight a lot, so this is a nice thing for all of us."
This final was overall a good mix of veterans and really well-established swimmers, mixed in with a whole crop of newcomers and up-and-coming talent. Marta Fiedina from Ukraine was the youngest of the field and had to settle for fourth place with 91.3014, which is an outstanding result for her very first world championships, and her first major international outing as a senior soloist.
The 17-year-old, youngest of this solo field, did look slightly more fragile in her technique compared to the three medalists, but she has already shown overall improvement since the start of the season, particularly with her first element (Barracuda, Bent Knee, Airborne Split) at this competition which was significantly better. She was visibly disappointed at the end result, but the future is truly so bright for her.
Canada's Jacqueline Simoneau kept everybody on their toes and decided to change routines between preliminaries and finals. In prelims, Simoneau performed the solo we have seen her do these last two years to Lorde's "Everybody Wants to Rule the World," while she unveiled a brand new choreography, created by Johana Vasquez, for the first time ever to Michael Bublé's "Cry Me a River" in finals.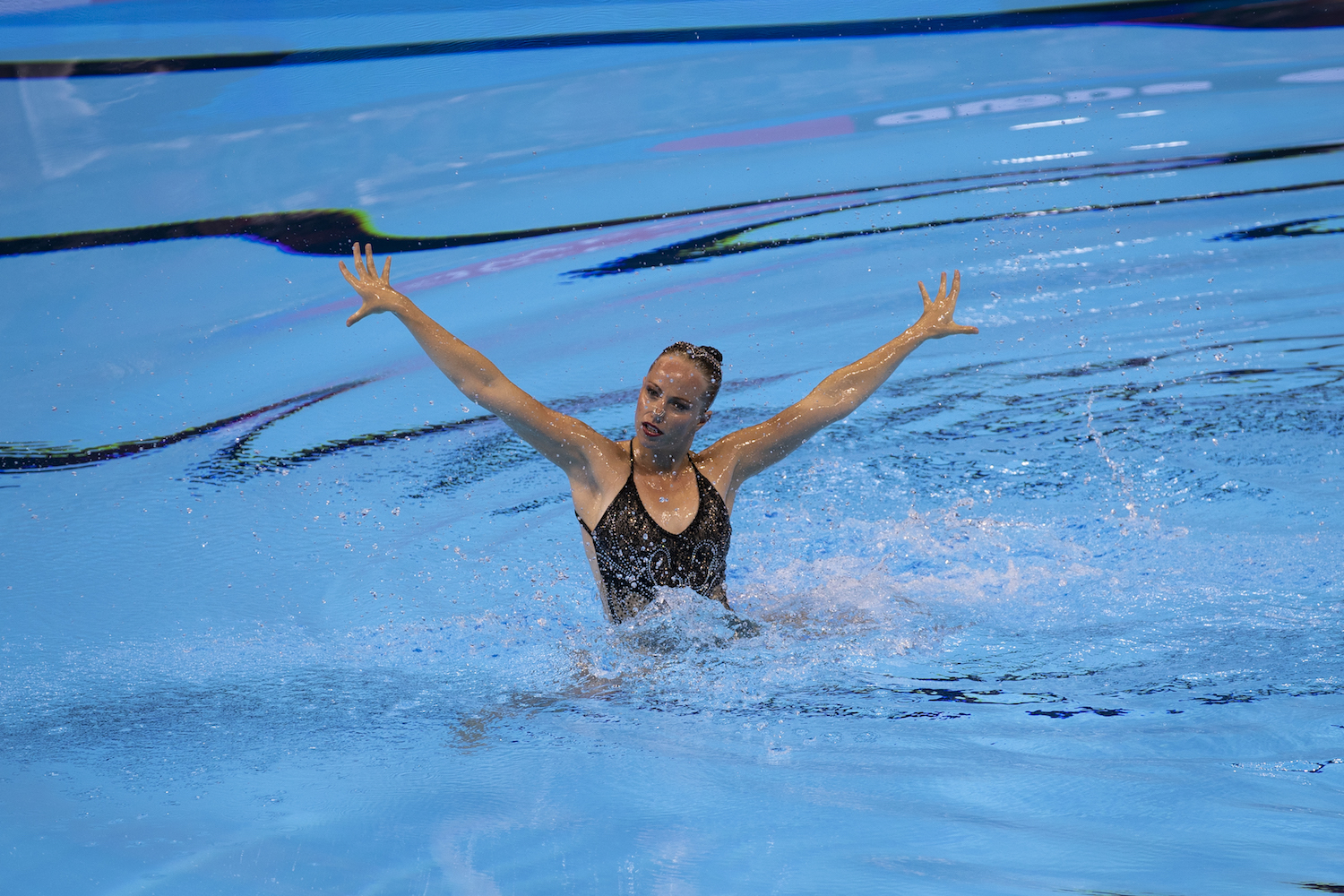 It was quite a risky move to swim a new, untested, routine for the first time at the world championships in finals, but it paid off as Simoneau placed fifth with 89.2932, scoring a bit better than in preliminaries.
"I just started working on the new one not too long ago," Simoneau said. "I wanted something a little different. I've kind of outgrown the [Lorde] tech solo, and I felt like I could show so much more."
Simoneau was happy to retire her Lorde routine after a good performance in preliminaries, and she admitted she already felt more comfortable with her elements in the new routine anyways. Besides, Bublé is one of Simoneau's favorite singers and she has always loved this song.
"For me to perform solo, I need to enjoy the music and have fun," she said. "And that's one of my favorite songs, so everybody can enjoy it with me."
Linda Cerruti from Italy had also kept a new choreography under wraps until this meet. She used "Insomnia" from Alexy Arkhipovky, and has worked with Gana Maximova for this routine, just like for her free solo. She interestingly went for the same strategy as Simoneau, with her first lap looking a bit like a free solo and only getting into her first element quite late in the game while everybody else usually gets started fairly early on.
Cerruti started her routine in the water in a split position at the surface, which surely got everyone's attention right away. The routine is filled with the attention to details one would expect from a Maximova routine, and the musicality is again excellent. She finished in sixth place with a score of 88.0378.
Greece's Evangelia Platanioti was back out in solo for the first time since the Hellas Beetles Cup in April. As expected, she kept the same routine as last season to Armand Amar, and scored 86.2921 for seventh place. Right behind her was Austria's Vasiliki Alexandri with a score of 85.6098 for her new choreography to 'The Storm', showing off strong and steady elements.
Vasilina Khandoshka from Belarus and Kate Shortman from Great Britain were amongst some of the youngest athletes of the field, and both combined junior and senior competitions this season. This was also the first time the two qualified for technical solo finals at a world championships. Khandoshka obtained a season-high score of 84.4867, while Shortman recorded a career-high of 83.9548.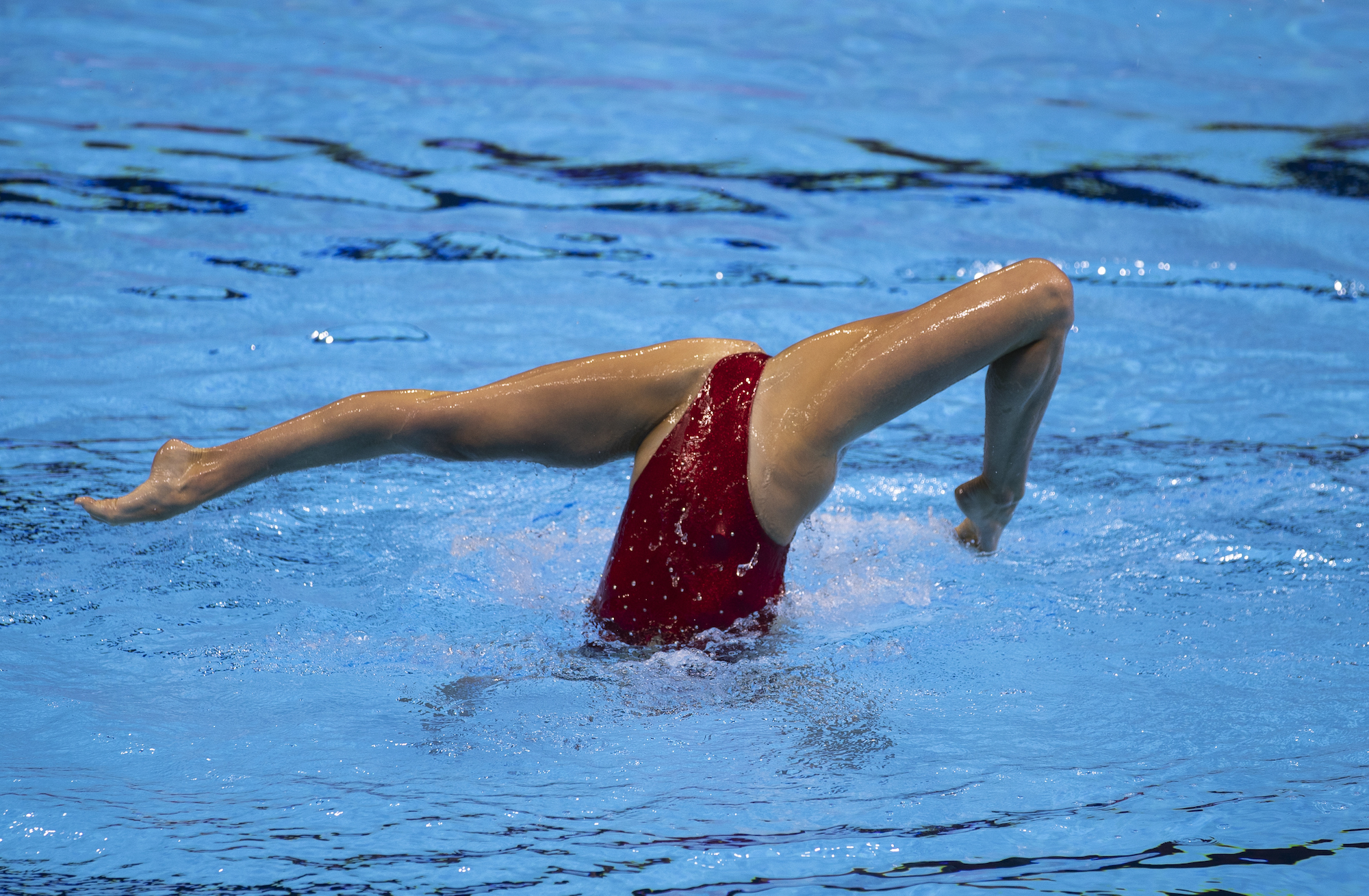 Shortman was particularly thrilled about qualifying to finals at her first worlds in this event with her new routine to Janis Joplin's "Piece of My Heart," a song she found strong and powerful, yet well-balanced for a technical routine.
"It's amazing," Shortman said after her swim in finals. "It's really exciting to be up with the top in the world, the top competitors, and it's so inspiring to know all the hard work is paying off. We are getting higher scores and making finals, so it's really exciting."
Lara Mechnig from Liechtenstein made her second world final of her career, after qualifying for the first time in Budapest in 2017. She finished 11th here in Gwangju with 81.7811, a new career-high for her. Rounding out the finalists was Switzerland's Noemi Peschl. Peschl had been the junior soloist last year, but she had not competed in solo yet on the senior international stage as a soloist and in the technical event.
In her routine, she represents a witch, and she uses her flexibility to really play into the spookiness of the entire choreography. She chose this particular music and theme as it had the perfect rhythm to both highlight her insane flexibility in the water and to execute the elements.
"It was really great," Peschl said after her swim in finals. "In the preliminaries, I was really nervous about the final Barracuda, but I think everybody is really nervous about it (laughs). I think I did the best that I could here and it was much better. I am really happy that I got into finals!"
The technical solo preliminaries featured 28 soloists in total. There were a bunch of technical reviews during preliminaries, and ultimately two soloists, Trinidad Lopez Brasesco from Argentina and Nada Daabousova from Slovakia, did receive zeros for their last element, which significantly dropped their scores.
The crowd was filled with school groups during preliminaries, which made for such a fun atmosphere as the students were all gasping and screaming in amazement at everything. It was truly refreshing to hear such wonder, and what a great call from the organizing committee to fill the stands that way. And who knows, this might spark something into one of them…
Additional quote from the press conference:
Ona Carbonell (ESP) on taking a break during the 2018 season and returning to elite:
"I'm happy here because at world championships, there are more girls my age and also with very long careers. In my team, I'm the old one (laughs)! Last year, I felt I took a break in my mind and also in my body. I did gymnastics and physio, but less training, and I did it maybe to see other things and not only water. I tried to get energy for these two, very important years. I need to say thank you to Mayu [Fujiki] and my teammates because they give me a lot of energy and they are so happy. It was really easy for me to come back to this nice, and very human, team. I think it was a good idea to take a break. It helped me, and I came back with a lot of power."
Article by Christina Marmet.
Cover photo by Liz Corman.