The next final on the schedule at the 2019 FINA World Championships was all about the technical duets. Interestingly, it featured exactly the same countries as two years ago at the 2017 FINA World Championships but in slightly different orders.
This event marked the big returns of Russia's Svetlana Romashina and China's Huang Xuechen to the world stage after they both took a long break away from elite since the 2016 Olympic Games to start a family, and simply to rest away from the pool.
Svetlana Romashina followed in the footsteps of her former teammate Natalia Ischenko, who had gone through the same journey only the previous quad. Romashina's return to elite this season has been as outstanding as Ischenko's was, and it really does look like she never really left.
"I think that I knew I would return to the sport after Rio," Romashina said. "I didn't feel too tired, because I felt I could something more. Now, I understand it's my last chance to return to the sport as an athlete, that's why I'm very happy to swim here. When I was in Budapest for the world championships in 2017, I felt that I was not sure that I was in the right position. I was there as a coach and I didn't understand why I was not swimming. It wasn't very difficult to come back for me. My body wasn't strong of course after pregnancy, but my head remembered everything."
After returning to training, she was quickly paired with Svetlana Kolesnichenko in the duet event, and will also swim in the free solo later this week. Romashina and Kolesnichenko have competed a few times this season, and most significantly qualified themselves in the duet event for the Tokyo games at the European Cup. In Gwangju, the two swam their "Fantastic Tokyo" routine for a final score of 95.9010, and keeping the gold medal once again in the hands of Russia.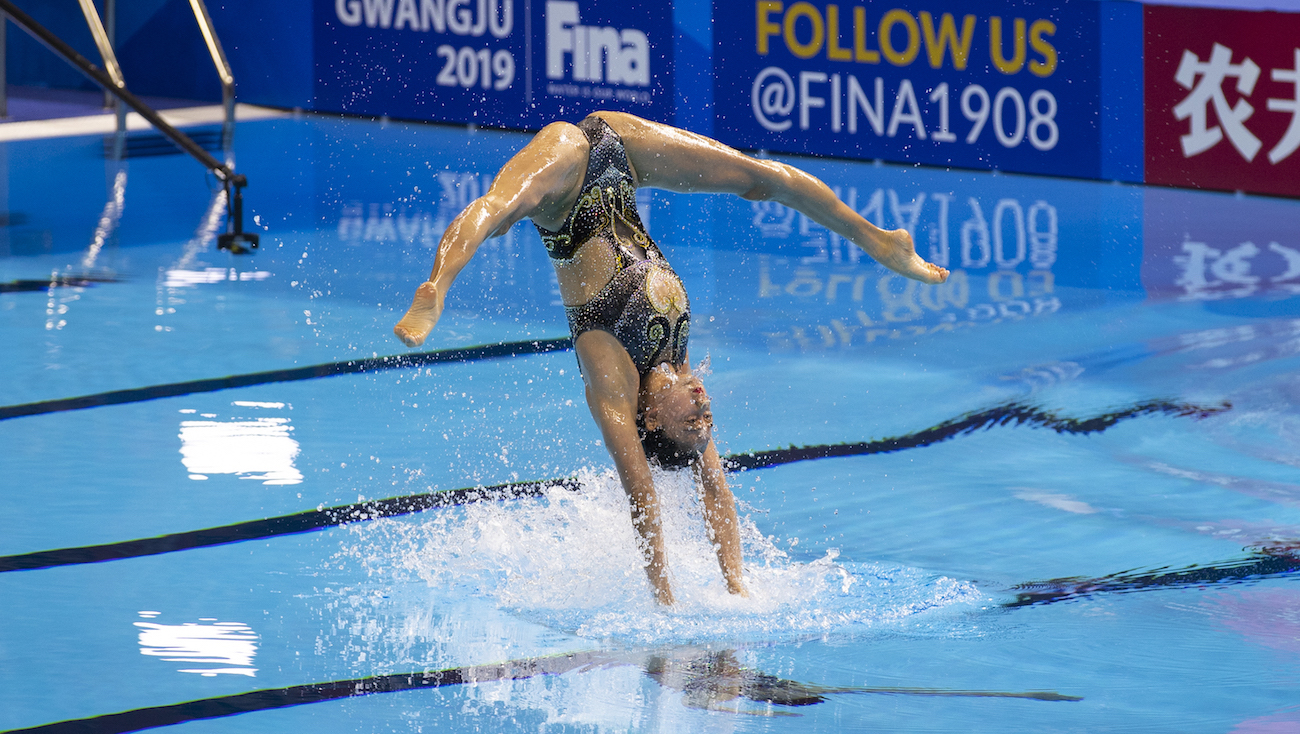 Huang Xuechen and Sun Wenyan from China also had taken a break after winning two silver medals at the 2016 Olympic Games. Just like Romashina, Huang also had a child during her long break, and decided to return to competition for the 2020 Olympics. Sun stayed around in 2017 and swam at the Games of the People's Republic of China, but this also marked her big return to the major international stage since Rio. The two defended China's silver medal with a score of 94.0072.
"I wanted to give myself a challenge," Huang said about her comeback. "Because in China, there is no one who competed for three Olympic games and got medals at all. The first reason why I came back is because I still have a passion for our sport. Secondly because I'm a mother. I want to be the idol for my little one; I want to be strong and better."
It was a close one already after preliminaries between Ukraine's pair of Marta Fiedina and Anastasiya Savchuk, and Japan's duet of Yukiko Inui and Megumu Yoshida, with only 0.14 between the two. In the end, it was the Ukrainian pair who was superior during the final, with a score of 92.5847 to win the bronze, 0.4731 ahead of the Japanese. This is Ukraine's first medal at this competition so far, and the first world medal for these two as a duet who were just paired this season.
"Every competition that we had, we are getting more comfortable with each other, more understanding each other," Fiedina said. "We hope that it will be better, and hopefully in free duet, we will have at least the same result, at least, but maybe more (laughs)."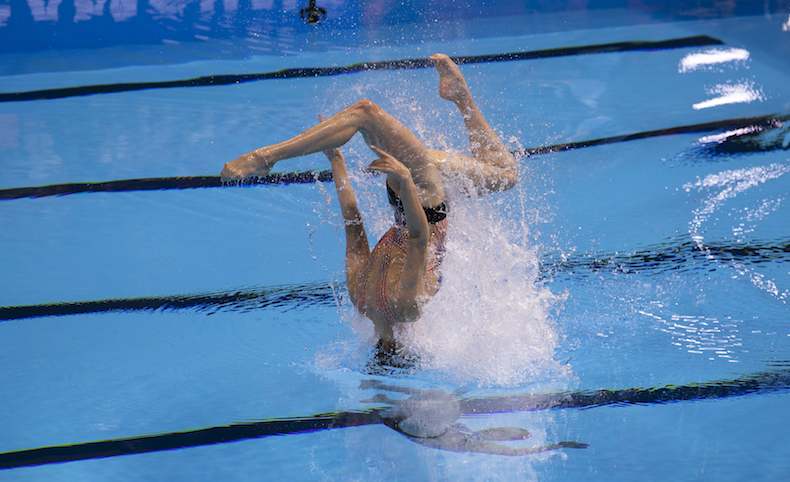 Italy's pair of Linda Cerruti and Costanza Ferro competed their "Song for Humans & Machines" routine again, and finished fifth with 90.1743, their best score of the season and best since the 2016 Olympics. Right behind the Italians were Claudia Holzner and Jacqueline Simoneau from Canada, landing in sixth with a score of 88.8659, also a personal best for this pair.
Spain's duet of Paula Ramirez and Sara Saldana finished in seventh place with one of their highest score of the year, 87.2960, although their highest score of the season came in prelims with 87.4027. The Spanish were swimming their James Brown "Superbad" routine for the very last time, as they are likely changing the choreography next season.
"We are happy because it was the last time we were swimming this routine," said Ramirez. "Just before swimming we said, 'Okay, let's have fun and try to…'"
"To shine!" Saldana interjected.
"Yes, to shine," Ramirez continued. "And inside the water, think of the elements, but outside try to dance and do very big movements, so people want to dance with us."
Austria's Anna-Maria and Eirini Alexandri finished in eighth place with 87.0654. The two were jumping for joy after their swim, thrilled about improving on their score from preliminaries, and having a good performance for their last time with this particular routine.
"In the preliminaries we got our season lowest score," Anna-Maria Alexandri said. "It was even less than in Glasgow. Now, we improved by one point, so we are satisfied with our job. We'd like to be in the placement a little bit more in front, but we are happy. It's the last time [with the routine], that's why we wanted to do it very well."
France and Greece were separated by only 0.1731 points after preliminaries, and the Greek pair of Evangelia Papazoglou and Evangelia Platanioti managed to move ahead of Charlotte and Laura Tremble in finals. They introduced a new routine this season to Nirvana's "Smells like Teen Spirit," and finished with 86.4975 and 0.2555 ahead of the French. The French pair is nonetheless continuing to close the gap and to improve its score by about 1.2 since the 2018 European Championships.
It was the first major international outing for Mexico's new pair of Nuria Diosdado and Joana Jimenez. They placed 11th and scored 84.9938, the best score for a Mexican duet since the 2017 world championships. Their routine was to the famous song "Bella Ciao," which was chosen by Anna Voloshyna, a 2016 Olympian from Ukraine, who worked as a consultant on the choreography of this duet. The Mexicans originally used a different song, but Voloshyna believed the two could swim to this particular piece as they are very fast and powerful swimmers.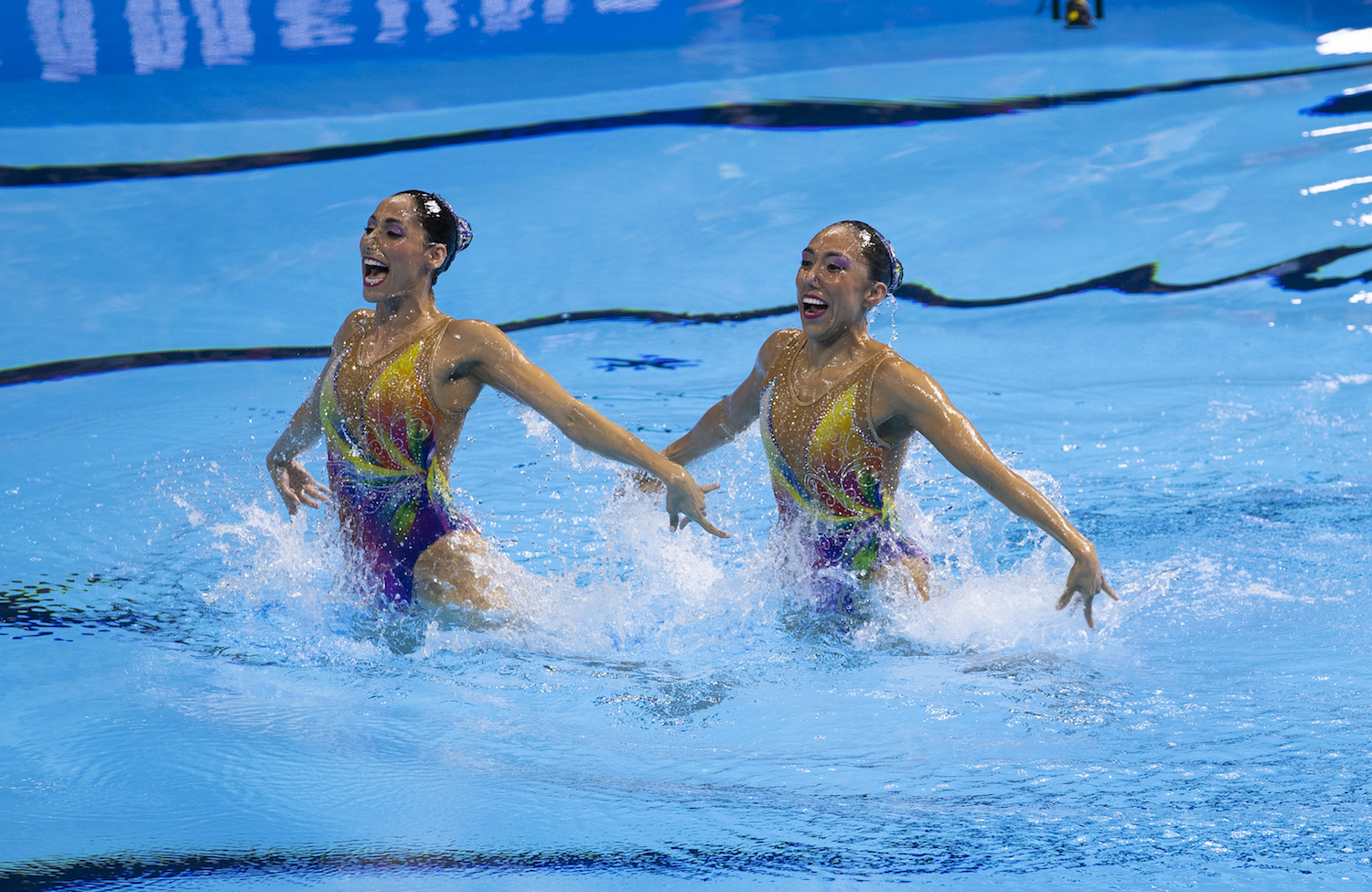 Diosdado, a two-time Olympian, is obviously no stranger to the world stage, as these are her sixth world championships, and she has been in the duet event since 2010. While this was Jimenez first time in the duet at worlds, she has had extensive experience as well as Gwangju is already her fifth worlds.
"Joana, yes it's the first time she competes with me in a world championships and in a big international competition, but she was a reserve for my last duet in Rio," Diosdado said. "So she has a lot of experience training with me, training with the duet, so she is not so new. Yes, she's new to the world, but she was there as a reserve for us. We are very happy to do this now."
The duet of Anita Alvarez and Ruby Remati from the U.S. was the last one to qualify into finals, and finished in 12th with a score of 84.0190. This also marked the first world championships for Alvarez and Remati as a duet, although they did compete together last season in a few world series competitions. Their routine is to the music of Bjork's "It's Oh So Quiet," which synchro aficionados will recall was used by Virginie Dedieu in free solo in 2005.
"We were just kind of playing around with music, but we didn't really have any idea what we wanted to do with duet," Alvarez said. "We started playing music after practice with the coaches, and we played this one. We were like, 'Oh, everyone knows this one,' but then we said, 'Well, it's never been used for a duet.' It's actually perfect for the elements, with the way the music goes up and down, and we can show our strengths  because we are very good with flow-y moves, but also the sharp stuff. We thought it was different, and it's kind of the whole thing we are doing with our team this year, to switch things up and doing different things."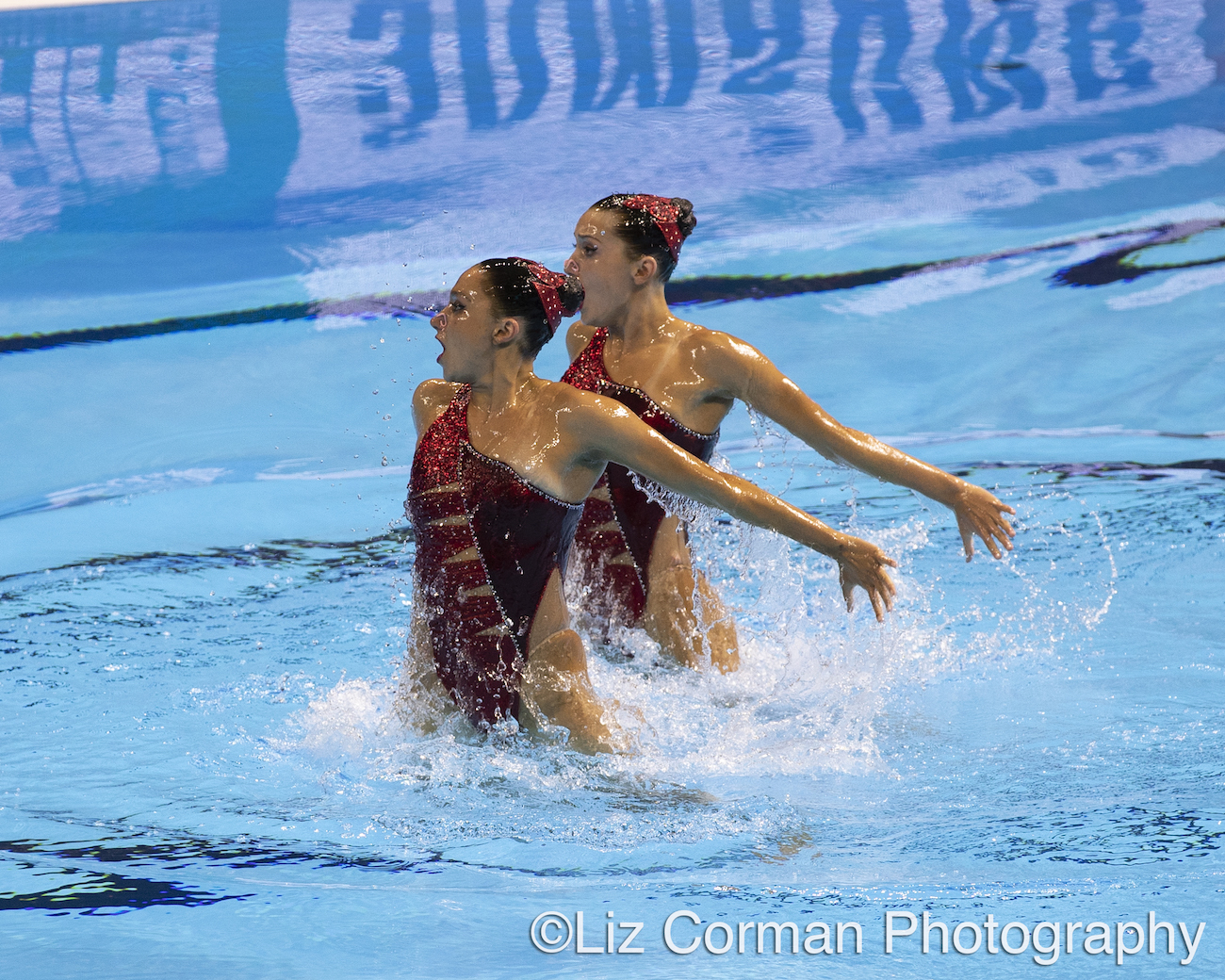 The fight for a spot in finals was tight as expected, and the duet from the Netherlands was unfortunately the one to land in 13th place, missing the final by 0.6427 points.
"We are a little disappointed that we didn't reach the final because it was our goal," Noortje de Brouwer said.
Bregje and Noortje de Brouwer have tremendously improved over the last two seasons. At the 2017 FINA World Championships, the Dutch pair placed 17th, so moving on up all the way to 13th still is extremely encouraging heading into the Olympic year. Last year, they had already presented two new choreographies, but coach Esther Jauma decided to continue to push her athletes and created two new routines for the 2019 season.
"We made a big step last year," Bregje de Brouwer said. "Esther was saying she wanted a new choreography because she knew we could do more. We can improve more if we make a new choreo, and to show that we have made more big steps, so we have the difficulty up also."
Great Britain's Kate Shortman and Isabelle Thorpe were thrilled about their first world championships in the technical duet event, also narrowly missing the final but recording a career-best score of 83.5904. The pair had a lot to be proud about, particularly after just wrapping up their final season in the junior category.
"We feel really happy with [our swim]," Shortman said. "We have been working on it all year leading up to this point."
As for the Japanese Karate theme, it is obviously in reference to the 2020 Olympics, where the two hope to qualify for.
"It's a really fun routine," Thorpe said. "I really enjoy it, and it's kind of getting us prepared for what's to come."
"We wanted to sort of show what our goals are, what our dream is, and what we are here to do this year," Shortman added.
A little further down the rankings, Portugal's duet of Maria Goncalves and Cheila Vieira moved on up and received its best-ever score of 76.2328. Of note, the Portuguese moved up nearly 10 spots compared to the last world championships in 2017.
---
Additional quotes:
Svetlana Romashina (Russia) during the post-meet press conference:
When asked about following in Natalia Ischenko's footsteps, who also took a break, had a child, and successfully returned to elite: "I think I had an easier way, because I had Natalia. I could call her and ask her anything about babies, raising them, babysitters…I think it's more easy for me than for her. It's very interesting; I had a baby four years after Natalia. I had a baby on the 4th of November, and Natalia had a baby on the 5th of November. We were joking we would have a baby on one day, four years apart. But we could not do it, it was very difficult for me to make synchro in this way (laughs)!"
Singapore's duet of Debbie Soh and Miya Yong (27th, 76.0941)
Soh and Young swam together at the 2017 FINA World Championships, but Soh was paired with Rachel Thean for the 2018 season and the Asian Games. Soh and Yong are now back together for 2019.
Soh on the new coaching staff of Geraldine Narvaez and Julie Sauvé: "We changed our coaches after the Asian Games last year in August. Ever since then, we have been having more Canadian-style routines, especially with the help of Julie. We have been getting more creative, and she's been getting more feedbacks from the judges and coaches on what we can improve on and what we are good at. We are trying to increase our score, and added a lot of difficulty. Ultimately we would like to try and qualify for the Olympics, but also we are trying to reach the 80s for our score, so that is our main goal for now."
Singapore's consultant Julie Sauvé
Sauvé on the preliminary swim: "They had pretty good swim, they did their best now. They went to the four world series, super final, and this one was the best one. Each time, they improved but here now as the coach, I'm disappointed, the score is pretty low. It's the lowest one now. It's disappointing, especially if they make mistakes, okay, but they did not. It was a good swim."
On re-pairing the swimmers together: "In January, they came back together. They are good together, they have a good chemistry, and very naturally synchronized together. That's really good."
Australia's duet of Amber Rose Stackpole and Amie Thompson (35th, 74.1141)
Stackpole is a 2016 Olympian in the duet and team, but had never competed at a world championships before. Thompson is also 2016 Olympian in team, and has swam at the 2015 and 2017 world championships with the team.
Stackpole on how the season went and the duet selection for worlds: "We qualified our free duet at the selections that we had in-house in January. Then we qualified our duet at the Japan Open against Kiera [Gazzard] and Rachel [Presser]. That was a big push for us. We were really happy in the end to have competitors that really pushed us a lot harder."
Thompson on being at her third world championships: "This is my first duet swim at worlds. I'm just so happy to do it. That was an achievement in itself for me."
Stackpole on how they got paired together: "We both moved to Perth at 18 to train with the Aussie team, and we got paired up then. But then for the Olympic selections, I got paired with someone else. After [Rio], she retired, so Amie and I got swimming again and decided that we wanted to do this well and be the duet. We are really happy."
Aruba's duet of Kyra Hoevertsz and Abigail de Veer (37th, 72.3827)
Hoevertsz on their first world championships as a duet: "We haven't trained together all year. We started training together mid-May, and then at the end of May we went to Spain to compete at the world series. It wasn't a lot of practice coming into worlds this year, so it was different, also training apart rather than training together. But I think we have accomplished a lot in the very little that we had.
I was training in the U.S., and she was training in Aruba. I had a whole different season at school [editor's note: Hoevertsz swam for Lindenwood University], so I wasn't training the Aruba routines and she was. We had swam together before, but it's always different with a new routine. I haven't been practicing it and she has, so we were doing everything different. It was a lot of work at the beginning."
Hoevertsz on having Leslie Sproule, former head coach of Canada as a coach: "She's different than any other coaches Aruba or the two of us have had. It's just a very different way of training, but it's better for us because it's a lot more motivating. It's a lot more small goals, so it's good. There is also a lot more outside of the pool than we do with her, a lot more ballet, gym, weights that we didn't do before, so our physical looks, training, and goals have been going up. It's fun, and she's really nice, so it's been fun to work with her."
New Zealand's duet of Eva Morris and Eden Worsley (41st, 65.8879)
Morris and Worsley have been swimming together for a little over a year, and Worsley is still a junior. Morris competed at the 2017 FINA World Championships."
Morris on their routine: "We are very busy people, so the theme is busy life. She's balancing school, and I'm working, so we tried to put that into the routine. The ups and downs of life, it's never smooth sailing. I guess all the synchro girls can agree with it (laughs), everyone is pretty stressed out."
Worsley on her first world championships:  "It's amazing, that was so much fun, I want to go and do it again now (laughs)! But there will be more days."
Article by Christina Marmet
Cover photo by Liz Corman.