Only three nations had ever medaled in the mixed duet event since its introduction at the 2015 FINA World Championships: Italy, Russia and the U.S. Japan became the fourth country to join the medalist club, after winning bronze in technical mixed duet in Gwangju at the 2019 FINA World Championships with a score of 88.5113.
It is not so surprising to find Japan on the podium stand in that event now considering the improvement the pair of Atsushi Abe and Yumi Adachi had shown over these last two seasons.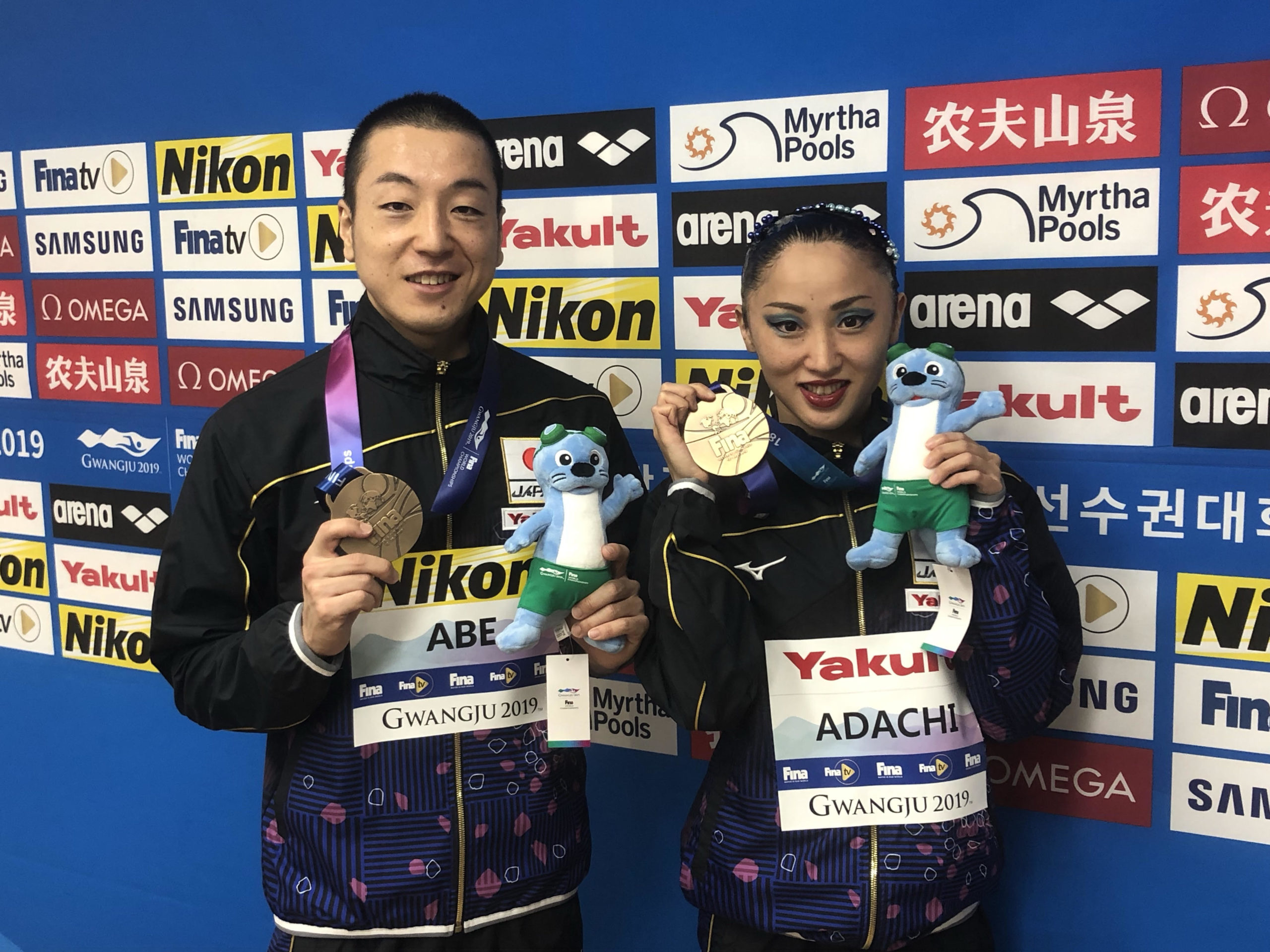 Regulars of the world series circuit, the Japanese managed to close the gap with the U.S. duet from the 2017 world championships, which was of 1.4003 points back then, to the point of overcoming the Americans in Gwangju for the bronze medal and flipping the results by placing 1.5878 points ahead this time.
The pair and their coach Masami Hanamure were already in tears after their preliminary swim upon realizing they were ahead of the U.S. already. Once more during the final, they stood in disbelief at their feat after their swim, visibly teary and happy to win the long-coveted medal.
"It is our actually our best score," Adachi said. "We didn't expect [to beat USA], so we are very satisfied. We were also very nervous because we really wanted to get the medal, so we focused on our performance. We are so happy we could do it."
Abe and Adachi have been swimming a new routine this season to the theme of mermaids, which Adachi pictures, while Abe is a sailor who becomes spellbound by the charm of this mermaid. One of their most amazing strength throughout this routine (and also in their free routine) is the height and amplitude of their acrobatics.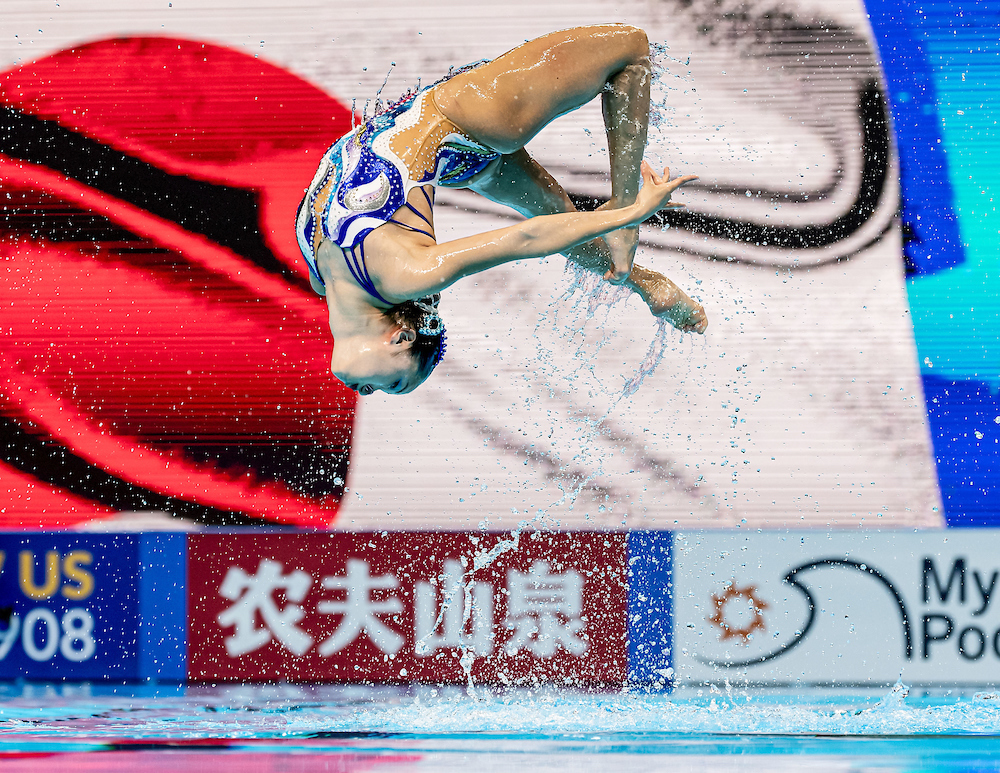 The overall skill level of the participants in this event has tremendously increased, and was quite noticeable in this final. It's particularly thrilling to see such a tight competition and movements in the rankings as everybody is improving and aiming for the podium.
The technical mixed duet event was the only one Russia had not won a gold medal in yet, as the U.S. had won it in Kazan, and Italy had made history with its first ever world title in 2017. Aleksandr Maltsev and Maya Gurbanberdieva truly could not be beaten today after a stunning and sharp performance with their tango routine, and a final score of 92.0749.
"It's my third world championships," Maltsev said. "Of course, the gold medal in technical routine was very important for us because we had won the silver in 2015 and 2017. All year we worked very hard for this."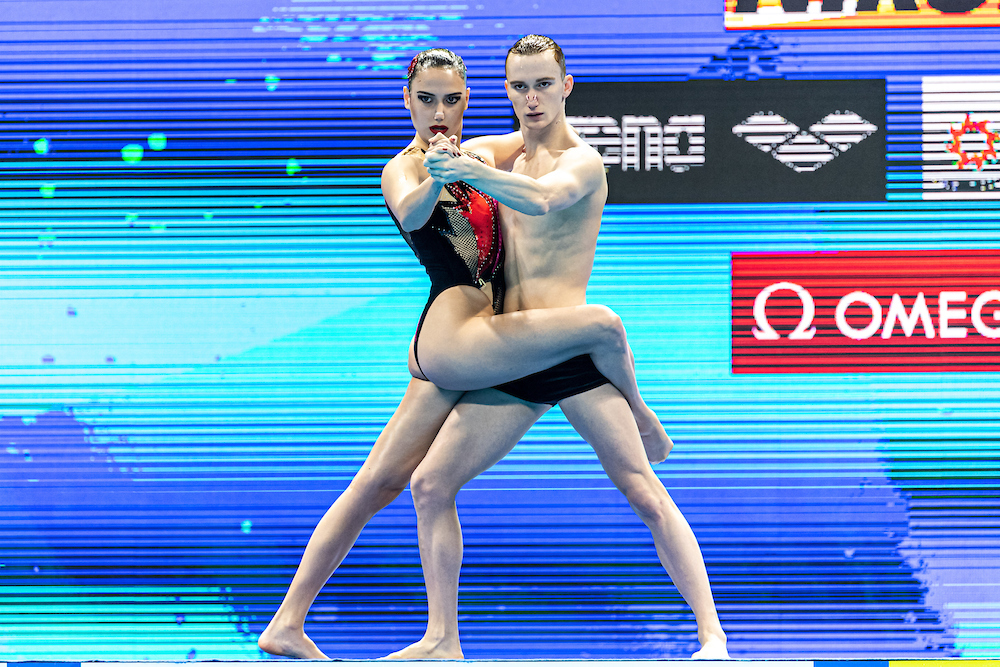 Defending world champions from Italy Giorgio Minisini and Manila Flamini unveiled a brand new choreography at this competition that they had kept under wraps all year. In a completely different style from the Russian routine, the two pictured a prohibited love between Triton, the messenger of the sea in Greek mythology, who falls in love with a mermaid.
They truly played on the strengths of a mixed duet, with a lot of dynamic interactions between them, yet while managing to add in difficulty, like performing two elements in a row. Despite a strong performance, the Italians had to settle for silver with 90.8511, but both were still happy with their performance today.
"We felt pretty good," Minisini said. "We are very happy that most of people enjoyed our routine, because we come from a very controversial routine, 'Scream from Lampedusa.' We knew it was difficult to overcome that because many people wanted to see what we would do after. So, we are happy that we have done better. A lot of people said we were better, and scores were higher [compared to 2017], so the improvement was good."
Flamini knew the team's musician had always wanted to do something around this theme, and she is the one who brought the idea up to him. He immediately agreed to compose something for them for this particular routine.
The Italians decided to not compete this routine at all in order to perfect it until the last minute without any disturbance or external opinion. They were extremely proud of their program, and wanted to perfect it until the last possible moment.
"We were pretty confident on the duet," Minisini said. "We liked it a lot since the first day and we did not want to be influenced too much. Because if we do this exercise in March, probably it was not perfect, and maybe we had to do some changes but only because it wasn't well and we didn't have enough time. So, we wanted to work it really well because we like everything of it."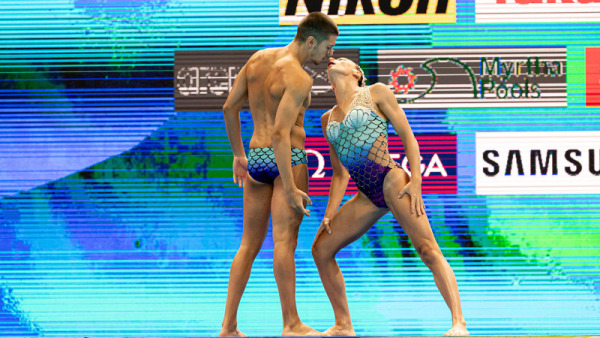 These 2019 FINA World Championships mark Flamini's eighth world championships, and potentially last ones: "I feel very well. I hope to do the best performance in every world championships, but this is my last world championships….maybe (laughs)! I'm just happy to swim here."
The U.S. duet of Bill May and Natalia Vega, a less experienced pair compared to the three medalists who have been swimming together for a few years, finished in fourth place with a score of 86.9235. May and Vega have only been training for a little under a year, and used a popular K-Pop song for their routine, which the crowd absolutely loved. This competition marked Vega's first time out in the mixed duet event.
"It was really cool to walk out and see all these people there," Vega said. "And as soon as the music started, you could feel everyone cheer, and also when were done. It was nice to swim for this country and swim something for them."
Of course, May's focus is also always oriented on the bigger picture, and he stated after his preliminary swim that the main goal here was to promote the event and to help it grow even further.
"We would like to push for mixed duets in the next [2024] Olympics," he said. "We are fighting for inclusion, to make the sport of artistic swimming grow and expand, and we think the best way to do that is mixed duets."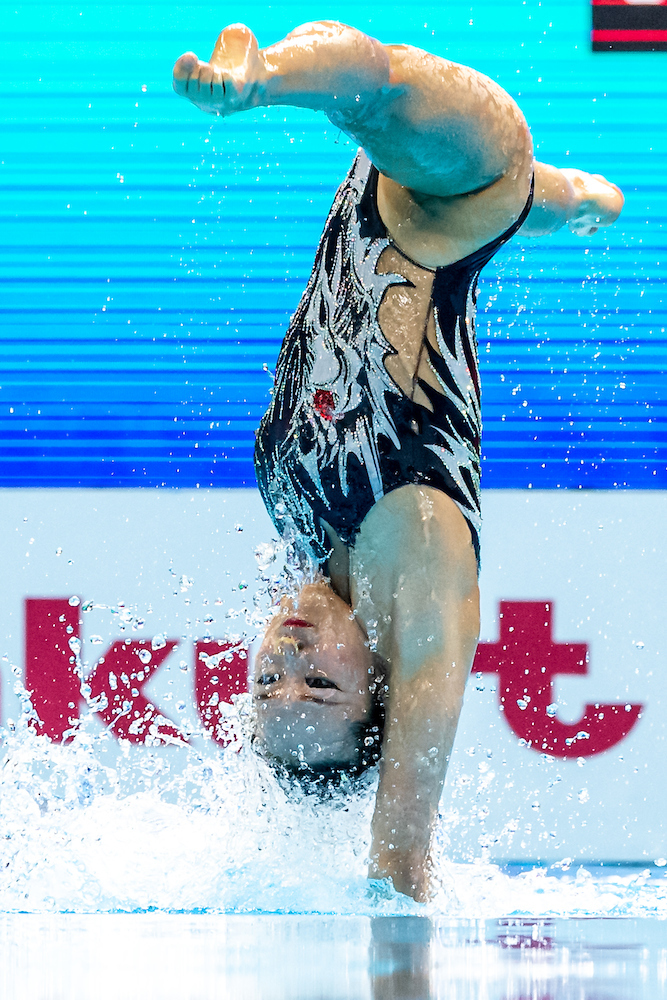 The Chinese duet of Shi Haoyu and Zhang Yayi made its first outing in the technical event at a world championship, and successfully finished fifth with 85.5881, and ahead of the Spanish pair. They have improved by about six and half points since their first outing at the 2018 French Open, and ultimately finished only 1.3354 points behind the fourth place finishers in Gwangju. These two are certainly a pair to watch over the next few years.
Spain also had a new duet out for this season, made of Emma Garcia and Pau Ribes, and they placed sixth with 84.4015. Renan Alcantara and Giovana Stephan from Brazil, who had already competed together at the 2017 FINA World Championships, finished seventh with 79.4495.
The mixed duet of Colombia made its debut at the world championships, and truly in front of the world as we had not really seen this pair much at all until Gwangju. Jennifer Cerquera and Gustavo Sanchez represented eagles in their routine. They did get a one point penalty in the preliminary round, supposedly because of the length of their music. They made sure it was just short enough for finals, and placed eighth with a score of 77.5388 in finals.
"It's my first time here and it's so amazing," Sanchez said. "To be here with [the other male swimmers], it's amazing. They are our inspiration. They have been working for more time together, we just have one year working together, so it's motivation to keep working."
It was also a first outing at the world championships for Kazakhstan's pair of Aigerim Issayeva and Olzhas Makhanbetiyarov, and they scored 72.2398 for ninth place. The two swam to "Freedom" by Pharrell Williams, and will only compete in this event in Gwangju. Makhanbetiyarov only started the sport a little over a year ago, while Issayeva returned to synchro after a long break following the 2015 FINA World Championships. This is her fourth world championship.
"We are very happy to finish the competition with such points," Issayeva said. "It is very good for us. We are still weak, but we have just started. I think we have everything ahead of us."
All three men, Aleksandr Maltsev, Giorgio Minisini and Atsushi Abe have competed at the world championships ever since the inclusion of the mixed duets in 2015, and are truly inspired by how far the event has come already.
"In 2015 when the mixed duets were included in the program of world championships, it was different opinions about men in synchronized swimming," Maltsev said. "Nobody knew how it would be, nice or bad, so there was a big interest in Kazan, many people came to the competition to see what it is. Now every year, we see that mixed duet is developing."
As for the future, Maltsev agreed with May in making a push to include the event in the Olympics: "We hope that mixed duets will be in the program for the Olympics, because our sport is a mixed sport. I think we could see more routines with men. FINA discussed mixed teams for example, so I think it will be very important for the development of mixed artistic swimming. I think it's the future."
Minisini entirely agreed with what Maltsev had to say, but admitted representation is truly the most important issue at this point.
"Since Kazan, there is more quality in mixed duets because the scores get higher and the technical level of each participants has really raised up," he said. "A lot of young guys that are starting now are really good. But we miss the quantity, we miss the numbers. In Kazan, there were six technical duets, but Benoit [Beaufils] was only there for two years. The Ukrainian guy also left. If one comes, one leaves, one comes, one leaves. But I'm optimistic because there are a lot of young guys starting now.
I think we have the numbers, but not always everybody swims, because maybe it's too difficult, or too far. We have to show we are a lot of people, not only the nine pairs who swam today. And of course, to get some men in some different routines like team, combo, highlight. It would be perfect for improving both the quality and to show that men can do anything in synchro."
Article by Christina Marmet.
Cover photo of Japan by Giorgio Scala / Deepbluemedia.