The Highlight event was introduced at the world championships for the first time this year, and eight nations took part in the final (no preliminary round). Ukraine was the inaugural winner, also earning a world title for the first time in history with its "Praying for Peace" program.
The Ukrainians displayed stellar acrobatics, including a double back pike as its opening throw, or a handstand where the flier has one hand on the base's head. The score of 94.5000 is a season-high and all-time for the Ukrainians.
"We really like this program," Valeriia Aprielieva said. "What we need to do well is our highlights. They are unique, so our program is very interesting. For us, this gold medal is the most important because we hear the anthem of our country. It's so great."
Italy also made history by winning the silver medal with a score of 91.7333, the first-ever world medal for the nation in any team event.  The Italians unveiled a brand new Dragons routine, created with Anastasia Ermakova to particularly to highlight the Korean traditional culture revolving around the mythical creature.
They have also often made interesting fashion statements in the sport, and this time was no exception as they showed up with a spike-y, sparkly cap looking like dragon head spikes. All-in with the theme! Their deckwork was particularly stunning, and the Italians also showed impressive acrobatics throughout.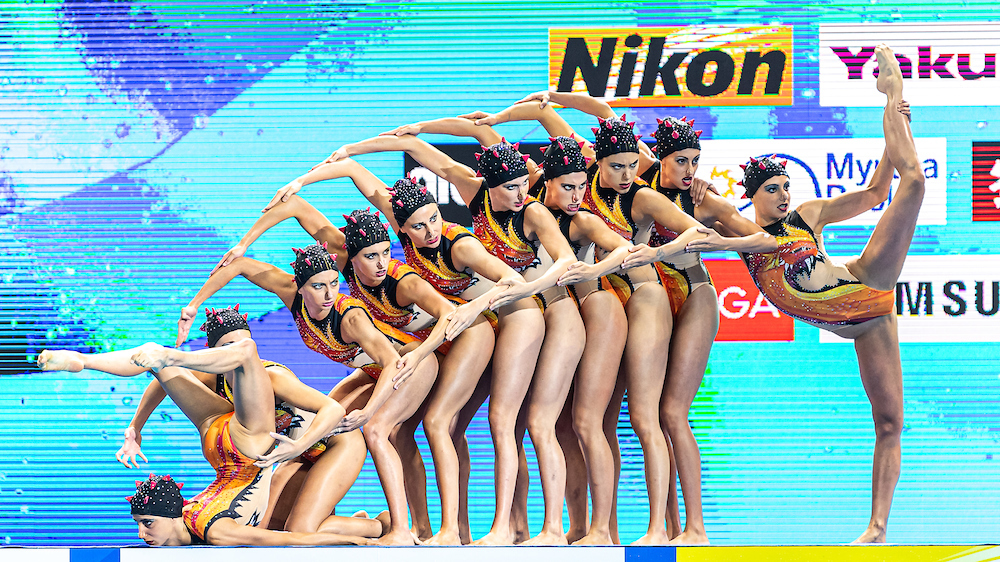 "We are so happy for the result," Beatrice Callegari said. "With this routine, we have more power. We worked on this routine for only one month, so for this in particular we are happy.
The Italians had never competed with their 'A' squad in this event at all yet, so let's hope they remain a staple in it for the next few years and so we see this routine more than once, even though the theme was particularly geared for this championship.
Spain won the bronze medal with their dynamic and powerful routine using "Thunderstruck" from AC/DC, for a score of 91.1333. This is the first medal for Spain in a team event since the 2013 FINA World Championships.
"We want to show with this routine our power and strength," Meritxell Mas said. "And also, that the public enjoys with us, with this music, and just to have fun."
View this post on Instagram
Canada finished fourth with 89.9333 with its "The New Power Generation" routine, while France placed fifth with its Cancan choreography with 87.2000.  This is Canada's new high for this routine.  Israel was in sixth place with 83.7000, also a new all-time high score, with its routine that uses music from Trans-Siberian Orchestra. Hungary placed seventh with a score 77.5667 for its fun 'Agents' routine.
Other than Italy, we had seen all of these nations throughout the world series circuit all year, so the rankings and routines themselves are not so surprising, but it's nice to see many obtained some of their best scores at these championships.
Thailand was the final team of the competition, and probably had the cutest reaction when it heard its final score of 71.1333. They jumped for joy and screamed, which is understandable as the nation has historically scored in the low to mid-60s in team events at the few outings we had seen it in these last few years.
Their last time out as a team was at the 2017 SEA Games, where they received 65.4333 in free team, so to be able to pass the 70 points mark is quite an exciting feat.  The Thais, most of them still young junior swimmers, performed to the soundtrack of "The Greatest Show."
It was such a pleasant surprise to see Thailand in the Highlight event and to do so well with nice acrobatics. We rarely get to see the nation as a team throughout the regular season, or ever, so this will hopefully mean we will get to see them as a team more than once every few years.
Article by Christina Marmet.
Cover photo by Giorgio Scala / Deepbluemedia. Do not use without permission.