With the technical final this event in Gwangju, all technical events at the 2019 FINA World Championships are now behind us. Russia unsurprisingly defended its world title, followed by China in silver and Ukraine in bronze.
Russia has placed first in this event for the last 10 world championships.nThe Russians performed their Quadrille technical routine for a final score of 96.9426, a season-high for them and their best score since the 2016 Olympics.
The Russians did not attend the post-meet press conference because they had to go to training right away (seriously), but head coach Tatyana Pokrovksaya did not miss a beat and talked to the Russian press, stating the gap between Russia and China should have been more important.
"The gap could have been bigger, because the Chinese women had many mistakes," Pokrovskaya said for TASS. "Our programs too were not very clean, but unlike the rivals, they tried to make the elements as they should, and did not simplify them. We have good scores, first of all, for the elements, but my personal opinion is that this is wrong."
China actually put up a superb and sharp performance with its "Chasing Dreams" routine for a final score of 95.1543. The Chinese's elements were almost textbook, but the Continuous Spin 1440° element was particularly stunning and so synchronized. It definitely was one of the best ones since this element was implemented.
The scoring difference between these two teams is essentially the same as in Budapest (1.79 in 2017 vs. 1.78 in 2019), but China is slowly but surely getting up there. During the press conference, Huang Xuechen could not contain a giggle when asked about how China could eventually move ahead of its main rival.
"In all the trainings, we regard Russia as our most important opponent, but during the competition we think mostly to make a breakthrough in ourselves and to make a big progress," she said. "Actually not just Russia, but other national teams too like Ukraine or Japan, they are also very good, so we try to better ourselves first."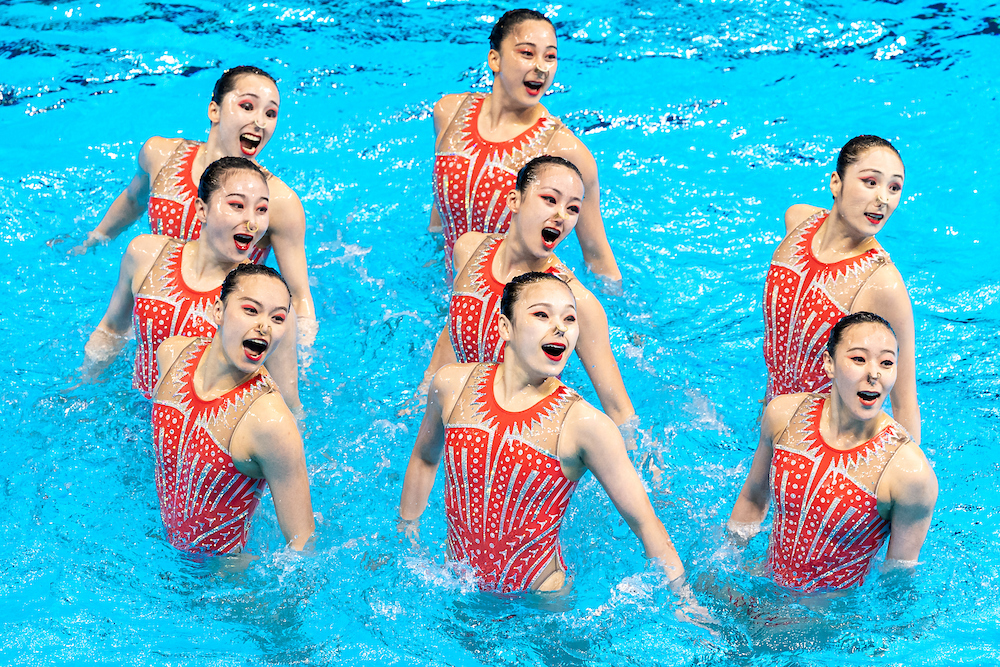 The Ukrainians obtained the bronze this time around for the first time since the 2013 FINA World Championships, and after falling short to the Japanese team in Budapest two years ago. In Gwangju, they were able to keep their lead from the preliminary round to win the bronze with a score of 93.4514.
"In Budapest, we were fourth so we worked very hard," Valeriia Aprielieva said. "We work a lot, we want to improve ourselves, and we want to continue bringing something interesting in our programs and to improve our lifts."
Japan was understandably disappointed about fourth place, a little less than a point behind Ukraine. The Japanese choreography, all about a fairytale bird (Ohtori) was stacked with difficulty, particularly in the last part of the routine, where the cadence action goes straight into a long hybrid, then the swimmers do a quick boost only to go back underwater for another long hybrid. This will certainly fuel them heading into the next team events but mostly heading into the 2020 Olympics, where the goal is certainly to win a medal at home.
The Italians kept their same routine as last season, "Catch Me If You Can," and managed to stay ahead of Spain like at last year's European Championships. They placed fifth with a score of 91.0411, their best score in at least two years. Spain finally passed the 90 points mark for the first time in years in this event, recording 90.2506 for sixth place with one of its cleanest swims of the season for its Bollywood routine.
Canada recorded a season-best score as well, and one of the best scores in years, here with 89.4990. The Canadians have worked on this routine with Anastasia Ermakova, and felt confident about their performances in Gwangju so far, especially heading straight into the Pan American Games after these championships. They have returned to a centralized training system since January as well, and had a completely different change of coaching staff for this new season.
"I think it was a very positive change for us," Claudia Holzner said. "Having a completely fresh system and everything like that, and to have people around us who really understood what each athlete needed. It felt like it built up very easily. We worked very hard at the beginning of the season to create very strong athletes, and from there we could build up to working on our specific routines."
Greece scored 87.0863 for eighth place with was appears to be one of its best scores in decades. The Greek have gone through a major overhaul of its roster this season, with a lot of experienced athletes retiring after the 2018 European Championships. This young group, led by veterans Evangelia Platanioti and Evangelia Papazopglou, unveiled a brand new choreography in Gwangju, called "Galactic War."
Head coach Natalia Chernetska stated: "Girls have done well, and it brings much hope for the future. It is a very new group, and it can have a major development."
In the preliminaries, France and Mexico were only separated by 0.1558 points. In the final, the French managed to outperform the Mexicans with their Aretha Franklin routine to move ahead for the ninth place and 86.6543, while the latter received 85.6618.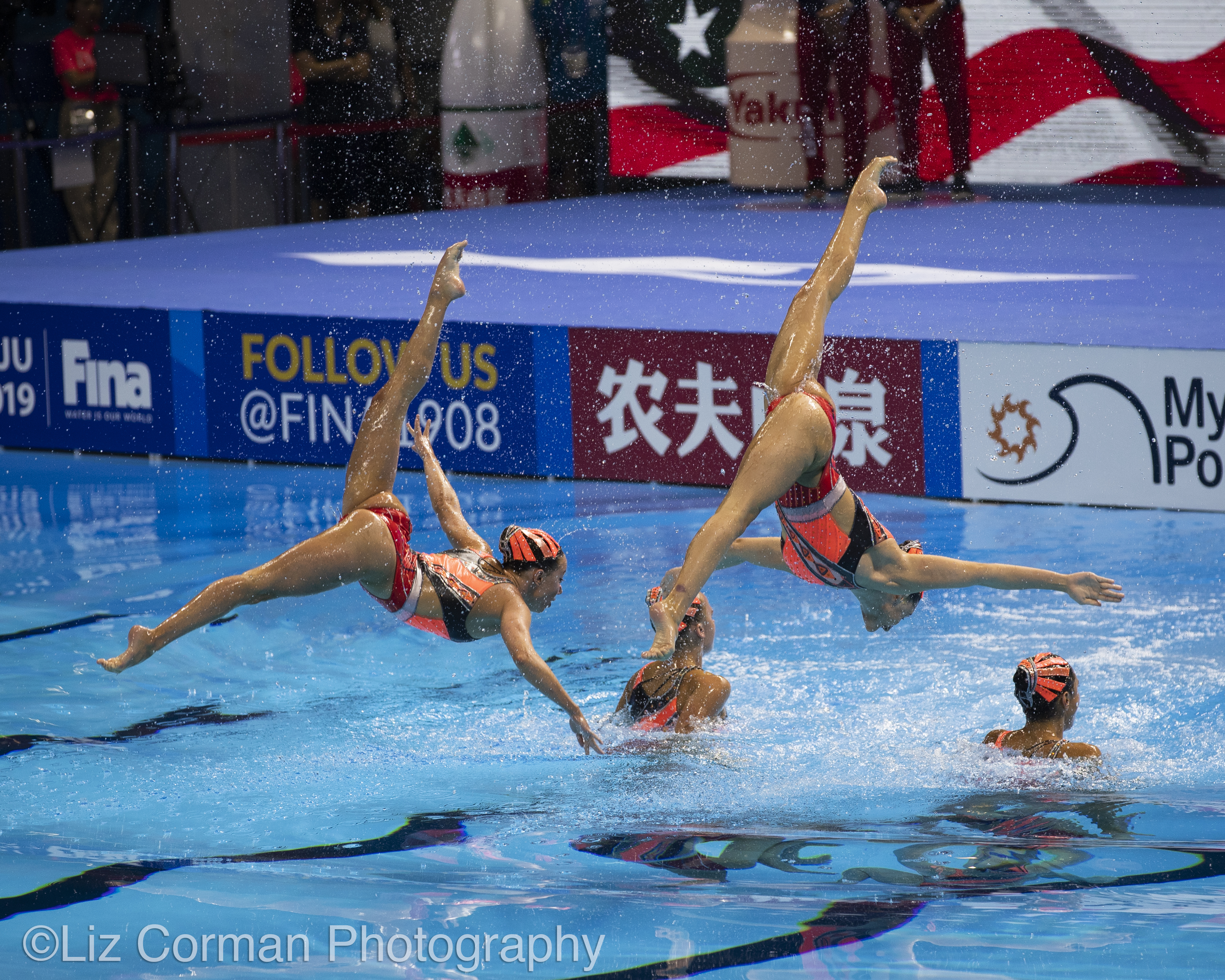 The U.S. surprised a little bit as it changed its choreography entirely since the Spanish Open, only one month ago. While the Americans had shown a different, 'Warriors' routine earlier this season, they decided to go back to swimming to "It's Raining Men," the music they used last year, only a few weeks ago. Some bits of the new choreography did carry over into this new/old routine.
"I think we were missing a little bit of the American spirit," assistant coach Reem Abdalazem said about the change. "The girls [needed to] feel like they were swimming their own style. We were getting to a point where there was not a lot of excitement about doing the tech team, so we wanted to change that. For them to have the confidence to tell us that, we wanted to bring it back. The improvement was much faster since we've done that."
When asked if they did not think it was a risky move only a few weeks before the world championships, Abdalazem admitted they did not have much to lose anyways:
"I think what we've done in five months, how many changes we've had, with five new routines, and the first world championships for almost everyone…Everything was risky. Everything we have done, everything we are trying to make a statement for is about this. If it works, it works, and if it doesn't, then we learn and we see how to make it work."
Finally, it was difficult not to root for Israel, the last nation to qualify to this final which is a historical feat for the small country that had never qualified to a world final before. At the 2017 FINA World Championships, the Israelis were far from even being in contention for a final, finishing 21st and with a score of 72.3289.
Two years and 10 points later, the young team finished 12th with 82.5039 with their samba routine, which is their best-ever score in this event, and only 1.5 points behind the U.S! They couldn't help but jump for joy after their final swim, realizing what they had just accomplished.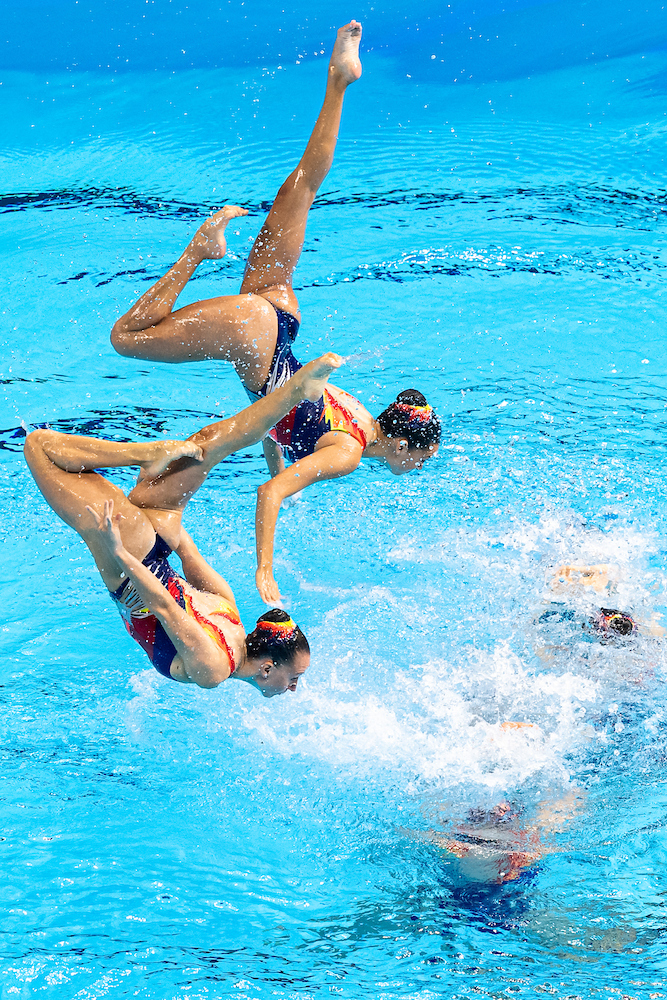 The team has been working alongside Bet Fernandez and Anna Tarrès, the two main coaches who brought Spain to the top of the world and Olympic podiums, for the last two years. The improvement has been obvious and stellar ever since.
"They are really different people," Gal Litman said. "Both have the most work ethic I saw in my entire life. They put so much dedication, and they just love what they do. We just want to please them."
"They are so smart, they know what to do," Yael Polka added. "They are tough but they know what to do in order to succeed. We are really lucky."
The fight for the 12th spot in the preliminary was a very tight one, with only 1.0869 between Israel in 12th and Belarus in 14th. Brazil, in 15th, was only about 1.3 points behind Israel as well.
Another team that was just excited was Switzerland, which scored 81.7065 to finish in 13th, just like two years ago. It was great to see the Swiss team again, as it had to withdraw at the last minute last season from the 2018 European Championships after suffering injuries to some team members. The Swiss screamed and jumped after their performance in preliminaries and upon seeing their score.
"We were really happy and really proud of what we did because we reached our goal," Joelle Peschl said. "We wanted 81.5 for the points, but in general just to swim our best."
Unlike many of the other top teams competing at worlds, the Swiss don't train together year-round, and only meet a few days a month and for training camps throughout the season.  Additionally, more than half of the athletes competing in Gwangju were also part of the junior team that competed at the junior European Championships a few weeks ago.
The Swiss team had competed at the French Open in March, but had not gotten together since, and the roster had also changed. The team now made of five junior members and four seniors only just got together a few weeks before the world championships for a two-weeks training camp in Japan.
"We achieved our goal," coach Elodie Hernandez explained. "They did their elements well. We worked on them a lot since three quarters of the girls are juniors, and when you have to do four turns on a spin, it's very difficult. But we are happy and proud of them. Now we can start thinking of the future and work on improving even more."
Hungary finished 18th with a score of 75.6005, and head coach Natalia Tarasova was particularly proud of her team at this competition so far, and throughout the season as the Hungarians competed extensively in the world series circuit.
"This year it was a hard preparation because they are mostly 2003, 2004 swimmers, so I am really happy for their performance," Tarasova, who has been coaching in Hungary for the last three and half years, said. "I hope they can stay for a long time so we can keep this team, and just keep working because I like them so much. They are beautiful, they work really hard and I think they did everything I asked them for. I am very happy for their performance and their elements. It's the best that they have shown this year."
Another historical feat happened further down the rankings, as Poland competed as a team for the first time in a world championships. The Poles also performed to "It's Raining Men," and obtained 72.7496 for 21st.
Article by Christina Marmet.
Cover photo by Giorgio Scala / Deepbluemedia. Do not use without permission.