Svetlana Romashina had not competed in the free solo event since the 2014 European Championships, and her very last outing in solo was at the 2016 European Championships where she swam in the technical event. After three years away from this event and two years away from the swimming pools, the Russian won her 20th world gold medal in Gwangju with a massive score of 97.1333.
Romashina cruised to first place ahead of Spain's Ona Carbonell and Japan's Yukiko Inui. She decided to swim in the free event to show her style better than she would have in the technical event, and picked Carmen as her music.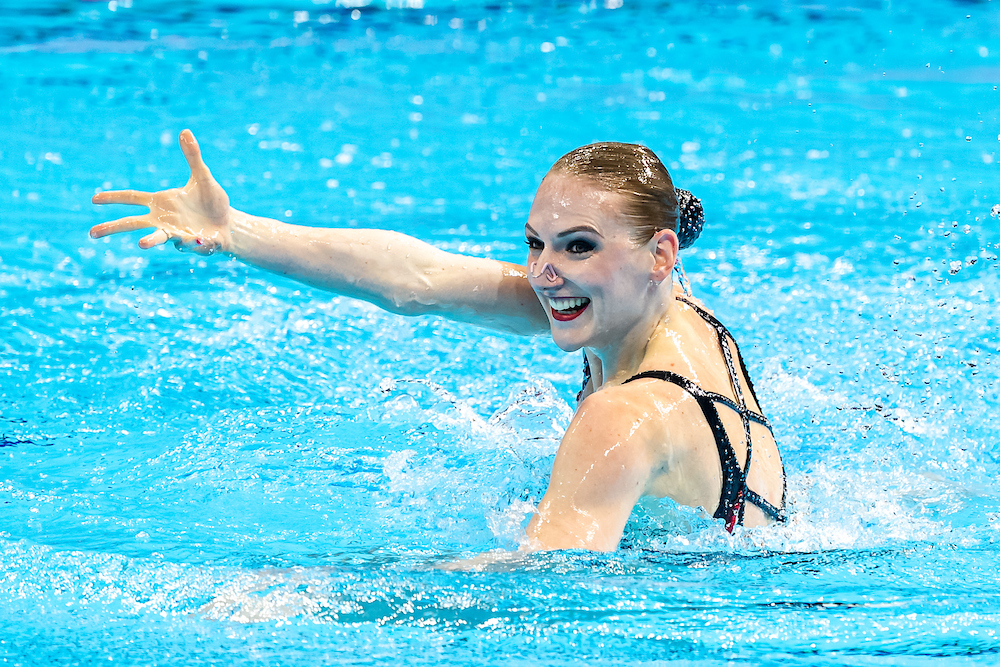 "For me it's very difficult to choose music for solo because I like to be more smiling," Romashina said. "When I did Marylin Monroe, she was for me just a pretty dancing woman. Carmen is more a grown woman, a stronger character. I decided to do it after my maternity because I think something changed in my mind. I think I changed myself. That's why I decided to choose this style."
Romashina became a mother in November of 2017, which has obviously brought a lot of changes to her daily life, and she has learned to balance elite training with being a full-time mom.
"It's very difficult because all girls have free time after training and I don't have it," she said. "I have my baby. When I'm home, I have a job also, I am a mother. But I think that my kid is my energy. When I come home, I have all the smiles, and I love her so much, that's why I feel that I need to show my power in the water, because she will see some years later how her mother can swim. And maybe she will be a synchronized swimmer too…maybe (laughs)."
On that topic, Ona Carbonell from Spain could not help but admire the feat.
"I think you're my idol," Carbonell said to Romashina during the press conference with a laugh. "Because you're a mother and now with this performance. I think you're amazing!"
Carbonell is obviously no stranger to the international stage either as these are her seventh world championships. She had also taken a break, although slightly shorter and only during the 2018 season, and has returned this year to join the team on its road to the 2020 Olympics.
She swam in the free solo event for the first time since the last world championships in 2017, and was able to defend her silver from Budapest with a score of 94.5667. This is Carbonell's 23rd world medal, making her the most decorated artistic synchronized swimmer.
She had not been working on this new routine for long, as the priority was to first join the duet and team routines again in preparation for the Olympics. At the beginning of May, Carbonell and Virginie Dedieu, three-time world champion in solo, finally got together to fully work on her solo routines for this season.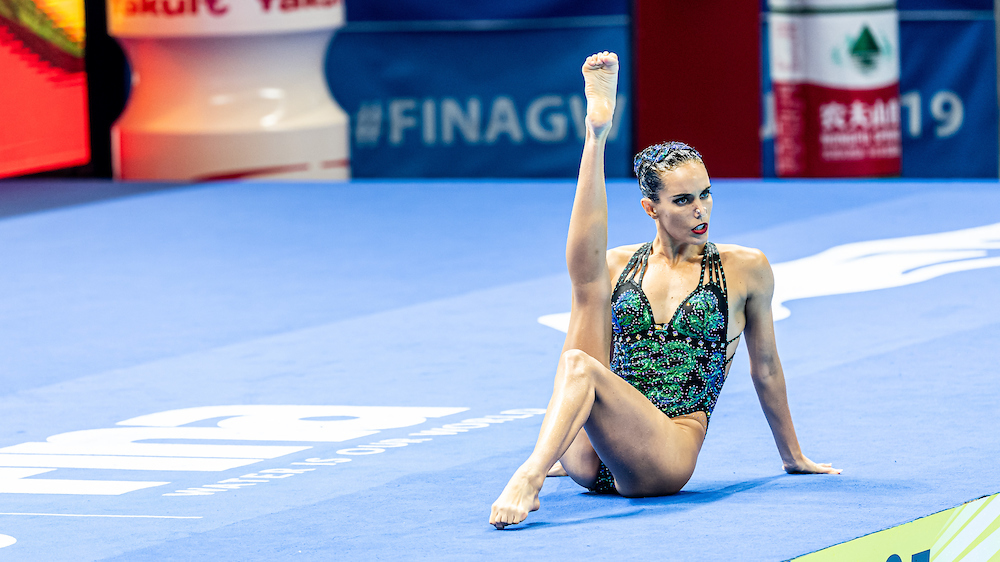 In this routine using "It's a Man's World" sang by both Louisa Johnson and Luciano Pavarotti, Carbonell wanted to portray the strong, passionate side of women while highlighting the more delicate side of men.
"We want to represent two characters," Carbonell said. "We have the voice of the woman which is crazy, with more power, and Pavarotti's voice is more elegant and soft. We tried to contrast two ways to do synchro and to express that, also with the choreography, with crazy moments with the woman, and serenity with Pavarotti."
This particular routine was easy for them to work on, as they had used this music already as a tool for improvisation and choreography ahead of the 2017 FINA World Championships.
"It was a song we already used two years ago," Dedieu explained. "We worked with it a lot just to find new movements, and [Carbonell] really liked it so she started using some things she had already found two years ago. She had already started a little before I arrived, so we continued the choreography and completed it when I traveled to Barcelona."
Another one of Carbonell's goal was to perform 10 figures in this routine to not only show difficulty and strength, but also to prove she can still find ways to push herself and innovate: "I think I can improve even more than now, so my goal is to be better every year, every moment, every competition. I think my body and my mind can do more, so this is my motivation."
The podium was the exact same as in the technical solo event, with Japan's Yukiko Inui winning the bronze once again with a score of 93.2000. Inui portrayed Undine, a water nymph in mythology who becomes human when she falls in love with a man but is doomed to die if he is unfaithful to her.
This is Inui's second-ever world medal in the solo event, once again something she had been working towards for many years, and stated in the post-meet press conference that she is now hoping to lead her team to medals in duet and team at the 2020 Olympics held at home.
Fun little fact, the average age between these three medalists is of about 29 years old, so synchro is certainly not all about the youth.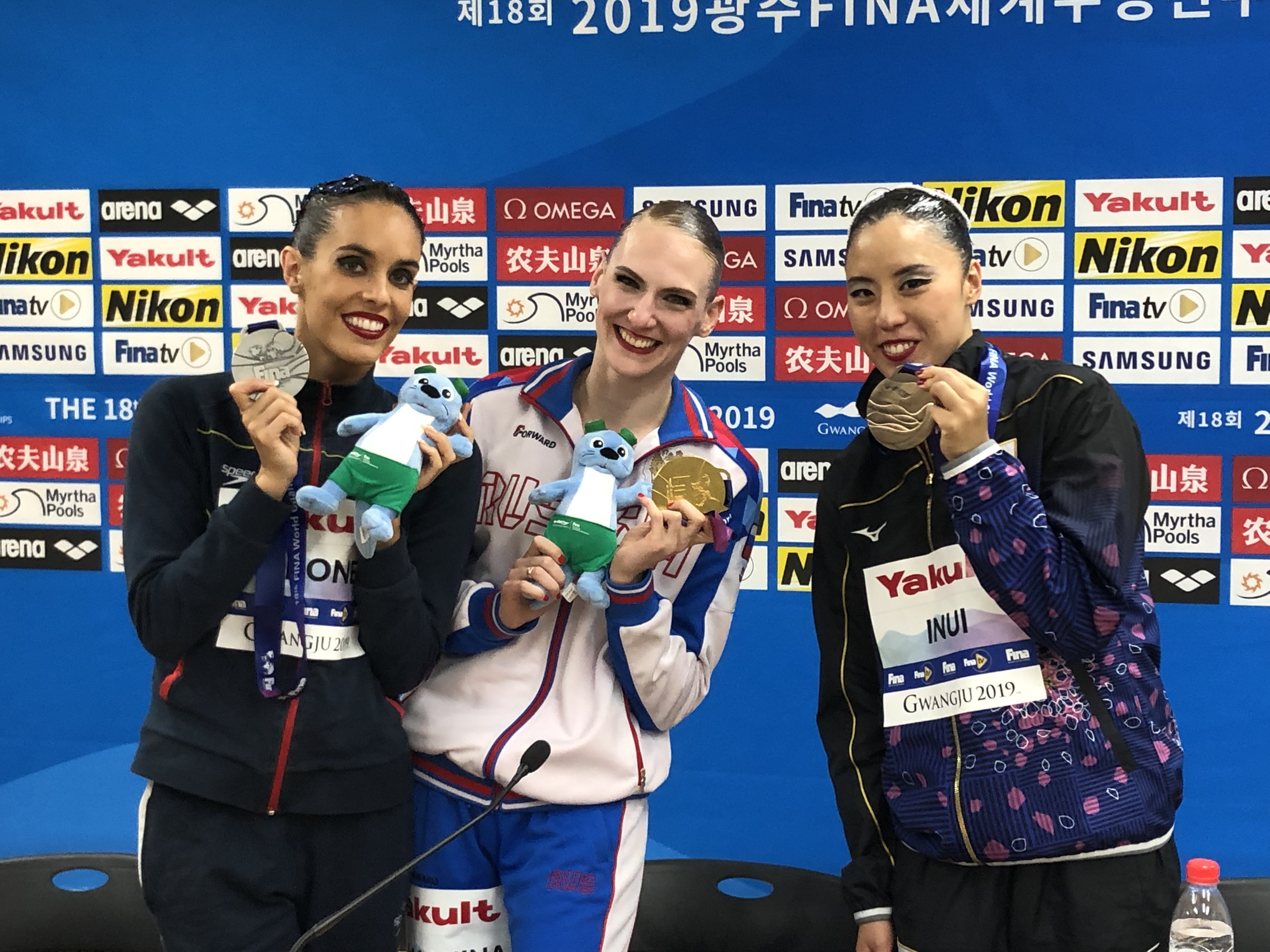 There was a difference of 0.5 points in preliminaries between Japan and Ukraine, but Ukraine's Marta Fiedina was not able to move ahead in finals despite scoring 92.5667, a higher score than in preliminaries. Fiedina is one athlete who will be on top of all the world and European podiums very, very soon. At only 17, she was again the youngest one of the solo field and showed a tremendous potential.
She is already competing in solo at her first world championships, is a member of the likely Olympic duet and helped it qualify to Tokyo, and swims in all team routines but the highlight. Seriously, she's a beast and one to watch for in the future (and already).
Jacqueline Simoneau from Canada competed the same routine in preliminaries and finals this time around (check out both of her routines in the technical event), to the song "Somebody to Love" from Queen, for a final score of 90.7000. Random fact, this song is one of the favorites of Simoneau's parents, and they helped her pick it.
In Budapest in 2017, the Canadian was behind Italy's Linda Cerruti, but she managed to flip those rankings and move into the fifth spot in Gwangju. Cerruti, who was the silver medalist at last year's European Championships, finished sixth with 90.4667. She had kept the same routine as last season, swimming to "Angel" from Massive Attack that was choreographed by Gana Maximova.
Evangelia Platanioti from Greece scored 88.6667, and showed off a brand new routine at these championships, which came slightly as a surprise as she had already swam a different solo earlier this season at the Hellas Beetles Cup. In Gwangju, Platanioti portrayed Pierrot, a character of pantomime and commedia dell'arte, using music from the Nutcracker from Tchaikovsky. She really got into her character right from the start and interpreted it well through the entire choreography, which is quite interesting and filled with details that bring her character to life.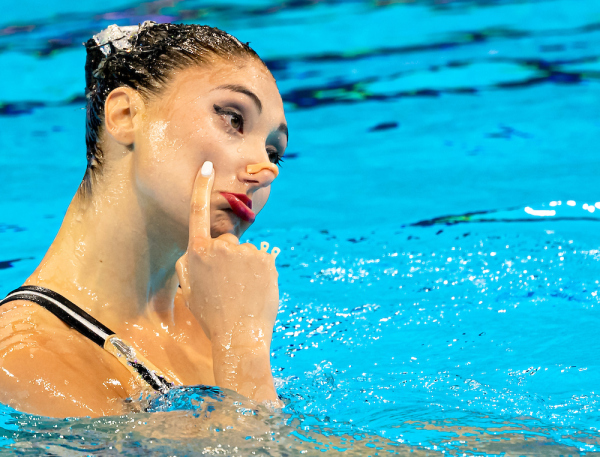 Austria's Vasiliki Alexandri obtained a career-high score of 87.1667 for her new choreography, using music from the movie Frida. Much like Platanioti, Eve Planeix from France also unveiled a different choreography than the one we had seen from her earlier this season. In Gwangju, Planeix used the song "Hope There's Someone" from Anthony and the Johnsons, for a final score of 86.6667 and ninth place.
Vasilina Khandoshka from Belarus stayed ahead of Great Britain's Kate Shortman once more with her "Alice in Wonderland" routine, for 10th place and a score of 85.0667. This was the second world final in free solo for both of them.
"It was a better swim for me than in the prelims," Shortman said after receiving her score of 84.7667 in finals. "And just to be in the top 12 in the world for me is amazing. It still feels really exciting even though I did the final for the free solo last worlds. It's so exciting for me to get in the top bunch of athletes."
This was Shortman's last performance at these championships, and she is already looking ahead for next season to prepare for the Olympic qualification tournament with the duet, but also hopes to change her solo choreography.
Anita Alvarez from the U.S. made her big international debut on the world stage as a soloist in Gwangju, with a poignant performance using Jessie J's "Rose Confessional" piece. Alvarez finished in 12th place with a score of 84.7333 and only 0.0334 behind Shortman, but this appearance meant more to the American than a simple ranking and score.
"It's been a dream of mine since I was a little girl [to compete solo at worlds]," Alvarez said with a smile. "So to actually be on the big stage that I've always watched growing up, it is just crazy to actually be here doing it. It felt really good to get my first experience on the world stage as a soloist. It was pretty cool."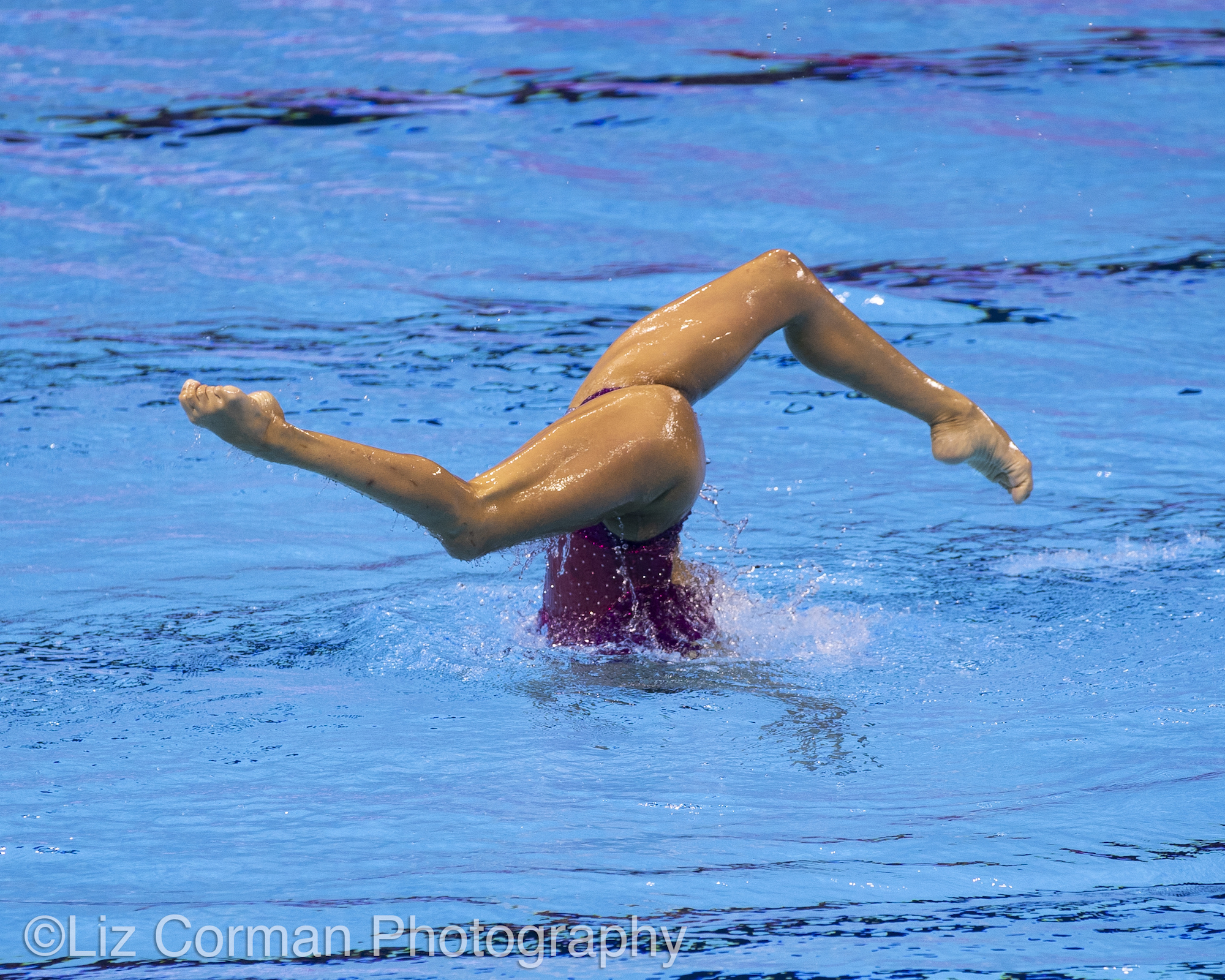 This specific song is very dear to Alvarez' heart. She had first heard it in a video of a dance, but had never contemplated swimming to it. It was not until head coach Andrea Fuentes started thinking of a solo routine for her that she brought it back up. The lyrics tell the story of somebody who has lost their passion to make music, and has trouble finding their way back to a sense of purpose. Alvarez admitted it reflected her own journey in this sport.
"I wouldn't say I was done with synchro," Alvarez said. "I've always known deep in my heart that I wasn't, but I have gone through rough patches and wondered what I was doing. It was hard at home to be able to finish school and do both. [There were] times of wondering what I am doing, why I am still here and all of that. I definitely found my way back in the love for the sport again and everything about it."
---
Additional quotes:
Lara Mechnig from Liechtenstein (13th, 82.4000)
About her swim in preliminaries and her new solo:  "I'm really happy because it's a new routine. I haven't been able to practice probably as much as everyone else. I only did this routine just before Barcelona, the FINA World series. We were trying to go away from what I had last year which was really slow. It was more for probably younger swimmers. We went a completely different direction, so I could also try to bring out a different side."
On her season, and finishing it up at the world championships: "My season was pretty good. I had quite a setback at the beginning of 2019 because I had a concussion and I wasn't able to train properly for two months. That was really hard obviously physically, and mentally to come back from that. Considering all of that, I think I've had a really great season in the end, yes."
Marlene Bojer from Germany (15th, 79.7000)
On her music choice: "I like Adele. I already swam to another song from Adele, and I like the emotion she can bring to the music when she's singing. I want to do the same in the water, transporting emotions to the judges."
Alzbeta Dufkova from the Czech Republic (17th, 78.4333)
This is Dufkova's seventh world championships, and she is a three-time Olympian.
On her unique deckwork: "I was working with a dancer, so we tried to create something more artistic, new stuff, and I love it. I am already an experienced athlete, so I could do something a little bit new. We were always trying to go up, to get close to other countries, but I think we are on the level now where we can go our own way."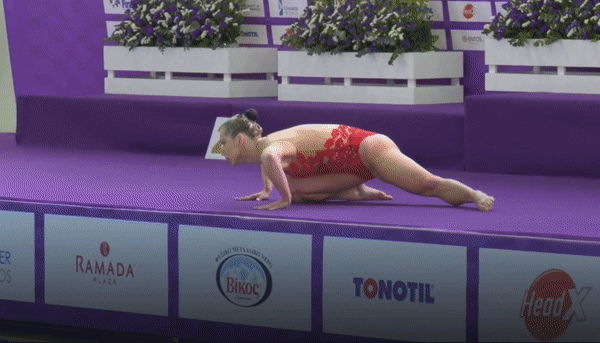 On her longevity in the sport: "It's kind of hard sport. It's moving, changing, it's hard to stay in touch. We are trying our best, but it's not just about us athletes, it's also about conditions and money. We really try to push our federation to get us support because it's an Olympic sport. But we are still kind of a mini-sport, because it's mostly for women. But I think it's the most beautiful sport ever."
Article by Christina Marmet.
Cover photo by Giorgio Scala / Deepbluemedia. Do not use without permission.