The free duet podium at the 2019 FINA World Championships looked a little bit like deja-vu, as it is the exact same nations and swimmers as in the technical duet who found themselves again with medals around their necks, in the same order.
Svetlana Kolesnichenko and Svetlana Romashina from Russia presented a new routine to the theme of spiders to the crowd here in Gwangju. The Russians had competed throughout the season with the older 'Aliens' routine that we had seen from Romashina and Natalia Ischenko back in 2015.
That routine was still good enough this season to qualify the pair to the 2020 Olympics at the European Cup in May, but they wanted to turn the page for good on this routine and work on a different choreography for worlds. They obtained a gigantic score of 97.5000 for this new world title, their best score since the 2016 Olympics. This is also Romashina's 21st world gold medal.
"We decided to begin this year with Aliens to keep the secret of the new duet," Romashina said. "It was very hard to work on three duets, one technical and two free programs, for the whole year. We decided to do a new one at the world championship, but some times we thought we would do it for the Olympics only. But we decided to try it here, and to understand what to change for the next year."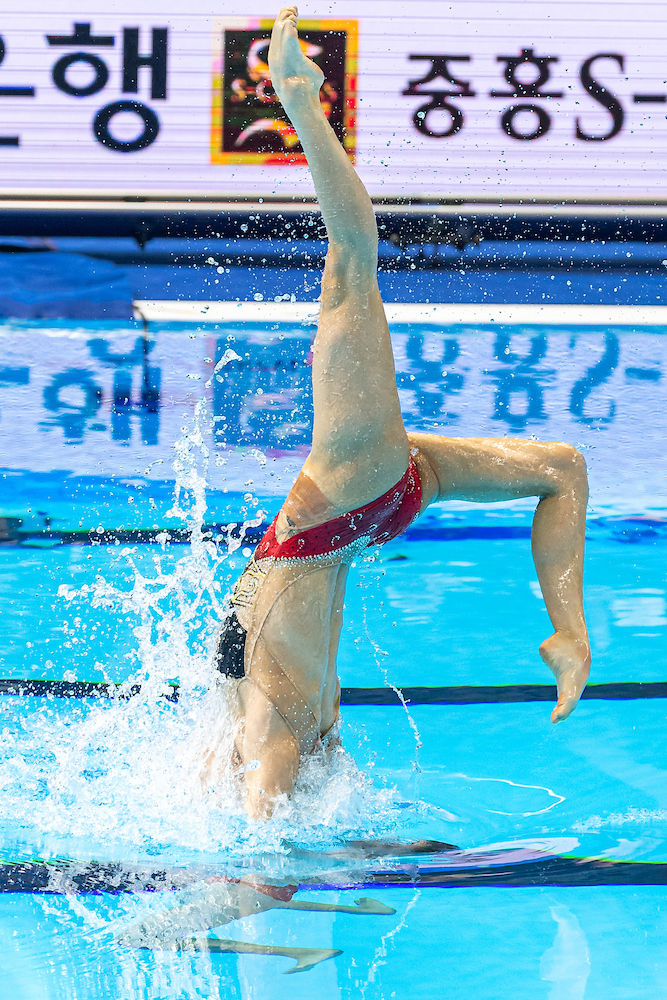 Huang Xuechen and Sun Wenyan from China, who have only been training together again as a duet since January, won silver with 95.7667 for their "Goddess of Hope" routine, while Ukraine's Marta Fiedina and Anastasiya Savchuk claimed the bronze medal again with 94.1000. This is already Fiedina's fourth medal at her very first world championships.
"Of course, I feel…(turns to Romashina for help with English) pressure before the competition but after we got here, I feel better," Fiedina said, laughing. "I don't feel pressure so much now. I think I am more nervous before competition and all year, than here. Here, I am normal!"
Japan performed its 'Time Leap' routine for a 93.0000, but it was again not enough to overcome the Ukrainians who were clearly superior today.
In fifth place is the duet from Spain, with Ona Carbonell and Paula Ramirez, which received a score of 91.7000. The Spanish pair was able to move ahead of the Italians once again, which is a change from the 2018 European Championships where Italy was still ahead, and to maintain its fifth place from two years ago.
Carbonell and Ramirez performed their passionate flamenco routine which they have introduced this season, but unfortunately had a mistake in the final hybrid. This is interestingly a mishap we had already seen this season at the French Open with at the time Ramirez paired with Sara Saldana. It looks like this final hybrid will give us cold sweats for a little while.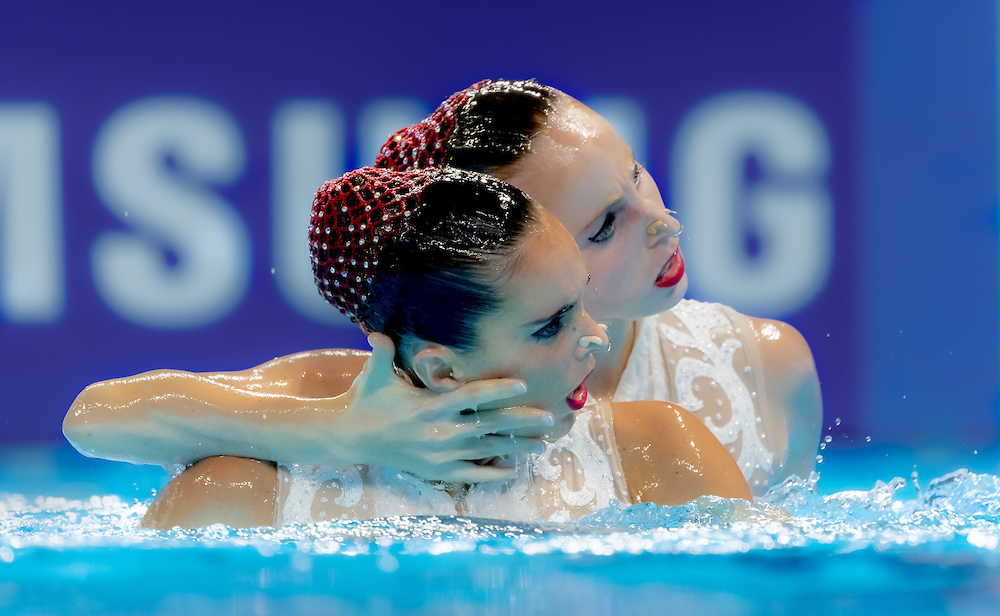 Italy's Linda Cerruti and Costanza Ferro had kept their same routine as last season to the theme of "Power of the Woman," and scored 91.0000. In seventh place were Canada's Claudia Holzner and Jacqueline Simoneau with 89.7667.
Charlotte and Laura Tremble from France had a tremendous swim, and were able to move up two spots compared to the preliminaries to finish in eighth place with a score of 88.0000 for their 'Amazons' routine.
"We are so so happy," Laura Tremble said. "We gave everything and it paid off. We are still on cloud nine!"
"We are so proud of ourselves too," Charlotte Tremble added. "It was an intense competition for us, but we showed up every time to show how strong and improved we were."
Evangelia Platanioti and Evangelia Papazoglou from Greece showed their 'Sharks' routine once again, but had a major mistake towards in the end and one of them finished a hybrid a few counts before the other. They received 87.3333 and finished in ninth place.
The Austrian duet of Anna-Maria Alexandri and Eirini Alexandri revealed a brand new free choreography at this competition that they had kept hidden all season. Their routine was created by Stephan Miermont to the theme of 'Heart of Glass.' They finished ninth with a score of 87.1000. Mexico's new duet of Nuria Diosdado and Joana Jimenez, again in their first season as a duet, placed 10th with 86.1000, their best score as a pair so far, for their routine to the viral mashup "Summer 2015" by L.E.J.
The U.S. duet of Anita Alvarez and Ruby Remati finished in 12th place with 83.6333. These world championships where the first time Alvarez and Remati swam this routine in competition together, as Alvarez had previously been paired with Lindi Schroeder for the free duet event. In Gwangju, the Americans also had a major mistake in their second lap where one of them basically forgot most of the hybrid.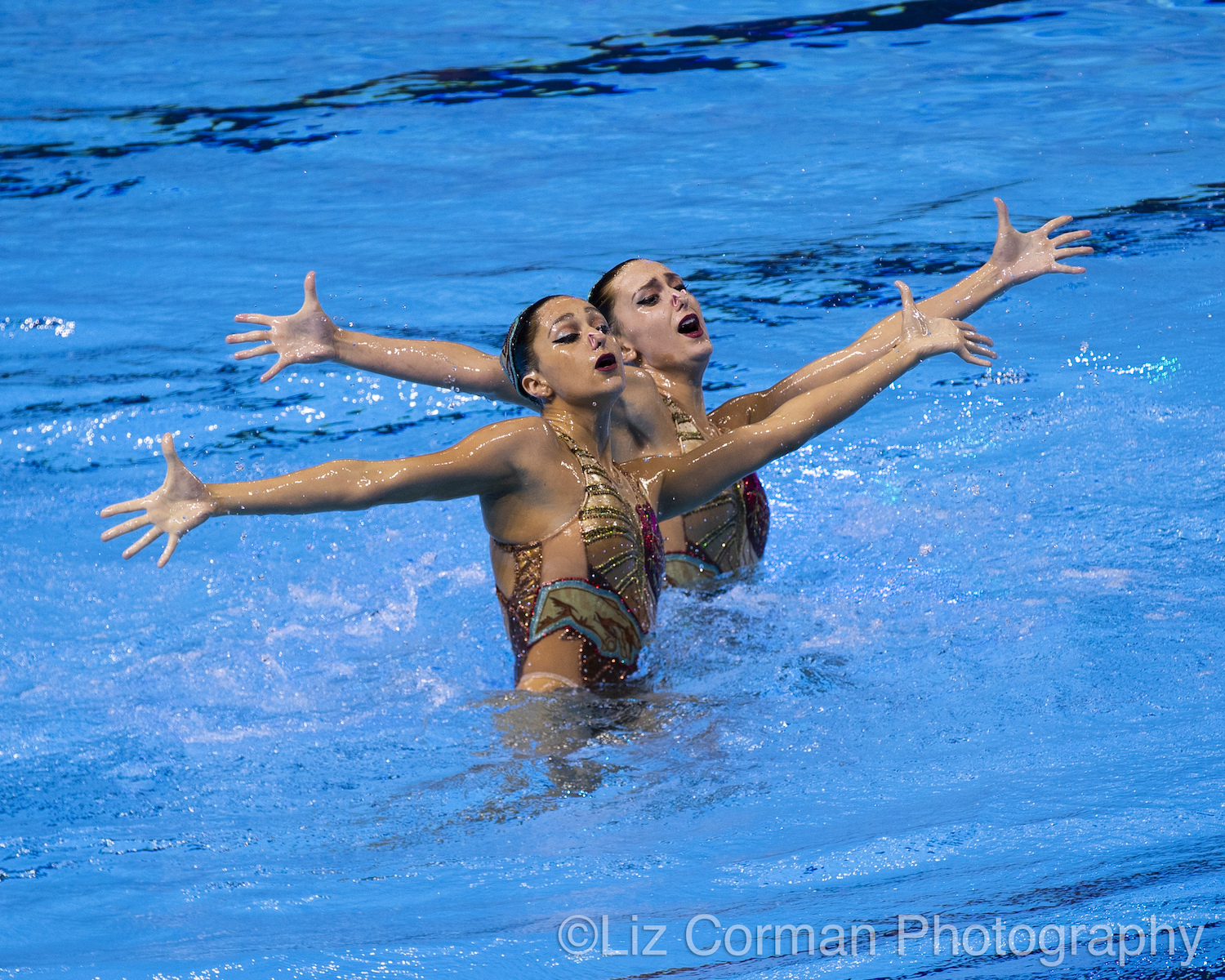 They were swimming to the rap and R&B song "Fragile" by the rapper tech n9ne, a style of music that is very rarely used in synchro. When asked about this particular music choice, assistant coach Reem Abdalazem explained they picked because it was so particular.
"[We chose it] because it's fairly unique," Abdalazem said. "We thought we wanted to show that these athletes can do so many different styles. They can do robot, they can do Bjork, they can do Raining Men, and then they can do rap and R&B…Because why not? We wanted to bring something completely new, which is rap."
Regarding the preliminary round, 45 duets took part in it which made for a very (too) long event. The Netherlands again barely missed making the final by 0.1 points, but Bregje and Noortje de Brouwer are certainly on the way up, going from 18th in 2017 to 13th and so close to finals two years later.
Of note, Brazil scratched from the event before the preliminaries, and it appears Maria Clara Lobo Coutinho is the one who was affected as she has also been taken out of all the team routines. We are not sure of the exact reason why, but we certainly hope she is alright.
---
Additional quotes:
Switzerland – Vivienne Koch and Noemi Peschl (17th, 82.1667)
Koch on being selected as the Swiss duet for the Olympic qualification tournament: "[The selections] started really early. We didn't really have a break, maybe 10 days, and then we had to start again for the selections. And after we got selected, we both got injured! We took a big break, and we didn't have a lot of time together before this competition because of injuries, so we were a little bit nervous because of that."
Peschl on this competition: "Despite all of that, I think we did our best. Next year, we can improve a lot more when we are not injured and we can really train together because in this year, we could not change any choreographies. It wasn't the perfect conditions for this competition and this year, but we have a lot to improve for next year."
San Marino – Jasmine Verbena and Jasmine Zonzini (26th, 76.7000)
This is Verbena and Zonzini's first senior world championships.
Zonzini about their final performance in the free duet preliminary: "We felt good, we are so happy. We were powerful, we didn't make any mistake, which is very good. We have a lot to improve of course, with more training in the next season, but for now we are happy."
Verbena on the 2019 season: "It was a tough period because we had to prepare our final exams and of course this competition. Now that we have finished [high] school, we can focus only on synchronized swimming."
Zonzini on their first world championship experience: "It's so great. It's very powerful. The atmosphere is amazing. We feel very emotional."
Serbia – Jelena Kontic and Nevena Dimitrijevic (30th, 75.9000)
Kontic on their new 'Sea Monsters' routine: "We always pick the music together. For this routine we decided to do something completely different from the Spanish one from last year, and sea monsters are scary and so different. Also we tell a story, we are sea monsters fighting with people on the ship, or something like that (laughs)."
Dimitrijevic on their second world championships together: "In Budapest, we were so overwhelmed because it was our first competition, in a beautiful pool near the castle. It was a blur, it was all a dream, we don't know what happened (laughs). Now we are a bit more aware, and there is more pressure because in 2017 we had only worked six months together because Jelena did not live in Serbia. Now we are working for a longer time together and we have much more responsibility to perform really well."
Portugal – Cheila Vieira and Maria Goncalves (31st, 75.6333)
Goncalves on both of their duet swims in Gwangju: "We gave our best. [In free] we were aiming for 76 to do the same as the tech duet, but we are still happy with 75. Because it was our main goal in this competition. we did in both duets and we leave happy."
Vieira on their second world championships together: "We feel a lot more confident. In Budapest, it was our first world championships and we were really nervous, and feeling so little  in the middle of big countries (laughs). Now we have a lot more confidence."
Turkey – Defne Bakirci and Misra Gundes (32nd, 75.1667)
Gundes on the Voodoo theme and unique deckwork for their free duet: "Our coach Anna Yuzhakova, who is also the choreographer of this routine, watches a lot of movies, and our music is a soundtrack of the movie 'Skeleton Key.' She wanted the judges to understand the theme when we were doing the deckwork. She wanted to create something like a play, like a show."
Bakirci: "Actually, we were looking for a theme that was very different from all the other teams. She said, 'See there is one movie like this where they are doing voodoo, maybe we can use this one to show these rituals and all this crazy stuff in the water.' We wanted it to be as realistic as possible."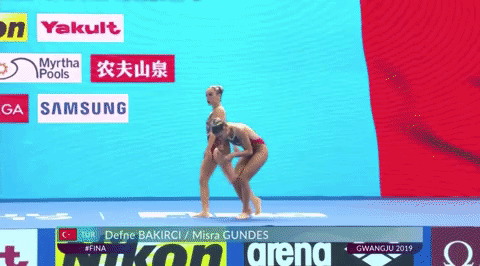 South Africa – Emma Manners-Wood and Laura Strugnell (40th, 67.3333)
This is their fifth world championships together as a duet.
Manners-Wood on their free swim: "We actually are retiring from international competition after this, so this was our last one. We just wanted to go for it and give our all, so I was very happy with it."
On this world experience compared to the other ones: "This is the first one where we are doing both team and combos as well as duets. Previously we have only done duets and some solos, so it's been a lot of hard work but i think it's been worth it."
Article by Christina Marmet
Cover photo by Giorgio Scala / Deepbluemedia. Do not use without permission.