Four Olympic spots were up for grabs in Gwangju in the team events. The top two countries not already qualified, China and Ukraine, punched their ticket to Tokyo, using combined scores from technical and free events. Moreover, the Oceania continental spot went to Australia, while Egypt qualified for the Africa's quota. The duets also get an automatic quota as a result.
China and Ukraine are indeed the next two major nations to join the Olympic field alongside Russia (qualified at the European Cup) and Japan (qualified as host) in the team events.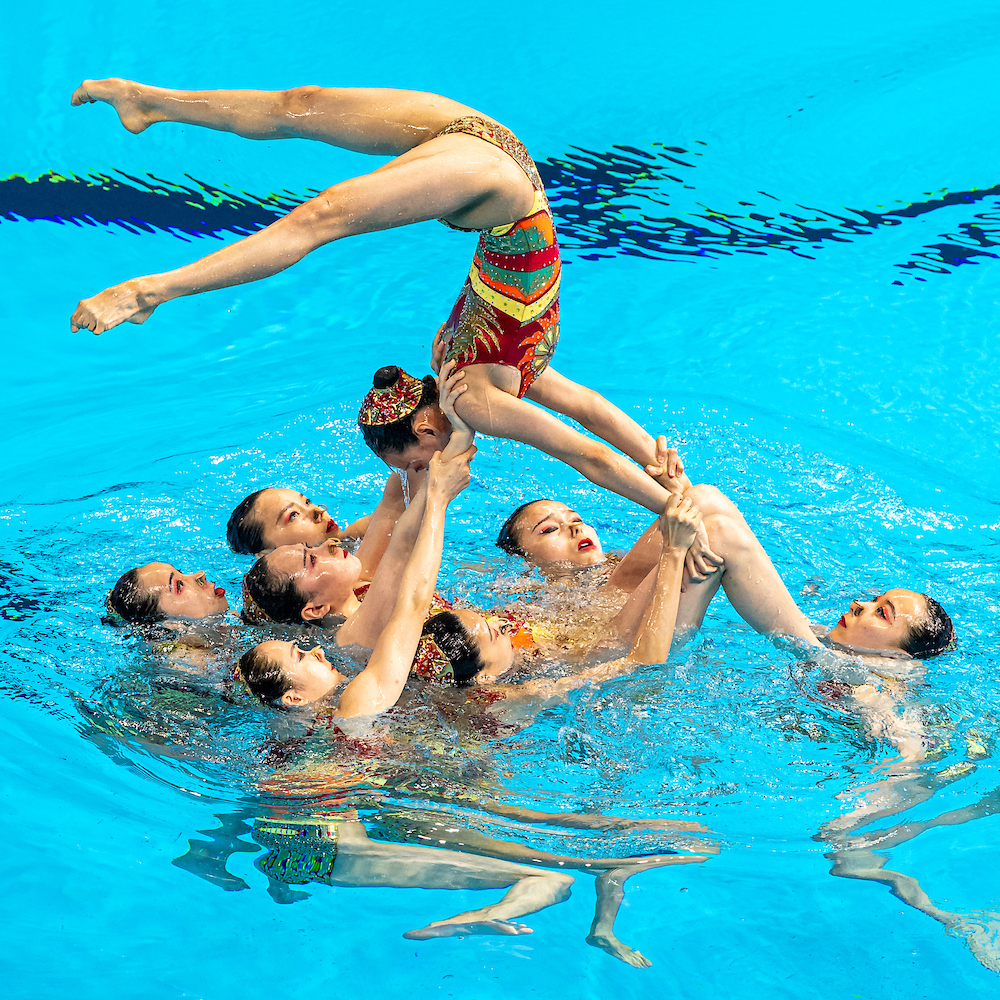 The Chinese scored 96.0333 in the free team final with their "Ode to the Heroines", for a combined (technical + free) score of 191.1876 that earned them a spot to Tokyo. They have been working on this routine for a while now and wanted to highlight the Chinese culture throughout. Guo Li admitted the hardest part for them is at the very beginning of the routine where they perform three acrobatic movements in a row.
The Chinese have also been working with Anna Tarrès for the last month in an effort to improve their artistic side. Tarrès, former coach of the Spanish national team for nearly 20 years, has collaborated with Ukraine and Israel in the last few years as well.
"I am just making some revisions," Tarrès said. "I gave them some ideas to try to develop new movements, try to clean up what they were doing before, and try to make the routine more organic, so that it could flow a little more. Mainly, it has been more to give them tools to develop the theme and to develop their own potential. The goal was trying to make them realize that they could go one step forward, and to look for new movement and for a new way of swimming."
By defending their bronze medal from 2017 and once again placing third with a score of 94.3667, leading to a combined score of 187.8181, the Ukrainians qualified a team to the Olympics for the second-time in the country's history.
Russia was of course the heavy favorite coming into this event, and won the gold medal with a score of 98.0000. The Russians performed their 'Shamans' routine for the last time as it was already the third season with this program, and we can be certain head coach Tatyana Pokrovskaya will create something new for the Olympics.
These world championships also marked the return of Alla Shishkina, two-time Olympic champion, to the Russian team after a break of two years following the 2016 Olympic Games.
"When I stand on the podium in Rio, I think about my comeback," Shishkina said. "In that moment, I think that I would rest only one year. But after one year, I think more. I said to Tatiana Pokvroskaya, 'Can I rest one more year, and these two years is my only rest?' After these two years, I understand that I love synchronized swimming very much, with all my heart. My comeback is for the love of this sport."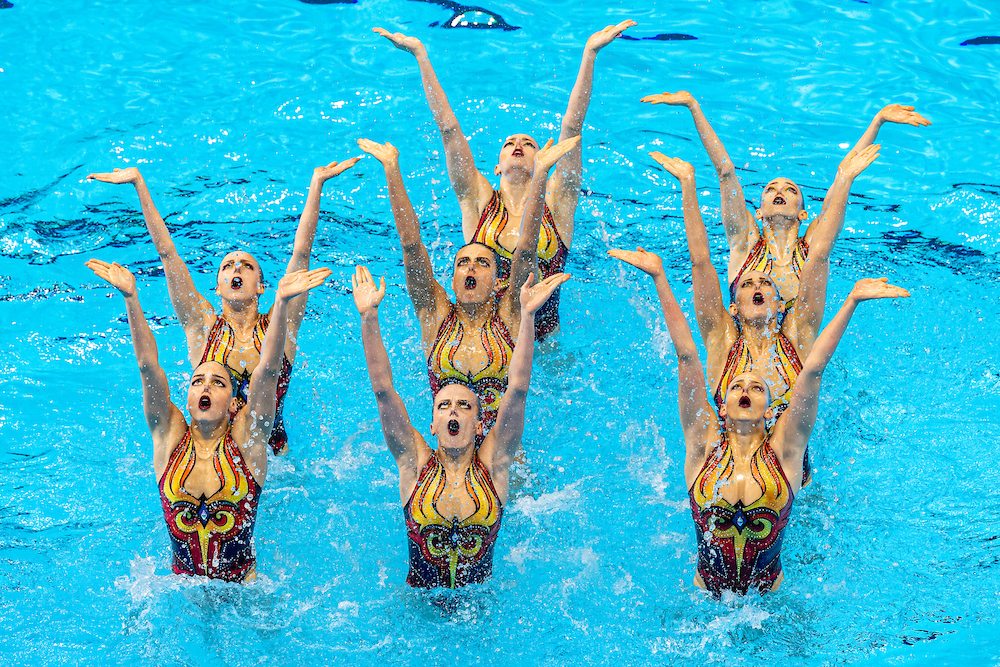 It will be extremely interesting to see how Pokrovksaya figures out who her top eight swimmers will be for Tokyo as both Svetlana Kolesnichenko and Svetlana Romashina will have to be included in the team once again.
Varvara Subbotina, the youngest of the Russian team at 18 years old and competing at her first senior world championships, explained how intense the internal competition is within the team.
"There are many girls in the reserve," Subbotina said. "Six or seven girls stayed behind in Moscow. Everyone tries to show their best, to prove the coaches that they have this right to be in the team. Some come to the gym earlier than anyone else, some work harder on some elements in the water or in the gym. This is a normal process us, we are used to it. The rivalry in the team is very high, so we know we have to work hard to be in the team."
Unfortunately, Japan fell short of a team medal once again by scoring 93.3667 for fourth place. The Japanese had changed free team choreographies from last season, and have performed their new "Japanese Festival" routine at a few world series competitions this year. It will be interesting to see how Japan and Ukraine fare against one another at the Olympics next year, especially with them being on home turf for the Japanese team, but with a dominant Ukrainian team that cannot be denied.
Spain had finally managed to move ahead of Italy during the preliminaries, as the latter had been ahead since the 2016 European Championships in all major international competitions. However, the Italians managed to take the lead again in the final with their new routine "War of Two Worlds" despite falling on a lift, with a 91.6000 to Spain's 91.4000.
This Spanish team, led by Mayuko Fujiki for the last two years, is still quite young but has shown tremendous improvement since her arrival. Last season, Fujiki's team had finished only 0.1333 points behind Italy in the free event at the European Championships, and she continued pushing them this season by creating a brand new routine for them in this event, and moving away from the 'Life in a Factory' routine to work on this 'Discovery of an Island' theme.
"For me, the [Life in a Factory] routine was for them to be able to learn how to swim sharp and strong," Fujiki said. "It wasn't really the best artistic side that I could give them. But because this is a young team, they learned something last year swimming the other routine. Now I really wanted to do something else, imagining that they were swimming qualifications in Tokyo, that the people in Tokyo would relate to and enjoy. But at the same time, I wanted [to find] something similar to Japan and Spain, and I was thinking, thinking, thinking, and then, 'Ah! Islands!' We are both countries with the ocean, we both have a lot of islands, with different cultures, and that gave me a little story to start with."
Fujiki has also included Ona Carbonell in the free team routine again, and brought in 17-year-old, up-and-coming swimmer Iris Tio from the junior ranks to build the best possible team heading into the Olympic year. She has indeed played around with her roster throughout the six competitions her team was at this year, but she has clearly found something that works. If they continue on this path, the Spanish team is certainly in great shape to qualify to the 2020 Olympics.
Canada finished in sixth place with a score of 90.1000, its highest of the year with its new routine to the 'Spectrum of Time,' which was choreographed by Anastasia Ermakova just like its technical routine. Greece obtained 88.3333 for its 'Africa' routine, the same as last year, and for an eighth place finish. France placed ninth with a score of 87.4667 for its 'Emotions' routine that we had seen the last few seasons. The French faced some difficulties at these championships as Laura Augé had to be replaced in both technical and free team events at the last-minute as she suffered a back injury during training.
The Mexican team wasn't far behind with a score of 87.0333 for its 'Space Discovery' routine. The routine features a strong opening sequence that will probably give you goosebumps, and all in all showcases a fantastic first lap with a unique throw where Jessica Sobrino, the flier of the team, jumps straight above the base in a straddle split and quickly moves into a horizontal position only to be caught directly by the base underneath.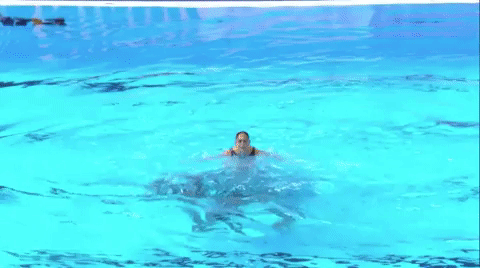 The Mexicans had a complicated season, and were originally supposed to compete in a lot more world series meets, including the Hellas Beetles Cup and the Japan Open, but ended up withdrawing from those at the last minute.
"It was a very tough season," Regina Alferez said. "It wasn't that we were just not competing the program, but we got sick a lot in the season so it was very hard to train and to get to this point of the year. We never felt like this before. In the past years, we were competing, at not just competitions but also exhibitions. It was a very tough year."
The U.S. finished 11th with a score of 84.4000, but received a one point penalty because the walk on deck was too long by 0.04 seconds. The Robot-themed routine was popular with the crowd, and the choreography itself truly is a gem in terms of artistic impression, musicality and attention to detail.
The American athletes have been excited about this routine right from the start, and were thrilled to finally swim it on the world stage. They have welcomed with open arms the many changes their new coaching staff of Andrea Fuentes and Reem Abdalazem has brought on.
"I think they are the best thing that could have ever happened to us as a team," Nicole Goot said. "We have grown individually and together so much, it's incomparable to year's prior. Our attitude towards everything changed. They brought a new perspective into how we train, how we compete, and our mindsets. We are a lot hungrier, more motivated, more innovative, thinking outside the box a lot more, and really supportive of each other a lot more."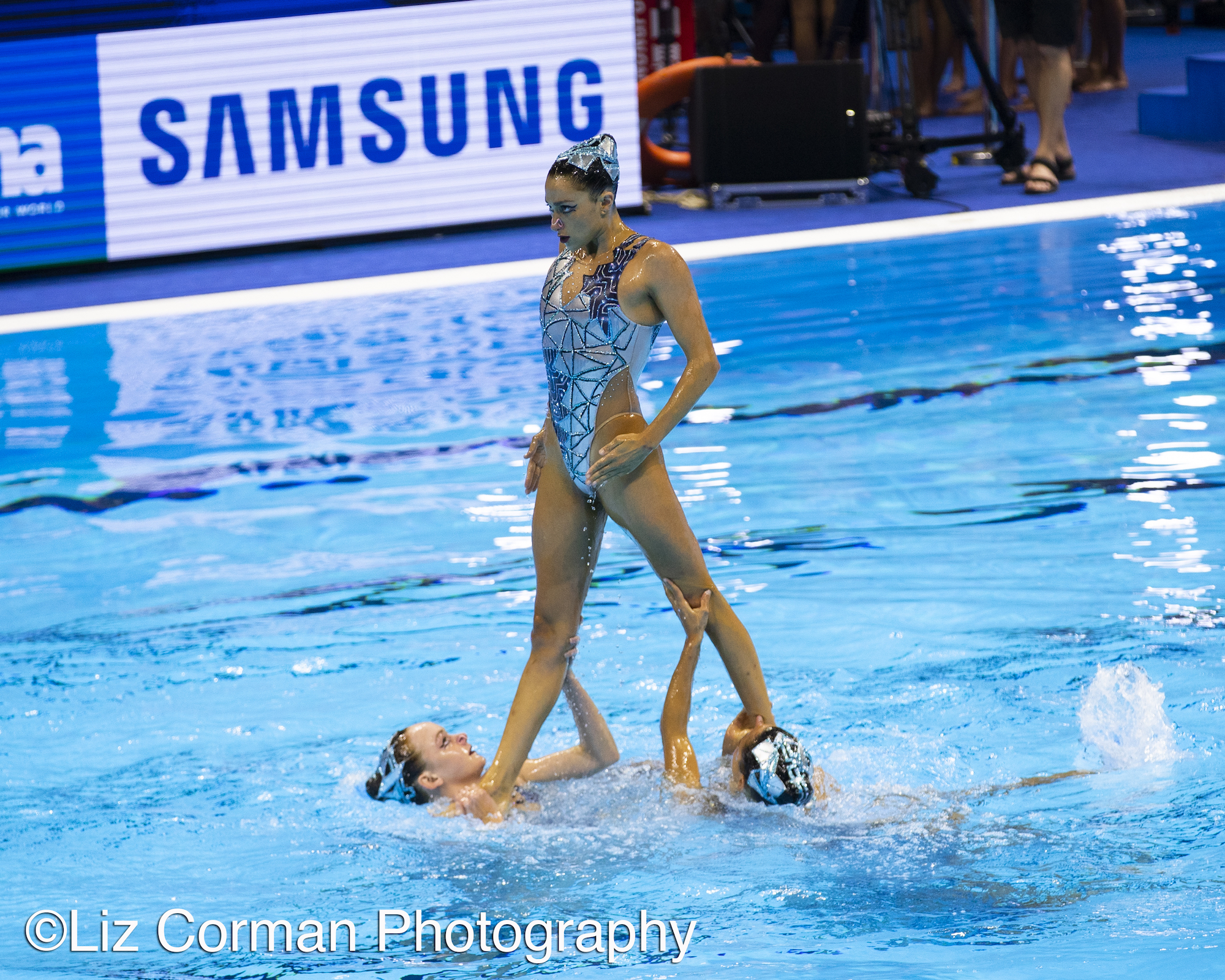 Israel was the last nation in this free team final, once again making history by being at its second-ever final at worlds – its first one being only a few days ago – and finished with 83.2667.
In the preliminary round, Australia and Egypt also earned their spots to the 2020 Olympics. The Egyptians finished 17th with a free score of 77.8333 and a combined score of 153.6684 to fill in the African continent quota. The Australians placed 22nd and scored 74.5333 in free, resulting in a combined score of 147.9783 to become the team for the Oceania quota, with a free routine choreographed by Giovanna Burlando, former synchronized swimmer and current technical director for Italy.
"We are really happy with how it went today," Emily Rogers from Australia said. "We had a lot of pressure, so we are excited. We wanted our best swim. We wanted our score to beat New Zealand, because then we would get our spot to represent Oceania in the Olympics."
Of note, Brazil received a two points penalty in the prelims because it had too many acrobatics movements in its routine. Once again, it has been a difficult championships for the Brazilians as they had to scratch their duet from the competition, and to replace Maria Clara Lobo Coutinho in all the team routines.
Canada, Mexico, the U.S. and Brazil are not on holidays quite yet after this competition. Brazil does still have to compete in combo tomorrow, but they all now head to the Pan American Games that start in a little over a week in Lima, Peru, for their own Olympic qualifier for the American quota.
Article by Christina Marmet
Cover photo by Giorgio Scala / Deepbluemedia. Do not use without permission.