The free combination event is now a thing of the past for the senior category at the FINA World Championships. 10 nations participated in this last competition, which Ukraine comfortably won. This is the nation's second World title after winning highlight in 2019.
The Ukrainians scored 95.0333 with their "Enchanted Castle" routine, which they had already unveiled at the last World Championships three years ago. Competing in her very first international competition, 14-year-old Daria Moshynska also became the youngest World champion.
Obviously, it hasn't been an easy season for the Ukrainians, who fled their country in March and have been training in Italy since. They withdrew from the technical team event earlier in the week but pulled through for this free combination routine. They are also set to compete in the free team and highlight in a few days, and are more than eager to win more titles.
"I feel even more responsibility towards our country and coaches because there are still very important performances ahead," Olesia Derevianchenko said. "This means that Ukrainians are really a strong and indomitable people, so the next victory should be the victory of our country. I am proud to be Ukrainian. Glory to Ukraine!"
Fresh from a historical silver in technical mixed duet earlier in the day, Japan kept the momentum going and earned another silver for its "Haunted House" routine. This is a new choreography, made by first-year head coach Nakajima Takako. It scored 93.5667 and delighted the home crowd.
For Nakajima, securing a medal here bodes well for the rest of the competition and the future of her young team: "Getting a medal here gives us confidence," she said. 
These were the first World Championships for six of the athletes swimming in this free combination routine, including the very first international meet for Higa Moe and Kawase Yuka. 
It was also a great day for Italian artistic swimming. After the technical mixed duet gold earlier in the afternoon, the nation earned bronze in this free combination event with a score of 92.0333. This is Italy's second World medal in a team event and 10th overall.
The Italians had not competed in free combination since 2019 and unveiled a new choreography. They portrayed the story of the great loves of Sultan Suleyman the Magnificent. This choreography was done by Russian Olympic champions Svetlana Romashina, Vlada Chigireva and Aleksandra Patskevich.
Overall, Italy is the sole nation in Budapest to enter all 10 events, a pretty impressive feat in itself. Linda Cerruti is set to compete in eight of them. Naturally, it was an emotional moment for the Italians, who could barely hold back the tears on the podium. It was also one of shared joy with the Ukrainian team, with whom they have crossed paths with in training over the last few months.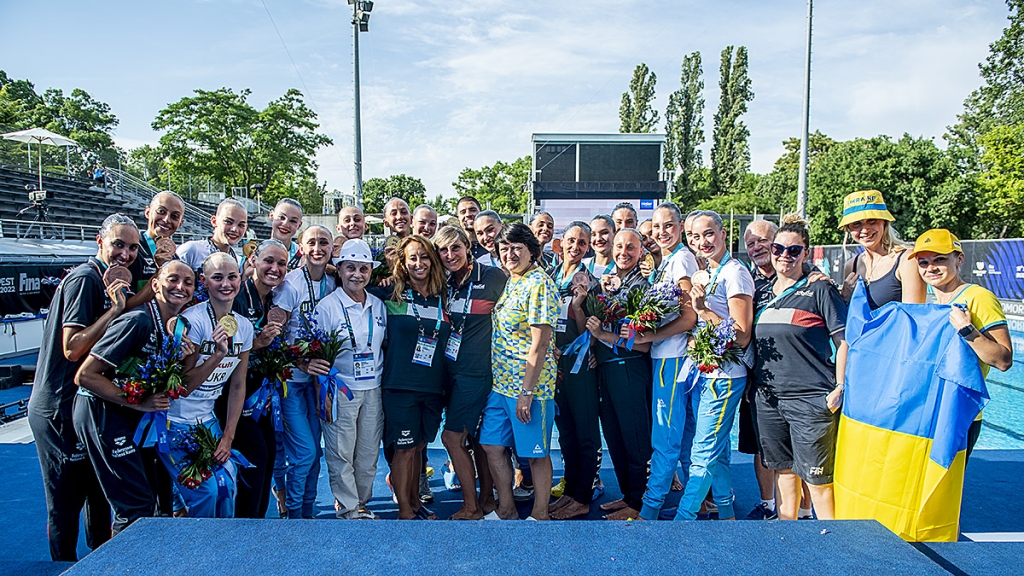 The top three was realistically unreachable after the preliminary round, with a four-point gap between Italy in third place and Greece in fourth.
The Greeks stayed in fourth place in the final with a score of 88.2000. They showed their "Africa" choreography, which had earned them silver at last year's European Championships. 
"I feel great satisfaction and pride for the fourth place that my team and I earned," Maria Alzigkouzi said. "It is a reward after a lot of work and a difficult year."
Since last fall, the team not only saw changes in its roster but also its coaching staff. Anastasia Goutseva and Barbara Lithadioti took over the reins but benefited from the returns of many veterans and Olympic team members, like Alzigkouzi, for this busy season.
For her, it also felt good to be back on the World stage again. A member of the senior national team from 2012 to 2015 and then again since 2020, she has already competed in two FINA World Championships in her career.
"I feel I have returned to my home," she added. "I'm very excited to be in this World Championship. By the time I stopped, I really missed artistic swimming and the competitions. It gives me great joy to be in such a big event again. I worked very hard to be able to return to the high level of competition that I was at before the break."
Israel returned to the free combination event for the first time since 2019. The Israelis placed fifth with 85.9667 for their new choreography to "Spanish Passion." This is the nation's new highest score in the event. 
Overall, Israel has just steadily progressed year after year since 2018, and don't seem to be stopping anytime soon. The goal at these World Championships is to qualify to every possible final, and is so far on the right track.
"We feel very good with our swim," Shelly Bobritsky said. "All of us enjoyed it very much, and we felt the energy of the crowd and our families that came to cheer for us. We couldn't believe we were so close to 86 points! Of course, we wanted to get this score, but we are very happy with the result and ready to give everything in the other events."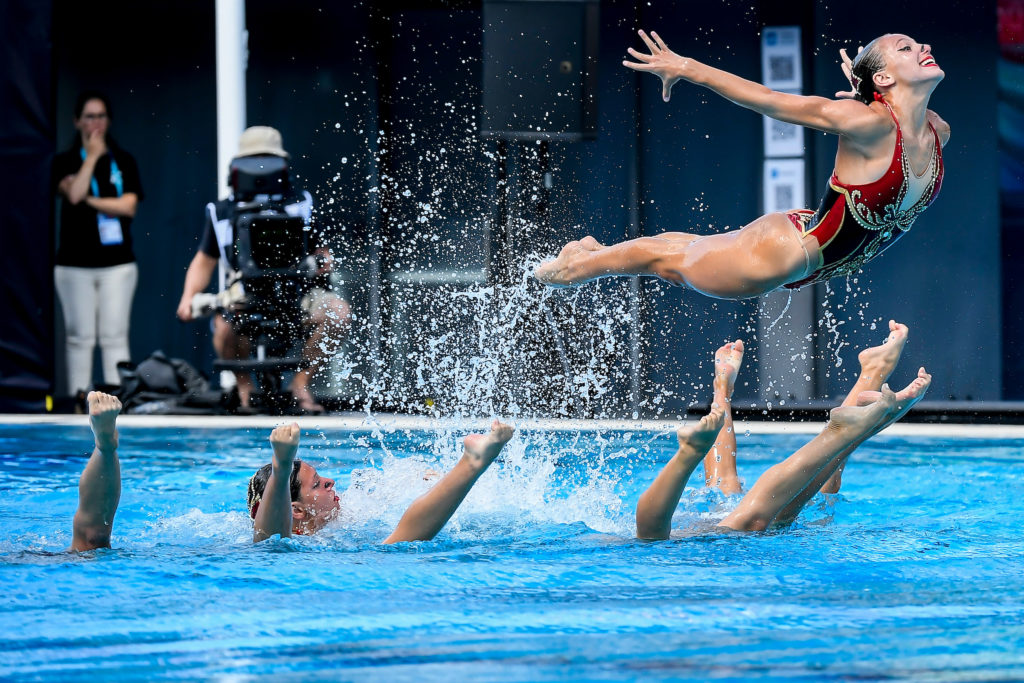 Great Britain ranked sixth with a big score of 84.6333. The team performed a Queen-inspired routine to commemorate the platinum jubilee of their own Queen Elizabeth II. The British have looked tremendously improved at these World Championships across the board so far.
The creation of a new High-Performance Center in Bristol last September has been key for the nation to be able to send a full team to Budapest and for the first time since 2013. The athletes now can train together year-round, which is clearly already paying off.
"Yes, we've had a lot of changes since the 2021 season," explained coach Katie Clark. "This is the first season with this team that we've had consistent time together due to that full-time training program. The athletes are from all over the country, but they have all chosen universities in Bristol so they can train together. So far, it's been a really great year. We've had our challenges, like every team, but we've used them to grow together, learn and progress. It's a young team; for eight of them it's their first-ever Worlds. Thankfully, we have had the experience of Kate [Shortman] and Izzy [Thorpe] to help lead the team, which has been brilliant."
Kazakhstan finished seventh with a score of 82.6333 for its Spanish dance routine. The battle for eighth was intense, as Brazil and Hungary were tied after the preliminaries. The Brazilians swam first in the final, displaying a routine going through the evolution of music from 1950 to 2000. They scored 80.3333, a great improvement from preliminaries, but it unfortunately was not enough to keep Hungary at bay.
The Hungarians had a great swim as well and pulled ahead in the final with a lead of 0.1334 points and a score of 80.4667. The swimmers screamed and jumped up and down as they saw their score, realizing they had finally reached the elusive 80 points and done so at home in front of their fans.
"The whole team and the whole Hungarian artistic swimming community are very happy right now," head coach Petra Arkovics said. "From the end of 2019, we started to build a new system in Hungary based on sport science and a lot of data processing about the routines of Gwangju. We wanted to improve in every aspect and tried to build our routines with objective difficulty. Today showed our hard work can pay off. Of course, we will keep working hard and try to improve as much as we can."
Thailand rounded out the field of competitors in this event, and finished 10th with a score of 68.5667. The choreography was to the theme of Peter Pan, as the athletes and coaches wanted to tell a story and get everyone involved.
It was fantastic to see Thailand as a team for the first time this season and since 2019. The nation was originally supposed to compete at the French Open in April, the second leg of the World Series. Sadly, a Covid-19 took out most of the swimmers as they were on a training camp in Italy. The country ultimately withdrew from all team events, and Thailand was only represented in solo and mixed duet.
"Paris was a very low point of the season," said head coach Claudia Tapparelli. "We flew to Italy two weeks before the French Open for a training camp. Three days later, one of the team members tested positive for Covid. And then, day by day, we had more and more. It was very hard to keep the team motivated, but we pushed through everything. We are so happy we are finally here at this World Championships! Thailand has never had so many routines. We do it, until the end!"
ARTICLE BY CHRISTINA MARMET
Cover photo: Deepbluemedia
If you've enjoyed our coverage, please consider donating to Inside Synchro! Any amount helps us run the site and travel costs to cover meets during the season.