In her seventh World Championships and 10th season as a soloist for Japan, Inui Yukiko made history and absolutely dominated the competition.
TECHNICAL SOLO
The first medals in artistic swimming at the 2022 World Championships were awarded on Saturday, June 18th, in the technical solo event.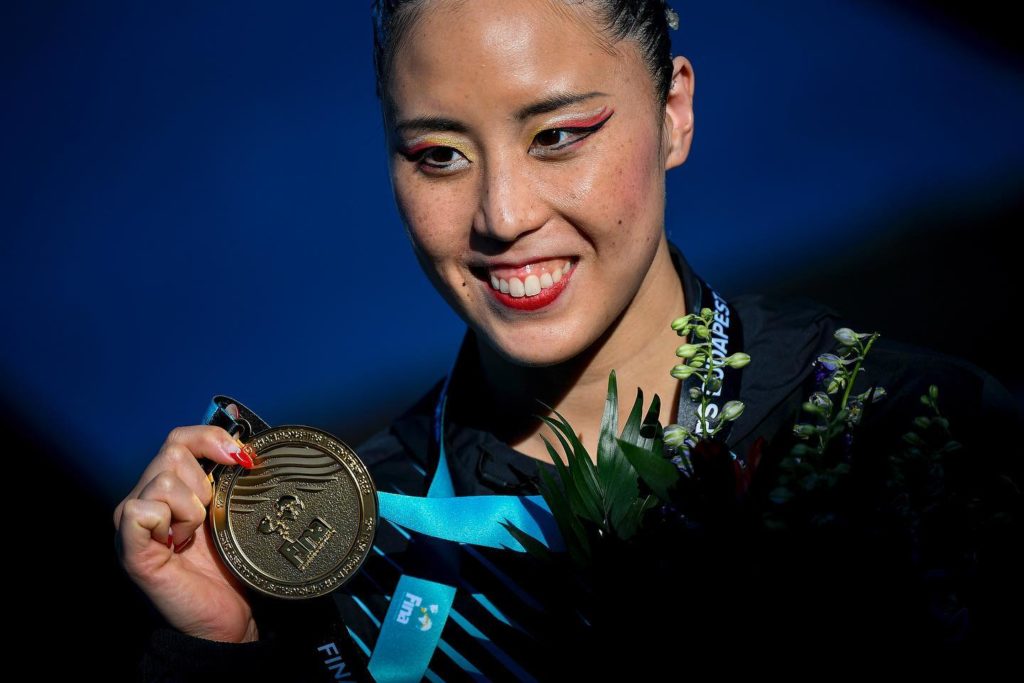 Inui Yukiko could not be denied as she won the nation's third-ever World title, first in solo, and the first since 2003. 
She was stunning, sharp and precise as she made every element look incredibly easy. The 31-year-old performed to "Legend of the Phoenix," a theme and music she has actually used before. She swam to this music back in 2017 in the free event and loved the piece so much she wanted to bring it back. Her score of 92.8662 is a new career-high for her.
"I've always felt the weight of the gold medal and it's a special feeling that I can finally hang it around my neck," she said. "I saw the gold medal that Japan won in the duet at the 2001 World Championships in Fukuoka. I had a dream that someday I wanted a gold medal. I'm glad I got it, and that people are happy with this result. I told myself this was the last time I was swimming this solo here, so I tried to do my best to not regret anything. I'm glad I got a higher score than I expected."
Marta Fiedina from Ukraine came in second to win her first World medal in the solo event. She scored 91.9555, a new personal best, with the same "Enchantress" routine that won her the European title last season.
"I won this medal for my country," she said. "It was very important to win it as I want the people all around the world to know that Ukraine is strong. I am really happy to be able to represent and build the legacy of my country."
The fight for bronze was incredibly close. After the preliminaries, Evangelia Platanioti and Linda Cerruti were only separated by 0.0088 points. Vasiliki Alexandri was right in the hunt as well, sitting in fifth and 0.7030 points away from Platanioti. 
Ultimately, Platanioti stayed ahead and won Greece's first-ever World medal, with a new career-high of 89.5110. She unveiled a new choreography in Budapest inspired by Sirens in Greek mythology. Through her routine, she depicts a creature half bird, half woman who lures sailors to destruction by the sweetness of her song.
"I am living a dream," she said. "I am very happy, and I keep crying. It's hard to realize what happened. It is historic. It is something I worked hard for many years, and it became a reality. I dedicate it to all Greeks. Words are not enough to describe this moment."
It wasn't a given for Platanioti as Cerruti had a good swim right before her, although both of them were ultimately shaky on their final element. Cerruti also unveiled a new program here, swimming to the "Gift of the Gods" by Two Steps from Hell. This routine was choreographed by Russian Olympic champion Vlada Chigireva. She received a new career-high score of 89.0142.
Austria's Vasiliki Alexandri also had a stellar outing in this event and is truly closing in on the two veterans. In the final, she scored a massive 88.9841, the best score of her career. She ultimately finished only 0.0301 (!) from Cerruti and 0.5269 from Platanioti. Most notably, she ranked third in the element scores. However, coming so close to the podium left Alexandri visibly disappointed as she received her marks.
Nonetheless, these three athletes have never been so close, and anything could truly happen at the European Championships in a few weeks. 
Anita Alvarez from the U.S. settled for sixth place, the nation's highest finish in the event since 2007. After a rather long wait, she received her score of 86.280, a new personal best. Alvarez had been limited this season due to a foot injury, and only started competing solo again at the World Series Super Final at the end of May.
"A career-best score always feels pretty good," she said. "I think I improved on a few things from prelims to finals, which I was hoping to do."
The fight was on for the swimmers ranked between seventh and 10th place after the preliminaries. Kate Shortman (Great Britain), Oriane Jaillardon (France), Joana Jimenez (Mexico) and Audrey Lamothe (Canada) were only separated by 0.6503 points.
Shortman was undoubtedly the most improved in the final, increasing her score by over 1.3 points. She hadn't competed in this event since 2019, and showcased a new routine set to Prince's "Purple Rain." She was remained steady and solid in each of her elements, while flowing from one to the next almost effortlessly. 
"I was really pleased with how it went, and I feel like I'm really progressing," she said. "From my first Worlds when I was 15 and ranked 12th, to now being 20 and ranked seventh, it feels like a big improvement which is always nice. The World Championship is my favorite competition because it's so inspiring to see all the other countries. This year, you can really feel the energy around the pool, and it makes me fall in love with the sport all over again."
Jimenez edged out Jaillardon for eighth place with a score of 83.8394. The Mexican woman is seemingly a human dynamo, arriving on deck with incredible energy and keeping a huge smile on her face throughout. She swam to "Joke's on You" from Birds of Prey. She had not competed in this event since the 2018 Central American and Caribbean Games.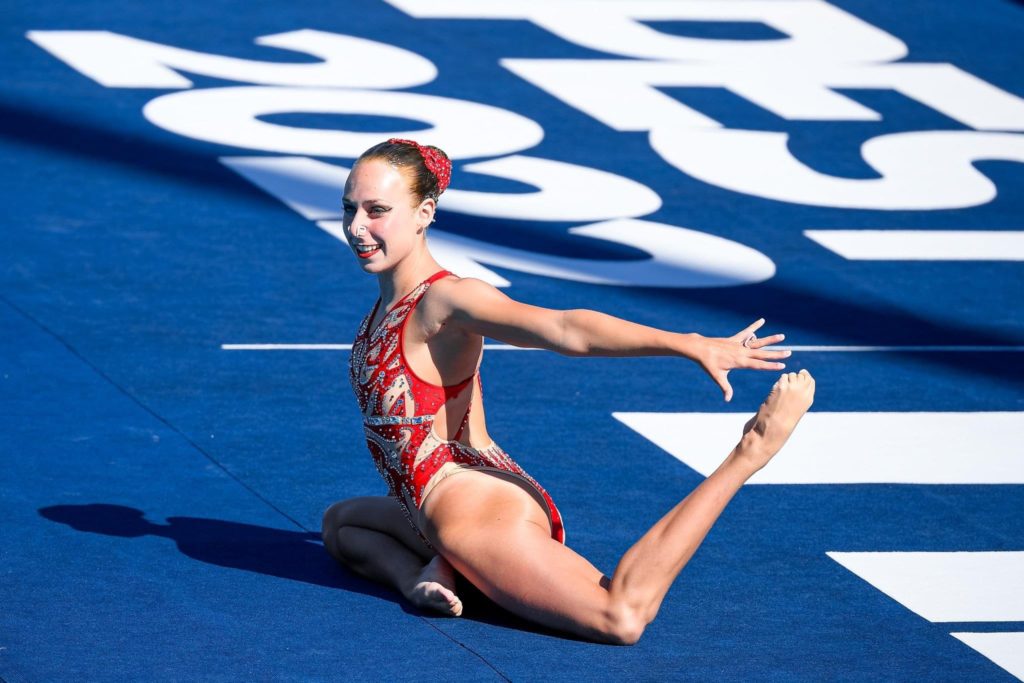 Jaillardon, the youngest of the field, held her own for her first time out on the World stage, and finished right behind Jimenez with 83.6865.
"I am still a junior and these are my first World Championships," she said. "So, I am very happy to be here and get things started for the French team. I was aiming for a qualification to the final, so I am happy I achieved that. This is very encouraging for the future."
Lamothe, also still junior-eligible, swam to Michael Buble's "Cry Me a River" for a score of 83.0909. Marlene Bojer from Germany and Lee Riyoung from South Korea rounded out the field of finalists. They respectively scored 81.4450 and 80.5294. South Korea had last qualified to a solo final back in 2009 in the free event, but this was the first-ever technical solo final for the country.
FREE SOLO
Once again, Inui Yukiko took command of the free solo event right from the start. She swam first in the preliminaries and earned 94.5667, a score none of the 27 other soloists managed to even come close to. 
In Budapest, she unveiled a new free solo routine inspired by Yamata no Orochi, the fearsome eight-headed snake in Japanese mythology. She cemented her name in the record books in the final with a massive score of 95.3667. With seemingly endless spins, sky-high difficulty and a sharp interpretation, she won her second gold medal in the competition, and fourth World title overall for Japan.
While Imura Masayo has retired from head coaching duties in the national team, she has continued to work with Inui on her solos this year. The two share a special bond that goes back 20 years, when Inui arrived to Imura's club when she was around 11 years old.
"[Imura] has been with me and has watched my practice through it all," Inui said with a smile. "She has taught me everything, so this gold medal is a way of giving back to her, as gratitude."
"At the end, she got tired, but 95 points is difficult to achieve," Imura said. "To become the No.1, you need to be strong and lucky. I knew her willingness to focus on solo, so I also decided to take on that challenge together. I wanted to help her enjoy her career, which she doesn't have much left of. As aa coach, I am happy."
Ukraine's Marta Fiedina won another silver with a score of 93.8000, swimming to "Daisy's Secret" by Havasi. It is the same music as last season, but she and her coach prepared a brand-new choreography for this year.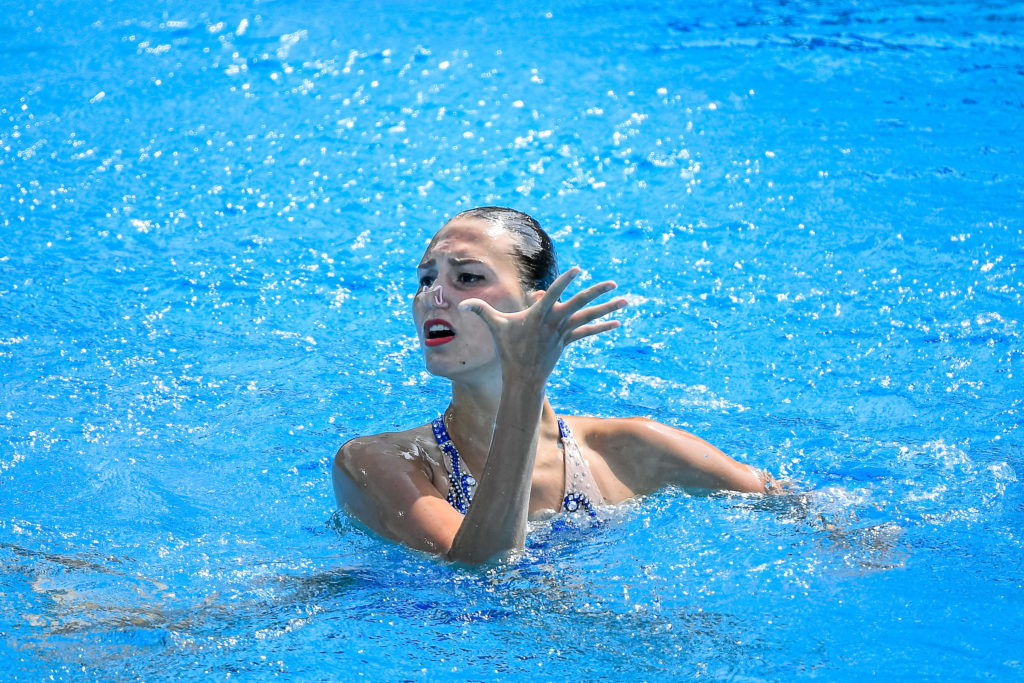 While Inui and Fiedina seemed hard to reach after the preliminary, the race for bronze was again a close one. Evangelia Platanioti, Linda Cerruti and Vasiliki Alexandri were 0.8333 points apart.
Once more, Platanioti came out on top and wrote her name in the record books for Greece by winning her second bronze medal in Budapest, and second World medal overall. She scored a new career-high of 91.7667, swimming to the same "The Show Must Go On" routine that had earned her bronze at the 2021 European Championships.
Platanioti took a short break after Tokyo and the heartbreak that came with withdrawing from the competition because of Covid-19. She wasn't even sure she would continue artistic swimming, but new head coach Anastasia Goutseva convinced her to stay. The two go back a long way and already made history together in 2009 as Platanioti won gold in solo at the COMEN Cup, ahead of Russia.
"One way or another life gives you back what you deserve if you have fought hard," Platanioti said. "We had a hard time during last year's Olympics and afterwards. I took a break and then thought about whether I should stop. I asked to abstain from the team events so I could focus on solo and duet, and [Goutseva] gladly accepted. In our conversations about whether I should stop or continue, I remember that she told me, among other things: 'Stay, don't stop and I'll make you global.' She didn't let me stop, and I thank her now. The impossible is possible."
Italy's Linda Cerruti finished fourth in the free event and was visibly disappointed upon realizing her score of 90.9667 would not be enough to pass Platanioti who had just swam before her. The Italian unveiled a new choreography, also created by Vlada Chigireva, set to "The Storm" by Havasi.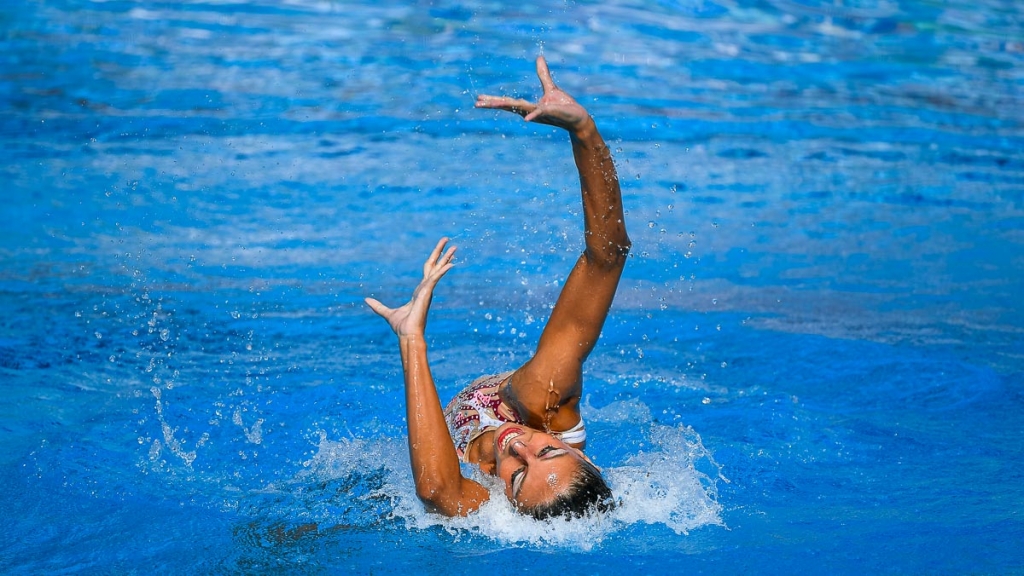 "I did better, but it's a shame about fourth place," she said. "In the preliminary I was behind in difficulty, so today we changed part of the routine to try to improve.  My opponents have also improved. Some even have fewer events than me, and therefore the possibility to concentrate more and be able to improve much more. But doing them all is my choice."
Indeed, Cerruti will ultimately compete 16 times in eight different events in Budapest. As for solo, she will work on changes and hopes to take that extra leap at the European Championships in Rome.
It will however not be an easy task as Vasiliki Alexandri from Austria is also in the hunt for that European podium. Just like in tech, she finished fifth with a career-high score of 90.1333. Her performance was truly enthralling, as she gave her all with her difficult and new choreography to the theme of "Nature." 
"It is a little bittersweet," she said. "I am very happy about my swims and finally reaching the 90s, but I am also sad because I really believe I deserved the medal. But the most important thing is that I had four of my best swims here. I also got amazing feedback about my technical and free solos. Everybody really loved them, even Virginie [Dedieu] told me. This coming from her tells me I'm on the right track. Many people also told me I really grew as an athlete, and that I am a completely different athlete. Now, I will continue working and fight for the medal at Europeans."
She had the difficult task of swimming right after Anita Alvarez from the U.S., who fainted again after her swim and had to be rescued. Naturally, the competition was delayed, and the stress and anxiety around the pool was palpable. It was near impossible for Alexandri to ignore it as she tried to stay warm in the last call room. 
"I knew what was happening with Anita," she said. "I had to wait so much. Normally, I have everything calculated down to the minute, from the warmup in the swimming pool to when I get out, how many start numbers before mine before I go in the call room, etc… I was very concerned about her. The woman who was in the call room with me didn't answer at all when I asked how she was doing. I was very stressed; nobody would tell me. I was like, 'Oh my God, what's happening?' I started to have some bad thoughts, like, 'What if this happens to me too?'  But I tried to concentrate and do my best."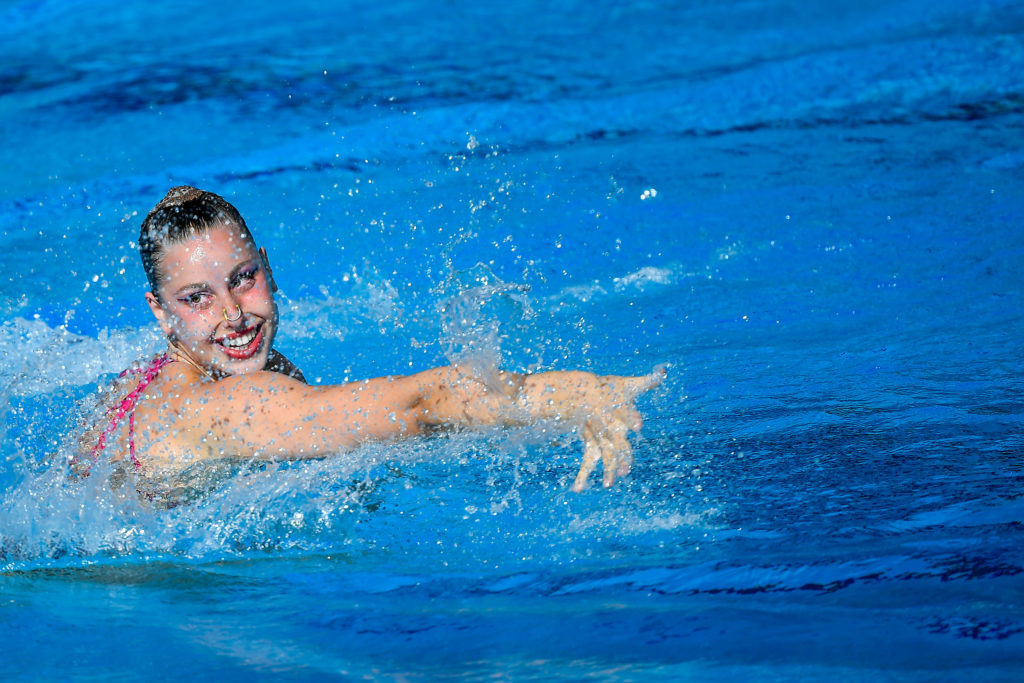 Spain's Iris Tio has steadily increased her free score throughout the season. She received 89.7000, only 0.4333 behind the Austrian. These were her first World Championships as a soloist, and she was simply soaking everything up.
"I'm very happy and satisfied with my performance as my first time as a World senior soloist," she said. "I improved a lot during the whole season, and I'm very proud of myself and with my performance. I was a little bit nervous at the beginning, but I did well in the end."
As mentioned, Anita Alvarez from the U.S. suffered a medical emergency at the conclusion of her swim. As soon as she finished, she sank down to the bottom of the pool. Head coach Andrea Fuentes quickly dove in the water to rescue her and was soon joined by one of the lifeguards. Alvarez already went through a similar episode last year at the Olympic Games Qualification Tournament. She is alright and is now resting. Ultimately, she finished in seventh place with a score of 87.6333.
Eve Planeix from France improved on her swim from preliminaries to inch a bit closer to the American with a score of ​​87.4667. At 17, Canada's Audrey Lamothe was this time the youngest competitor of the field. She came into Budapest, her first Worlds, with the goal of qualifying to the final, which she easily did. Ultimately, she earned a season-high score of 85.4000 to secure ninth place. 
Marlene Bojer from Germany, already at her fifth World Championships, swam to a cover of Taylor Swift's "I Did Something Bad." She was thrilled at her score of 84.2000, her career-high. It also marked an improvement of five points since her last time out at the World Championships and after not competing solo at all last season.
"I am super happy with today's solo final," she said. "The swim felt great and seeing the points afterwards was incredible. I chose this music because I love how the two women singing it reinterpreted the song. They have very characterful voices that make the song unique."
Switzerland's Ilona Fahrni also had a great swim and reached a new personal-best of 83.1000. While she competed last season at the European Championships, these were her first World Championships.
"Honestly, I am super happy to finally be here because we've been waiting for these World Championships for many years," she said. "I'm really proud to be here in the solo event. To score 82 points in preliminaries was already incredible, but to also make it to the final was the cherry on top. I took it all in and enjoyed the swim especially as this was my last one at these Worlds."
Finally, Karina Magrupova from Kazakhstan rounded out the field of finalists and received 82.0667, an incredibly encouraging score and a new career-high for the 18-year-old. 
During the preliminaries, Clara de Leon from Uruguay was particularly noteworthy in both solo events. She was the first soloist at a World Championships for the nation since 1982. Excitingly, she finished 15th in the free solo event out of 28 competitors, an incredible feat for the 19-year-old who topped the previous best-ranking of 21st.
"I am very happy with my performance in the World Championship, especially in my free solo," she said. "The music is flamenco, and it is a style in which I feel very comfortable. I think I have been able to demonstrate what I can do, and I am very satisfied with my swim."
Excitingly, Malta was represented at the World Championships for the very first time. The small island nation participated in both solo and duet events. 
"It's an honor to represent Malta for the first time in artistic swimming," soloist Ana Culic said. "I feel like I swam the best I could in my solos, but I'm looking to improve for Rome. It was also a great experience swimming in the same pool and learning from a lot of the top artistic swimmers."
"This World Championships have been nothing short of an amazing experience so far," added coach Michelle Hubner. "Being one of the youngest and newest teams on the world stage is surreal. We really wanted to show that the sport is growing extremely fast in Malta, and hopefully inspire the younger generation and keep the current one in the sport. Like Ana said, seeing the girls looking and training next to countries like China, Japan, or Ukraine is amazing. I hope this competition will show Maltese athletes that if they keep on working and dreaming, there is no limit."
ARTICLE BY CHRISTINA MARMET
Cover photo: Andrea Masini /  Deepbluemedia
If you've enjoyed our coverage, please consider donating to Inside Synchro! Any amount helps us run the site and travel costs to cover meets during the season.