For the first time in history, both duet podiums were dominated by sets of twins or triplet sisters. Wang Liuyi and Qianyi earned the two gold medals, followed by Maryna and Vladyslava Aleksiiva in silver, and Anna Maria and Eirini Alexandri in bronze.
TECHNICAL DUET
The technical duet final was the perfect illustration of the competition's motto: Make History. Between Austria winning the nation's first World medal to Israel and Germany making a World duet final for the first time, this event was full of memorable and record-books moments.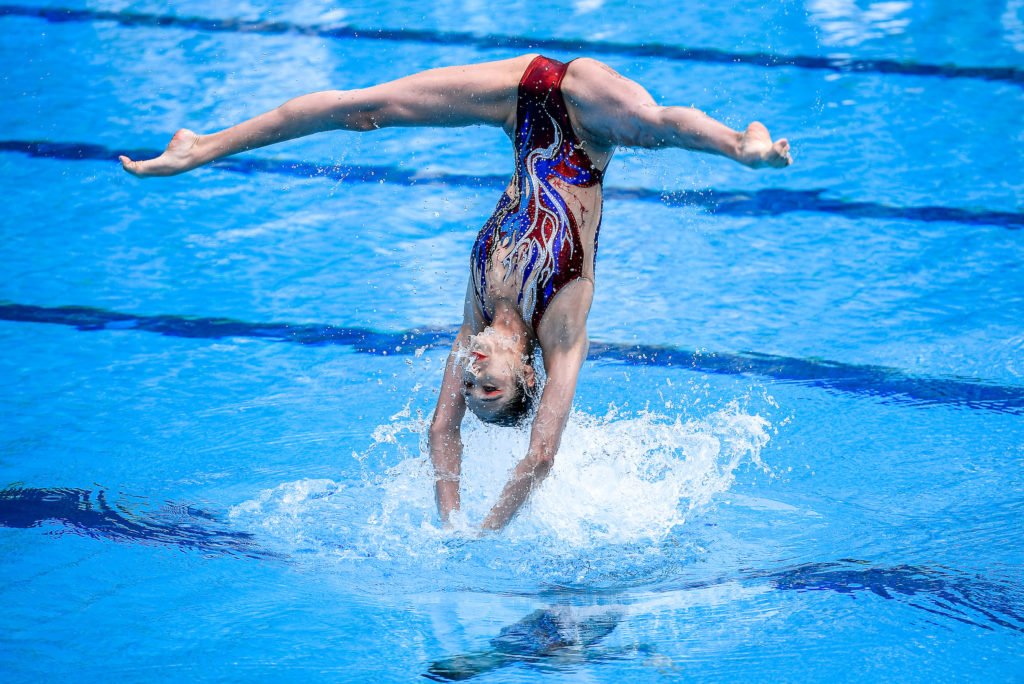 The duets from China, Ukraine and Austria grabbed the first medals in the technical event on Sunday, June 19. Wang Liuyi and Wang Qianyi from China were dominant right from the preliminaries and couldn't be beaten in the final.
The expectations were high for them coming in the duet after such decorated athletes as Huang Xuechen, the most decorated Chinese artistic swimmer, and Sun Wenyan, a five-time Olympic silver medalist. In this tech event, the Wang twins actually used the same music and mostly same choreography as them from the Tokyo Olympics. They had an impeccable swim and scored 93.7536 to win China's first World title in the duet event.
"We had a better performance in the final thanks to two days of training since the preliminaries, and I am very satisfied," Liuyi said. "Even though I was not able to participate in the Olympic Games, we always cheer for each other as long as one of us is participating in an event. It is an honor to represent the Chinese team in the duet event."
The twins were indeed particularly thrilled to be reunited for their first competition together since 2018. Qianyi is an Olympic silver medalist and 2019 World Champion in free combination, but Liuyi unfortunately missed both of these due to injuries. 
It wasn't as smooth of a final swim for Ukraine's twins, Maryna and Vladyslava Aleksiiva. The two had a good showing until the very last hybrid, where one of them got a bit lost and committed one synchronization mistake after the other. The Ukrainians had to wait a long time for their scores as the entire pool held its breath. 
Ultimately, their 91.8617 was still enough for silver. Like the Chinese twins, this was also their first time competing in duet on the World stage, despite having been part of the national team for years. 
Austria's Anna-Maria and Eirini Alexandri made history by winning the nation's first World medal in artistic swimming. The two were already in third place after the preliminary, but Japan was only 0.2575 points behind them. 
In the final, the sisters had one of their best swims of their lives with their Olympic "Warrior" routine. They scored a new personal-best of 91.2622, four points higher than at the last World Championships and nearly a point more than in Tokyo. Most notably, they increased the gap with Japan by 1.3178 points.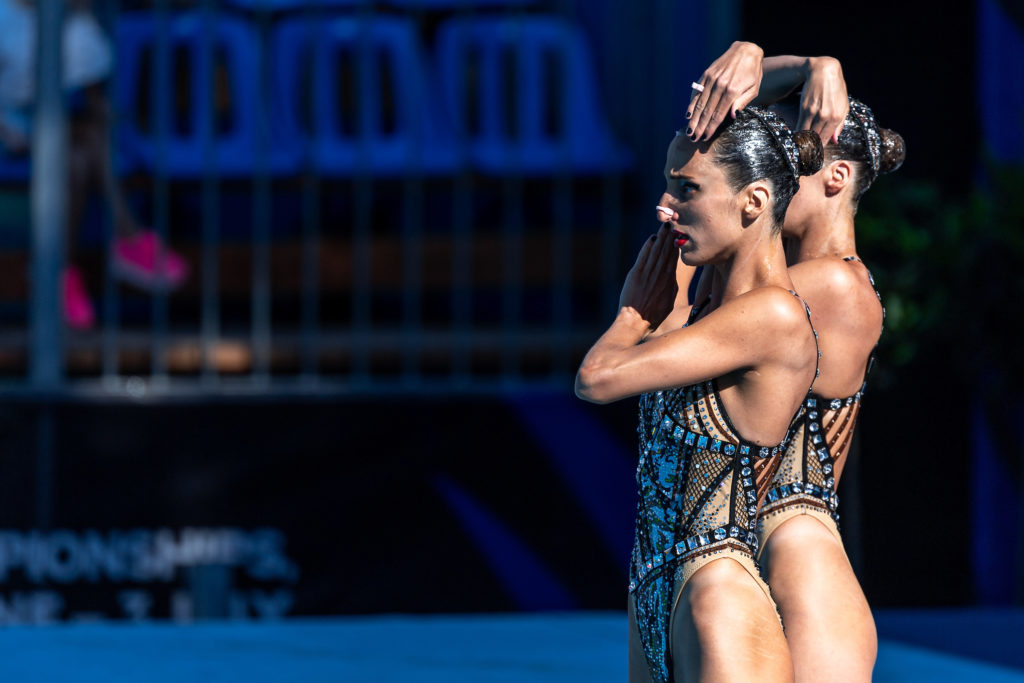 "We can't believe it, we are so happy," they said. "We have worked so hard for so many years. If you had asked us some years ago if we believed that we would achieve it, we would have said no. It was always a dream and now it's the reality! We are like… empty of thoughts because we are so happy. It's surreal. We will realize it later."
Japan swam right after Austria. The nation only competed in this technical event, and was represented by the new pair of Higa Moe and Yoshida Megumu, and only competed in the technical event. While Yoshida is a 2020 Olympian, this was Higa's very first international competition, ever. Certainly, the 14-year-old handled the pressure well.
Their "Female Swordfighter" duet scored 89.9444, a bit lower than in preliminary and a score that was ultimately not enough to overcome the Austrians. 
On the contrary, Linda Cerruti and Costanza Ferro from Italy improved from the preliminary round. They performed their new routine choreographed by Olympic champion Svetlana Romashina and set to the song "A little party never killed nobody" by Fergie, Q Tip and GoonRock. In the end, they scored 89.8733, 0.0711 points behind Japan.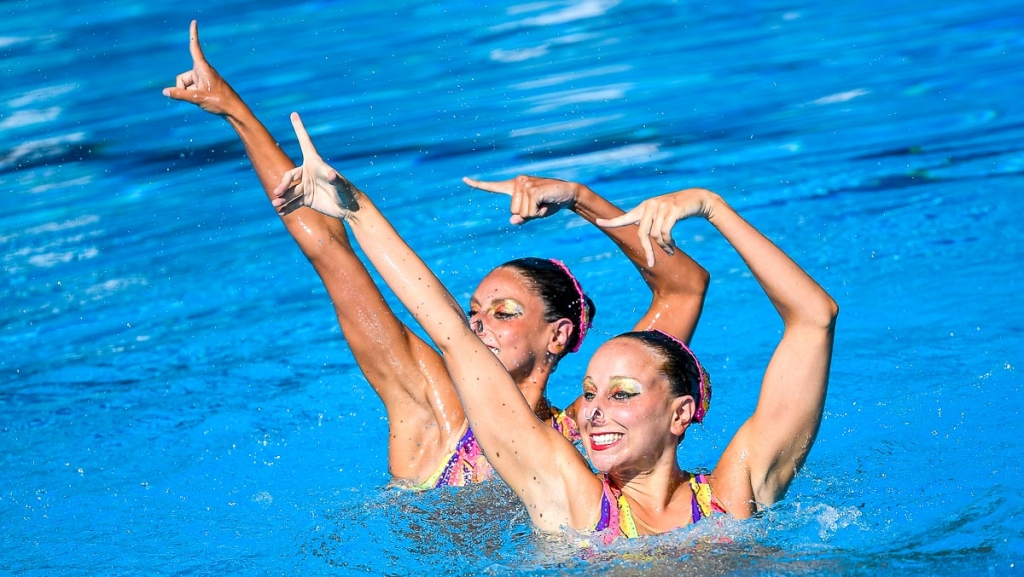 "Before the event, we were telling each other that we have been swimming together for more than 20 years now and that we still have that same desire to train and compete," Ferro said. "Seeing that we are behind Japan by less than a tenth of a point saddens us a little bit but also motivates us to work and do better."
Scores were quite close after the preliminaries between Mexico, the Netherlands and the U.S. pairs, with only 0.0879 separating the three. The Mexicans Nuria Diosdado and Joana Jimenez nevertheless pulled ahead in the final and placed sixth with a new personal-best score of 87.1936. They kept their "Maniac" Olympic routine, and were absolutely thrilled at their score.
Anita Alvarez and Megumi Field from the U.S. had a shaky swim in prelims, with a few obvious synchronization mistakes and wobbly elements. The Americans nonetheless improved tremendously in the final to score 86.4262, nearly a point better. This competition marked the return of Alvarez in the duet event since the Olympics. Their routine was set to "1944" by Jamala, and was a tribute to Ukraine, the home country of their coach Anna Voloshyna.
The new Dutch pair of Bregje de Brouwer and Marloes Steenbeek couldn't quite keep up with this American resurgence and settled not so far for eighth place with a score of 86.1420. This is still a tremendous finish for the nation, which missed the World Championship final last time out in 2019.
"It is a great satisfaction seeing these two swimmers get to the final in a World Championships and finish no less than eighth," said head coach Esther Jaumà. "Still nine months ago, we weren't even capable of thinking of such an achievement, but we have done it. I am very proud of my little team of swimmers."
Kate Shortman and Isabelle Thorpe from Great Britain competed for the first time this season here. They have only ever swam together as a duet and from a very young age, so it was a special moment for them to share their first World Championships final. They earned 84.9751 for their Olympic "Vampire"-themed routine, enough to keep their main rivals from Israel at bay. 
Eden Blecher and Shelly Bobritsky indeed weren't far behind with a score of 84.2990, also with their Olympic choreography set to Indian music. Most importantly, they were the first duet from Israel to ever qualify to a duet final at a World Championship. 
"We are very happy with our technical duet swim," they said. "We gave everything and we enjoyed it a lot. Being the first Israeli duet to qualify for the World final is very exciting. We feel honored to be able to represent our country in this event."
Germany and South Korea rounded out the field of finalists. It was actually a pretty incredible feat for Germany, as it had never qualified to a duet final as a unified nation before. The last time the country did so was in 1978 but as West Germany. 
Marlene Bojer and Michelle Zimmer received 82.7570 in the final, but were particularly thrilled in the preliminary rounds upon understanding what they had just done. 
"We are so, so happy,"  Zimmer said. "First, Marlene qualified for the technical solo final for the first time in nearly 10 years, so that was a perfect start for us as a German team. But then to qualify also in technical duet was so great. To be the first ones from Germany to do that at Worlds makes us so happy. It perfectly fits the motto of this competition, 'Make History'."
It was also a fantastic feat for South Korea, which was ranked 31st  at the last World Championships. This is the first duet final for the nation since 2005, where back then both technical and free events were combined. Hur Yoonseo and Lee Riyoung ultimately scored 80.3069, a new high for them and the highest for the country since 2012. 
"We've been preparing for our new work for about six months," Hur said. "I'm so happy to make it to the finals. This is my first World Championships, so I've been very nervous and moved. But it's good to be here as it is an opportunity to watch other countries and find out where we are at."
Overall, it was quite fascinating to see the changing dynamics since the last World Championships in 2019, where Germany was 20th, Israel 19th, Great Britain 14th and the Netherlands 13th.
In the preliminaries, Jasmine Verbena and Jasmine Zonzini from San Marino also had a noteworthy progression in the last three years. Since their first World Championships in 2019, they improved by four points and jumped up 19 spots in the rankings.
"We are finally satisfied with our swim in the tech duet," they said. "We felt really good, and we had a lot of fun swimming that routine in that amazing pool. In 2019, we finished 33rd and now we're 14th in the world! It's incredible for a small state like San Marino. We are proud of what we have been doing during these years, and are motivated to do better."
Finally, Uruguay had a duet for the first time ever at a senior World Championships. The last time the nation was even represented at this meet was in 1982 in solo. 
Clara de Leon and Agustina Medina previously competed in duet at the junior Pan American Games last December. The former also swam at the 2018 FINA World Junior Championships in solo. In Budapest, they only entered the technical event and finished 22nd. The two were absolutely thrilled to be on the biggest international stage.
"We are very excited for this experience," they said. "To just be here and compete with the best synchronized swimmers of the world is a great pleasure for us and our country. Our goal was to exceed our score from our last international competition, and we did it! To be able to show the effort and work that we dedicated during this time makes us stronger and more motivated to continue this process."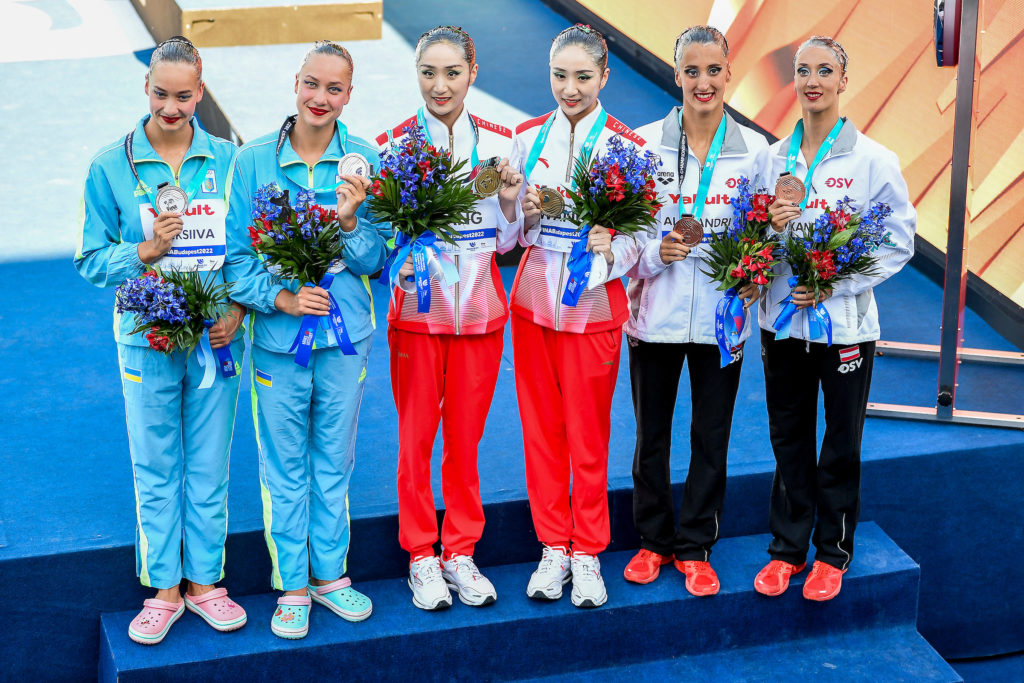 FREE DUET
The free duet final occurred on Thursday, June 23, and the podium simply repeated itself. However, it wasn't necessarily a given win for the Wang twins after the preliminaries. Indeed, the Aleksiiva twins from Ukraine were only 0.5567 points behind them.
Nonetheless in the end, Wang Liuyi and Wang Qianyi simply could not be caught in the final. Like in the technical event, they inherited the "Snakes"-themed routine from the Olympic duet and performed it incredibly well. They scored a 95.5667 and clearly showed the nation intends to remain at the top of the leaderboard in this new Olympic cycle. 
"I feel very happy and excited to win the third gold medal for the Chinese artistic swimming team," Liuyi told Xinhua following the final. "The help of the coach and the encouragement of our teammates have given us a lot of motivation. We have overcome fatigue and various difficulties. I did very well today, and I'm satisfied with my performance."
"This is the first time for us to compete in both the duet and the team events, so I felt a little bit of pressure," Qianyi said. "In spite of fatigue, we were able to withstand this pressure. I feel very happy."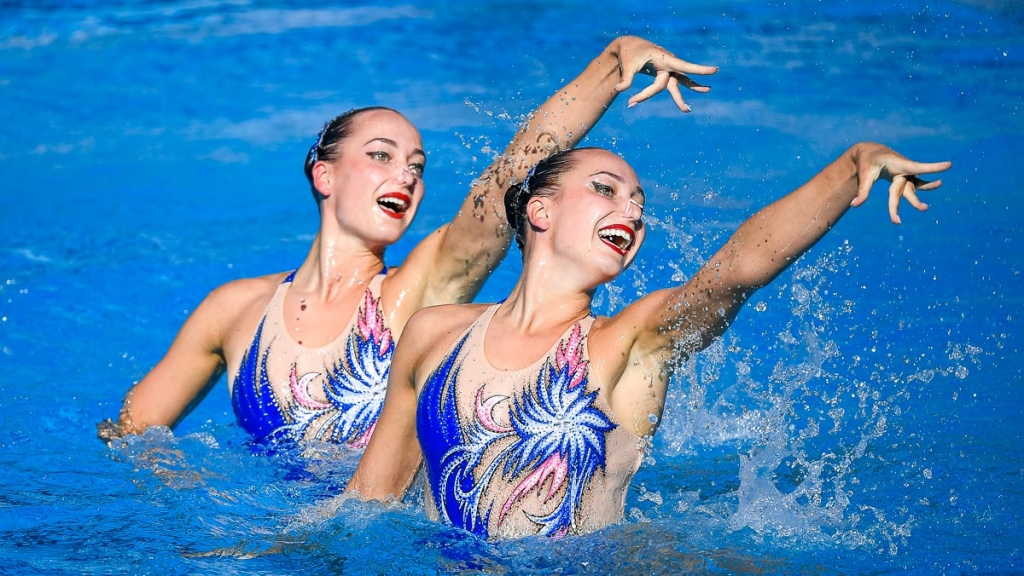 Ukraine's Maryna and Vladyslava Aleksiiva received a 94.1667 and won another silver medal. When asked what their goals were for the future, their answer was unequivocal: return to Ukraine in peace. 
"We tried to represent our country at the highest level and to show all the power and strength of the Ukrainian people," Maryna said. "It is a great honor for us to defend the country on the sports' front."
The Austrian sisters Anna Maria and Eirini Alexandri were again brilliant and secured their second bronze medal of these championships with their "Evil Dolls" routine. Their score of 92.8000 is a new personal-best for the triplet sisters, who have had a stratospheric rise since the last World Championships. Indeed back in 2019, they ranked 10th and scored 5.700 points lower. 
Italy's Linda Cerruti and Costanza Ferro showcased their new "Robots" choreography to earn 91.3333. Just like the free combination routine, this choreography was done by the trio of Russian Olympic champions of Vlada Chigireva, Aleksandra Patskevich and Svetlana Romashina.
Although they did not compete in the technical event, Tokyo Olympians Alisa Ozhogina and Iris Tio from Spain made their season debuts in Budapest in the free duet. The two unveiled a new flamenco routine, quite a staple theme in the Spanish squad over the years. They displayed a fast-paced, difficult routine with tremendous, sustained height throughout many hybrids. 
In the final, they received 90.6667, a two-point improvement since their last outing at the Games. This performance bodes well for their future together as they inch closer to Italy.
Greece introduced a new duet with three-time Olympian Evangelia Platanioti now swimming Sofia Malkogeorgou who returned to the national team this season. She last competed internationally in 2018 as part of the team routines. She also swam in the duet for Greece at the 2016 World Junior Championships.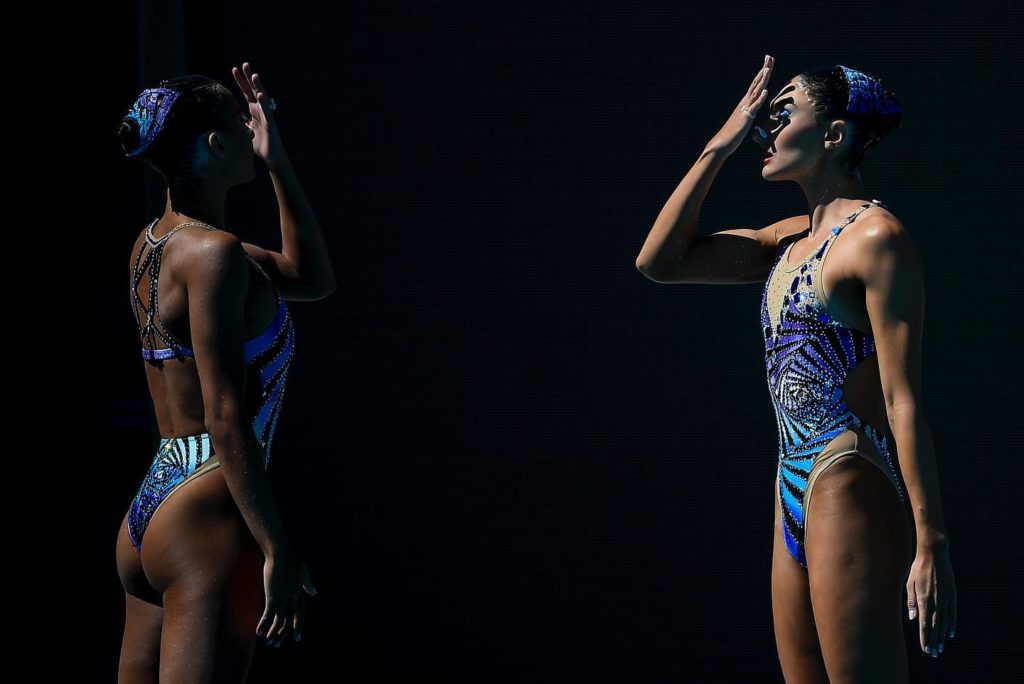 The Greek only competed in the free duet here and were particularly impressive already with their "Illusion" routine. With this choreography made by Olga Pylypchuk, they received a massive 89.7000, already tying the best-score that the previous pair of Platanioti and Papazoglou only reached once over eight years together. 
"We really love the duet," coach Barbara Lithadioti said. "I think it was a really, "Wow" performance, and you can see it from the scores. This was their first time together, so I think people didn't expect us and we were a big surprise. We are very happy."
After the preliminaries, Mexico's Nuria Diosdado and Joana Jimenez looked safe and settled in seventh place. Like many returning Olympic duets here, the two kept the same routine and theme as in Tokyo. They received 88.0333, tying their personal-best together.
Bregje de Brouwer and Marloes Steenbeek from the Netherlands ended their first World Championships together with an eighth-place finish and a score of 87.4667. They swam to "Galaxy Dreams," the Olympic routine Bregje and twin sister Noortje did in Tokyo. Like in the technical event, this is a great finish for the nation, especially as it barely missed out on the final at the last World Championships.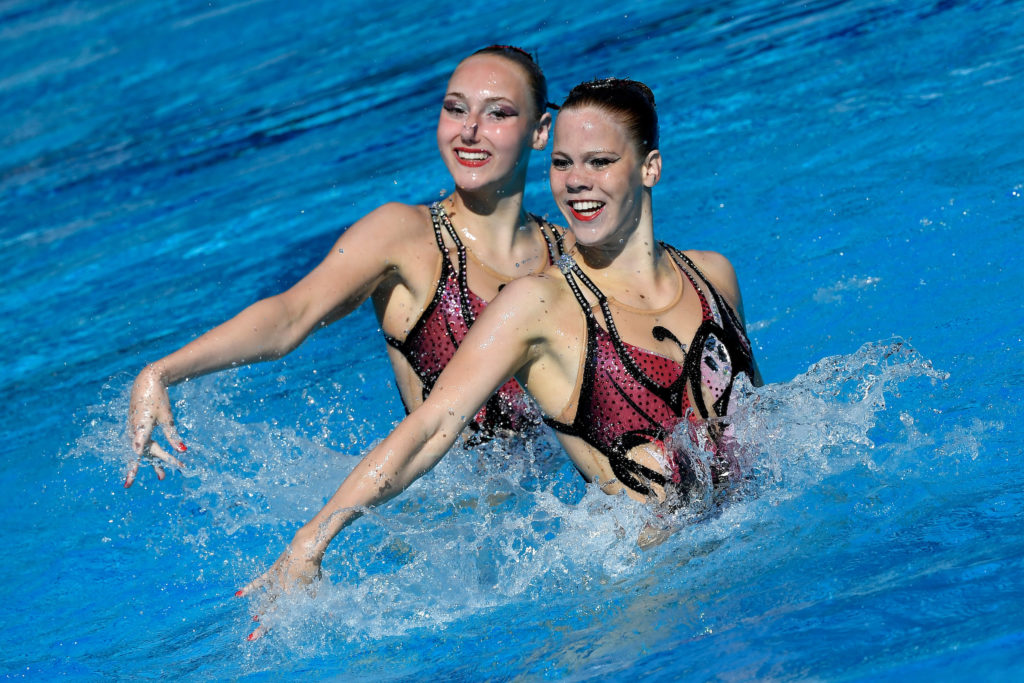 It's overall an incredibly busy season for Steenbeek. While de Brouwer will enjoy a short rest before the European Championships, the 17-year-old is now headed straight to Spain for the European Junior Championships that already start on Wednesday. Then, she will meet de Brouwer in Rome, before flying to Canada for the FINA World Junior Championships. 
"I am really impressed with her," said head coach Esther Jaumà. "The last 'normal' season she had was her last Youth year. Last year, we were lucky to be able to prepare for the European Junior Championships in Malta in between lockdowns. Now, I'm trying to give her all the experience she has lost these last two years. She's just almost jumped from the youth to the senior level. It's crazy!"
The U.S. pair of Natalia Vega and Megumi Field finished ninth with a score of 87.0000 for their Troyboi routine. This is their first season swimming duet together, although Vega has already competed in the team event in the 2017 FINA World Championships and in mixed duet in 2019.
"That was our best competition swim," Field said after the final. "I am proud that we were able to show that to the world. The whole time, we were thinking about this being the last swim of the year, so it helped us push through to the very end and keep the energy up. We are super excited for next year."
The two dedicated that swim to their duet training partner and teammate Anita Alvarez, who fainted the day prior in the free solo final and is now recovering.
"Yes, we also wanted to uplift the energy from yesterday," Vega said. "We also want to swim for her and to let her know we love her so she can feel all the positive energy going towards her."
Both duets from Israel and Great Britain showcased their Olympic routines from last season. 
Eden Blecher and Shelly Bobritsky swam their "A New World" routine and received 85.6000 to finish in 10th place. Then, Kate Shortman and Isabelle Thorpe performed their "Tango" routine for a score of 84.8667 and an 11th-place finish. 
The last finalists were Marlene Bojer and Michelle Zimmer from Germany. They ranked 12th with their "Climate Change" routine and a score of 82.9333, just shy of their personal best. 
Overall and across both events, these three pairs made history for themselves and their countries by qualifying to their first World Championships finals here. Like in tech, this was the first World final for Israel in the free event as well. Similarly, it was another historical finish for Germany, which had never made it to finals as a unified country before.
All three will compete again in a few weeks at the European Championships in Rome and look to improve on their scores there.
ARTICLE BY CHRISTINA MARMET
Cover photo: Andrea Masini /  Deepbluemedia
If you've enjoyed our coverage, please consider donating to Inside Synchro! Any amount helps us run the site and travel costs to cover meets during the season.