The team events were undoubtedly amongst the most exciting ones at these World Championships. Many nations competed for the first time this year, or even in many years, while some unveiled highly-anticipated new choreographies. All in all, 18 countries participated in the technical event, and 20 in the free. 
Overall, China cruised through both technical and free events and won two more World titles. Previously, the nation had only won once in the free combination event in 2017, and will this time leave Budapest with four more golds.
TECHNICAL TEAM
Before the preliminary round, Ukraine unfortunately scratched from the event. Obviously, it's been a rough year for the Ukrainians, but it's simply been fantastic to see them here, even though they all are obviously deeply affected by what's happening in their country.
After the preliminary round, China, Japan and Italy seemed fairly set in the top three and hard to beat, especially as France stood in fourth place with a three-point deficit. This was the first outing of the season for all four of these nations.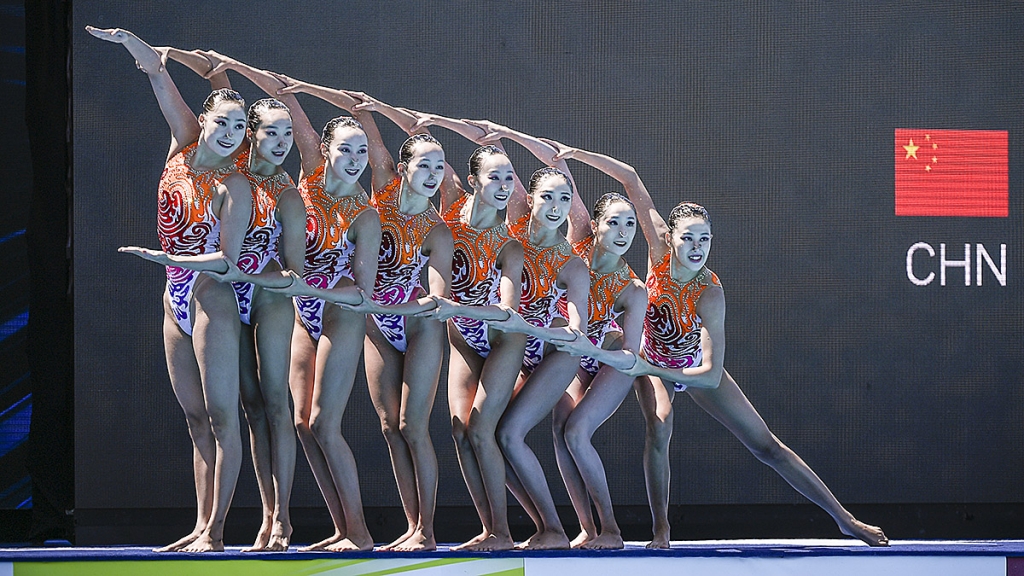 The final wrapped up on Tuesday, June 21. China was undeniable and won with a score of 94.7202 for its "Chasing Dream" choreography, the same routine as in the Olympics. The nation clearly didn't skip a beat after Tokyo despite only having three returning Olympians in its roster. 
"This is a historic moment," head coach Zhang Xiaohuan told Xinhua. "We've never won the team technical gold in a FINA World Championship before. This is definitely a big breakthrough since China's artistic swimming team was founded in 1983." 
For the silver medal, Japan unveiled a new technical program here to the theme of "Vampires," and scored 92.2261. Then, Italy won bronze with a 91.0191 for its Olympic choreography to the theme of "Superheroes."
"It's a medal that means so much and that we will carry in our hearts for the rest of our lives," Linda Cerruti told the federation. "This World Championships is giving us deep and indescribable emotions. After the free combination, this is a second great satisfaction that repays us for the many hours of work, and which we truly deserve."
France finally got to compete in-person as a team for the first time this season. They kept the same choreography as last year and scored 88.3558. The nation finished fourth, a standing not reached in over two decades.
The core of this team is tremendously experienced, and has already gone through a handful of World and European Championships together. This was however the first Worlds for junior athletes Oriane Jaillardon and Romane Lunel.
"We are so happy," Maureen Jenkins said. "Our work is finally paying off, and we got our revenge on [last year's] Olympic qualifiers. We are so proud to have left our mark on the history of France. Today, we approached this final quite serenely. We worked a lot and really wanted to show what we were capable of. And we did it, so what more could we ask for?"
It hasn't been a smooth ride for the French over the last two years. After participating in the first virtual World Series earlier this year, they then withdrew from both the French Open and the Super Final at the last minute. Besides, 2021 was just as rocky. They entirely missed the European Championships, and then two of its top athletes suffered major injuries shortly before the Olympic Qualification Tournament. 
"Yes, we have been going through many problems for the last two years," Charlotte Tremble said. "But we have a great support system, and are very well surrounded by our families and friends. Plus, our mental performance coach helps us accept the blows. We work on accepting everything when it gets hard, when we get knocked down, but we also learn to bounce back quickly and focus on the positive and the performance again. We came here wanting to show we were a strong team, and I think we did."
Greece ranked fifth with its "Cats" routine and a score of 87.2261, only shy of its Olympic qualifiers score. The nation has also had its fair share of bad luck last year. In 2021, it had qualified to the Games but never actually got to compete due to a Covid-19 outbreak within the squad. 
Despite the unimaginable heartbreak, six of the Tokyo team members continued on, and five of them swam the team routines here. Naturally, they all were eager to finally show their Olympic routines to a wider audience. 
"The situation we experienced last year in Tokyo was very bad," Maria Alzigkouzi said. "A hard preparation of many years was lost, and a wonderful dream did not come true. We left Greece for Tokyo full of joy, optimism and pride, and returned sad, hurt and disappointed. I really felt what defeat meant. I still feel hurt, and I am still trying to get over it. Nevertheless, life moves forward. Difficulties exist for us to overcome them and become stronger. Life goes on, and the best is yet to come for us."
The U.S. performed its Michael Jackson routine for the final time this year and earned 86.9907, its best score of the season, for sixth place. Israel was in eighth place after the preliminaries but moved up to seventh in the final thanks to its new team-high of 84.5315.
"After the preliminaries, we saw that we were very close to move one place higher," Shelly Bobritsky said. "So that became our goal. We are very happy that we succeeded, and when we saw our score! As a team we have been through a lot, so to see that our work pays off is really exciting."
Canada ranked eighth with a score of 84.4817. The nation faced a massive turnover since the Olympic Games, and this was the first World Championships for all athletes but one. Additionally, Rosalie Boissonneault was the sole returning Olympian on the squad, but ultimately could not compete in the technical event due to a last-minute injury. The team was also hit by a second injury to Alicia Rehel. Consequently, reserves Sydney Carroll and Claire Scheffel stepped up to the challenge.
"These World Championships have been a very good learning experience for our team," Carroll said. "We started training together in January and are consistently taking steps in the right direction. While warming up for the final, we had two fluke injuries which caused both athletes to not be able to swim. With our team's support and resilience, we were able to adapt as myself and teammate Claire stepped into these spots. We once again made a big step, coming together and performing as a team."
However, Canada ultimately had to withdraw from the free team event.
Great Britain finished ninth with a score of 82.5264 for its new "Dragons" routine. The theme was inspired by the legend of Saint George and the Dragon. The nation had not competed as a team at a World Championships since 2013, so it was fantastic to see it back and looking particularly improved. This score is already a nearly three-points improvement since the team's last competition at the 2021 European Championships. 
Switzerland, Kazakhstan and Brazil rounded out the field of finalists. Kazakhstan looked tremendous across the team events in Budapest, and its score of 81.2713 here is its highest since 2013.
It was particularly exciting to see Portugal as a team for the first time ever at a World Championships. The last time the nation competed in the technical team event was at the 2016 European Championships, where it scored 68.2817. In Budapest, the Portuguese finished 13th and were outstanding, earning a score of 75.6638, a huge and obvious improvement since its last time out.
"We are super happy, and we didn't expect to dream so high," said head coach Sylvia Mendizabal. "We had to choose a good strategy to get the best results in a short time. So we analyzed the strengths of our swimmers and they had a very nice technique, so we focused on the technical team. We worked a lot online at the beginning of the season, and did swimming, ballet, and all the disciplines around artistic swimming. Then in training camps, we made a big effort to put it all together and this is the result! We are super happy that we could reach that high."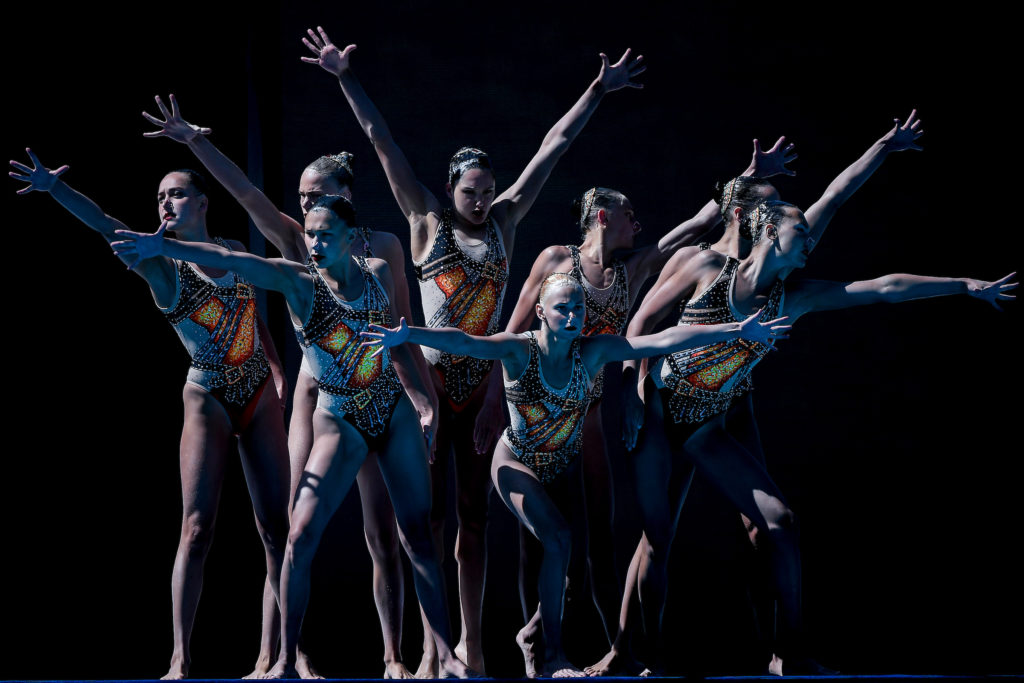 FREE TEAM
The free team event was undoubtedly the most anticipated event of the competition as it included Ukraine and Spain, and Japan, France, Mexico and the U.S. unveiled new choreographies.
In the preliminary round, China, Ukraine and Japan took the top three spots with scores that seemed difficult to reach in the final. In the end, the podium indeed didn't change.
China delivered a stunning performance once more in the final to score 96.7000 with its Olympic "Ode to Heroines" routine.
"The enemy is ourselves," head coach Zhang Xiaohuan told Xinhua. "I asked them to deliver their best. We had really hard training in the past seven months, and it's all deserved." 
Ukraine took silver with a score of 95.0000 for its Olympic choreography, "Team of the Brave,"  a remarkably appropriate and relevant theme this year.
"We are very happy that we were able to come to the World Championship at all after such a difficult situation," Maryna Aleksiiva said. "And we are very grateful to all countries and athletes for their support. For us, it is very important."
With a score of 93.1333, Japan took the bronze here with its new "Chess" routine. While the Japanese were happy to bring another medal back home, they recognized more work lies ahead if they want to move ahead of the Ukrainians. Head coach Nakajima Takako only had one thing to say: "We have to train more and more."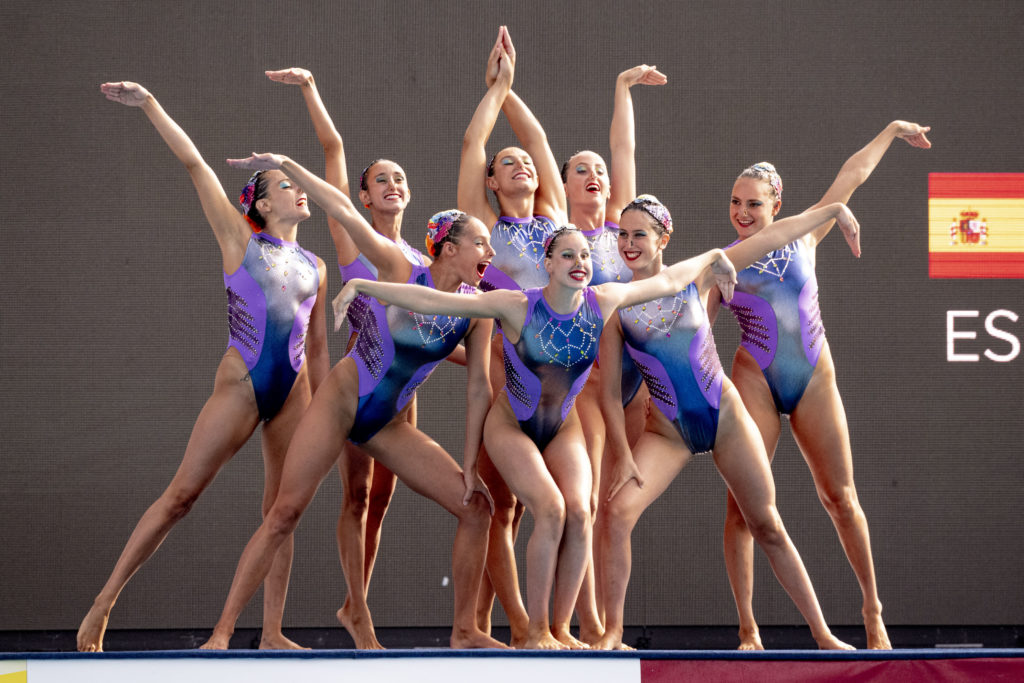 After skipping the technical team event, Spain entered the team competition with its new "Evolution of Birds" routine. After the preliminary round, it was incredibly close with Italy, its perennial European rival, as both were only separated by 0.1666 points. 
The Spanish swam last in the final and ultimately stayed ahead of Italy by only a tenth, with a score of 92.0000. This fourth-place finish is incredibly significant on its own, but this is also the first time since 2015 that they move ahead of Italy. The athletes were obviously ecstatic at seeing their score, while head coach Mayuko Fujiki shouted "Finally!"
The Italians had kept their "Warriors" free choreography from the 2021 season. They were obviously disappointed to finish in fifth, but are already hungry to reverse that ranking at the European Championships in a few weeks. 
"For the Europeans at home, we absolutely want to stay ahead of Spain," said team captain Gemma Galli to the federation. "This month, we will work on improving the artistic part, which is where they beat us. Our team is much more technical and complex. On the positive side, we have improved from our swim in the preliminaries and we looked more confident."
France unveiled its new free choreography to the theme of Art, and reached a historical score of 90.2667 in the final. This is the nation's highest score since 2010, and best under the new scoring system. 
The routine was captivating throughout and positively disconcerting and different. The athletes take us on a journey through different styles and forms of art, and the whole creative process. During the four-minute routine, they also portray emblematic works of art, like The Thinker (Rodin), The Creation of Adam (Michelangelo), The Scream (Munch) and of course The Mona Lisa (Leonardo da Vinci). Some may have been a bit more subtle, like the Water Lilies by Monet, The Dance by Magritte or the Raft of the Medusa by Géricault.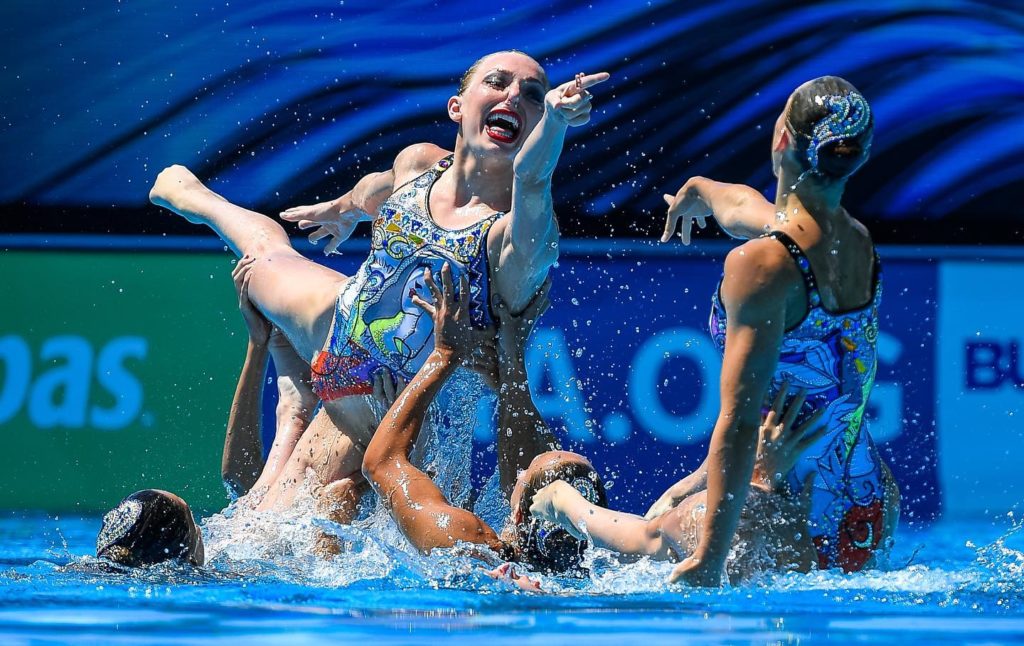 "We had a big brainstorming session in the fall where we all brought to training some work of arts that inspired us", Charlotte Tremble explained. "Of course, some things were easier to do than others. For example, Venus de Milo is very famous, but she is missing some limbs (laughs)! Some others would have been too easy; we would have ended up doing a simple platform lift. There are also different textures, layers or supports to consider in each piece that often make it hard to replicate in the water. Because indeed, that's not as easy as one may think! We really put a lot of thought and effort into this routine and got out of our comfort zone, but it clearly paid off." 
Mexico also did incredibly well in Budapest and was probably the biggest surprise of this competition. The country had not competed as a team since the Pan American Games in 2019. Last season, they could not even contend for an Olympic team spot due to very limited training time during the pandemic.
It was difficult to know exactly what to expect from the Mexicans since they hadn't been out in so long. Although on paper they were extremely strong, with most of the 2019 team returning and the addition of some of their outstanding junior athletes. 
"Many people have asked us if we were nervous to compete again," said Regina Alferez, here at her fourth World Championships. "Actually, we were eager to show that even with the pandemic, Mexico was and is working very hard to make up for lost time. What keeps us motivated is that we never forget what the goal is. We lost Tokyo, but we are not willing to lose Paris."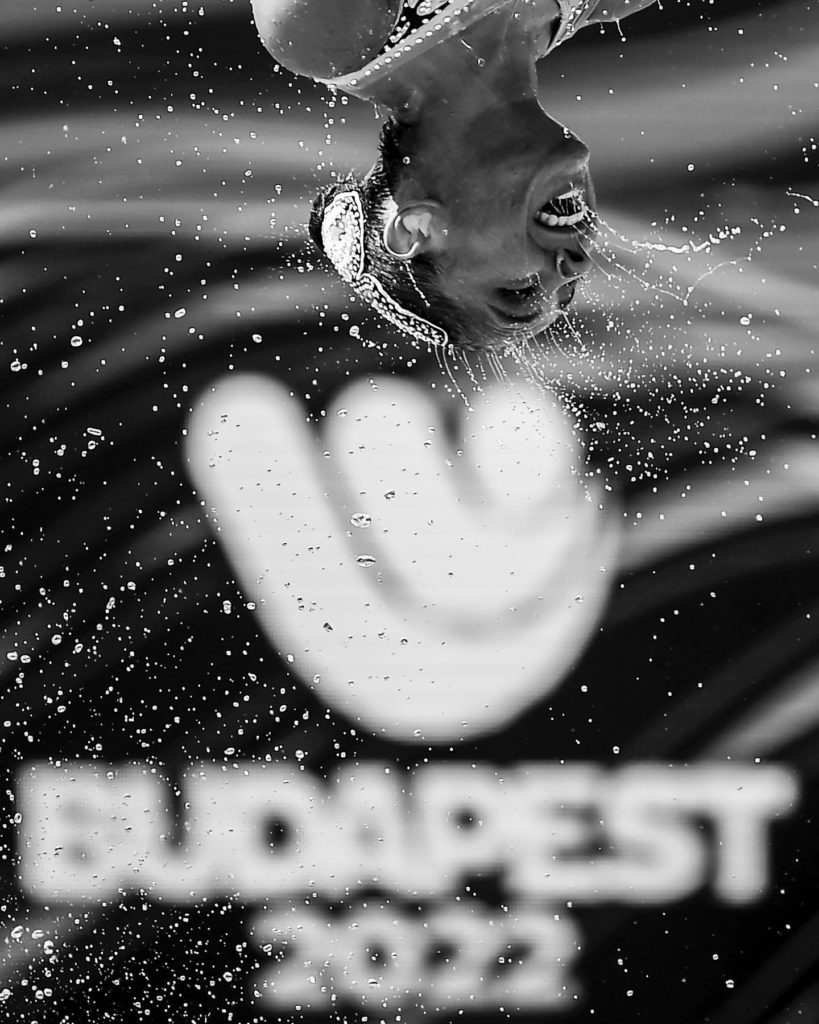 They unveiled their new choreography on Monarch Butterflies, famous for their migration which is one of Mexico's top natural wonders. Their preliminary score maybe seemed a bit low, but they were particularly outstanding in the final, notably showcasing sky-high and difficult acrobatics and having an impeccable swim. They managed to increase their score by nearly 1.5 points and moved up two spots from the preliminary round with a 88.9667.
One acrobatic was particularly outstanding, as the team decided to upgrade on its already-crazy move from 2019. Now, team flier Jessica Sobrino jumps straight above Luisa Rodriguez, does a back somersault, and Rodriguez then extends her arms out to catch her on the way down.
The original, "easier" move was the idea of coach Ofelia Pedrero. Upgrading it was all Sobrino's: "We think about each acrobatics, and see how physically possible they are. When we see that it is, we try and work on it little by little. A year ago doing a flip before the catch seemed impossible, but this year we already saw it was possible."
Unable to overcome Mexico's staggering jump up the rankings, Greece dropped down one spot in the final and scored 88.1667 for its Icarus routine. Once again, this was the first time the Greeks finally showed their Olympic routine on a major international stage. 
After competing throughout the World Series circuit all year in other events,  the U.S. finally unveiled its "I am Water" free team choreography. Throughout the routine, the athletes portray water in its different forms and touch upon its power, importance and the need to protect it.
"I've been wanting to do a routine to the theme of water for years," head coach Andrea Fuentes said. "Water has always amazed me and is truly a magical element. We are surrounded by it in our daily lives in all its forms, and we often don't even think about it. I also spent a third of my life in it, and its sound is healing and soothing to me. I really wanted to explore the water world and show it in all its forms."
The preliminary round went smoothly for the Americans as they displayed their artistic routine. But everything drastically changed after Anita Alvarez' accident in the free solo event later that day, which eventually went viral.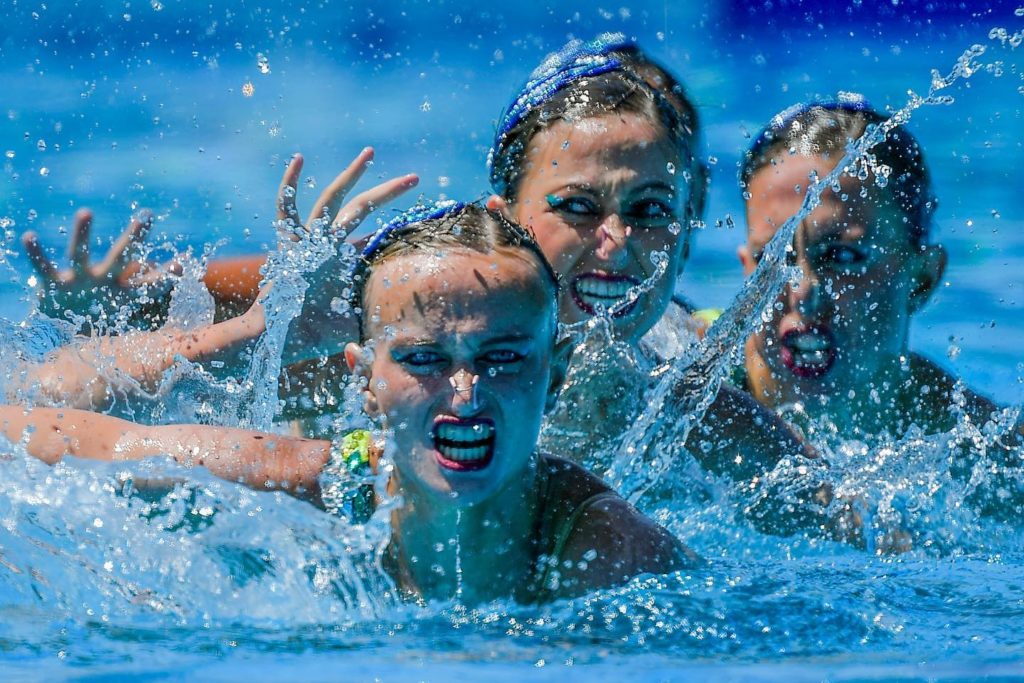 At first, the U.S. released a statement confirming Alvarez was doing better, and that her participation in the free team final was to be determined "by Anita and expert medical staff." On the day of the final, the clock continued ticking with no updates. It seemed as if she was set to swim in the free team final as no further changes or statements came.
Ultimately, FINA put its foot down, understandably and rightly so, and declared that she would not swim in the free team final. Reserve Yujin Chang stepped up to the plate and even replaced Alvarez on most of the acrobatics. 
The Americans had a good final swim, but were understandably disappointed to see their score (87.4667) and ranking drop. Even though, they likely did their best given the circumstances and emotional rollercoaster. 
Like in tech, Israel continued to steadily improve with its space-themed routine and scored 85.5667. The team had a much better swim in the final than in the preliminary, where it missed an acrobatic. This was the ultimate event for the nation at these World Championships, which were once again historical as it qualified to every single final. Ever since 2018, the Israelis have steadily increased their scores and continued to rise through the rankings meet after meet, year after year.
Kazakhstan and Great Britain finished 11th and 12th with scores of 83.1667 and 82.8000, respectively. It also was a great competition for the British who qualified to every final as well. 
In the preliminary round, it was fantastic to see New Zealand finally compete at these World Championships. The country was originally entered in five events, but unfortunately had to withdraw from four of them because of a Covid-19 outbreak in the team.
A few weeks prior, athletes and coaches traveled to Dubai for a training camp. Unfortunately, four athletes contracted Covid-19 and were immediately put in isolation. All athletes weren't reunited in Budapest until Saturday June 19th, two days after the start of the competition. Due to lack of training and post-Covid recovery, New Zealand ultimately could only compete in the free team event, where it scored 67.6000.
"I'm so proud of our team for remaining positive and focused despite all the curve balls we had thrown at us," team captain Eva Morris said. "Our team is extremely young and for most of them this was their first big competition. We swam a clean routine that we should be proud of. Of course there is always room for improvement. But considering four of us had just had Covid and we had a lot of swimmers in new spots, I am very pleased with our performance."
ARTICLE BY CHRISTINA MARMET
Cover photo: Andrea Masini /  Deepbluemedia
If you've enjoyed our coverage, please consider donating to Inside Synchro! Any amount helps us run the site and travel costs to cover meets during the season.