A few weeks after an exceptional World Championships in Budapest, 26 European nations are back in action this week for the 2022 European Championships in Rome. The artistic swimming events start on Thursday, August 11th and run until Monday, August 15th.
The competition will take place in the iconic venue of Foro Italico, home of the 1960 Olympic Games. This location also previously hosted the 2009 and 1994 FINA World Championships, as well as the 1983 European Championships.
Most countries already showcased their routines in Budapest, and fans got a good preview of the potential podium races and close battles that should unfold in a few days. Nonetheless, this competition will undoubtedly still have a few firsts and many surprises in store.
Firstly, the male solo events are on the European Championships programme for the first time this season. After the junior and youth age groups, it is now finally time to crown the first champion in the senior category. 
The audience should be treated to historical performances from Giorgio Minisini (Italy), Fernando Diaz del Rio Soto (Spain), Quentin Rakotomalala (France) and Ivan Martinovic (Serbia).
Fresh off winning two more world titles in the mixed duet, Giorgio Mininisi should be one of the highlights and the favorite to win the inaugural titles in front of the home crowd. The Italian federation revealed that he will swim to the theme of "A Plastic Sea" for its technical routine. There, he looks to draw attention to the impact that human activity has on marine ecosystems. His free solo is set to "Deus ti salvet Maria", Ave Maria in Sardinian, by Fabrizio De André.
Diaz del Rio and Rakotomalala both competed in the World Series circuit this season, although the latter has only swam in free so far. Diaz del Rio won both solos at the Super Final in Greece, swimming to Aerosmith's "Dream On" in tech and performing a "Wolfman"-themed routine in free.
Coming in with a swimming background, Martinovic made his competitive debuts last week at the Solidarity Games organized in Kazan, Russia, but these European Championships will be his first appearance in a major international event.
Three new mixed pairs from Belgium, Germany and Serbia will make their first major international appearance in Rome. 
Michelle Zimmer and Frithjof Seidel will represent Germany. Seidel has only been doing artistic swimming for over a year and a half, but is no stranger to the elite world. A former diver for the German national team, he competed at the 2019 World Championship and the 2016 European Championships. He also won bronze in the men's 3 meter synchronized springboard event at the 2015 European Games. Although Zimmer has extensive experience in the women's duet, this will be her first time out in the mixed duet.
Serbia will be represented by Jelena Kontic, soloist and duet member over the last few years for the nation, and Ivan Martinovic. Both also just competed together for the first time at the Kazan event, and will finally unveil their routine on the European stage.
Belgium returns to the senior European stage after 23 years through the mixed duet of Renaud Barral and Lisa Ingenito. The two have been training together for over a year, and Barral has been swimming for over 20 years. He has competed extensively in the masters category, most notably winning gold in mixed duet at the 2017 World Masters Championships. This season has however been his first in the elite level. 
Of course, the mixed duet field also includes the pairs from Italy (Minisini/Ruggiero), Spain (Garcia/Ribes), and Slovakia (Solymosy/Solymosyova) that competed at the World Championships a few weeks ago. Minisini and Ruggiero, the reigning World champions, will look to win their first European titles.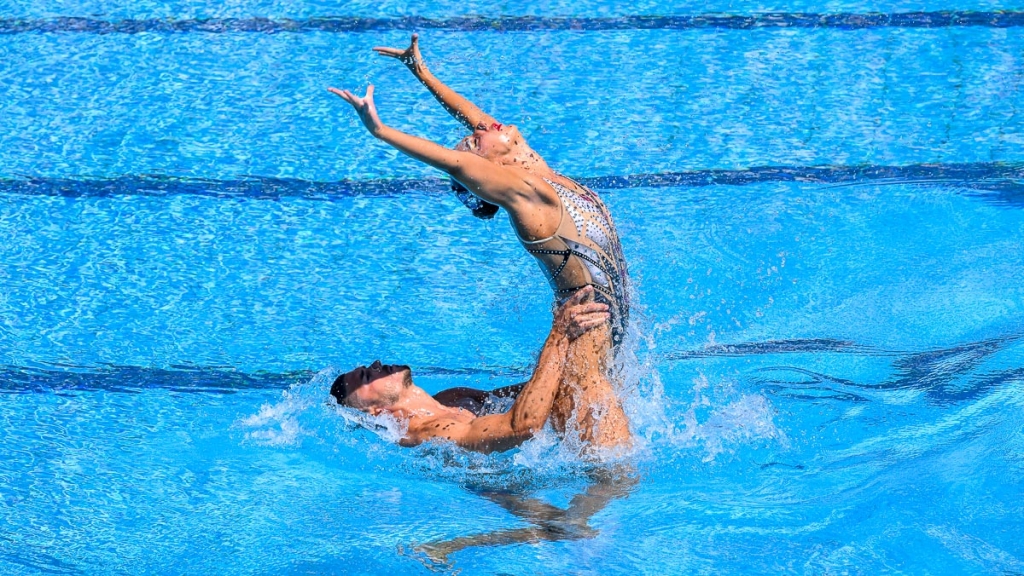 The women's solo and duet events should be just as exciting in Rome as they were in Budapest. In solo, Ukraine's Marta Fiedina, two-time world silver medalist and reigning European champion in the technical event, is a clear favorite for both gold medals. She, along with the whole Ukrainian squad, has been training in Italy since March after fleeing Kharkiv and the war.
Silver and bronze are very much up for grabs, but should realistically come down to Evangelia Platanioti (Greece), Linda Cerruti (Italy), and Vasiliki Alexandri (Austria). Platanioti is the reigning European silver medalist in tech and bronze medalist in free. After now winning two historical world bronze medals a few weeks ago, she is a clear medal favorite.
However, it's not going to be an easy victory as these three athletes were particularly close in the technical event in Budapest. In the final, they were only separated by 0.5269 points, and Alexandri ultimately ended up only 0.0301 behind Cerruti. Undoubtedly, it will be a tight and exciting event once more in Rome.
Georgia and Slovenia will make their first-ever appearances in a senior European Championships thanks to Maria Alavidze and Nika Seljak, respectively, who will swim in solo. Similarly, this will be a first European showing for Malta in this age group, which will compete in solo and duet. 
In duet, Austria's Anna-Maria and Eirini Alexandri have truly positioned themselves on the forefront of the World and European stages this season. Fresh off two historical world bronze medals, the triplet sisters now aim to improve on their third-place finishes from the 2021 European Championships.
While Ukrainian twins Maryna and Vladyslava Aleksiiva finished ahead of them a few weeks ago to earn two silver medals, the Austrians were only 0.5995 points behind in the technical duet. As fans saw in Budapest, a mistake in this event can quickly become costly and dangerous. Both of these nations are certainly strong contenders for the European title, and this event will be one to keep an eye on in Rome. 
The pairs from Italy and Greece, both with new choreographies this season, will also look to end on the podium. The new Greek duet of Sofia Malkogeorgou and Evangelia Platanioti came out with a bang at the World Championships in the free event with its "Illusion" routine. The two already nearly reached 90 points for their first outing together, and their routine is certainly one to watch. 
Israel will enter a different duet than in Budapest, as 2020 Olympian Eden Blecher is not part of the squad at all for this competition. Shelly Bobritsky should thus swim alongside Nikol Nahshonov and Ariel Nassee, which was already the case earlier in the season during two World Series meets.
Denmark returns to the European Championships for the first time since 1995 thanks to the duet of Karoline Christensen and Mia Heide. They last competed at the World Series stop in Paris in April.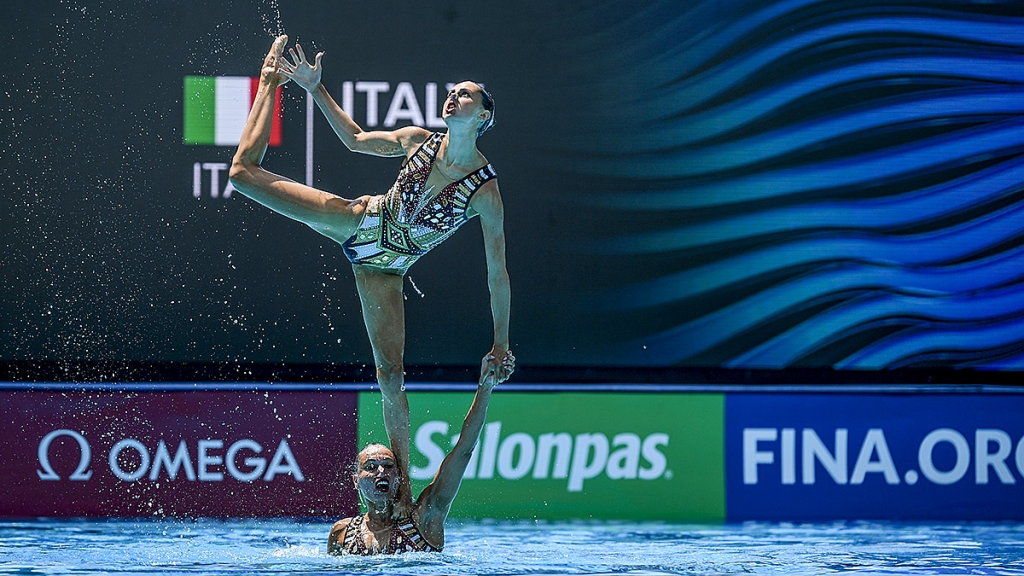 France, Germany, Great Britain, Greece, Hungary, Israel, Italy, Serbia, Switzerland, Turkey and Ukraine are all slated to compete across multiple team events. However, only Greece, Israel, Italy, and Ukraine will swim in all four. Of note, this is the first time Serbia is sending a full team to a European Championships.
Ukraine is in great shape to sweep all four team events in Rome. Last year, the nation already won the free team, free combination and highlight. The Ukrainians are also the reigning world champions in the last two, and will be hard ot beat in Rome. The host Italy missed out on last year's European Championships as a team due to a Covid-19 outbreak, and will look forward to returning to the podium stand, especially in front of the home crowd. 
Similarly, France did not attend the European Championships last season. After an outstanding outing in Budapest, the French are in good shape to make history yet again. There, they finished fourth in technical team, a standing not reached in over two decades. With their new free choreography to the theme of "Art", they reached the nation's highest score since 2010, and best under the new scoring system. 
In Rome, the French will look to stay ahead of the Greeks, their most direct rivals and with whom they have battled it out in the rankings for years. Moreover, they compete in the highlight for the first time this season, giving themselves one more shot at a podium finish. With Spain, the highlight world bronze medalist, absent, the ball is seemingly in France's courts. 
Of course, Greece is right in the hunt as well for a few European medals. Reigning European silver medalists in free combination, the Greeks also had a great showing in Budapest in that event where they finished fourth. Either way, do not miss out on Greece's nor France's free choreographies, both featuring great storytelling and captivating moments.
Spain is indeed not sending its full senior squad to these European Championships. The nation will only be represented in the mixed duet and men's solo events.
RFEN, the Spanish federation, stated in its press release: "Our presence only in the mixed and men's events is due to the sports planning criteria for this atypical 3-year Olympic cycle. The physical and mental exhaustion accumulated after the Olympic Games and the preparation for the Budapest World Championships required a recovery period after the World Championships that could allow the athletes to face the preparation for Fukuoka 2023 and therefore for Paris 2024, without putting their health at risk."
Finally, it's great to see both Turkey and Germany back in the team events for the first time since 2018, although the former already competed at this year's World Championships in the free team. The German squad is mostly made of junior athletes who performed brilliantly at the European Junior Championships, particularly in the free team event with their "Dangerous Animals" routine.
The full schedule of the competition, as well as useful links and information, are available here.
ARTICLE BY CHRISTINA MARMET
Cover photo: Deepbluemedia
If you've enjoyed our coverage, please consider donating to Inside Synchro! Any amount helps us run the site and travel costs to cover meets during the season.