At only 18, Dennis Gonzalez Boneu already has a list of sporting achievements worthy of the record books. Representing Spain on in the international stage, he made history last June by becoming the first European Junior Champion in the male solos, and first European Champion in these events across all age groups. A few weeks later, he became a two-time World Junior Champion with these routines.
Overall, he is a seven-time European Junior Champion, a three-time World Junior Champion, and a six-time World junior medalist. This represents more golds, titles and international medals than any other male artistic swimmer.
Born and raised near Barcelona, Gonzalez Boneu is honored to follow in the footsteps of Pau Ribes, Spain's first male artistic swimmer on the international stage. However, he is also proud and excited to blaze his own trail. One thing is clear: he is only getting started.
Inside Synchro: How did you find yourself in artistic swimming?
Dennis Gonzalez Boneu: I discovered artistic swimming because my mom was a coach. At first, she was actually a little bit concerned about me doing synchro. She was worried, and she didn't want me to have problems like most of the boys have when they start synchro. But then, we saw a documentary about Pau Ribes on television. They talked about him in a very positive way and about how brave he was. It was very good. From that moment, my mom let me really do synchro more seriously and start in a club. I was 12 years old. 
IS: How did it feel growing up in a sport with so few boys at the time?
DGB: The truth is, I actually feel better than if I were a woman. It makes me feel lucky because I am still kind of in the first generation of men going out there. I'm also paving the way by being the "first," like becoming the first junior world gold medalist in male solo. I feel very fortunate and lucky to have had this opportunity to be the first one.
IS: How did you react when you learned that you could swim in solo at both the World and the European Junior Championships?
DGB: I was super happy of course. I was very emotional that day because for me to swim a solo is… Something very special. I love it a lot, so to be able to do it internationally and to represent my country made me very emotional just thinking about it. It also meant that I could swim more routines too, so that made me very happy. I absolutely love to compete in general, so I was very excited to be able to swim more than one event. It was great news.
IS: Then, what went through your mind when you became the first European and World Junior Champion in men's solo?
DGB: At the European Championships, obviously it felt good and I was very happy. But deep down, I knew there was a small number of male competitors so I wasn't too stressed. I was prepared for gold so it wasn't a big surprise. But of course, I was very happy because I did what I had to do. My only option was to win ; that was what was expected of me.
At the World Championships, there were more competitors so I was very nervous. I wasn't sure if I could win or what I would do if I did win. Then when I saw the results and that I won, I was incredibly happy. I even cried. It was incredible! Just knowing that I was a World Champion, I couldn't believe it at the beginning. I never thought I could do it. But finally, I succeeded. I reached my goal, and I am very proud of myself.
IS: And on top of that, you were also able to swim in a few team routines at these competitions and brought home more medals. You have already been in the team for a long time with your club C.N. Kallipolis, but how did it feel to finally be able to do the same internationally?
DGB: This was one of my biggest goals since I started this sport, almost the number one. This has been a dream come true. In my club, I love the team routine and I get to be with all my teammates. I also really like solo and duet, but team is what I enjoy the most. So to swim internationally with the team has been one of the best experiences of my life, and even more so because we won at the European Championships. It was unforgettable.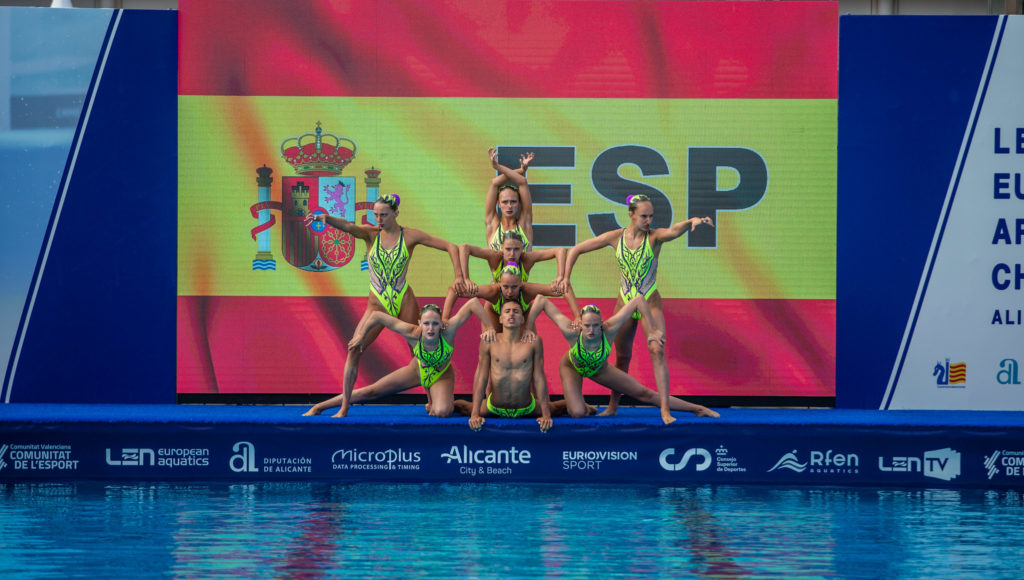 IS: What do you like most about the sport in general?
DGB: For me, obviously it's the artistic part and this freedom of expression in the water. There is no gravity, and I can do whatever I want, move as I like. It's as if you can fly and do everything you ever wanted to do. I also like that it's beautiful to watch from the outside. I really love both: watching and doing.
IS: What do you want to show when you swim?
DGB: I don't want to show movements, but rather emotions. I just want to swim what I feel. In general, I want people to see that I really enjoy swimming, that I am putting all my efforts and drive into it. And that I'm having fun. I want people to feel the energy I'm giving them, and for them to enjoy it.
IS: With the new rules, you have a few more years in the junior category now. What are your goals for next season and beyond?
DGB: My goal is to do the same as last year: go to the European Championships and win. Eventually, I hope to have the opportunity to compete at the Olympic Games. I know it's extremely difficult, but I still have very big hopes for it and I am going to fight for it. Of course, now that teams and men's solos are in the senior level at the World Championships and at FINA competitions, I hope that I can get into the senior national team. To be able to compete at the Olympic Games is my dream.
ARTICLE BY CHRISTINA MARMET
Cover photo courtesy of RFEN.
If you've enjoyed our coverage, please consider donating to Inside Synchro! Any amount helps us run the site and travel costs to cover meets during the season.