Even though he's only been practicing artistic swimming for two years, Javier Ruisanchez was undoubtedly made for the sport. Bringing an unmatched energy wherever he goes, the 25-year-old loves to perform and is always unapologetically himself in and out of the water.
Born and raised in San Juan, Puerto Rico, he started artistic swimming after a long swimming career and immediately felt at home. His first competitive synchro season is already one for the books. In 2022, he and his partner Nicolle Torrens competed extensively in the World Series circuit in mixed duet and solo. Last June, they became the first artistic swimmers from Puerto Rico to qualify and swim in a mixed duet final at the World Championships.
Nonetheless, he does not want to be defined by his results and accolades. All he wishes for is to inspire the younger generations of Puerto Rican athletes to reach for the stars. Ruisanchez, who also works as a swimming coach, hopes to show that anything is possible, no matter your background or where you come from.
Inside Synchro: How did you find artistic swimming, or rather how did it find you?
Javier Ruisanchez: It's a funny story. Since I was 11, my now-coach Julia Toro has been telling me I should try. Of course, I thought she was crazy and I never listened to her. When I was 13, I moved to the Washington D.C. area in the U.S where I swam until I was 22. Afterwards, I moved back to Puerto Rico right before the pandemic hit and everything shut down. 
It wasn't until December 2020 that the pools opened again. I was then invited to give a swim clinic at my hometown pool. During the clinic, there was an artistic swimming team practicing. Every time the coach played the music, I started dancing on the pool deck. She quickly came up to me and asked if I would try artistic swimming. I told her she was a little crazy because who in their right state of mind would hold their breath for fun! Well, fast forward one month later and I was hooked. The rest is history.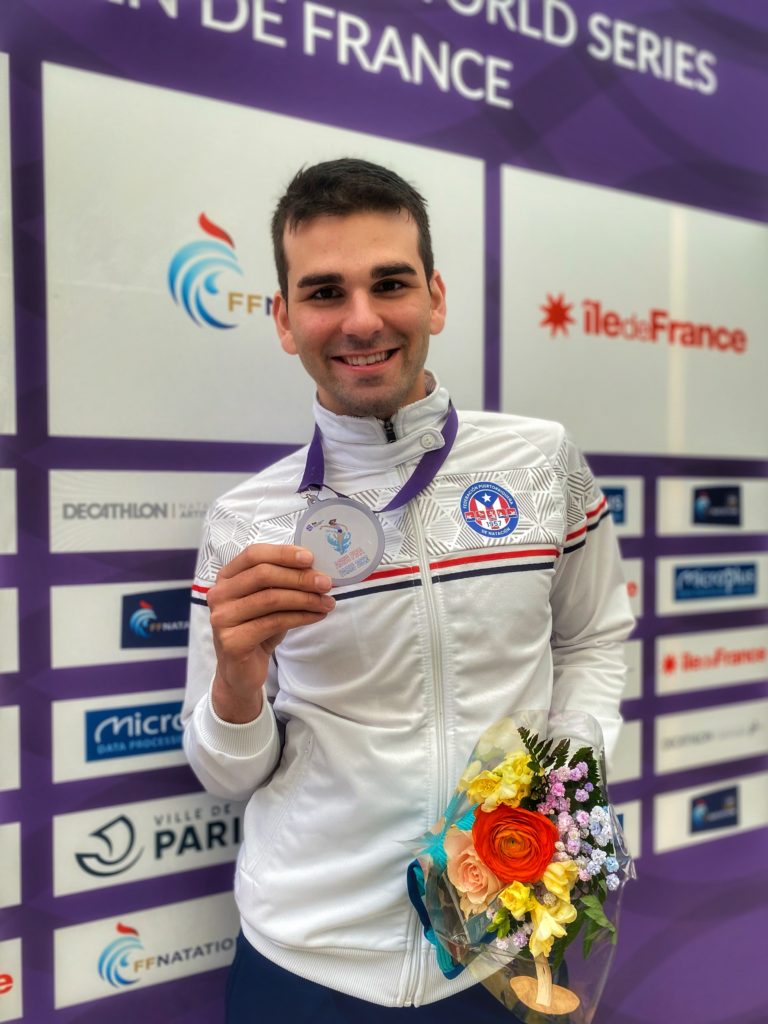 IS: How was that transition from swimming to artistic swimming?
JR: It was fun! I had been swimming since I was a kid so it was exciting to be able to try new things. My two passions have always been swimming and ballet, so to combine both has been a great experience.
The biggest difference between the two is the training. In swimming, you're constantly focused on your time during the set, and you compare it to the way you feel. In artistic swimming, you may feel horrible in the water, but then you see the videos and realize you look a lot better than you feel. For me, that was at first very tough to understand. It took me some time to change my mindset around that.
As for competitions, I was super excited because I like to perform. Having been in high pressure environments during my swimming career has helped me control my nerves. However, through artistic swimming, I learned the importance of being calm and not letting the nerves get the best of you. In swimming, you shut down your mind and you race to the wall. Meanwhile, in synchro you're thinking during the entire routine. You focus on the counts and fight with your mind the whole time to make yourself believe that you're stronger than anything, and that you will get through it.
IS: When we watch you, it looks like you were always made for this sport. What do you like most about it?
JR: I have always loved watching it. Growing up, I had a lot of friends who did synchro. I grew up with Natalia Vega who is now on the U.S. national team, so I have always followed her career pretty closely and thus the sport. When I started synchro for fun during the pandemic, I remember texting Natalia my progression videos. I was somewhat shocked by how quickly I was learning things, but I never once felt forced to do it. It was my way of keeping my mind and soul healthy. 
Through that process, I fell in love with the art of our sport. Everybody was very welcoming from the beginning and kept helping me with my technique. I think my favorite part of it all now is seeing how close we are as competitors, especially the mixed duet guys. We all support each other in everything we do, from our personal life to our athletic careers. It feels like a family.
IS: 2022 was your first season competing internationally. How did you prepare for it?
JR: Honestly, I was just having fun and I never felt pressured. My one goal was to compete in one World Series stop. When I started, never in a million years did I think I would end up competing at every World Series and in two World Championship's finals. Each competition, I kept getting more and more confident. I always stayed true to myself, accepted what I could and couldn't do, and knew that I could learn from  every competitor. I wasn't afraid to ask for help. Literally at the French Open, I went up to [U.S. assistant coach] Anna Voloshyna and asked her if she could help me with my spin technique. At the Super Final in Greece, multiple world-class athletes gave me so much feedback while warming up. I believe that's what truly helped me throughout my 2022 season.
IS: How was your first World Championships experience?
JR: It was the best experience ever. By doing the entire World Series, I became very close friends with a few of the mixed duets. So during my first final, I was beyond thrilled to be surrounded by the best of the best, who I am lucky enough to call my friends. Even though the World Championships can be somewhat a very high-pressure competition, being able to experience it with people I love was wonderful. Truly, beyond the medals and the trips, the highlight of my season has been all the amazing people I got to meet and the friends I have made. This sport goes way beyond scores and medals.
IS: How did you react when you found out you had qualified to finals at Worlds? Did you ever think that this would be possible?
JR: In all honesty, no. We started the year with a very basic routine with Nicolle and our coach Julia. Through every competition, we kept learning from the judges' feedbacks and what other teams were doing. As the months went on, I could do more difficult movements. We improved in every competition because we kept fixing and changing things to make sure we could show a better routine every time.
I went to Worlds only hoping to open the door for the next generation in Puerto Rico to believe that anything was possible. I come from a very small island where athletes sometimes believe that it is not possible. But it's because they haven't seen anyone able to achieve that. So, I cried when I found out we had made finals. I was beyond grateful because I knew kids back home were paying close attention to our journey. Above all things, I just wanted to inspire them to believe that they could also be there one day.
IS: You also performed in solo throughout the World Series. I know your free routine specifically was quite meaningful to you; can you tell me a bit more?
JR: When I first started thinking about my solo, I always went back to the community that has supported me since I came out as gay in 2015. The LGBTQ+ community has many challenges in this world. Some countries are very accepting, others not. I have been raised to believe that it doesn't matter who you love because it only matters that you love. Love is a matter of two, and people's opinions should not matter.
When I first joined the sport, a mother of an athlete came up to me and told me that I should not say I'm gay because being gay shouldn't be a description of who I am. I fully disagree. We need to be visible and not be ashamed of who we are to inspire the younger generation to also be their authentic selves. Visibility matters, especially in sports. When I swim this solo, I am performing for every person that is afraid to be themselves. Life is too short to be hiding. Be true to yourself, and never apologize for who you are because you don't know who you will be inspiring next.
IS: What else are you hoping to convey when you're swimming?
JR: I want to show that I simply love to be in the water and perform. A score or a medal do not define us as athletes. Passion is the most powerful weapon, as Bill May once told me. People can see passion and love for the art. That's what inspires someone, and that's what I want to convey. Because, how many times have you heard someone say that they joined a sport because they loved how a medal looked on someone's neck? Inspiring others has always been my goal.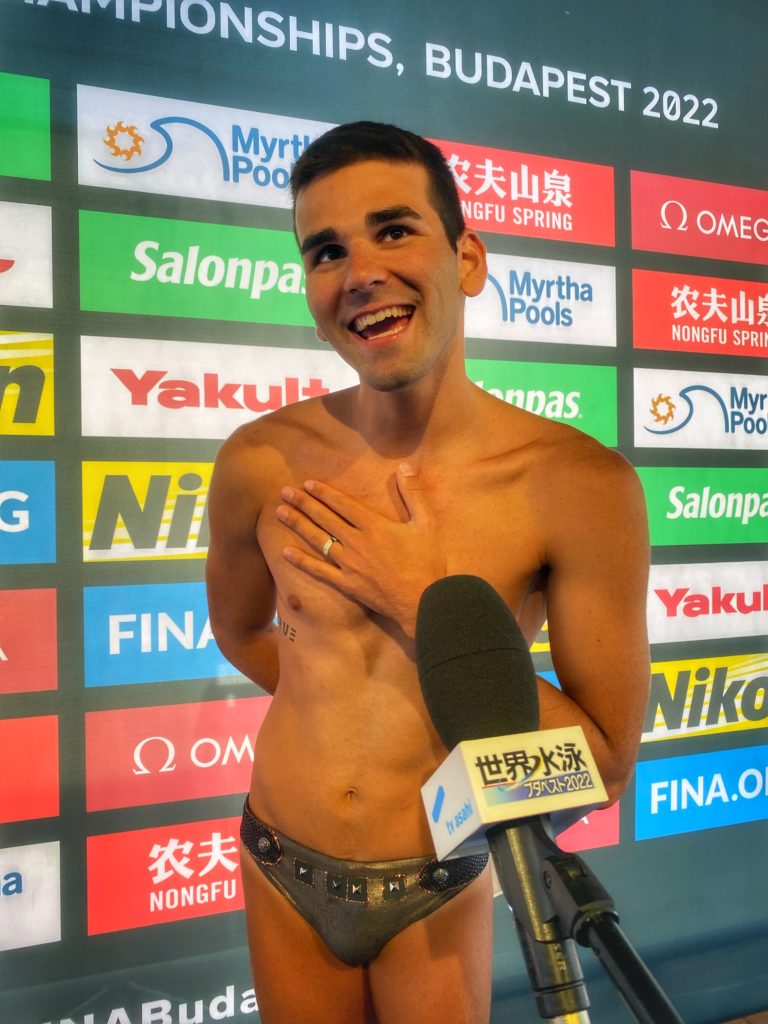 IS: What are some of your goals for next year?
JR: To inspire others, to fight for men in the sport, and to hopefully keep learning from every experience. Really, I want to keep showing what I love and feeling every emotion when I perform. To make people happy for two or three minutes. But most of all to inspire young kids to join our sport. 
IS: Is there anything else you'd like to say to the younger generation and fellow artistic swimmers?
JR: Perform because you love the sport. Enjoy the process and feel your emotions. Not every day is going to be easy, but during those hard days remember why you love this sport so much and push through. Be kind, always be humble, and never let a medal define who you are.
ARTICLE BY CHRISTINA MARMET
If you've enjoyed our coverage, please consider donating to Inside Synchro! Any amount helps us run the site and travel costs to cover meets during the season.