The first medals of the entire 2023 European Games were awarded this morning during the artistic swimming events in Oświęcim. In the technical mixed duet final, Italy's Giorgio Minisini and Lucrezia Ruggiero successfully defended their European Champions title. Spain and Great Britain won silver and bronze, respectively.
In the evening, the technical duet final was filled with its own share of surprises (and base marks). In the end, Anna-Maria and Eirini Alexandri of Austria were unbeatable and became European Champions for the first time. The duets of the Netherlands and Greece completed the podium.
TECHNICAL MIXED DUET 
Eight pairs competed in the technical mixed duet, a record-number so far at a European Championships, proving that the event continues to grow across the continent.
Before the start of the competition, Italy and Spain had declared the same Degree of Difficulty (DD) of 28.90, hence setting the stage for an exciting match-up between the reigning European gold and silver medalists.
Naturally, Giorgio Minisini and Lucrezia Ruggiero, who are also the reigning World champions, came in as the favorites. The pressure was on as they had yet to compete this season, but they delivered. The Italians had a very strong swim to Verdi's Requiem and scored 242.3599 to successfully defend their title. 
"When we came out from the pool, I was already satisfied without knowing our score as I thought we did our best and the routine really went well," Minisini said.
"This duet is so much fun and something different that I'm really enjoying," Ruggiero said. "I get different things from the different person I train with, and from Giorgio it's the calmness. He is the calmest person on Earth, he never gets upset so it's fantastic to train and compete with him."
After a few outings together in the World Cups this year, Spain's Emma Garcia and Dennis Gonzalez Boneu competed together in a European Championships for the first time. Although these are Garcia's fourth European Championships, they were Gonzalez Boneu's first in the senior category.
Unfortunately, the Spanish pair didn't have as clean of a swim as the Italians and received a base mark on their final hybrid, dropping their total DD to 23.20. They received 216.5867, which was still enough for silver thanks to high execution and artistic impression scores. This is Garcia Garcia's sixth medal at the European Championships.
"We are happy, though not completely satisfied as we were fighting for the gold medal," she said. "We made a small mistake, which might have been decisive. But we are getting closer and closer to the Italians. We know that they are the best and that it's going to be challenging to pass them, but we are working on that."
Beatrice Crass and Ranjuo Tomblin of Great Britain won bronze with a score of 203.4916. This is the first European Championships in the senior category for the two, who are also the 2022 European Junior bronze medalists in the event. 
In Oświęcim, they showed a well-executed "Charleston" routine and were credited their full DD of 26.80 to add another bronze to their collection. This is Great Britain's first medal in artistic swimming at the European Championships since 1993.
"I can't believe it, honestly," Tomblin said. "It's such an honor to represent Team GB here and to win a medal; we never thought this would happen. I hope that this can encourage other boys into the sport and shows it's a sport for everyone. Just look, there are eight mixed duets here and it's growing and growing."
Italy and Great Britain were the only two pairs to not receive any base marks in this final.
France finished fourth with a score of 184.9333.  Originally, Quentin Rakotomalala was supposed to swim with his regular partner Prune Tapié. However, she suffered an ankle injury a few days prior and ultimately couldn't compete. Manon Disbeaux was asked to step in and hence learned the entire routine in under 48 hours. The two actually don't train together during the year all, as Disbeaux is based in the INSEP training center in Paris, and Rakotomalala in southern France in Aix-en-Provence. 
Even though the pair ultimately received a base mark on their first free hybrid, they are proud of what they accomplished and their fourth-place finish.
"It was honestly a lot of stress," Disbeaux said. "But we just went in with a "nothing to lose" mindset. Either the French mixed duet would forfeit, or Quentin and I would step up to the challenge and try to do something to go for the medal. Unfortunately, we didn't get the medal but our coaches were very happy about our performance, so we are happy as well. We only had a day and a half to get together and fix every little detail, so I think we did the job. We really tried our best and that's the most important. Zero regrets."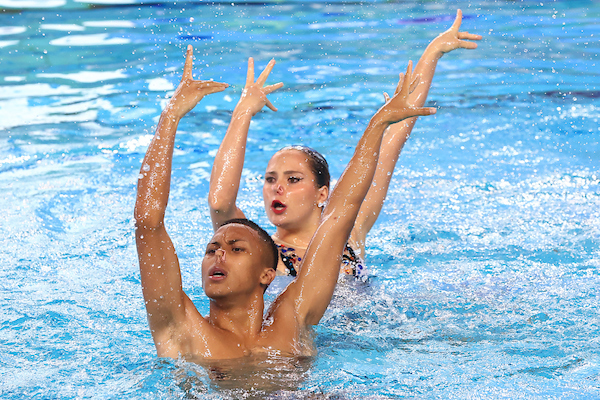 Jelena Kontic and Ivan Martinovic from Serbia finished fifth with 174.8467 for their "Alice in Wonderland" routine. Martinovic showed tremendous improvement since last season, which was his first in artistic swimming. Belgium's Renaud Barral and Lisa Ingenito finished sixth here with their René Magritte homage and a score of 174.0366, only 0.8101 points behind Serbia. 
Frithjof Seidel and Michelle Zimmer of Germany ranked seventh with 159.3034, swimming to "Blood in the Water." Hristina Cherkezova and Dimitar Isaev of Bulgaria placed eighth with 130.6566 and their routine set to "Paint It Black" by the Rolling Stones.
This was Bulgaria's first participation in the mixed duet event at a European Championships. However, Isaev is no stranger to this international stage, having competed in three European Championships (2017, 2019, 2022) and the European Games (2015) in diving. 
All pairs except France will compete again in the free mixed duet final on Saturday, June 24. 
DUET TECHNICAL FINAL
19 pairs participated in the technical duet final,  one of the most crucial events at these European Championships as countries vie for a spot at the 2024 Paris Olympic Games. Indeed, the duet with the top combined score (Technical + Free) will earn a spot to next year's Games.
After a dominant performance yesterday in the free duet preliminary, Anna-Maria and Eirini Marina Alexandri of Austria were once again unbeatable, displaying superb technique and the highest DD of the field (33.75). After bronze in 2021 and silver in 2022, the triplet sisters became the 2023 European Champions with a score of 266.4584. 
"We've been working for this since… not only since the beginning of the season but during our entire life, ever since we started synchro… sorry, artistic swimming," Anna-Maria said. "We have imagined that once we could make it, but perhaps did not think that we could really achieve it, at least not in the previous years. But this season, we thought that we had a real chance. Every single night before I went to sleep, I was thinking of winning this gold medal. This was our goal and I'm so proud that we could make it."
The last time Austria won gold in duet was at the 1985 European Championships. The Alexandris are now undoubtedly the favorites heading into the free duet final of Saturday, and clear frontrunners to punch their tickets to Paris. 
"The new system is difficult for everybody," Eirini said. "This is a radical change, but we studied and tried to adapt to it. It's not easy. In the past, you always felt the pressure before competitions, and now it's even bigger but we learnt to deal with it. I think we did our best today. Of course, the Olympic spot is our main target here and we know we have a good chance. But we must stay calm till Saturday to be able to perform as expected."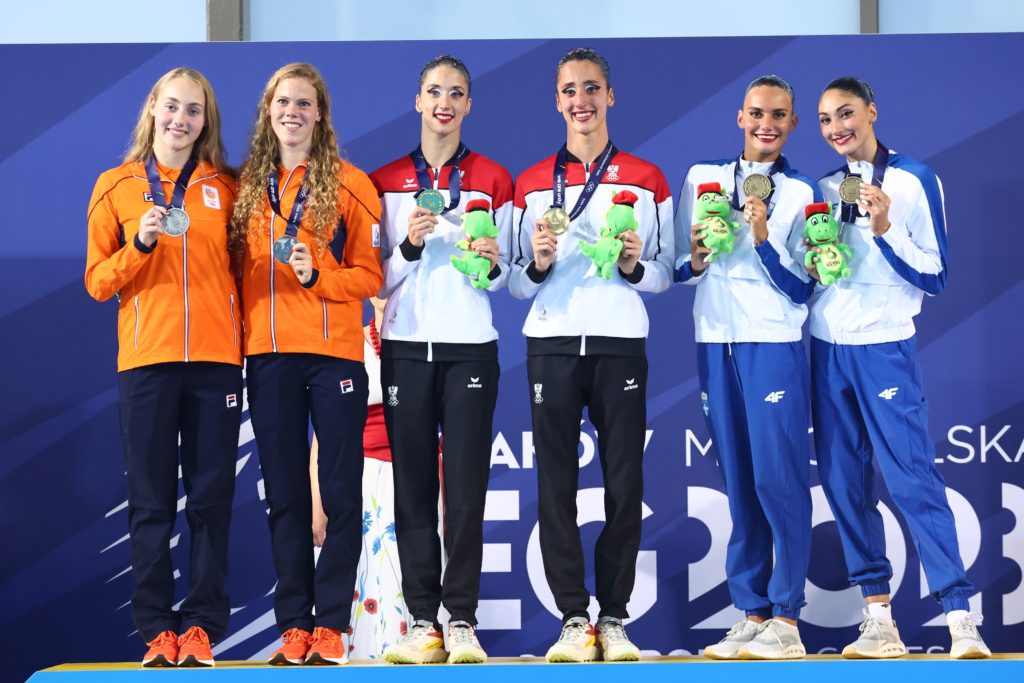 Bregje de Brouwer and Marloes Steenbeek of the Netherlands won the silver medal with a score of 248.4283. The pair had finished fifth at the 2022 European Championships, and have certainly demonstrated a great understanding of the new rules throughout the season. 
Their engaging and fast-paced "Disco" routine, set to "Far From Over" by Frank Stallone, was awarded its full DD of 32.050, the second-highest of the field. This is the first medal for the Netherlands at the European Championships since 1991.
"This silver medal will definitely make the sport bigger in our country," Steenbeek said. "It means a lot for us and for Dutch artistic swimming. We really gave everything to achieve it."
Sofia Malkogeorgou and Evangelia Platanioti of Greece earned the bronze with a score of 245.6899 for their "Cruella" choreography. These European Championships were the first competition of the season for them, and they will undoubtedly be pleased about this medal after a fourth-place finish in Roma 2022. 
"I really love this new system as this gives everyone, and I repeat, everyone the chance to make the podium," Platanioti said. "If you have the potential and you work hard for your goals, you can be on top. Maybe it's less artistic swimming and more about elements put together for choreography, but the new rules finally opened the doors for all of us. I'm already thinking of how we can get better and claim an even better position. It doesn't mean that I'm not satisfied, we are really happy with this medal. I just believe in myself, in my teammates, and I know that everyone can achieve the greatest results."
Platanioti was one of the veterans of this field, having competed at every European Championships or European Cup since 2010. The Greek duet is not entered in the free event and will thus not be in contention for the Olympic quota.
Maryna and Vladyslava Aleksiiva of Ukraine, the reigning European champions, narrowly missed the podium, landing in fourth place with 245.0501 and only 0.6398 points away from the bronze. The Ukrainians had a clean swim with no base marks and earned the second-highest artistic impression scoreL Unfortunately, their DD of 29.9 ultimately wasn't enough for the podium.
The pairs from Great Britain and Israel also had clean swims without any base marks, and placed fifth (242.9967) and sixth (232.6433), respectively. 
Obviously, this final didn't go as planned for Spain, Italy and France, as all received costly base marks on their final hybrids. France also suffered an additional base mark on its opening acro. Spain did score the highest artistic impression score of the final, but it absolutely wasn't enough to make-up for the base mark. 
It was actually quite a heartbreaking situation for Italy's Linda Cerruti and Lucrezia Ruggiero, who initially were shown scores that placed them as silver medalists. They obviously were thrilled, jumping on the podium and running off to get ready for the medal ceremony to be held shortly after their swim. However, their score was changed a few minutes later —their base mark likely hadn't gone through — and they dropped to eighth place. 
All results are available here. The schedule as well as all relevant information to follow the meet are here.
ARTICLE BY CHRISTINA MARMET
Cover photo: LEN / Aniko Kovacs
If you've enjoyed our coverage, please consider donating to Inside Synchro! Any amount helps us run the site and travel costs to cover meets during the season.