The third day of artistic swimming at the European Games was filled with history-making and record-breaking moments. In the free combination event, Israel won its first-ever European gold, and second European team medal overall, while the squads of Germany and Türkiye marked the sport in their own ways. 
In the afternoon in the technical team final, Spain became European Champion, winning gold in a team event for the first time since 2012. Italy and France completed the podium, successfully defending their medals from the last European Championships in Roma.
FREE COMBINATION
Three countries participated in the free combination final: Israel, Germany and Türkiye. This event is not part of the official World Aquatics nor Olympic Games programs in the senior category, so it is likely that many chose to not train it during the year. Hence, this was the first, and likely only, time that these nations performed their entertaining and captivating choreographies. 
This event followed the rules and regulations approved for the Youth category, except without any limits of difficulty on the acrobatics. Each routine had to feature nine Elements: four team acrobatics, one solo hybrid, one duet hybrid, and three team hybrids with a minimum of four athletes. 
Swimming to the theme of "Modern Spanish Dance," Israel was crowned European Champion with a score of 248.6083. The team had already shown this choreography in Roma where they had placed fifth. Obviously, it was adapted to the new rules, and successfully so as the squad was credited its full Degree of Difficulty (DD) of 35.0.
"We were very focused before the competition as we knew we had a chance to win this event," Shelly Bobritsky said. "That gave us huge motivation. We were really determined, felt the energy in the water so I think our swim was quite good. We wanted to catch the judges' eyes, do our best and we just did that. It was so great to hear our national anthem played at the end."
It was incredibly poignant to hear the Israeli national anthem, the Hatikvah (The Hope), sound in the Oświęcim pool, located only about 10 minutes away from the Auschwitz concentration camp.
"It was a very powerful moment for us," Ariel Nassee said. "One day before, we went to the concentration camp, to Auschwitz, where we met and talked to a Holocaust survivor. So we wanted to perform for her, for them, to show our legacy. We wanted to win at any cost, we didn't care about any base marks, we were so focused. I think we did really well. It's very exciting that now we have the title of European Champions, especially in this place."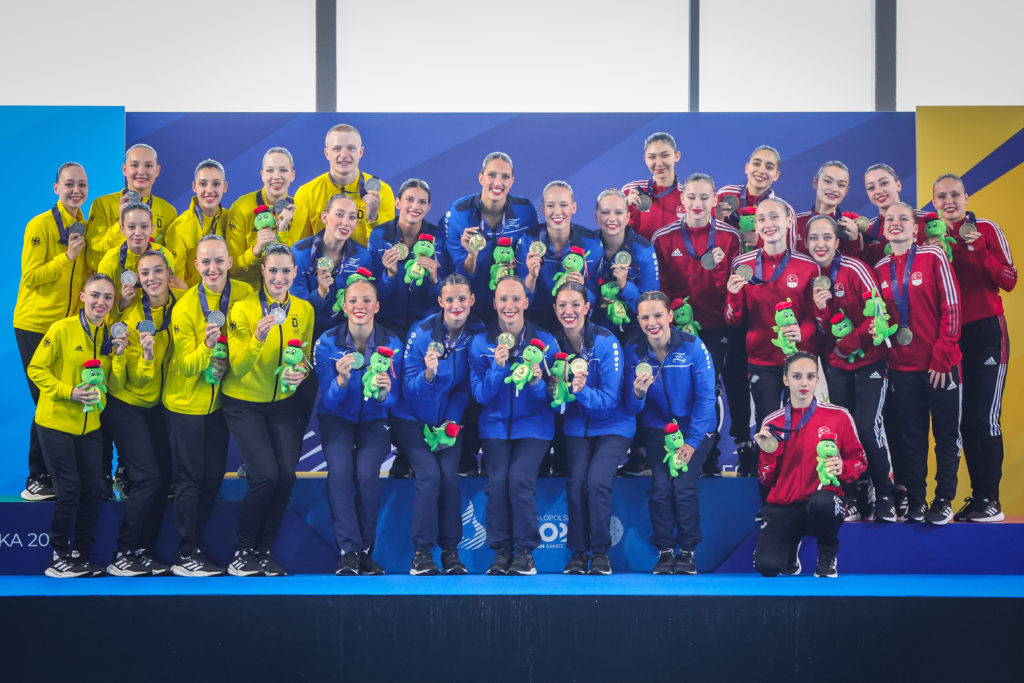 Germany earned the silver medal with a score of 163.3205 for its "Monster Party – Greetings from the Addams Family" routine. The athletes, aged between 15 and 30 years old, did receive three base marks and were only credited a DD of 15.755. However, their engaging performance was enough to bring the country its first team medal since 1983. 
The routine was very cleverly constructed, highlighting and using the strengths of each individual athlete the best possible way. This medal is also of great significance for Frithjof Seidel, who became the first male artistic swimmer to win a team medal at a senior European Championships.
"I am honored to have this silver and to achieve this," he said. "But this is not about me of course, but first of all about German artistic swimming. It's great that we are on the podium. When the coaches told me that I would be in the team and not just in the mixed duet, it was great news. Though, I knew that I had to work even harder as I still had many shortcomings and many details I needed to improve on. So, in this routine I'm mainly doing the lifts and a bit less artistic parts, which is where I have to develop a lot in the coming years."
Türkiye won the bronze medal with a score of 135.7999, swimming to the theme of "The Rhythm". The squad had four base marks, but this performance nonetheless marks a significant milestone for the nation as it earns its first artistic swimming medal at the European Championships.
"I was shaking," Ece Ungor said. "This is the first time Türkiye has won an international medal. We tried to do our best, we were already really excited before the competition as we knew we could get a medal. So we put our focus on our legwork to avoid base marks – we still got a few, but that pushes us to learn from our mistakes and work harder on all the Elements. We tried to give joy to the judges and the audience, and we hope to be better next time."
TECHNICAL TEAM
In the afternoon, Spain won the European Championships in the technical team with a score of 278.4066. The nation entered the final with the highest declared DD of the entire field, a 38.15. Ultimately, it was the only one that could deliver a clean routine with no base marks. 
The Spanish squad delighted the crowd in Oświęcim with its fast-paced and engaging Flamenco choreography, using a fusion of Spanish and Japanese music. It was undoubtedly a sensational comeback to the European stage for the Spaniards who did not compete in the team events in 2022.
"We are really happy to win this medal but the championships are not over," Meritxell Mas said. "We have to stay focused as we want something similar in the free team final. There is a lot of work behind this gold, not just this year but during many more years. We are proud but every competition is different so we have to work until the last moment."
As mentioned, every other team in the field had base marks, so it ultimately was a matter of how many and on which Elements to determine how much of an impact they would have on the final score.
In the end, Italy and France successfully defended their silver and bronze medals, respectively, from 2022. The Italians unveiled a new choreography to the theme of "The Fire" and scored 249.1145 with one base mark. Giorgio Minisini was listed in this routine on the final entry list, but he ultimately did not swim.
"We are very happy with this result, especially in this year of change", Enrica Piccoli said. "We also had a last-minute substitution for this final, so this result is great and we are all proud and happy about the second place. Yes we made some mistakes, but we can avoid those hopefully next time at the World Championships."
This was the first time the Italian senior team competed under the new scoring system and tested out its new routines. 
"This is a different way to prepare for the big events," Piccoli continued. "There are new worries, you are afraid of things in a different way than before, but you have to get used to that and be confident before the routine. We had one base mark, so I think this is fine for us now."
The French also received a base mark, but it didn't stop them from winning the European bronze again. They scored 229.3417 with their "Body in Space" choreography. 
"We are very proud of this medal and also very happy to receive only one base mark," Charlotte Tremble said. "We were focused, we know we can do better but we are still satisfied with what we achieved today. It's a new era for sure and it shows another side of artistic swimming. Now, everyone should be ready for another way to work every day, even during competitions."
Like Italy, Greece competed for the first time this season. The nation showed a new routine set to "Hip Hip Chin Chin" and "Dibidy Dop" from Club des Belugas. The Greeks however received a base mark on their first free hybrid and ultimately ranked fourth with 229.3417.
Unfortunately Ukraine, the defending European Champions, finished in fifth place with 203.7697. The Ukrainians did show improved execution and had one of their sharper swims of the season, but they received unforgiving base marks on all three free hybrids. They did earn the second-best artistic impression score of the evening, but it simply couldn't make up enough ground to contend for a medal. 
Switzerland, Portugal and Great Britain completed the field, all making their first appearance as a team of the season. The Swiss team will actually only compete in these European Games. They scored 190.6066 with their "Energy of Young People" choreography, which was already shown in Roma but was obviously adapted to the new rules.
It was great to see Portugal again as a team. The squad last showed this Jungle-themed routine at the 2022 World Championships, where they had finished 13th. Here, the Portuguese placed seventh with a 184.6558, and one base mark. Finally, Great Britain unveiled a new "Motorbikers" choreography, but received three base marks, which dropped them to eighth with a score of 177.6914.
All results are available here. The schedule as well as all relevant information to follow the meet are here.
ARTICLE BY CHRISTINA MARMET
Cover photo: LEN / Aniko Kovacs
If you've enjoyed our coverage, please consider donating to Inside Synchro! Any amount helps us run the site and travel costs to cover meets during the season.