The People's Republic of China's team confirmed in Rio that it was indeed the best synchronized swimming nation behind the Russian Federation by winning silver medals in duet and team, and it did so comfortably ahead of the third place finisher Japan.
The rise of China can be attributed to Masayo Imura a few years ago. Imura, also referred to as the "mother of synchro," first coached the Japanese national team from 1984 – 2004, and Japan was a powerhouse and dominant force in the sport back then. Imura was then hired to be the head coach of the Chinese national team. At her first Olympics with the team in 2008, they won their first Olympic team medal with a bronze. That medal already marked the start of something big, as China had only placed sixth four years before in Athens, Greece. Japan did not medal in team and grabbed the bronze in duet.
After a big haul of bronze medals at the 2009 World Championships in Rome, Italy, China settled for six silvers and a bronze at 2011 Worlds in front of their home crowd in Shanghai, and has never gone back down ever since. In London in 2012, China continued its dominant performances and grabbed silver in team and bronze in the duet, while Japan failed to make the podium in either category.
Imura brought to China her training methods, her technical expertise and her visions of synchronized swimming that had worked so well with Japan. She went back to Japan in 2014, and the difference in Japan's routines was immediately obvious and rewarded, but we will get into it in more details in another article.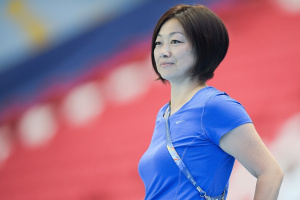 Back in China, Mayuko Fujiki was named as the new head coach of the program, with the high expectations of following Imura's work and maintaining the team at such a high level and always in silver-medal contention. Fujiki, who is also originally from Japan, had been working for a few years with the U.S. national team, and beforehand was coaching the Spanish senior national team alongside Anna Tarrés.
The Chinese swimmers have always been renowned for their strong technical abilities and incredible work ethic, but the most common criticism has been that the style and music are always more or less the same, and that the routines sometimes lacks in artistic impression. Even Fujiki admitted in an interview when she first got the position that China is always very good and impressive technically, but that it is hard to connect emotionally and that they don't have many memorable routines.
Fujiki came in with the vision of synchronized swimming as an art, and as a discipline that needs to be enjoyed and not considered as only a job. She wanted to try to infuse some of the artistry and innovation she learned in Spain and in the Western world into the Chinese program. Ultimately, her ideas to revolutionize the Chinese synchro culture were welcomed by the federation, the rest of the staff, and the swimmers.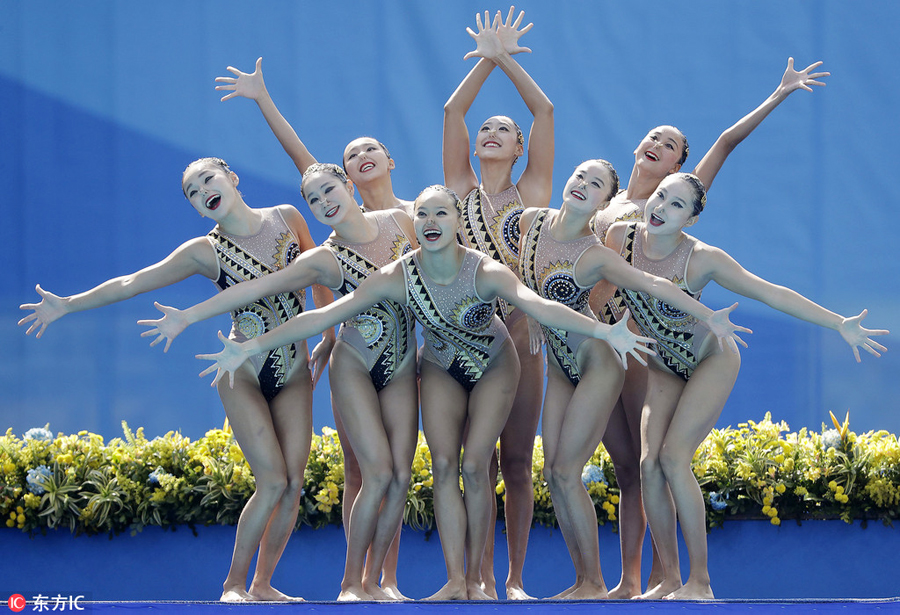 In Rio, Fujiki took a risk when the team showed up with a brand new technical routine set to Brazilian music, which is something very different from what we are used to seeing coming from China. The crowd absolutely loved it of course, and it was very refreshing to see China get out of its comfort zone and present such a fun, entertaining, and upbeat routine. Moreover, it is always good to have the crowd on your side and have the pool essentially feel like a soccer stadium after swimming. Technically it shouldn't influence the judges, but subconsciously, it probably does a little bit.
Swimmer Sun Wenyan confirmed it in an interview with FINA:
"In our routine we also have some western elements, which I think went over really well with the audience as well as the judges. The cultural theme of our routine is very different so if people like our music they will just naturally fall in love with our routine."
For the free team routine, China kept its "Dragons" routine from the 2015 World Championships, and the swimmers were able to stay in the silver medal position after a strong swim and with very 2013 Russian-esque headpieces. It would have been very, very hard to beat Russia's 99.1333 free score anyways. With a technical score of 95.6174 and a free score of 97.3667, China confirmed itself as one of the new dominant nations in synchronized swimming nation.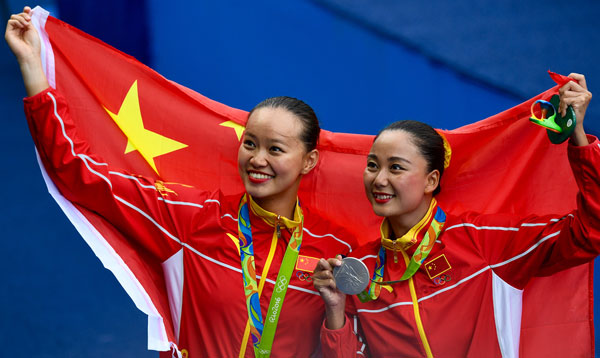 In the technical duet competition, the gap with Russia was actually a lot smaller, and Huang Xuechen and Sun Wenyan came within a point of Natalia Ischenko and Svetlana Romashina with a routine set to "Run Boy Run" by Woodkid, which was again a little different than usual (in a good way!). Getting so close is quite a feat and probably gave the Russians a little scare. There was still a two points difference in free duet, but the Chinese are slowly inching closer.
This result of two silver medals at the Olympic Games is the best ever in the country's history. It takes a lot to bring a country to the top, but it takes just as much to maintain it there, and Fujiki succeeded.
China's main goal remains to beat Russia, or at least to keep getting closer. In Rio, Russia still had a lead of nearly four points in team and three in duet, but China was also over three points ahead of Japan. However, we cannot underestimate Japan now that it is under the guidance of their old coach, and it has already skyrocketed in the rankings in only two years. At least, the Chinese coaching staff and swimmers know what Imura is capable of and can somewhat anticipate her strategy.
With the next Olympics in Tokyo, we can fully expect Japan to keep progressing and to aim to pass China in the rankings on their home turf. In the meantime and with this renewed vision of the sport, China is poised to continue winning many medals on the international stage over the next quadrennium.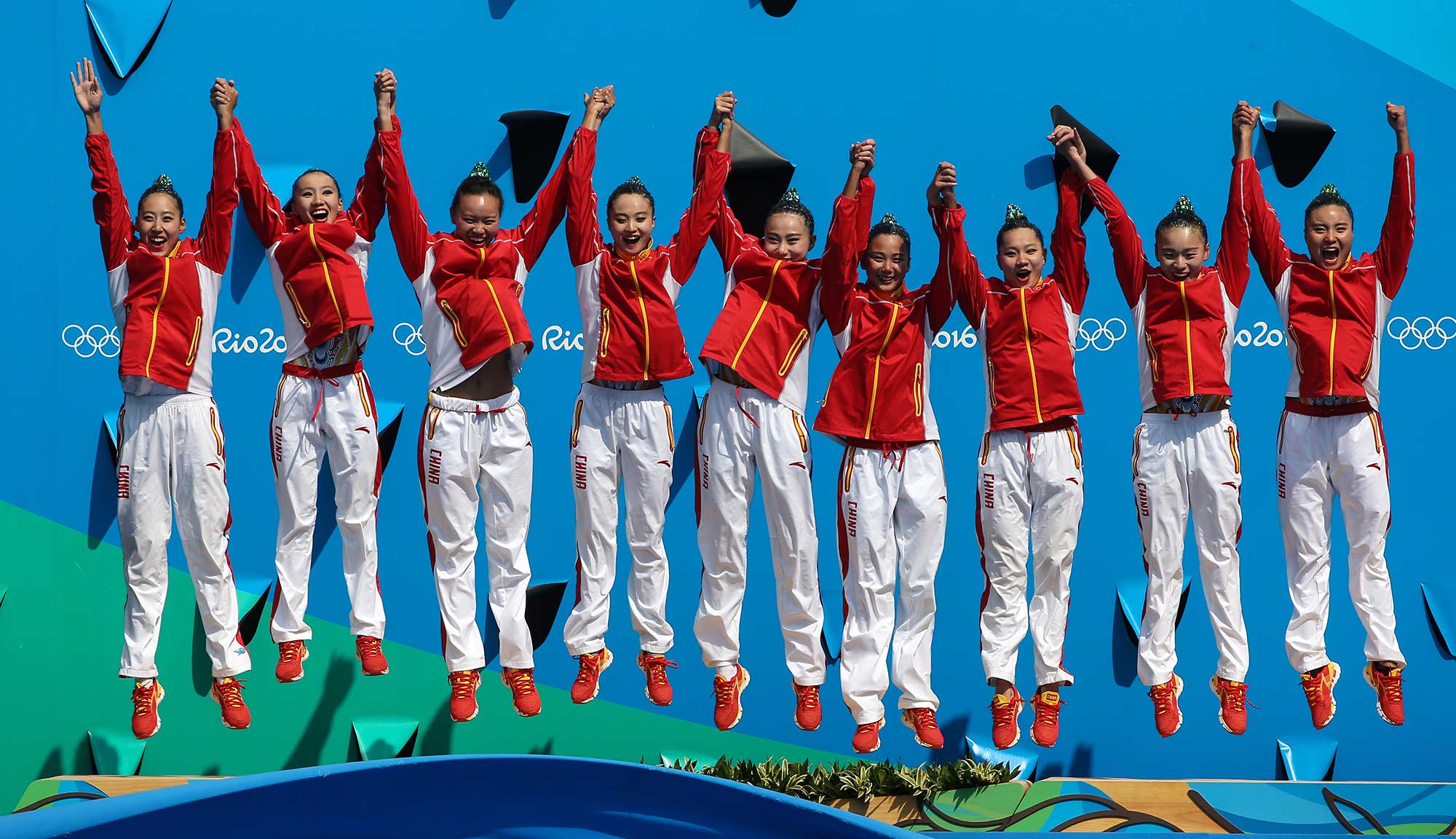 Article by Christina Marmet