Japan has always been one of the powerhouses of synchronized swimming since the early days of World and Olympic competitions. The Japanese duets have medalled at every Olympics since 1984 except in 2012, while the teams have won medals in all Games except 2008 and 2012. When solos were still an Olympic event (1984, 1988, 1992), Japan won all three bronzes. The program's slow dip in results is directly linked to its head coach leaving for China. She's now back and the results speak for themselves.
As we have touched upon a little bit in China's Olympic article about its rise and progress on the international scene, Japan's synchronized swimming history and success is also deeply connected to Masayo Imura.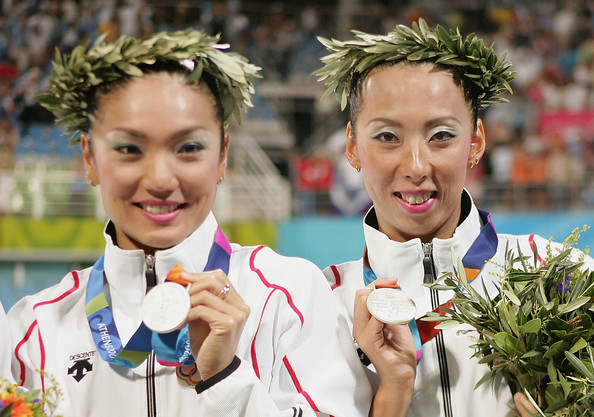 Imura, nicknamed the "mother of synchro"  or "the guru of synchro," coached the Japanese national team from 1978 to 2006. She helped the country win a multitude of gold, silver and bronze medals in World Championships, Asian and Olympic Games during that time span. Aside from three Russians tied for most decorated synchronized swimmers in Olympic history, the next ones in line are Japanese. Miya Tachibana and Miho  Takeda both have five Olympic medals in their resume (four silvers, one bronze).
Imura's departure was quite criticized in Japan, where people accused her of treason and betrayal for leaving to coach the Chinese national team. During her absence, Japan's international results started to slowly fall while Spain and China rose to the occasion and passed the Japanese team in competitions. At the 2009 World Championships in Rome, Italy, and for the first time ever, Japan did not medal in any events in an international meet. Without Imura, the team failed to medal at both 2008 and 2012 Olympics.
Imura came back in 2014, and the results were immediate. Japan returned to the international podiums at the 2015 World Championships in Kazan, Russia by winning bronze medals in the technical duet, technical and free teams as well as the free combination event. Such a successful return and revival of the program tremendously raised the expectations for the Rio Olympics, as the country was hoping for Olympic medals once again in one of their most beloved sports.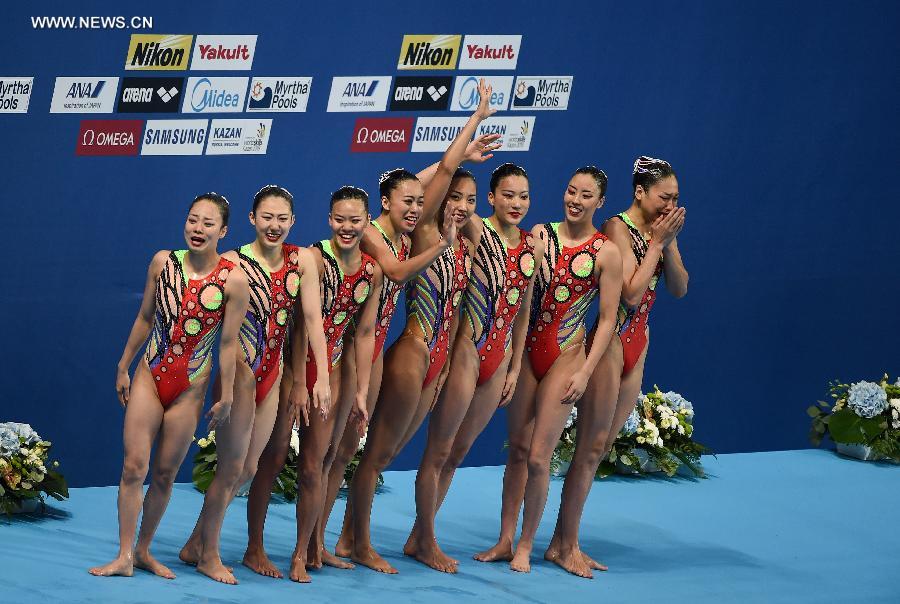 At the test event in March, Ukraine had pulled ahead and placed first while Japan finished second, which only put more pressure on the team as they knew Russia and China were shoo-ins for the gold and silver medals in Rio. The fight for Olympic bronze was a nail-biter. Team captain Yukiko Inui revealed the extent of the pressure the team felt in an interview with Reuters in February 2016:
"Now we're in a position where if we don't take a medal, we've failed. So we're under a lot of pressure. The Olympics will be even tougher."
Imura is known for her grueling training methods. When she came back to coach the team in 2014, she did not like what she saw and what had become of the program she built from the ground-up.
"Rather than practicing for competition, they were simply practicing because it was practice," Imura said. "Even when I scolded them, they had no idea why I was angry. That was not the Japan I knew."
She pushed the girls to their limits, which resulted in some of the top swimmers quitting because they just couldn't take it anymore. Other girls were called upon to take the place of those who left but they also refused to do so and to put themselves through Imura's harsh regimen. Those who stuck through it now have World medals, and most importantly an Olympic medal around their necks.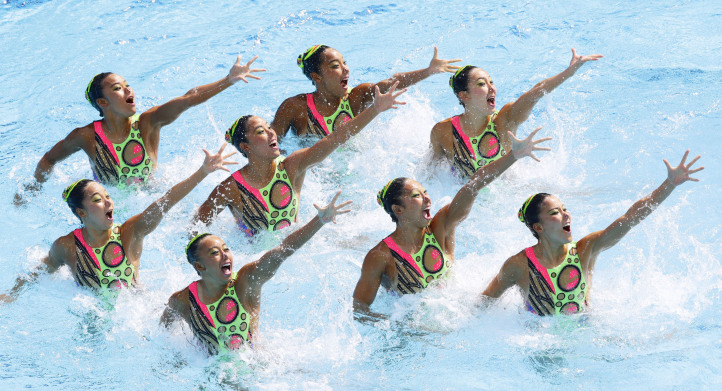 In Rio, the duet was composed of Yukiko Inui and Risako Mitsui, and they performed the same technical program as in Kazan in 2015 to music from Kamelot. The pair introduced a new free program for the Olympics where they scored 94.9333 in the free duet for a combined total of 188.0547.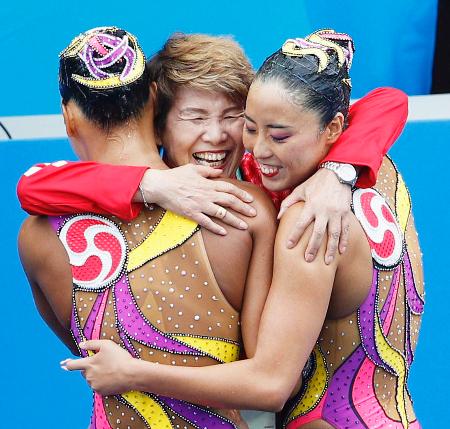 Inui and Mitsui grabbed the first Olympic medal for Japan since 2008, coincidentally on the same day as Imura's 66th birthday. Inui, who is also a 2012 Olympian, revealed in an interview that the training for these Olympics was much more difficult than she ever imagined, but she is very glad she stayed around another four years to finally feel what it is like to medal in major international meets.
A few days later, the team showcased the "classic" Japanese synchronized swimming style with very precise, clean and quick movements. Similarly to the duet, they presented the same technical program as in Kazan and swam a brand new free team routine for a score of 95.4333 and a combined total of 189.2056.
Their new free routine was set to traditional drum music, and aimed to showcase a scene from a Japanese myth where the sun deity Amaterasu Omikami emerges from a cave. The message behind it all was based on their hope that the Japanese flag (representing the sun) would finally rise again during the medal ceremony after these years of "darkness" and lost hope of a medal.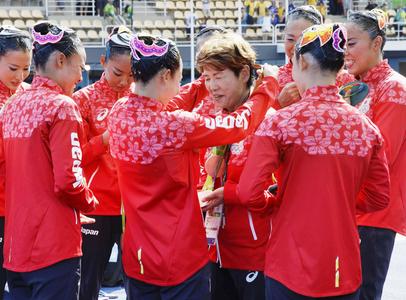 After such a successful comeback on the international stage, Imura is now already looking ahead and focusing on the 2020 Olympic Games which will be held on the team's home turf. They already don't have to worry about qualifying for it (unless the rules change, they get the automatic host nation spot), and can focus on getting even stronger. We can expect Japan to continue to rise and to aim to be back in silver medal contention against China in the years to come.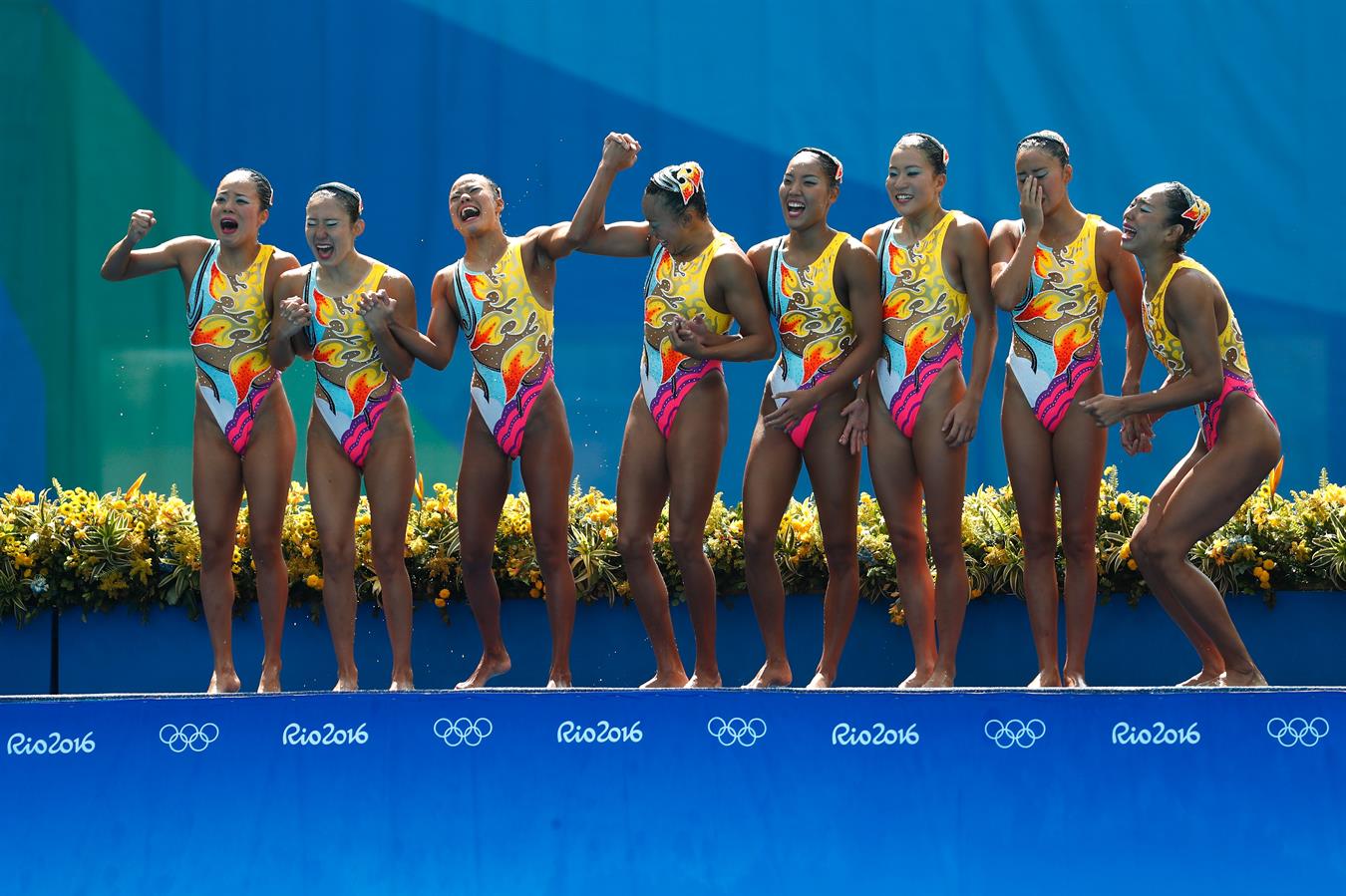 Article by Christina Marmet