Continuing with our Worlds previews, let's move to the duet events where once again, we are in for a lot of new faces and new pairs to start off this quad.
Russia will be sending a duet made of Svetlana Kolesnichenko and Aleksandra Patskevich, the two veterans of this Russian squad. Patskevich has been through two Olympic cycles already with the team and briefly considered a break after Rio, but was easily lured into continuing to swim in the duet event for the first time in her career with the senior national team. Just like with the solo, we really have no idea what the Russians have in store of us, but we can only hope for new routines to have been created on this pair instead of reusing the now famous mermaids routine of Natalia Ischenko and Svetlana Romashina from the Olympics.
Now, in super exciting news and according to multiple articles in the Chinese press, China is sending the twins Jiang Tingting and Jiang Wenwen to Budapest. The two have been regulars on the international scene for years, and were the duet at the 2008 Olympics in Beijing. They also swam at the 2012 Olympics in London with the team and won silver. To have them back on the world stage is thrilling, especially after their tumultuous career.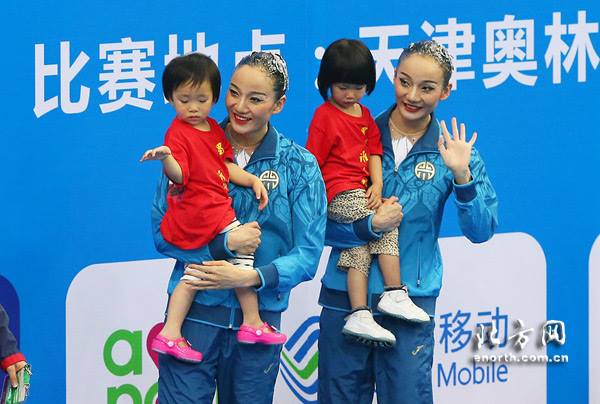 Following the 2013 Chinese Games, the twins left the sport amidst controversy and accusations of judging scandals and not being scored fairly. In 2015 and after both becoming mothers, the two decided to give it a go again. In 2017, they appeared very early on at the German Open and at the MUFE French Open. In Paris, they scored a 91.4818 in technical routine, and a 92.7333 in the free routine. Later in the season, they won the 2017 Chinese Games in May and confirmed their status as best duet in the country.
If anybody is going to challenge the Russians, it will be these two. Have a look at their performance at the MUFE French Open in March where they revisited their last competitive duet from 2013 here before their then-'retirement':
Spain and Ukraine have faced a similar situation following the 2016 Olympics, with only one of their top swimmers staying on – Ona Carbonell and Anna Voloshyna, respectively – and having to find a new duet partner for them. Spain had to replace Gemma Mengual, while Ukraine had to fill the spot of Lolita Ananasova.
Spain paired Carbonell with Paula Ramírez for this season. Last quad was rough for the Spanish duet, as the staff struggled to find a duet partner for Carbonell year after year, so much as to eventually settle on Mengual who sort-of came out of retirement for Rio. Ramírez had big shoes to fill and the expectations were high to find a new partner for Carbonell that would not only match her skill level and technical abilities, but that would also at least maintain Spain at its current European and World rankings.
The pair made their debuts at the European Cup in May, where Ramírez impressed and proved she was up to the challenge. The transition from Mengual to her was essentially seamless, especially in the free routine. They easily dominated the competition by scoring 88.5512 in the technical duet and 93.1333 in the free to clinch the gold in both events. The routines are the same as in Rio, and the free duet at that meet scored almost just as well as at the Olympics, a good sign heading into Worlds.
They have since competed at the Spanish Open and at the Synchro America Open, where they looked more polished and in a surprisingly good position to contend for a medal. The Spanish Open results were particularly encouraging as the two not only faced Ukraine for the first time this season but also beat it for the first time since 2013 in both technical and free routines. It evidently reversed the rankings from the 2016 Olympics where the Ukrainians were fourth, and Spain fifth.
Some of the scores in free that Spain has received this season could potentially compete with the Jiang twins in the free event, as Spain's season high is a 93.1333 (European Cup) while China's is 92.7333 (MUFE French Open). However, we will have to wait and see how both of these duets measure up against one another in the same competition.
The Ukrainians paired Voloshyna with first-year senior Yelizaveta Yakhno. Yakhno has known incredible success on the junior stage, and just like Ramírez showed this season she was more than up to the challenge of swimming with Voloshyna. The two had numerous outings in 2017 but unveiled a brand new and fast-paced free routine at the Canadian Open in May, while keeping the same technical routine Voloshyna and Ananasova presented in Rio.
Right in the midst of this fight for bronze will also be the pairs from Japan, consisting of Yukiko Inui and Kanami Nakamaki in free, and Inui with Mai Nakamura in technical. Japan edged out Ukraine for bronze at the Olympics in this event, and while Inui has two new duet partners, we should obviously not count them out. All three are 2016 Olympians and have extensive international experience.
At the 2015 World Championships, Japan won bronze in the tech duet event, while Ukraine won it in the free event. Now add in to this mix a revivified Spanish duet, and we are in for an awesome fight for the medals in Budapest.
Once again, since tables are pretty neat, let's look at all the scores these three duets obtained throughout the season:
Technical Duet Scores:
| | | | |
| --- | --- | --- | --- |
|  Competition | Spain | Ukraine | Japan |
| German Open | — | — | 88.8255 |
| MUFE French Open | — | 89.4580 | 90.1401 |
| Japan Open | — | — | 90.4721 |
| Canadian Open | — | 91.2005 | — |
| European Cup | 88.5512 | — | — |
| Spanish Open | 90.3572 | 89.1179 | — |
| Synchro America Open | 88.5493 | —- | — |
Free Duet Scores:
| | | | |
| --- | --- | --- | --- |
|  Competition | Spain  | Ukraine  | Japan |
| German Open | — | — | 90.9667 |
| MUFE French Open | — | 90.1000 | 91.7667 |
| Japan Open | — | — | 92.6333 |
| Canadian Open | — | 91.9667 | — |
| European Cup | 93.1333 | — | — |
| Spanish Open | 92.9668 | 91.0000 | — |
| Synchro America Open | 92.2667 | —- | — |
As you can tell, these three nations are fairly close so we can brace ourselves for some potential shake ups in the #3 – #5 ranks, and the bronze medal is essentially anybody's game at this point, particularly in the tech event.
Italy will remain consistent with its Olympic duet of Linda Cerruti and Costanza Ferro. The two have presented a new free routine this season to a soft piano music of Ludovico Einaudi, which is quite a welcomed change from their previous duet that was set to a dubstep remix. At the European Cup, the pair scored a 91.5000 in free, and while some home court advantage may have been at play (the meet was held in Cuneo, Italy) , it is a score that can definitely compete with the likes of Ukraine and Japan if these two were to have a bad day, but that's unlikely.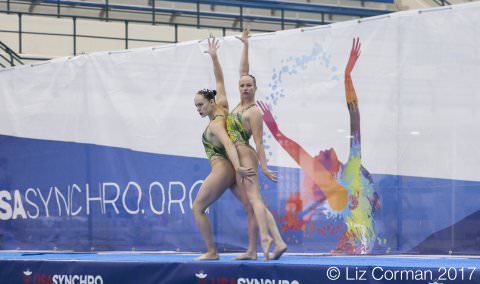 Canada has also faced some changes this season, and just as recently as three weeks ago. Jacqueline Simoneau started off the season with her Olympic partner Karine Thomas, who had originally announced she would retired after Worlds. However, plans changed halfway through and Thomas left the team at the end of May.
Luckily, Canada had been entering two duets in competitions throughout the year: Simoneau/Thomas and Claudia Holzner/Gabriella Brisson, and both were swimming the same routines. With the departure of Thomas, it was only logical to pair Simoneau with either Holzner or Brisson. At the Synchro America Open in June, Simoneau and Holzner made their first international appearance as a duet, handled the pressure of short-notice preparation perfectly, and were able to win silver comfortably ahead of the American pair with a 85.9011 in tech and 89.1667 in free.
2016 Olympians and two of the triplets from Austria Anna Maria Alexandri and Eirini Marina Alexandri will show off their new free duet for the first time to the theme of Alice in Wonderland. With their long limbs, flexibility and lightness in the water, we can be certain this duet will be a delight once again and not one to miss. Greece has also maintained its Olympic and well-established duet of Evangelia Platanioti and Evangelia Papazoglou.
Belarus and France have been neck and neck in the rankings most of the season. The Belarusians have kept their Olympic duet of Iryna Limanouskaya and Veronika Yesipovich, while the French have faced some changes following the retirement of Margaux Chretien, and Laura Auge focusing on the combo. In the technical event, twin sisters Charlotte and Laura Tremble will make their senior debuts on the world stage, while Marie Annequin and Solene Lusseau will swim the free. Both routines will however be the same as in Rio. The Tremble twins have had extensive international experience as juniors, notably representing France in the duet at the 2015 European Games and last year at the Jr. Worlds. On the other hand, Annequin and Lusseau had never swam together until this season as a duet, but neither are new to the international stage.
The Netherlands is also sending a pair of twins with Bregje and Noortje de Brouwer. The two just had fantastic results at the Jr. European Championships in Belgrade, Serbia, where they finished fifth and gave the country its best finish in over 20 years. This will be the twins' debuts on the world stage at the senior level. Continuing with the twins theme, Kazakhstan will certainly be represented by Alexandra and Yekaterina Nemich.
Great Britain will be represented by its young junior duet of Kate Shortman and Isabelle Thorpe, who was just in Belgrade where it finished 10th. Switzerland will have Maxence Bellina and Maria Piffaretti, its former junior duet that competed at the 2015 European Games and at the 2016 Jr. World Championships.
The U.S. returns 2016 Olympian in Anita Alvarez, who has been paired with the young Victoria Woroniecki for the season. In 2015, Alvarez and then-partner Mariya Koroleva finished 11th in free and 12th in free, and this new pair will try to at least maintain these rankings in Budapest.
More 2016 Olympic duets include Karem Achach and Nuria Diosdado for Mexico, Duda Miccuci, Luisa Borges and Maria Clara Lobo for Brazil, and Estefania Álvarez and
Monica Arango for Colombia. Turkey will send Defne Barkici and Misra Gundes.
Regarding new pairs, Argentina will send Camila Arregui and Trinidad Lopez Brasesco,the Czech Republic will likely be with Alzbeta Dufkova and Sabina Langerova, and Slovakia with Diana Miskechova and Petra Durisova. New Zealand will be represented by Eva Morris and Jazzlee Thomas, Hungary by Szofi Kiss and Annet Schwarcz, and Israel by Yael Polka and Eden Blecher.
You can find more information on the 2017 FINA World Championships here, and our preview of the solo competition here. Inside Synchro will be in Budapest to cover the event, so stay tuned for an extensive coverage of the competition!
More Worlds previews:  Solos | Mixed Duets | Teams| Free Combination
Article by Christina Marmet