Mixed duets were introduced at the World Championships for the first time in 2015 in Kazan, Russia. Back then, only six duets took part in the technical event, while 10 entered in the free. The U.S. duet of Bill May and Christina Jones won the first ever gold medal in the technical portion, while Russia's Aleksandr Maltsev and Darina Volitova took first in free. The Italians were comfortably in third in both events. So, what we can we expect two years later in Budapest?
First of all, more nations will be entered in the mixed duet events, as we have seen a lot of new pairs throughout the regular season. That said, the medal contenders will likely remain the same.
The gold medal is probably still going to be played out between the Americans and the Russians. With the risk of sounding like a broken record, we have not seen Russia at all this season so we clearly have no idea what they will present in Budapest. Since 2016, Maltsev has had a new duet partner in Mikhaela Kalancha. They won two gold medals at the European Championships that year, and haven't been out since. However, and considering they used the same routines there as in 2015, we can probably anticipate new choreographies at this year's Worlds.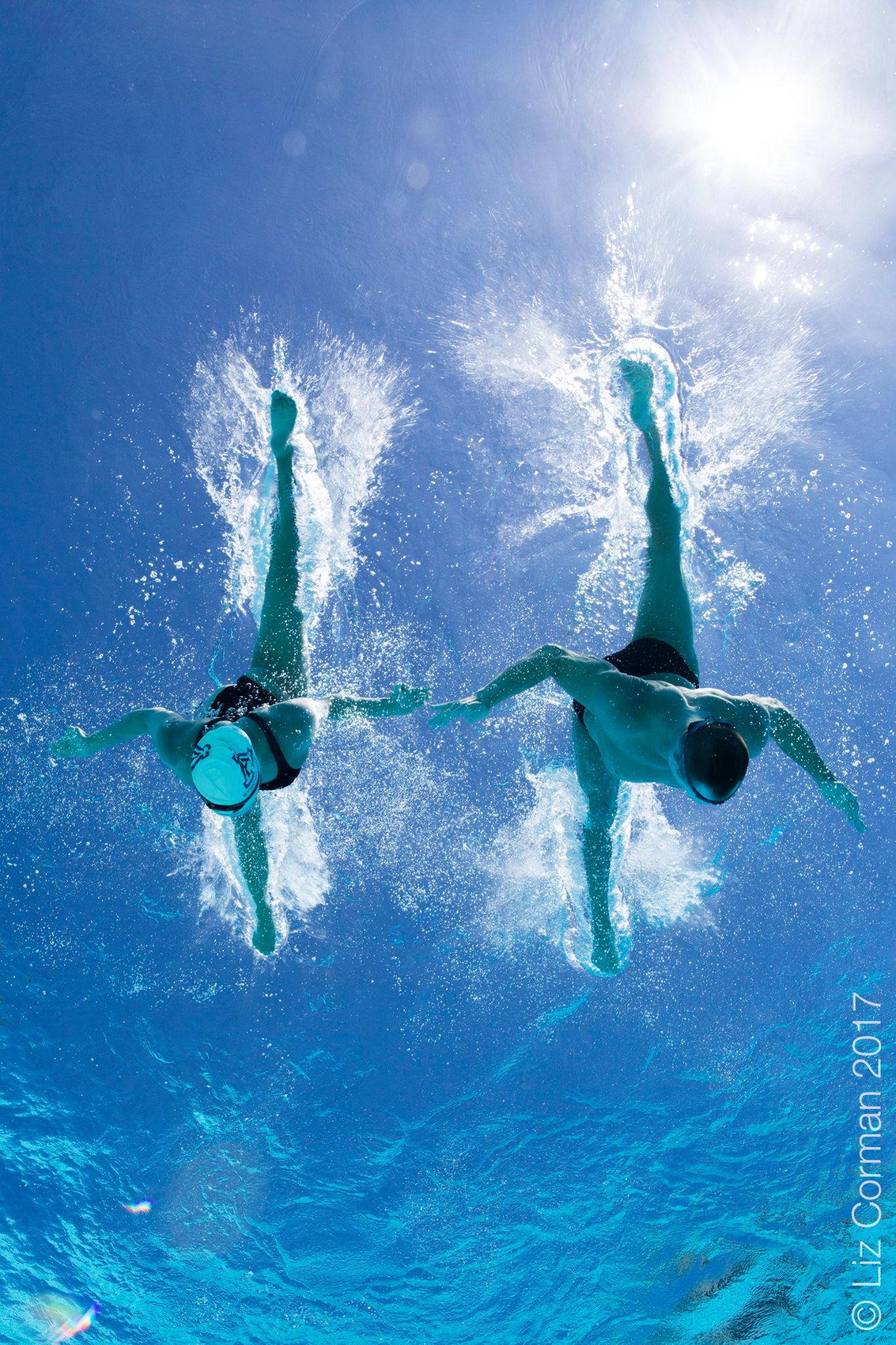 On the other hand, we got a glimpse at the U.S.' new duets a few weeks ago at the Synchro America Open. Just like Maltsev, May has a new partner in Kanako Spendlove. The two have been working together for years at the Cirque du Soleil 'O' show, and their similar work schedules made it easier for them to train.
Spendlove is a former Japanese national team member, and won silver in the team event at the 2004 Olympic Games in Athens, Greece. She moved to the U.S. about 10 years ago, and through her training for Cirque has improved her flexibility and artistry in the water.
In the free program (watch here), May and Spendlove are portraying Medusa and Perseus. Just like in 2015, the Americans have kept on pushing the envelope, going all out on artistry, and approaching the event very much like ice dancing and not like a conventional women's duet.
Their technical routine is more 'racy' and is set to the song "Baby Did a Bad Bad Thing" by Chris Isaak, which you can watch it here. May and Spendlove will need to clean up on their elements if they want to beat Russia for the gold in this event, as we can be certain the Russians will be squeaky clean on their technique.
A lot of the other duets we saw in 2015 are still around and have made great progress. The two Italian pairs of Giorgio Minisini and Manila Flamini in tech, and Minisini with Mariangela Perrupato in free are back and not afraid to say they want that elusive world title.
Flamini and Minisini have developed a technical routine called "A Scream from Lampedusa." With an original musical score, this duet is in memory of the many victims in the Mediterranean sea from the refugee crisis. This is a poignant routine with an important meaning, and it is a great way to use this sport and its artistic component to raise awareness on a very relevant issue nowadays. Check out their performance at the MUFE French Open back in March:
In the free event, Minisini is paired with Perrupato, and the two swam a 'Romeo & Juliet' routine at the European Cup in May in front of their home crowd. However, their coach announced shortly afterwards that this would not be the routine they present in Budapest, and that they are actually keeping the brand new free choreography a secret until the last minute.
Japan has also made incredible progress in this event. In 2015, Atsushi Abe and Yumi Adashi obtained 84.9000 in free and were ranked well below Spain there. They also scored a 82.3509 in the technical duet. The composition of the duet hasn't changed since and at their last outing at the Spanish Open in May, they beat the Spanish pair and scored 86.0668 in free and 84.7630 in tech. They gained close to two points, have really cleaned up on their execution and technique, and are coming to Budapest as the underdogs. However, it is hard to realistically consider them as medal contenders quite yet against the likes of Russia, the U.S. and Italy. But do keep your eyes out for these two in the next few years as they can only continue improving.
Spain has renewed its mixed duet as well, and has paired up Pau Ribes with Berta Ferreras since 2016. Ferreras was successful in the junior rankings, and was the nation's soloist at the 2015 European Games where she won silver. Just like Abe, Ribes has made great strides this season and has displayed improved technical abilities. He and Ferreras also debuted a technical mixed duet this season, which is new as Spain only entered the free event in Kazan. In 2015, Spain placed fifth in the free event with a score of 86.8000. At their last 2017 outing at the Spanish Open, they obtained 82.4740 in tech and 83.4666 in free. Below is their new free duet swam at the European Cup:
Canada will also be back in the event, and much like the nations above, with a new partner for the man. Robert Prevost is paired this season with Isabelle Blanchet-Rampling. Blanchet-Rampling is a 2008 Olympian for Canada and came back to the elite level to swim with Prevost this season. They were just out at the Synchro America Open where they grabbed silver behind the Americans with 79.2398 in tech and 83.1667 in free. Their free routine is to "Song of the Stars" by Dead Can Dance, and they displayed pretty impressive acrobatics (seriously, check out the first lift).
Moreover, we saw mixed duets for the first time this season from Greece (Vasileios Gkortsilas with Olga Kourgiantaki and Vasiliki Kofidi),  Germany (Amelie Ebert, Niklas Stoepel) and China (Sheng Shuwen, Shi Haoyu), and we should expect all three in Budapest.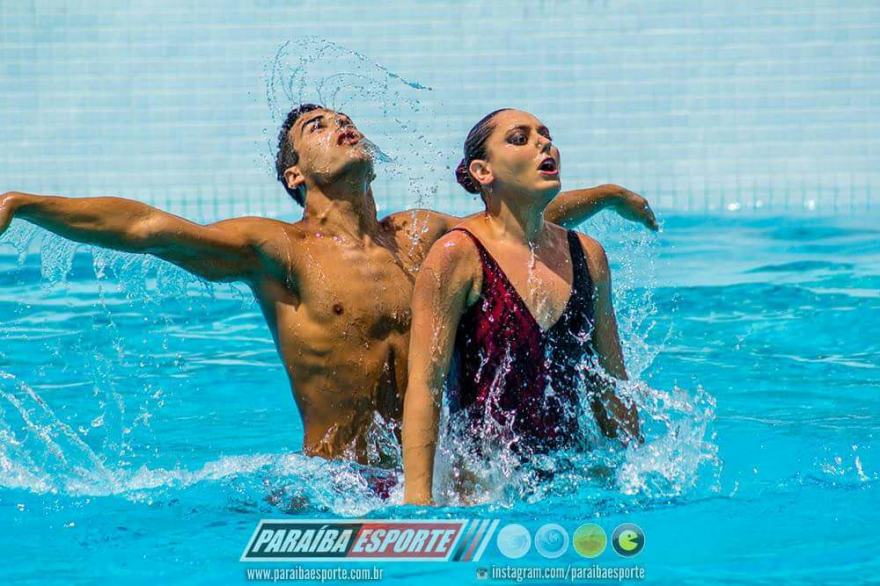 Similarly, Brazil will be entering a mixed duet for the first time with the 'real life' couple of Giovana Stephan and Renan Alcantara. Their free routine will be to the theme of "Romeo & Juliet". Stephan is one of the most successful Brazilian swimmer and was the first to qualify to a solo final at a World championship in 2009. Last year, she gave up on the 2016 Olympic team selections in order to focus on competing in the mixed duet with Alcantara.
Another nation we may see in Budapest is Panama, as it competed a mixed duet at the Synchro America Open, but it is unclear as to whether it will make the trip to Worlds. Furthermore, the Ukrainian mixed duet hasn't been out at all this season and no news has come out about it, so it is hard to say if it will be at Worlds or not with certainty. Great Britain was sort of hinting at a mixed duet on social media in April, but it is also very much unclear if it will compete here. That said, it is very possible we might see a few mixed duets we haven't seen at all this season show up in Budapest, as this was the case in Kazan. We just have to wait and hope for some surprises.
In sadder news, France and Turkey won't be competing again in this event this year as both Benoit Beaufils and Gökçe Akgün were unable to find duet partners.
You can find more information on the 2017 FINA World Championships here. Inside Synchro will be in Budapest to cover the event, so stay tuned for an extensive coverage of the competition!
More Worlds previews:  Solos | Duets | Teams| Free Combination
Article by Christina Marmet
Cover photo by Liz Corman.