As we are inching closer to the biggest international competition of the season, Inside Synchro will be previewing each event of the 2017 FINA World Championships and look at the medal contenders and other names you should be on the lookout for. As with every post-Olympic year, many teams have changed and a lot of newcomers will compete on the big stage. First, let's start with the solo competition.
The two Russian soloists Natalia Ischenko (retired) and Svetlana Romashina (on a break) are leaving a big hole in this event, and the expectations are high for Svetlana Kolesnichenko who will swim both technical and free programs in Budapest. Kolesnichenko is one of the veterans of the Russian team, so it is no surprise to see her get a go at the solo. She was briefly part of the duet alternatively with Daria Korobova and Svetlana Romashina in 2013 and 2014, and has been a significant member of the senior team since 2011.
She has never competed in the solo category for Russia, so it will be interesting and exciting to have some focus on her and see what she can deliver. We have no idea what her solos will look like or what the themes and music are, but by virtue of being Russian and one of the best swimmers in the world, she is the favorite to win gold.
The one looking to upset the Russian dominance is Ona Carbonell from Spain. She won bronze in the free event and silver in the technical event at the 2015 World Championships, and looks poised to repeat, if not improve, on these results. Carbonell went all out this season with two new and original programs, focused on artistry and innovation. She has worked heavily with Virginie Dedieu for these new choreographies, and the "Virginie touch" is very visible through both solos with some unique and peculiar moves.
Carbonell has competed a few times this season to show off her new work and get feedback from judges; her last outing being at the Synchro America Open in Long Island, N.Y a few weeks ago where she scored a 90.3424 in technical and 92.5000 in free. Whether these scores can hold up against the big unknown that is Kolesnichenko remains to be seen.
While Carbonell is the most likely candidate for an upset for gold if there were to be one, she should not rest on her laurels as Ukrainian Anna Voloshyna is making a push and getting uncomfortably close to the Spaniard as the season progresses.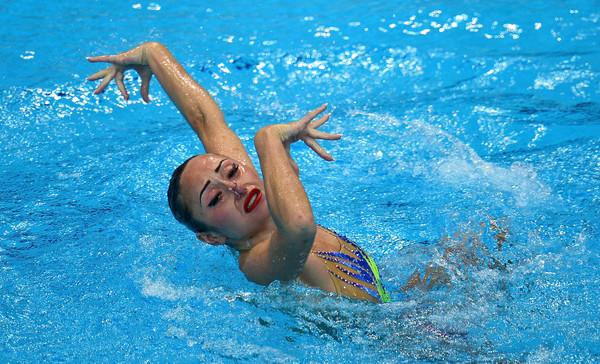 Voloshyna has developed into a very charismatic and dramatic soloist, and has gained great maturity over the years. She competed a lot this season as well, the latest being at the Spanish Open in May where she was only 0.267 behind Carbonell in the free solo. The two displayed very different styles, with Carbonell focusing on innovation and technique while Voloshyna was all emotion and gave us a heartfelt performance there.
This was the only competition where the two faced off in solo, and while Carbonell still has the edge over Voloshyna, the scores that the Ukrainian has been receiving throughout the season can get very close, if not above some of Carbonell's (see table below). However, we must remember it is quite difficult to compare scores across different competitions, so we will have to wait and see what happens in Budapest. That said, the gap between the two was of almost two points at the 2015 World Championships but it already looks like it will be much smaller this year.
With the absence of China's soloists Huang Xuechen (silver medal in free in 2015) and Sun Wenyan (bronze medal in tech in 2015) from the competition, it is probable the solo podiums will consist of the three swimmers above. At the time of this writing, it remains unclear as to whether China will even enter a soloist at all, but if it does it will be one from a province team and it is likely she will not challenge for a place on the podium.
We do however have a few more contenders that will look to shake up the hierarchy, and maybe get closer to medal contention. Yukiko Inui from Japan and Jacqueline Simoneau from Canada will be right up there in the top group. Inui isn't far behind Voloshyna, and has scored well into the 91s multiple times this season. If Voloshyna were to have poor performances, Inui could sneak in there and grab a medal, especially in the technical event where Voloshyna's advantage is less significant.
Simoneau would realistically need the top four to falter if she were to come into medal contention. Just like Carbonell, she has worked a lot with Dedieu this season and has really improved on her artistry and presence in the water. Her free solo is one to watch and shouldn't be missed, as she intensely portrays someone who has lost eyesight, to a moving music from Ludovico Einaudi.
Because who doesn't love to compare scores, here are tables with each of them that the top four soloists (obviously excluding Kolesnichenko since, well… we don't have anything) received throughout the season in both technical and free events:
Technical Solo Scores:
| | | | | |
| --- | --- | --- | --- | --- |
|  Competition | Ona Carbonell (ESP) | Anna Voloshyna (UKR) | Yukiko Inui (JPN) | Jacqueline Simoneau (CAN) |
| German Open | — | — | 88.5174 | — |
| MUFE French Open | — | 91.1267 | 90.4774 | 88.8201 |
| Japan Open | 92.2446 | — | 91.0121 | 88.7567 |
| Canadian Open | — | 90.8138 | — | 89.9691 |
| Spanish Open | 90.9702 | 89.0129 | — | — |
| Synchro America Open | 90.3424 | —- | — | 87.9708 |
Free Solo Scores:
| | | | | |
| --- | --- | --- | --- | --- |
|  Competition | Ona Carbonell (ESP) | Anna Voloshyna (UKR) | Yukiko Inui (JPN) | Jacqueline Simoneau (CAN) |
| German Open | — | — | 90.6333 | — |
| MUFE French Open | — | 92.7000 | 91.5000 | 89.1000 |
| Japan Open | 93.6667 | — | 91.9000 | 89.9667 |
| Canadian Open | — | 92.3000 | — | 91.6000 |
| Spanish Open | 92.0000 | 91.7330 | — | — |
| Synchro America Open | 92.5000 | —- | — | 90.2333 |
Furthermore, Linda Cerruti from Italy could give us some surprises, as she has yet to compete her solo on the international stage this season. At the 2017 Senior Italian Nationals, she swam the same one as last year, but it is possible she will come out with something new in Budapest. Or not… but it is a common strategy to compete older routines during the season to keep the new ones under wraps until the big meet.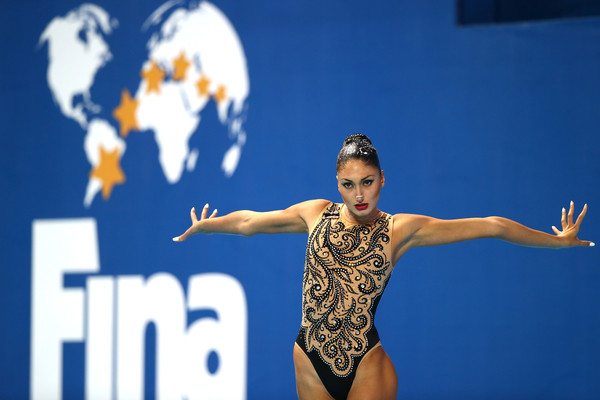 Two other athletes who will very likely be in this top group are Evangelia Platanioti from Greece and Vasiliki Alexandri from Austria. Platanioti is not new to the World stage and has always delivered strong and emotional performances, but Alexandri will make her solo debuts at a world championship here. She has competed at the European Championships and numerous Opens in the past, so she is not completely new to the international stage. Just like her two sisters, Alexandri has legs that never seem to end and has solid technique that should be to her advantage here.
France is betting on 16-year-old Eve Planeix in the free solo event. Planeix originally made waves at the MUFE French Open in March, beating her teammates and former French soloist Estel-Anais Hubaud for a spot in the final. Since then, she was officially selected as the soloist for Worlds, and this despite never having represented France in solo before at a major international competition, which just goes to show her potential and fast rise through the national team ranks. She has been eagerly working on increasing her difficulty and improving her performance (also with Virginie Dedieu) for what is undoubtedly the biggest stage she's ever been on so far in her young career.
Switzerland and Great Britain are also betting on the younger generation. The Swiss are sending last-year junior swimmer Vivienne Koch. Koch has already represented her country on the international stage in solo multiple times, and was just at the Junior European Championships last week where she finished sixth ahead of France and Greece. Great Britain will be represented by 15-year-old Kate Shortman, who was also the soloist at the recent Junior Euros where she placed ninth.
2012 Olympian Szofi Kiss will represent Hungary in front of the home crowd. By the look of the regular season, we can also probably expect Camila Arregui to swim for Argentina, Defne Bakirci for Turkey, Yael Polka for Israel, and Anita Alvarez for the U.S.
You can find more information on the 2017 FINA World Championships here. Inside Synchro will be in Budapest to cover the event, so stay tuned for an extensive coverage of the competition!
More Worlds previews:  Duets | Mixed Duets | Teams| Free Combination
Article by Christina Marmet