Teams and rankings have changed a lot since the last world championships in 2015. There, Russia, China and Japan dominated the podium in both technical and free events, and were followed by Ukraine and Spain. However by looking at the 2016 season and this year's competitions so far, we already know the hierarchy has shifted and the 2017 World Championships will be a lot different than last time around.
At the end of June, the Russian federation announced its Worlds team. This new roster is led by 2016 Olympic champions Vlada Chigireva and Maria Shurochkina, while the other two Olympians Alexandra Patskevich and Svetlana Kolesnichenko focus on the duet and solo events. We won't be spending too much time discussing this Russian team since we already did in depth here, but very much like all the other events previously previewed, we have no idea what Russia will swim in Budapest. They could be swimming their Olympic routines again and we'd honestly be perfectly content with it since it was extraordinary.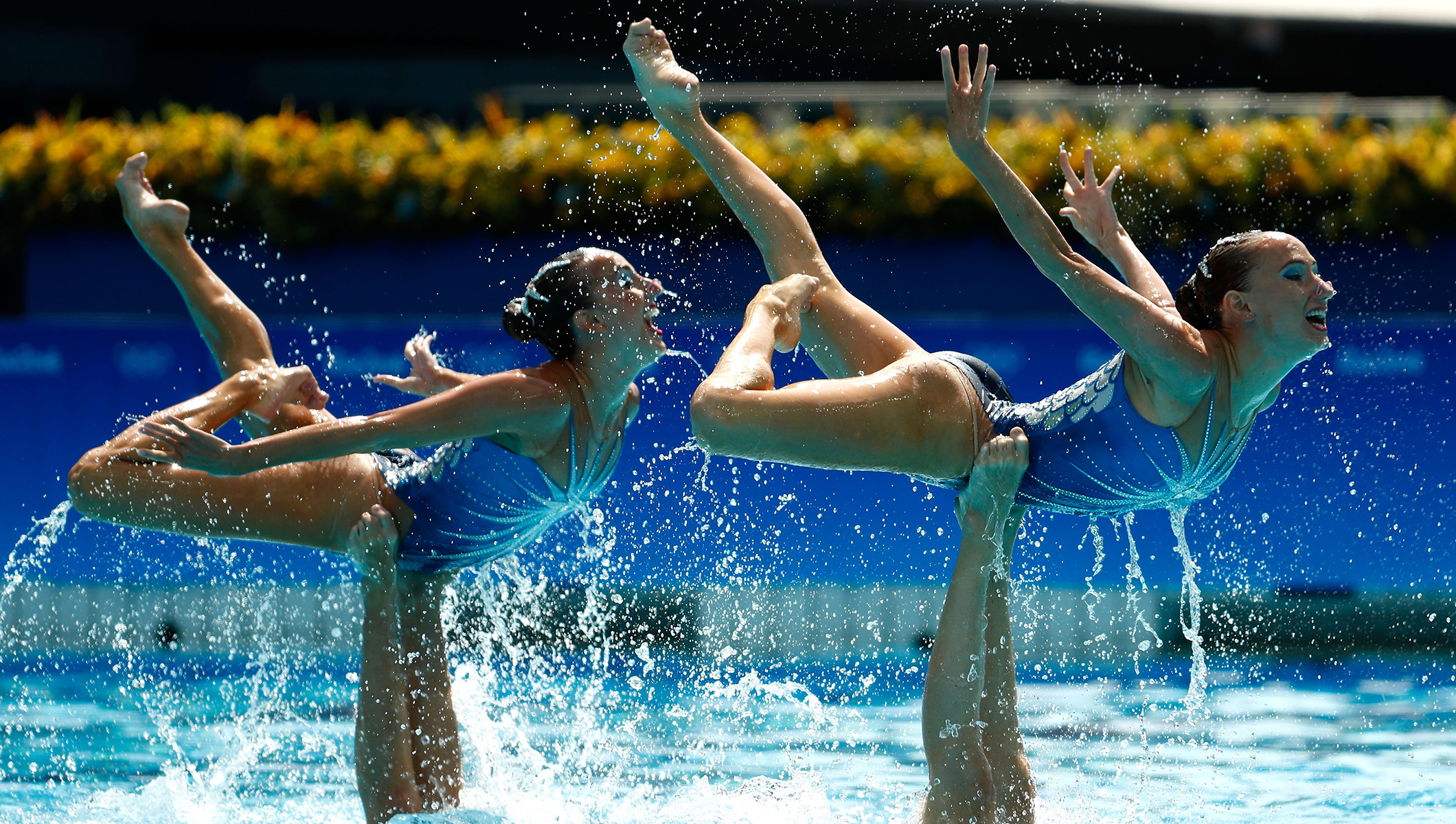 It is possible the Russians will keep their ridiculously fast Rio tech routine since it was only swam for one season, and that they present a new free routine since it's already two years old. Their strategy used to be to unveil a new free routine at the Games and re-use it at Worlds the following year, but that changed in 2015 as Worlds were hosted by Russia and the team wanted to present a new routine in front of its home crowd. That routine was then kept for Rio. Now that that's changed, we are not sure what to expect here at this point, so we will just have to keep speculating until we are in awe (once again) of what the Russians will do.
As we wrote about previously, China will not be sending a 'national team' per se, but rather a provincial team with swimmers coming from the provinces of Jiangsu and Beijing. Due to the lack of time to go through trials following the 13th Games of the People's Republic of China in May, the federation decided to instead favor the already-existing provincial teams. This provincial team should still display a very high level as the nation has a lot of talent waiting in the wings. However, it is probably unlikely it will challenge for a medal, let alone a silver medal, against the likes of the top squads rom Japan and Ukraine. That said, this Chinese team should not be underestimated and will probably still score higher than many other nations in Budapest.
Japan hasn't been out since the Japan Open in April, but it will certainly look forward to fight for that silver medal with Ukraine (and potentially China). Things are boding well for the Japanese as they have been ranked above Ukraine the one time the two faced off at the MUFE French Open in March.
The country didn't present new routines this season likely due to the fact that it hasn't taken a break since the Olympics. Indeed, the Japanese haven't really stopped since the Olympics and competed at the 2016 Asian Games in November while most other countries were focusing on new routines and tweaking their rosters. As a result, they decided to go for the safe option to keep older routines and to get the new team members to learn them and perfect them, instead of starting from scratch with everything and everyone. The Japanese could however still surprise us with new choreographies as they haven't been seen since early April.
Ukraine faced a high turnover rate after the Olympics, and only kept three 2016 Olympians amongst its ranks: Anna Voloshyna, Kseniya Sydorenko and Anastasiya Savchuk. A lot of the talented junior swimmers moved up and were thrown into this senior team that competed heavily in the FINA World Series circuit this season. The Ukrainians kept both Olympic routines so we will get to see the 'Illusion' routine once again in Budapest (you can also view it below at the 36:00 mark).
With the unknown of the Chinese team, the Ukrainians are realistically in medal contention in both technical and free events. In Rio, they were very close to the Japanese in both events: 93.7723 vs. 93.4413 in tech, and 95.4333 vs. 95.1667 in free, with ultimately the Japanese winning bronze in both. Since the two teams have faced important roster changes, anything is possible and it will be quite exciting to see if the Ukrainians can pull it off.
Italy finished sixth in free and seventh in tech at the 2015 World Championships, but we can surely expect the Italians to place higher in Budapest. Once the team qualified to Rio over Canada and Spain, it cemented its rise in the international hierarchy and of third European nation. Furthermore, the Italians did not lose many swimmers since last year and return a very strong team.
We only saw them at the European Cup in Cuneo, Italy, so far this season, where they unveiled their new free routine to an original musical score of Michele Brava "An experiment with time," and showcased the same technical routine as in Rio. While the free team (watch below) was made of an even split of newcomers and veterans, the technical team roster was loaded with talent and experience, with six of its eight swimmers 2016 Olympians. They displayed technical superiority and precision against the rest of the field at this competition.  In Cuneo, Italy was well ahead of Spain in both tech (90.2885 vs. 87.7617) and free (91.000 vs 88.9333). The country is enjoying a good momentum, and it would not be surprising to see it around the fourth or fifth place this time around.
Spain has had a few rough months, especially following the missed qualification as a team for the Rio Olympics. After that, a lot of the swimmers decided to call it quits and leave the national team or retire. The nation was forced to bring up a lot of junior swimmers to fill in these spots, and we will thus have a young but fired up team at this year's Worlds. In Cuneo, the team presented two new routines, including a fast-paced tech choreography and a more dramatic free one, which we will both see again in Budapest. Nevertheless, Spain's best swimmer Ona Carbonell will not swim either team routines and is focusing on her solos and the duet.
Below is Spain's new free team routine at the European Cup in May:

Canada was very much in the same boat as Spain following the disappointment of a missed Olympics qualification as a team last March. This was even more meaningful as it marked the first time ever that Canada would not have a team at the Games. The team has since been renewed with a lot of 'B' team and former junior swimmers moving on to the 'A' squad. However, it has been a bumpy season for the Canadians as they faced difficulties and injuries ahead of the Japan Open and later on the Canadian Open, and the sudden departure of their head coach Meng Chen in May. The team has been coached by Leslie Sproule since June.
In Japan, the Canadians were originally supposed to unveil their new technical routine, but a few team members sustained injuries during practice just days before the competition. Coupled with injuries to other teammates before leaving Canada, the team was forced to withdraw from that event. In Toronto at the Canadian Open, four alternates were able to come in and swim the tech routine, but it wasn't quite enough to pull off the free team routine. As a result, we haven't seen much of Team Canada yet.
Just like everyone, France has had to deal with the departure of many swimmers after 2016 and has had to rely on numerous junior swimmers to compete in the senior competitions this season. As a result, the French won't enter the technical event. The free routine will be the same that we just saw from the junior team in Belgrade, Serbia at the Jr. European Championships on the theme of 'Emotions.' It's a routine that's improved greatly since the beginning of the season. Additionally, the French have really been working on their throws and lifts, an area where they had always been weaker than most in the past, and it's something that's been noticeably better particularly with the senior team.
Since we couldn't find a video of the senior team, here is the junior team at the Jr. Euros swimming the 'Emotions' routine. Again, we will see essentially half of these swimmers in Budapest:
Much like France, Switzerland's team will be made of a few junior swimmers we just saw in Belgrade. Greece's team will essentially be the same at is junior squad, as Evangelia Platanioti appears to be focusing on the solo and duet this season while Evangelia Papazoglou may only take part in the tech routine.
The U.S. team only got together a few months ago to train for these World Championships. The Americans presented their new routines at the Synchro America Open at the end of June, with a free routine to the theme of "The Rhythms of Africa." The opening sequence is great, and the team displays some original lifts. You can view the routine here. The tech routine revolves around Broadway.
Staying on the same continent, we should also expect to see routines from Mexico. The Mexicans will certainly look to at least repeat on their great result from 2015 where they finished eighth ahead of France in the free event. It is unclear as to whether Brazil is sending a full team.
As we have seen through the regular season, we should surely see routines from Australia, Austria, Germany, Hungary, Israel, Kazakhstan, Slovakia, Turkey and Uzbekistan. Although we didn't see them at all this season yet, we can hopefully count on Belarus and Egypt to send a team to Budapest.
You can find more information on the 2017 FINA World Championships here. Inside Synchro will be in Budapest to cover the event, so stay tuned for an extensive coverage of the competition!
More Worlds previews: Solos | Duets | Mixed Duets | Free Combination
Article by Christina Marmet
Cover photo by Ráfagas Deportivas GC.