It is hard to miss Bill May. Everybody knows his name. Anywhere he goes, a crowd likely surrounds him within seconds to try to take a photo with him, get his autograph, or simply chat for a few minutes. It is actually quite difficult for him to make it out of a pool without being stopped every 10 meters, but he always makes sure to take time for everyone. He understands his role in artistic synchronized swimming goes well beyond the routines he competes only a few times a year.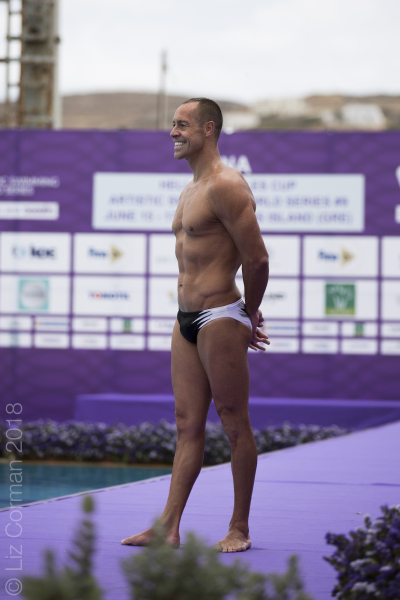 May truly has a special presence and aura in person, not only because of his big smile and genuine laugh, but also because it's nearly impossible to not be drawn to him and his story. Over his 30-year career, he has become the face of male synchronized swimming, and that's without ever competing at the Olympics, nor winning a world medal until four years ago.
If there is one particular object that rarely leaves his side, it is however his Olympic rings ring. He wears it at all times when he's out of the water. During practice, he ties it into his suit, and while he competes, his nearly lifelong coach Chris Carver wears it. During his work performances with Cirque du Soleil, he stashes it away in his personal drawer. 
He got the ring back in 2004 when he was training alongside the U.S. Olympic team as it prepared to compete in Athens, but without him. Not because he wasn't good enough or hadn't made the cut, but simply because the rules said so: women's team and women's duet only.
"I wear the ring on my wedding finger to remind and inspire me of this pathway that is my world right now, and to fight as hard as I know how," May said. "So, when I am feeling discouraged or need strength, it is there to guide me. It's a little cheesy and maybe cliché, but it reminds me that no one can write my story but me."
The inclusion of men in major senior international events has nevertheless improved since 2004, as they were allowed for the first time at the 2015 FINA World Championships with the introduction of mixed duets. These events are now also part of the schedule at the European Championships and European Cup, the UANA Pan American Championships, and all FINA world series events. Unfortunately, nothing has changed regarding the Olympics yet.
"I may never compete at the Olympics, but for me personally, this ring holds the true spirit of what I believe the Olympics to be. It is my dreams and dedication to the sport that I love and has loved me," he added with a smile.
May started synchro in 1989 at the age of 10 in a small club in Syracuse, N.Y., after watching his sister's practice. He loved it right away, and showed a strong potential that got him noticed early on. At the age of 16, he moved across the country to California to join one of the best clubs in the U.S., the Santa Clara Aquamaids, where he stayed for nine years.
At the time, it wasn't so easy to compete internationally, and men in synchronized swimming in the U.S. were more than a rarity and rather an oddity, prone to mockeries and sneering comments. May let it all roll off his back, as he just wanted to train hard and see how far his love for the sport would take him.
"I have always been so stubborn, I still am," he said, laughing. "I did it because I enjoyed it. There wasn't anyone that would have been able to tell me that I shouldn't or that I couldn't do it, because it was just a passion of mine. It made me want to be the best I could possibly be. Even though I knew I couldn't go to the Olympics or the world championships at the time, that didn't matter. I wanted to be the best synchronized swimmer that the world had ever seen."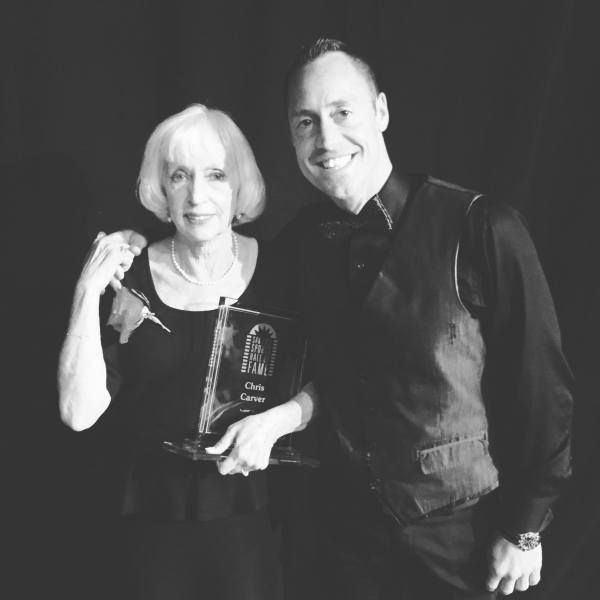 Once at the Santa Clara Aquamaids under the guidance of legendary coach Chris Carver, he quickly moved up to the senior 'A' team. Carver realized they didn't have much to lose, and decided to start promoting the mixed duet event globally, pairing May with Kristina Lum-Underwood (née Lum).
The two truly made history representing the U.S. in the duet event at the 1998 Goodwill Games, a now-defunct international sports competition that saw the light in reaction to the political troubles surrounding the Olympics in the 1980s. Lum-Underwood and May became the first-ever mixed duet to compete at a major international competition.
There, they swam a technical program to "Rock Around the Clock," and a free routine to Bolero, with a choreography inspired by the ice dancing routine from the famous pair of Jayne Torvill and Christopher Dean at the 1984 Olympics. May recognized that the reactions back then were pretty much the same as they are today. Most people were confused, tried to compare them to a women's duet, and lacked the understanding of what a mixed duet should look like and should do difficulty-wise. 
"We really wanted to show the beauty of a man and a woman swimming together," May said. "We wanted to make it more like a dance. It doesn't have to always be a love story. [A mixed duet] is something where you define the characteristics of two separate entities that complement each other rather than mirror each other."
With the combined scores, Lum-Underwood and May won the silver medal. May quickly became a trailblazer in the sport and tried to make his case to be allowed to compete in other major international competitions. In 1999, he was however barred from competing in the Pan American Games, where mixed duets still are not included to this day. 
He was nonetheless able to compete in smaller competitions throughout his career, like the Swiss Open, French Open or Rome Open, in the solo, mixed duet or team events with the Santa Clara squad. He and Lum-Underwood continued swimming together into the early 2000s as well, nationally and internationally, although the world championships and the Olympics still eluded them as a pair. 
May continued on his path, enjoying the sport and taking on a prominent role in the fight for gender equality. In 2004, he had the talent and skills to be part of the Olympic team. Carver at the time even stated that he was not only the best synchronized swimmer in the U.S., but that he could rival some of the best in the world. Unfortunately, he was forced to watch from the stands in Athens as his teammates went on to win the bronze medal.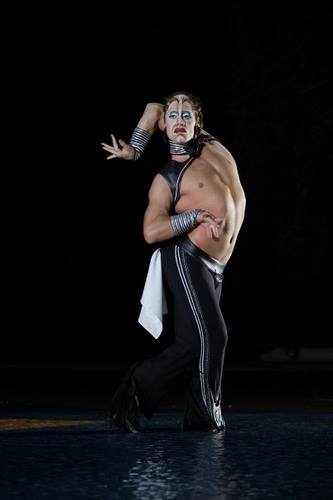 He had also then come to the full understanding that he had to start thinking of the post-synchro life, which usually involves a steady paycheck, a home, and in his case, dogs. He retired from elite that same year at the age of 25, and joined the Cirque du Soleil show 'O' in Las Vegas. He has now been working there for 15 years, and is loving every minute of it.
On November 28th, 2014, and about 10 years into his retirement from competition, May received an email that would drastically change the course of his life. FINA had finally decided to include mixed duets for the first time ever at the 2015 world championships in Kazan, Russia.
May did not even need to think about it and everything it would take for him to get back to elite in a sport that had tremendously changed since the last time he competed. He just knew he had to be there. 
"I always had a dream that it would be introduced into major competitions because I couldn't imagine a sport ever growing when it limited itself," May said. "I think for the sport to grow, it had to [include mixed duets] or it would die. To really develop artistic swimming, it needed another aspect in it. It can move as fast as it possibly can, but spectators sometimes want something different. Not better or worse, but something different. With mixed duets, people can watch and relate. You have a man and a woman in a duet, with different dynamics together, and I think it's very intriguing to spectators. Mixed duets are just the evolution of our sport; it was destined to have men in it."
As history would have it and nearly 11 years after calling it quits, May became the very first male world champion, alongside his technical duet partner Christina Jones, one of his fellow 'O' cast member and former Santa Clara teammate. To fully complete the circle, Lum-Underwood also returned to join him in the free duet event, and the two finally won a world medal together, a silver.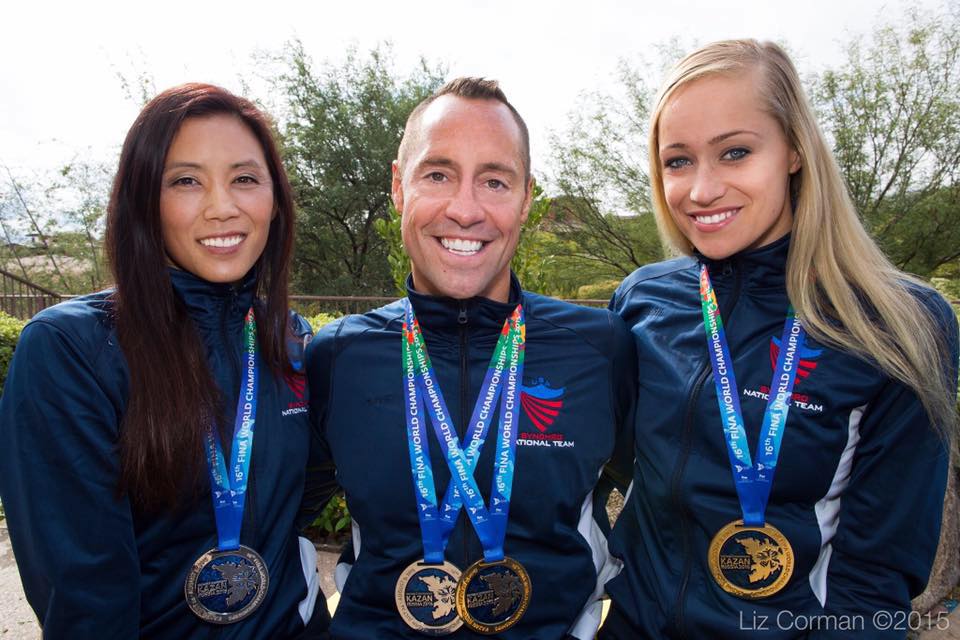 Two years later at the 2017 FINA World Championships, May won two bronze medals with his new partner Kanako Kitao, another Cirque du Soleil coworker. He is now gearing up for his third world championships, and must handle a packed schedule with elite training, full-time work as a synchronized swimmer and character in 'O', and teaching a core class for Cirque, amongst others. But he wouldn't trade it for the world.
"Right now, it's such a perfect life because I love training during the day and I love performing at night," May said. "And I think they help each other. Obviously my training helps my technique in the show, and the show helps inspire me to be more artistic and use that performance aspect to bring into the mixed duet."
In the off-years without worlds, May doesn't train as much for the elite level, although he of course tries to maintain his conditioning and technique. In 2018, he swam in free solo at the Hellas Beetles Cup in Greece, but it is difficult for him to compete much more than he already is and to take a lot of time off from work. 
For the 2019 season, May has been paired with Natalia Vega, 20 years his junior and also a former Santa Clara Aquamaids swimmer. Their hectic schedules for this year are as impressive as they get: both fly to California from Las Vegas to train there on Monday and Tuesday with Carver. They then fly back to Las Vegas on Wednesday, and have the day off from training.
Carver usually flies to coach them in Las Vegas on Thursday, Friday, and Saturday, alongside Joanne Clerk from about 9:30 am to 3:00-3:30 pm. From Wednesday to Sunday, May heads out to work at around 5:00 pm to perform in two shows per evening (7:00 pm and 9:30 pm), while Vega goes on to improve her conditioning and land exercises most afternoons. They repeat it all over again the following week.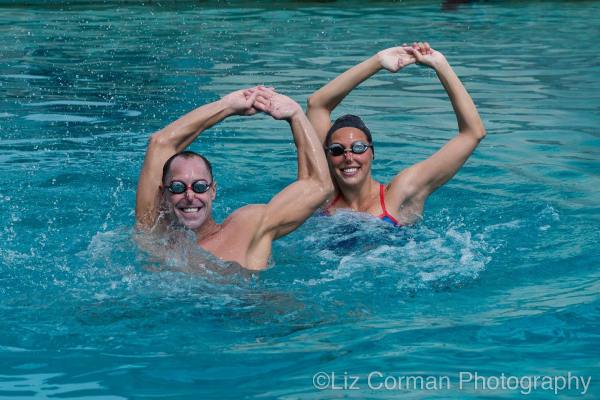 May and Vega will compete at worlds in less than two weeks in Gwangju, South Korea. Vega is not a complete stranger to the international stage as she was part of the 2017 U.S. senior team that competed in Budapest, and was a member of the 2016 U.S. junior world championships team. This has nonetheless been her first season in the mixed duet event.
"I've never swam with a guy before," Vega said. "I was nervous at first, and I didn't know what to expect. And then… it's Bill May (laughs)! I'm just thinking of doing our best and showing our best routines."
Vega started synchro as an eight-year-old in Puerto Rico, before moving to Buffalo, N.Y., at 14 to train with the Tonawanda Aquettes Club. After two years there, she moved to the Santa Clara Aquamaids where she also stayed two years, although she never overlapped with May due to their age difference. More recently, she became a student-athlete at the University of the Incarnate Word in San Antonio, Texas, where she studies criminal justice.
Since they both had swam for the Santa Clara Aquamaids, Carver knew about Vega, and asked her if she'd be interested in becoming May's new partner. She agreed, tried out, and took the year off college to train full time.
Vega's experience in a duet had always been with another woman, so discovering this new realm of choreography and interactions has been a challenge on its own. May has also had to adapt, as Vega is much taller than two of his former partners, which makes for contrasting transitions and connections.
"We move so differently," Vega said. "It's kind of hard to match, and at least for me, I feel I'm a pretty strong person but he can move way faster than me. I think that's the hardest part, trying to move as fast and match all of our moves."
The two have however managed to work through it while learning a lot in a small amount of time, as they have been preparing two new routines for this season. They already showed off their technical mixed duet, set to Korean pop, twice this season at the Synchro America Open and the Spanish Open, where they earned scores of 87.6687 and 87.5144, respectively.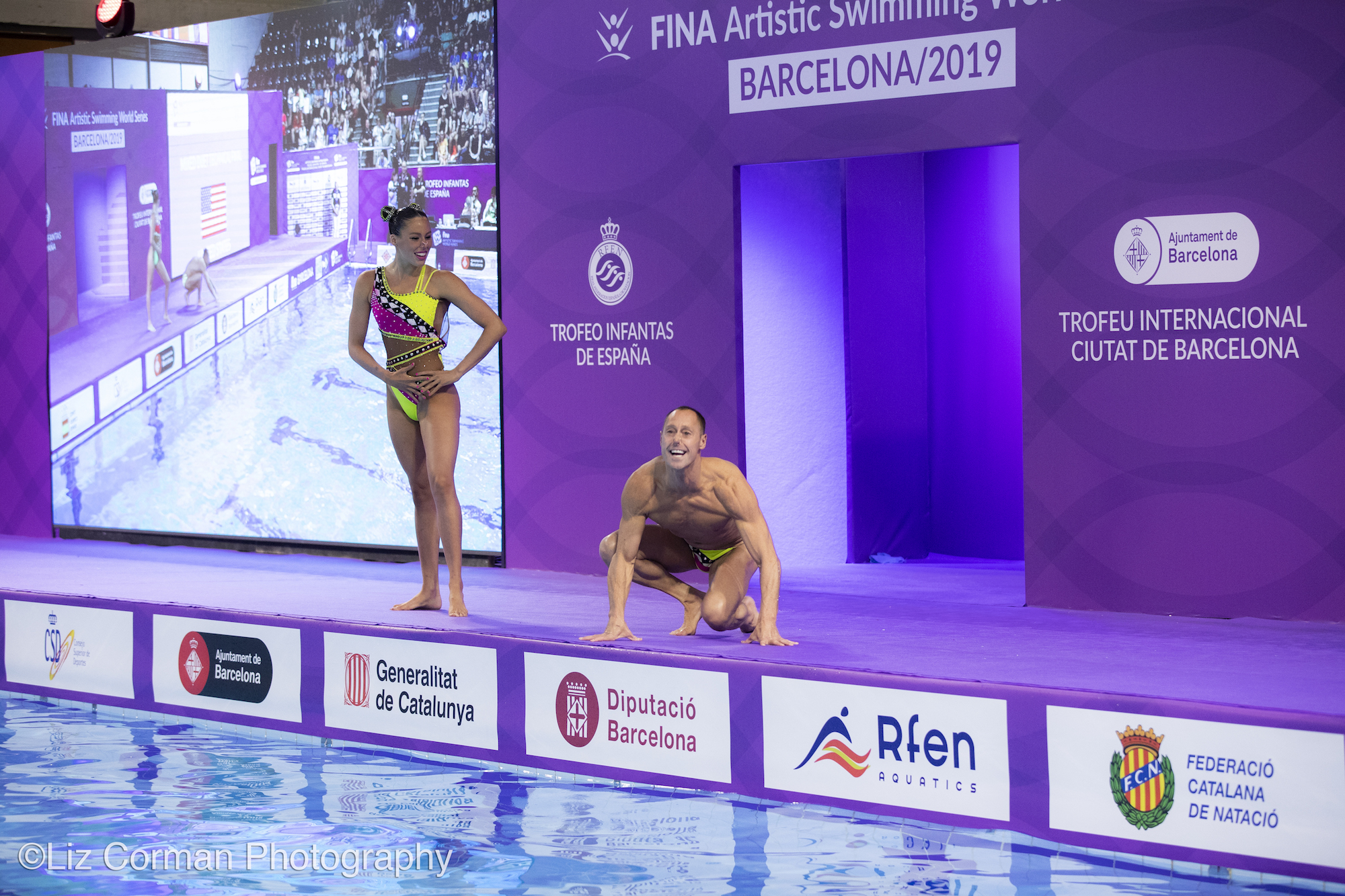 Their free program, which they have kept hidden so far, revolves around a loose interpretation of the Biblical story of Salomé. Her dance, echoing of modern day striptease, was fueled by motives of lust and slaughter and ultimately led to the beheading of John the Baptist. The Americans' twist and interpretation has Salomé as the incarnation of seductive lust and manipulative power, a perception similar to Oscar Wilde's.
"We wanted to really do contrasting things and again make a true mixed duet," May said. "For our free, everything is showcasing a very strong female character rather than a man dominating a woman. She's this strong temptress who does things without remorse. She's a sensual but powerful woman, so it's something very, very different."
Of course, the two are hoping to finish on the podium once again, but May never forgets about the big picture and the future of mixed duets. In 2017, 11 nations participated in the free event while 10 competed in the technical event. He is hopeful there will be even more this time around, as representation is the biggest way to continue growing, to encourage young boys and men to join, and to make a push for the Olympics.
"It's so much bigger than any of us right now," he said. "We all have to put our egos aside and realize that this event is not growing because of one person, but because of everybody. We need numbers right now. The more it grows anywhere, the more it's going to grow everywhere. People need to really realize we need to get these duets out there, and get competitions with mixed duets and showcase them. Somewhere, it's going to spark something, and make people want to do it."
Mixed duets have started to make headway in all major age-group international competitions, from the junior European and world championships to the Mediterranean (COMEN) Cup and the first FINA Youth (13-15) World Championships, set for later this summer.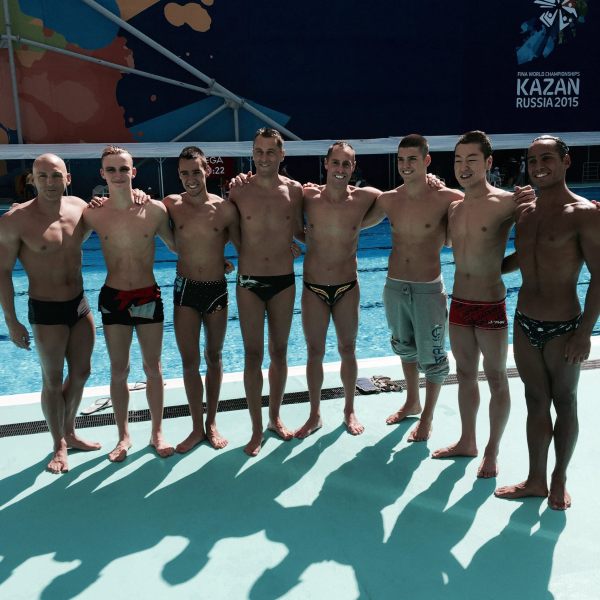 The senior ranks are also slowly filling up at the national or international level, and remarkably with a few swimmers who just took up the sport a year or two ago, like in Australia or Kazakhstan. May is so thrilled to see more men enter the sport, and he admits he wishes he could be this young again.
"I've been swimming for 30 years, which is funny because it's longer than most swimmers now have been alive," May said, laughing. "I see these younger swimmers, and I envy them because they have all this time to improve and to grow. The mixed duet is just starting, it's so exciting. I love seeing that, but it's a little sad for me because my career is close to its end, so to see something taking off…I still have that fire, I wish I could still continue and continue and continue, but it's just… I have to balance other aspects of my life."
Evidently, May would love to see this event added to the Olympics sooner rather than later. He is convinced it would allow the sport as a whole to grow even further, and that it would also add a new excitement for the audience, with an event that has slowly but surely become popular. However, he would first like to see a specific and separate set of rules developed for the mixed duets, as for now they are mostly judged just like a women's duet. 
He believes this would not only help better welcome men into the sport and give an incentive to the nations to truly break the boundaries of mixed duets, but that it would also help the judges themselves in order to differentiate between the two types of duets. Ultimately, May thinks they should not be performed nor judged the same, as mixed duets are all about a man and a woman competing together yet complementing each other and not trying to be the same person.
"There has to be a different dimension, a different way of judging, and a different way of swimming these routines," he said. "Otherwise the event won't grow because you will be looking at a man and a woman just trying to swim like two women, and it's never going to look the same. They are never going to be as matched as people the same size. You have to judge them differently and be more specific in the rules because a male and a female are very different for very specific reasons. That's a completely different style that needs to be recognized."
Additionally and to his anguish, mixed duets are not developing as fast as he'd like in his own country, and he hopes to see the federation further push for the growth of the event and for younger boys to start synchro. However, he remains as hopeful as ever regarding the overall future of men in the sport.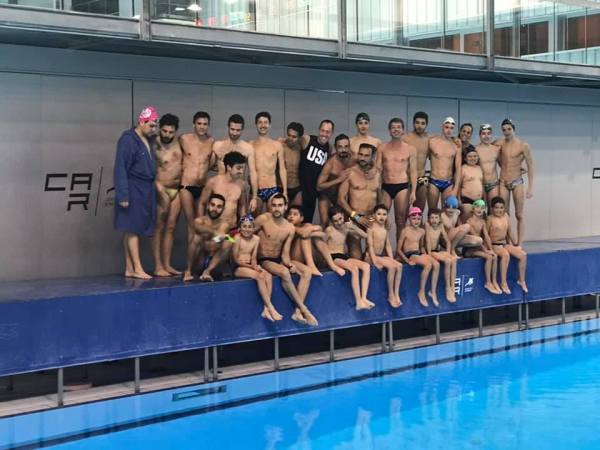 Indeed, following the Spanish Open in Barcelona at the end of May, he led an all-male clinic at the C.A.R. Sant Cugat training center. 28 men were in attendance from all over the world, all ages, and all categories from beginners to masters. Amongst other things, the athletes learned about musical interpretation from Russia's mixed duet head coach Gana Maximova, while he helped them in the water with improvisation exercises.
"It was beyond incredible," he said. "It was unreal. It was so inspiring and touching for me because this is something I've worked for, that I've dreamed of, and that I just consider natural."
During the day-long clinic, May really wanted to drive one point home: they are male synchronized swimmers, and they should own their personalities and find their own styles, and not seek to imitate or move like a female swimmer.
He is well aware that people are still a bit wary about men in the sport, but he truly hopes that he was able to encourage these 28 boys and men, and every other male swimmer out there, to move past those preconceived ideas and that they too can contribute to the creative process and bring a new dimension to synchro.
"When we can break down that wall, then mixed duets will grow even more," he said. "There are definitely a lot of barriers, but we can see now there is the ability to break down those walls."
Article by Christina Marmet